Interview with Richard Dokey
By Heidi Stauff, WTP Video Producer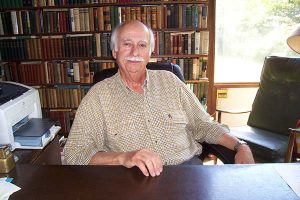 Richard Dokey's stories have won awards and prizes and have been reprinted frequently in both regional and national anthologies and texts. He has novels and story collections to his credit. August Heat, an early collection, published by Story Press, Chicago, received a dust jacket endorsement from Erskine Caldwell, who called August Heat one of the best books of fiction for the year. Pale Morning Dun, a subsequent collection, published by University of Missouri Press, was nominated for the American Book Award. Fly Fishing the River Styx, his latest collection, was released in December 2018 by Adelaide Books, New York, to good reviews.
Stauff: I thoroughly enjoyed your story, "Give Me That Old Time Religion," appearing in this month's Woven Tale Press. Brian Lehr, the main character, articulates the human need for connection, belief, and belonging through his stream of consciousness in a witty, sarcastic, humorous, yet poignant and heartfelt way. Brian Lehr is not only at odds with his own social circle, but with his own desire for love, meaning, and belonging. The theme of "hating what you need and needing what you hate" is played out through the isolation that necessary technology brings, and the acceptance that succumbing to a popular worldview brings. Can you speak on that? How did you come up with the character and themes in "Give Me That Old Time Religion?"
Dokey: Brian Lehr is everyman. How many times have I seen couples sitting together, ostensibly to have dinner and enjoy conversation, actually sitting alone, fixated upon the screens of their cell phones, fingers summoning a private world that matters to no one but themselves. How many times have I seen people texting others, oblivious to where they are, when where they are is the only place they can ever be. Life becomes a withdrawal into the miniaturization of self. Self-absorption is the reality of children, whose world extends no further than what they feel. Couple this with the need to belong, to be part of something greater—which was once satisfied by religious belief—and we have the fantasy that we can make a world in our likeness. Not my likeness, of course. That would be insanity. But if enough of us are crazy together, then we become the sane ones, as long as those others are not permitted to enter. Because they disagree, they are the real madmen. This is the agony Brian Lehr faces in "Give Me That Old Time Religion." The toys of technology have made us slaves to infancy. The fear of standing alone, on the two feet of our own intelligence, overwhelms us. We hunger to be liked, to belong. We are apprehensive of being judged. Yet he who does not judge has no judgment. I did not come up with Brian Lehr. He's sitting at the table next to me.
Stauff: You taught philosophy at San Joaquin Delta College. How did that play into your writing? Can you speak on the correlation between philosophy and creative writing in regards to understanding what it means to be human?
Dokey: I made the decision that I had to write when I was a sophomore in high school. It wasn't a decision about what I wanted to be when I grew up. It was a decision about being what I am. I knew the kind of writer I had to be, and I had no illusion about making a living writing. But, by the greatest stroke of luck, I found that teaching ideas allowed me to be paid for being myself. My task was to discourage in students my own necessity, to excise the need to be told what is true, so that they might find the truth themselves. The purpose of the teacher is the removal of himself and the freedom of the individual. What greater fulfillment is there than to be oneself and to find work that demands all that one is. A writer, a true writer, is a teacher in disguise.
Philosophy and writing, for me, are two sides of one coin. Each is the discovery of purpose, the one through the rational grappling with meaning, the other through the dramatization of meaning. Every fiction, every good fiction, is the embodiment of an idea. Everything in that fiction embellishes the idea—dialogue, place, characterization, plot. Always there must be discovery. What troubles me about so much of contemporary fiction is the shallowness of the search. Being is at stake in a good story. The writer himself is at stake, all that he is, all that he knows, all of his struggle with what he does not know. The arrangement, rhythm, and choice of words become the embodiment of an idea. A good story is one thing because the writer is one thing.
Stauff: You have the ability to address complex, multifaceted elements of the human condition in a succinct, interesting way. What authors and/or books influenced you as a young writer and how has that changed over your career?
Dokey: I must say that I don't read my contemporaries. John Cheever, Ray Carver are a couple I've read. My favorite writers are old, dead writers, writers who were uniquely themselves and have stood the test of time. In my judgment, that's the only kind of writer worth being. I love the Old Testament. I love Shakespeare, Hemingway, Albert Camus. I love the use of words, the simplicity of words, the emphasis upon nouns and verbs, those heavy lifters of language. So much of the writing today is vapid, no style, no risk. Everything is an adjective or an adverb.
Stauff: Your story collection, Pale Morning Dun, published by the University of Missouri Press, was nominated for the American Book Award and the PEN/Faulkner Award. Fly Fishing the River Styx, your new collection, was released by Adelaide Books in December to good reviews. Can you tell me more about how you became interested in fly fishing and how it translated to themes in your writing? Also, can you speak on what you are working on now and what you hope to achieve in the future as a writer?
Dokey: As to fly fishing, I have been a fly fisher all my life. It is the ultimate use, in sport, of solitude. As the writer discovers himself in silence, the fly fisher discovers himself in the joy, skill, understanding, and patience of standing alone in a high mountain stream with a fly rod in his hand. I tie my own flies, so everything comes full circle, everything is at stake, what I know as well as what I don't know. When I seek an eighteen-inch brown trout by determining where he hides, what he eats, I fashion an imitation to capture him, but I release him when he's mine. I experience similar dimensions in the stories I write. At the end of each adventure, with fly rod or pen, I set what I have captured free and do not think of it again, for another waits for me around a bend in the river.
I titled my new collection of stories Fly Fishing the River Styx. Styx is that mythological boundary all souls must cross on their journey to the underworld. The stories in the collection have a fly fishing milieu, but they are not about fly fishing per se. They are about going across. They are about the search for meaning within the inevitabilities of life. It pleases me that the book has been very well received in fly fishing publications. The subtitle of the collection is "Stories with an Angle." The word "angle" is the Old English word for hook. I'm trying to hook the reader into deeper reflections about life by taking him fishing. I am able to bring together, then, my primary uses of solitude, writing and fly fishing.
I am always working on a new story, or, I should say, a new story is always working on me. The big one is waiting for me, just by that rock, on the far side of the river.
You can meet more of our WTP Writers on our Woven Tale Press page of interviews.
Copyright 2019 Woven Tale Press LLC. All Rights Reserved.