Eye on the Indies:


A Look at Indie Authors and Their Publishers
By Lanie Tankard, Indie Book Review Editor
A Place of Exodus: Home, Memory, and Texas by David Biespiel (Portland, Oregon: Kelson Books, September 30, 2020; 202 pages; $20.00 paperback: ISBN 978-0-9827838-5-6; distributed by SPD).
"One is always at home in one's past…."
—Vladimir Nabokov, Speak, Memory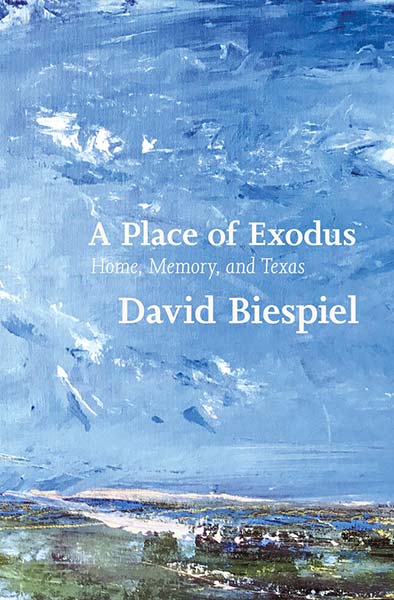 In his new memoir, poet David Biespiel reflects on a lifelong search for Home, from his Jewish boyhood in Texas to his non-Jewish adulthood in Oregon. Banished from Hebrew school by a rabbi for debating religion with him, Biespiel departs Houston at age eighteen and, like Moses, doesn't return for forty years. He wanders, "like a tumbleweed" in the wilderness. During nine years, he lives in eight states.
Finally, in 1995, he rolls into Portland, and stays in Oregon as an expatriate Texan. The Lone Star State, however, remains in his mind as a place of exodus. Indeed, memories are what eventually take him home there again.
Biespiel frames his narrative on the 3,000-year-old biblical story of Exodus, using the word in his book's title. He sums up his life succinctly in two parts, each with three chapters. Part 1, "The Hard Hours," describes his 1970s youth, growing up in the Meyerland Jewish section of Houston during the Cold War as the fifth child in a family.
When he's twelve, his father has a stroke and is left with aphasia. By the time Biespiel is fourteen, his parents divorce and he finds himself "the last son at home with Mom," who is determined to raise Jewish offspring in a state that "felt like exile" for her. Meanwhile, Biespiel is "just a kid in the American South who liked to run off and think stuff."
And then "The Quarrel" happens. It's public, and it's with the man who had been Biespiel's rabbi since he was four—a leading Jewish figure in Houston. One day in class, young Biespiel questions Judaism, and the rabbi swiftly expels him in front of his classmates.
Part 2, "In the Valley of the Ghosts," presents Biespiel's return to his old neighborhood after almost four decades "in the hope of unravelling a knot." He roams his childhood streets, realizing how temporary our dwellings are as he sees numerous house teardowns. Going by his former home at the end of a day, he reminisces about his first girlfriend, Shelly Rose. He gets together with former classmates, connects with earlier teachers, and walks into the Orthodox sanctuary. Amazingly, he runs into the rabbi with whom he had quarreled, now an old man, and they talk. Biespiel ultimately brings up the subject of his exile around which they've been skirting—a denouement both for him as well as the book.
It's not so much nostalgia that brings him back to his formative setting, but rather an attempt to understand today by exploring the past. He muses: Let's see, how was it again that I became an émigré? Rather than a homecoming á la Odysseus, who pined for home during twenty years away, Biespiel seeks instead to define home—and in the process figure out "what makes me me." This quest for his essential self becomes a leitmotif, depicted in a number of silent convos with "the stranger in the bathroom mirror" in Portland. Biespiel strolls the backrooms of his mind, akin to Montaigne essaying his way through memory or Proust tracking the scent of yesteryear.
A Place of Exodus is a summation of the foundational years that shaped an adult, told in nonchronological order via flashbacks from the present (which, on occasion, can be unclear timewise). As per the book's subtitle, Biespiel searches home, memory, and Texas in an elongated essay of exile. In the process, he also paints vivid word portraits of Houston, heartbroken after Hurricane Harvey flooding, and of the spot where the earth meets the sky in Texas.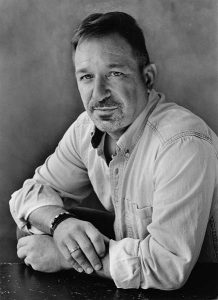 Biespiel sees himself reflected in the old biblical patriarchs from Adam onward, but perhaps most like Jacob. While a teenager, Biespiel dreams of becoming a rabbi but turns into a writer. "Words are one place to find a harbor," he notes. His earlier memoir, The Education of a Young Poet (2017), traces this embracement of a life in words, touching on childhood there through his grandfather's life story. In both books, he crosses genre boundaries.
What Biespiel weaves here in A Place of Exodus is a lyrical labyrinth of reminiscences. He's adept at blurring distinctions between memoir, essay, bildungsroman, social commentary, and writing guide. Descriptions are spot-on: "I struggled to the kitchen in my teenage body," for example. He paints junior high as "indoctrinating students to accept systems of conformity," with a splendid description of annual class photos.
Biespiel ponders exceedingly well: Is the pursuit of home a lifelong mission? Is childhood one's true home? What do you reply to people who ask, "David, where have you been?" or who say flat out, "Well, David, you left." Perhaps, he speculates, the unknown world beyond seems dangerous to those who stayed. In All God's Children Need Traveling Shoes, the fifth book in Maya Angelou's seven-volume autobiography, she observed: "The ache for home lives in all of us. The safe place where we can go as we are and not be questioned." Biespiel comes to believe one's dwelling place may not necessarily be where we are, but rather who.
A Place of Exodus is the story of one man's individuality, what makes him unique and distinct, longing to reach home. When David Biespiel puts pen to paper, however, he not only creates a paean to memory and a place for his Texas roots but also poeticizes the universal childhood horizon for the rest of us.
---
David Biespiel is a poet, memoirist, teacher, and literary critic with eleven published books. He is Poet-in-Residence at Oregon State University in Corvallis.
Biespiel founded the Attic Institute of Arts and Letters in Portland, Oregon, twenty-one years ago. The Attic, "a haven for independent writers," offers workshops, fellowships, community, and literary activity.
The Book of Men and Women (2013) won the Stafford/Hall Award for Poetry. A Long High Whistle: Selected Columns on Poetry (2015) earned the Frances Fuller Victor Award for General Nonfiction. Poets & Writers included his book An Accidental Memoirist: The Education of a Young Poet (2017) on its list of Best Books for Writers. The National Book Critics Circle has twice named Biespiel a finalist for the Nona Balakian Citation for Excellence in Reviewing.
Biespiel was editor of Poetry Northwest and a Stegner Fellow at Stanford University. He also received fellowships from the Lannan Foundation and the NEA. Biespiel has taught at a number of universities, including Stanford, George Washington, Portland State, and Wake Forest, as well as the University of Maryland, where he earned his MFA.
Biespiel lives in Portland, Oregon, with his wife, poet Wendy Willis.
Publisher: Kelson Books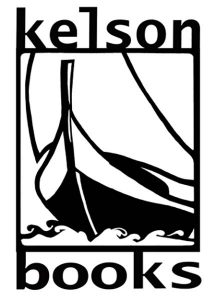 Kelson Books is a small press in Portland, Oregon, publishing nonfiction and poetry projects. Writer David Oates founded Kelson and also serves as general editor there.
His most recent book is The Mountains of Paris, a finalist for Essays in the 2019 Foreword Indie Press Awards. He's published five other books, in addition to three books of poetry, and his essays have earned Pushcart Prize nominations. Oates held a residency at Vermont Studio Center and was Kittredge Distinguished Visiting Writer in the Environmental Studies Writing Program at the University of Montana, Missoula.
Kelson Books derives its name from the kelson that reinforces the hull of a wooden vessel on top of the keel. The press is interested in nature, politics, and personal narrative, noting: "We publish voices that sound human, that are well-informed and crafty, and that help us all to be responsive to the paradox, humor and wild pain and beauty of our shared life on this planet."
Submission guidelines are on the website. 
Copyright 2020 Woven Tale Press LLC. All Rights Reserved