Eye on the Indies:


A Look at Indie Authors and Their Publishers
By Lanie Tankard, Indie Book Review Editor
Clutter: An Untidy History by Jennifer Howard (Cleveland, Ohio: Belt Publishing, September 1, 2020; 176 pages; $26.00; hardcover ISBN 9781948742726; distributed by PGW).
"But clutter and mess show us that life is being lived."
—Anne Lamott
Bird by Bird: Some Instructions on Writing and Life (2007, p. 28)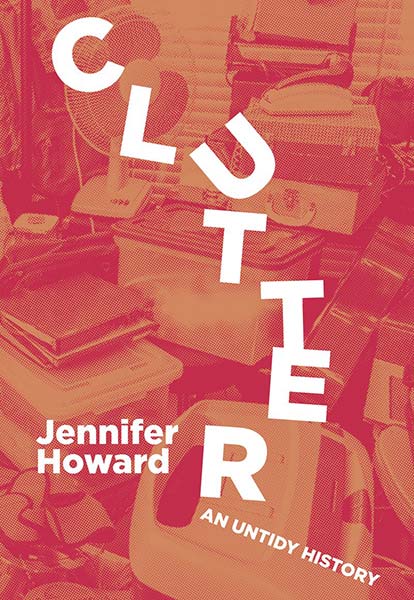 Jennifer Howard scaled Mount Clutter and planted a flag. Then she took core samples to study the geology, wondering how such a massive pile of detritus had formed. After helping her aged mother move to a care facility following a dementia diagnosis, Howard went back to the house to remove all that remained. This book is the primal scream of an only child.
Gamely she sets forth on her mission alone, starting with the scree at the base of the first hill. The entire cleanout took two years, at times whipping her feelings into a frenzy. Howard's mother, an adult child of an alcoholic father, had few emotions to offer her daughter. Married three times, her mother slowly became an acquirer—mostly of shoes, although there were two thousand LPs. Howard tries hard to understand the psychology behind the behavior, admitting she really never knew her mother very well.
Employing her well-honed research skills to investigate the "untidy history" of littered lives, Howard emerges with the mantra: "Blame the Victorians!" Tsk, all that froufrou stuff. Freddie Mercury of the British rock band Queen, however, took a far different stance: "I like to be surrounded by splendid things. I want to lead the Victorian life, surrounded by exquisite clutter." What Howard found, however, was a closet full of shoeboxes with unworn Manolo Blahniks and a pile of moldy Styrofoam takeout boxes—and in between a scene reminiscent of the Collyer Brothers. 
Howard tries to unearth the middle ground between Freddie Mercury and Marie Kondo, sparking little joy as she continues to toss and donate and kvetch while reading books about hoarding disorder, returning again and again to the dictum of British artist and author William Morris (which she uses as an epigaph): "Have nothing in your houses that you do not know to be useful, or believe to be beautiful." Within that pronouncement is a dilemma though. What one person might consider useful or beautiful (or both) could make another person cringe. Howard brings up "collective judginess."
Acknowledging the difficulty of what to label trash and treasure, Howard calls that "a question not so easily answered by archaeology." She sees "the appetite for more stuff" and the compulsive acquisition of tchotchkes as vastly different from the retention of ancestral memories. She did, after all, save her parents' love letters.
Can clutter be reduced to "one size fits all"? While confronting clutter head on, both in real life and on the printed page, Howard covers a range of subcategories. There's the ecoclutter of packaging that arrives nestled around all the trinkets we order online, not to mention junk mail or the "virtual heavy contents" that technology "enables and entraps": emails, Word docs, photos, and files. Childless people view cluttered homes that once held children from a different perspective. Howard is the mother of two. She comments on the distinction between positive labels such as finder-keeper, collector, historian, or artist and more negative ones such as OCD or hoarding disorder—noting less shameful terms such as chronic savers.
One wonders why there's not some sort of Dewey Decimal System for various types of clutter, yet could it ever be quantified? Going through stacks of cardboard file boxes brimming over with folders from a decedent's life would take much more time than emptying an Imelda Marcos closet full of unworn shoes. When I was growing up in Cleveland, teachers would send students home each year with flyers reminding our parents that it was time for the annual cleanout ritual: Spring Clean-up, Paint-Up, Fix-Up Month! It became a community affair in which everyone participated.
Thus, when it came time for my sister and me to clean out our mother's home in Alabama after she died, there really was no mountain for us to scale. Yes, it was a gigantic task, but we completed it in a few weeks. I had moved my mother out a decade before so I could manage her dementia care close at hand in Texas—no simple matter with three very young children and a husband with cancer. My mother was my best friend, however, and it was an honor to assist her.
My sister and I hired an appraiser so we could list the house contents for probate. The house was small and the contents relatively few, certainly not valuable. The worth was emotional rather than monetary. Some of the "clutter" had belonged to our parents' parents—and their parents before them. Indeed, on my mother's side were items from her mother's mother's mother, which inspired me and one of my daughters a decade later to visit the small German village where our ancestors lived, retracing their footsteps and meeting our cousins.
The appraiser told my sister and me stories behind objects, which we would never have realized on our own, because she was trained to recognize symbols and knew their history. She said the phrase "Made in Occupied Japan" on the bottom of a teacup souvenir was rare. She identified a brass star as coming from a hotel room key in the Dakota Territory—leading my sister and me into a fascinating conversation about how our grandfather had gone West during a Gold Rush, speculating the star had been his.
We took the appraiser's suggestion to ask a local Civil War expert about a sword that had "cluttered up" the fireplace. He verified it was a Union cavalry sword—leading me to obtain seventy-five pages from the National Archives about my great grandfather's Cleveland regiment and deep insights into our family history. I keep the sword in the umbrella stand by the front door, should I ever need to defend myself.
Junk? Maybe to others. I feel protected by an ancestor I never knew. We can shred, recycle, sell at consignment stores and flea markets, donate to creative reuse centers, make regular trips to Goodwill, book bomb every Little Free Library in town…and still have a house full of clutter. What that terminology misses, though, are the memories embedded in the so-called "superfluous" stuff that surrounds a person every day.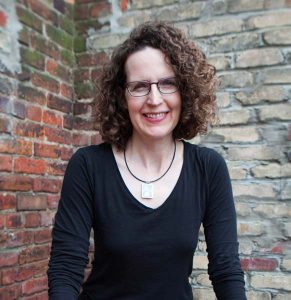 My home feels like a hug from my ancestors. I see my grandmother's coffee mill from the 1800s sitting in my twenty-first century kitchen. I touch my great grandmother's initials, lovingly embroidered in the corner of a linen tablecloth her family wove from flax they grew on their farm in Germany. She and her daughters (all but my grandmother) died of tuberculosis right before Robert Koch, born just 260 miles away, discovered the cause of the disease in 1882.
These objects represent story and memory and connection and heritage. Many people view such family heirlooms as anything but clutter, while those who don't know the stories might disagree. Their children may someday, too, but at least they'll understand the history of what they're deep-sixing. Howard confesses one of the dearest objects in her own house because of its memories is a soda bottle from Crete filled with pebbles and stopped with a cork, from a trip to the island with her father when she was 11 years old. I can relate. I have a small replica of The Thinker statue by Rodin. One of the twenty-five commissioned enlargements Rodin supervised sits outside the Cleveland Museum of Art, where my sister took me to art classes when I was growing up. Seeing the "knickknack" brings back happy memories of our outings.
Howard's book offers a thorough history and psychology of clutter. The bibliography lists fifty-two books consulted in research. Howard quotes many of these (perhaps too many). The reliance on resources makes the book read a bit like a newspaper or magazine article. I felt most drawn to the occasional times she brought her mother's life into the story, connecting it to an item. I kept hoping for more. From whence did this object come? I wanted to know. What story does it represent? What is its history? Surely not all the "stuff" was purchased. Were there generational items from her grandparents or great grandparents—tactile touchstones to the past?
The book does set out profound issues wrought by "the capitalist way of life." Howard raises the legitimate question: "Who will save us from all our stuff?" She discusses Margareta Magnusson's wonderful 2018 book The Gentle Art of Swedish Death Cleaning as a kind approach.
As Howard reaches the summit of Mount Clutter, she realizes she's "recovered some lost things." Along with bits of family history, she found "a richer sense of who my mother was, or had tried to be, over the years." She sold the house and her mother now resides in "a small, uncluttered room at an assisted-living facility with a few of the family pictures and objects I guessed would mean the most to her. She never asks about the house."
In the small personal-care home where my mother lived for ten years with other Alzheimer's residents, she would say "I want to go home" from time to time. Once I asked her where home was. She swiftly replied, "Why where my mother is, of course."
Clutter: An Untidy History is a tidy little volume—certainly not one that would clutter up anyone's bookish space. It's the minimalistic story of one woman's life and how her belongings came to be, merged with her daughter's dilemma of what to do with it all, framed by the eternal question dating back to prehistoric times: How much stuff should I bring into my cave?
---
Jennifer Howard is a journalist and writer in Washington, D.C. She has been a contributing editor at the Washington Post and a senior reporter at the Chronicle of Higher Education. Her work has appeared in the Times Literary Supplement (TLS), Humanities, Slate, and EdSurge, among other publications. The 2006 anthology D.C. Noir (edited by George Pelecanos for Akashic Books) included Howard's short story "East of the Sun." Her fiction has also been published in Virginia Quarterly Review (VQR), The Collagist, Blue Moon Review, and elsewhere. She earned a Master's Degree in English from the University of Virginia and a Bachelor's in History from Princeton University.
Publisher: Belt Publishing
Seven-year-old Belt Publishing is an indie press in Cleveland founded by Anne Trubek as "a platform for new and influential voices" about "often overlooked subjects." Belt focuses on "urbanism, history, and narratives that upend expectations about the Rust Belt, the Midwest, and its writers." Trubek also began publishing Belt Magazine in 2013 as a partner project.
Trubek is author of The History and Uncertain Future of Handwriting (2016) and A Skeptic's Guide to Writers' Houses (2010), as well as editor of Voices from the Rust Belt (2018). Her writing has appeared in the New York Times, Washington Post, and Atlantic, among other publications. Trubek was an associate professor of English at Oberlin College, her alma mater, where she taught journalism, rhetoric, and composition for eighteen years.
Senior Editor Martha Bayne, a freelance journalist based in Chicago, is also Belt's marketing director. She is author of Soup & Bread Cookbook: Building Community One Pot at a Time (2011), and editor of Rust Belt Chicago: An Anthology (2017), Red State Blues (2018), and Chicago Neighborhood Guidebook (2019). Bayne is an adjunct professor of journalism at Columbia College Chicago as well as a managing editor at South Side Weekly. She holds a Bachelor's Degree in Philosophy from Oberlin.
Belt Publishing accepts proposals for nonfiction only. Submission guidelines are on the website. Publishers Group West (PGW) distributes Belt books.
Copyright 2020 Woven Tale Press LLC. All Rights Reserved