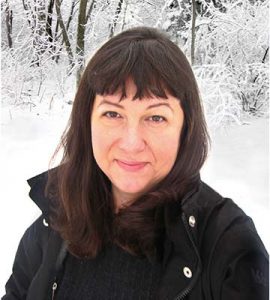 Amy Ragus is a photocollage/mixed media artist who considers herself a painter who uses photo fragments as brushstrokes on a larger field. Her work in photocollage has been exhibited in one-person and group exhibits in the US and abroad. She was a founding partner of Fine Arts Express, Inc. and an assistant professor of Art at Regis College. She is a three-time MacDowell Fellow and has been an artist-in-residence at Gros Morne National Park in Newfoundland, Yosemite National Park in California, the Sitka Center for Art & Ecology in Oregon, the Virginia Center for the Arts, and others. She earned an MFA in painting from Columbia University and a BA in studio art from Wellesley College. Ragus, who was born in New York City, now lives in a small farmhouse in the woods near Walpole, Mass. Her work appears in WTP Vol. VIII #9. 
Interview with Amy Ragus
By Jennifer Nelson, WTP Feature Writer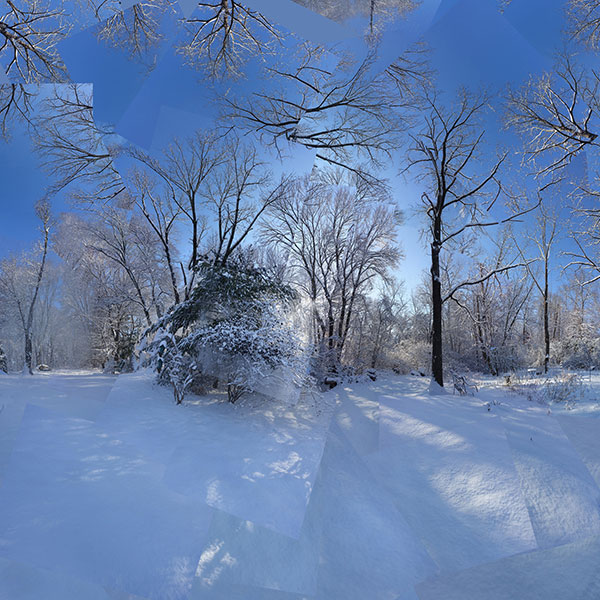 Nelson: For the past thirty-five years, you have worked in photocollage, creating composites from individual photographs and compressing a 360-degree view into a single image. Can you talk about how you came to this signature process?
Ragus: I started working with photocollage in 1975 after a Wellesley College grant took me to Europe. My proposal was to make drawings of architectural spaces. But sketching on site was difficult, particularly in Italy. So, I used my camera. One notable site was the Pantheon in Rome. I pieced the photos together to extend the spaces and immediately the collages interested me on their own terms.
One of my earliest successful collages was of Grand Central Station in New York City, and several views from the World Trade Center. I was then a graduate student at Columbia University (1976-8). Eventually I gave up the drawings as the collages evolved. I shot upwards of 100 frames per collage site and made large collages on heavy boards, cutting and pasting. Thousands of tiny puzzle pieces littered my studio, and I would find bits in my hair and in my shoes. Sometimes a collage took years to complete or I threw it away.
I think a lot of my interest in expanded space stemmed from a general lack of sleep. As a young insomniac, I spent countless hours staring at the six walls around me and following the juncture lines to the next intersection. As I mapped the spaces on paper, I pondered the gaps between what my brain knew or felt via direct experience and what was possible to depict. I was interested in portraying the experience of being surrounded by space. The techniques followed.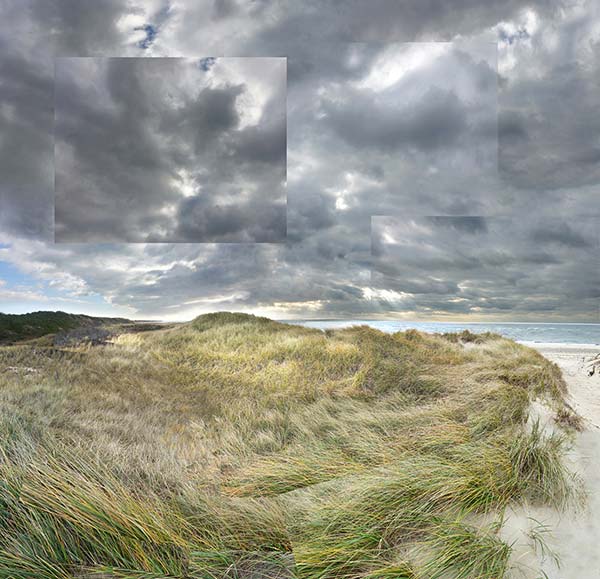 Nelson: How did growing up in New York City as the daughter of two artists, who met at the Cooper Union Art School, impact your own art? Later your brother and his wife illustrated books and your aunt created hand-drawn three-dimensional maps.
Ragus: My parents gave up any serious art making when they got married, and the tasks of raising children and paying a mortgage took over. Their art was a significant presence in the house, and we visited museums in Manhattan constantly. Recently I found in a tiny diary of my father's, who wrote during World War II that he wanted to become a portrait painter. I have two of his early watercolor portraits and a large collection of his photographs. He was quite good. My mother studied textile design, made pen and ink illustrations, and had a small loom. She was an intellectual and collected books, thousands of books.
It does seem like there is family genetic skill with 2-d and 3-d mapping. My architect brother Chris and Aunt Eleanor worked intimately with built and drawn structures. But these interests were never analyzed as a family trait. We weren't that organized. My parents gave me unspoken permission to do what I wanted to do,  which I think was the most important influence in my becoming an artist.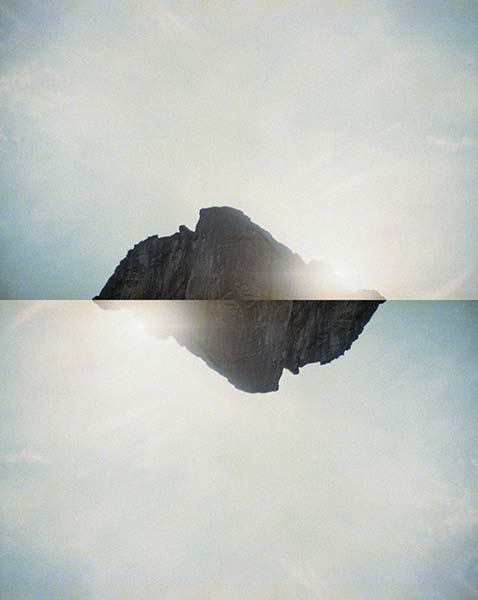 Nelson: In September 2016, you were involved in a car accident in which you were trapped in your vehicle after a large tree fell on it and emergency responders rescued you. Did this near fatality impact your artwork?
Ragus: Yes, in 2016, I experienced sudden cardiac arrest while I was driving alone on a deserted road. There was no warning, and my car went off the road into a shallow ravine, crashing through trees that blocked the car doors on both sides. It took a team of people to get me out and airlifted to Boston.
My rescue was highly unlikely. A year after the event I had a few "out of body" experiences that I have yet to fully acclimate. These jarring events prompted me to recall early childhood flying dreams and ponder mysteries of energy and space that seem to have been in my consciousness since birth.  My car piece "Into the Light" was shot years before my "near death." As that collage came together, I was a bit uneasy about this image and particularly the title that came so easily.
During my first month of recovery, I started a photo narrative titled "Out of Myself – Recovery" to document the impact. Find it at www.amyragus.com. See the "Gallery" page for link.
Nelson: How did training as a painter at Wellesley College and Columbia University impact your photocollage work?
Ragus: The environments of Wellesley College and Columbia University were privileged spaces and gave me time to develop my ideas. My degrees were in Studio Art and Painting respectively. There was little to no emphasis on photography in these programs, particularly at Wellesley where we were taught traditional techniques. Later in Manhattan, I worked for artists who documented their performance or earth work pieces with photographs and explanations. In the late 70's, the Soho gallery scene was a textbook of new emerging forms.
I have never really considered myself to be a "photographer." I approach image making as a painter and move through reality like a traditional "flaneur"— relying as much as possible on direct experience rather than pre-formed concepts. "Flaneur" was a term coined by the 19th century poet Baudelaire and is generally associated with the male Impressionist cartel (and criticized by modern feminists). I think of it as an attitude for one who is willing to spend time with slow observation. So, generally I consider myself a traditionalist in my approach. I linger and just wait at a site. Often I find the best view as I am walking back to my car after spending thousands of photo frames elsewhere. The last shoot is often the material I use. The first are warm-ups.
Photographers usually move from one series to another, although these days there are no rules. All my series are open ended and move and in and out of each other, following along and evolving with my life. I don't often care for art where one must read a text to understand it. But if there is real energy in the visuals, I appreciate the art, text or no text.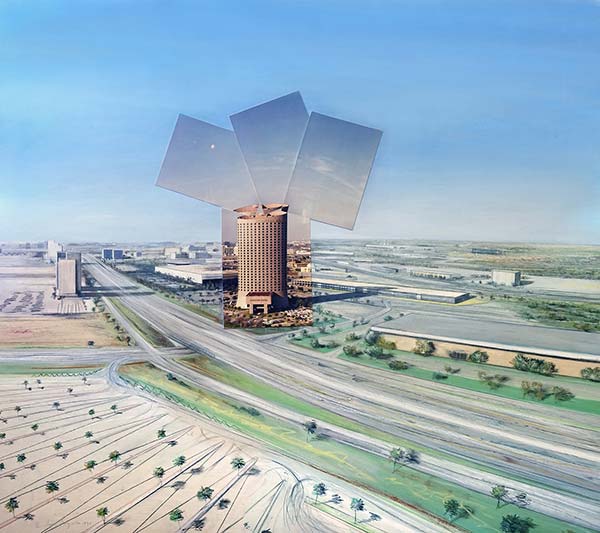 Nelson: How did you come to co-founding Fine Arts Express, Inc., an art shipping company, in 1978, working there as its vice president until 1994?
Ragus: Fine Arts Express was a start-up venture that I was invited to join as I walked out of Columbia. In the first years, I spent a lot of time in the cab of a truck and this is where my car pieces developed. Later, I chose to stop driving because I was really not welcomed as a woman on loading docks. So, I focused more on developing our business and training my staff to work with museums, collections, artists, and auction houses.
I left the company to pursue an academic career in 1994. Later, I acted as a mentor in the Babson College Entrepreneurship program. Eventually, I was able to leave the working world behind and concentrate on my own work. My art product has never been quite commercial enough or perhaps I have not been commercial enough. The art scene is an unpredictable crap shoot. There are many under-appreciated and over-appreciated artists, all scrambling for a piece of the action.
Nelson: In 1988, you began focusing much of your artwork on landscapes, instead of airports and railroad stations, after a monthlong residency at MacDowell Colony in New Hampshire. Can you talk about this transition in your focus?
Ragus: Growing up in and around Manhattan, I was wowed by the fabulous cityscapes. I made my first photo collages on the streets of New York. When I moved to the Boston area I was totally underwhelmed by the architecture, so I didn't photograph it much.
During the years I was an owner of Fine Arts Express, I travelled quite a bit and spent time in planes and airports. The city of Dallas did become a subject because we opened an office there. I loved the sculptural quality of the Dallas high rises popping up from the flat landscape, like a Surrealist chessboard.
So, my subject matter has always been what I can find in my daily life. My baseline interest is the spatial mood and how it pulls me in. I never really question why this happens, although as time passes, I am more conscious of the pull.
After I left my business, I sought artist residencies and spent time at the MacDowell Colony where I got lost in the woods for the first time (no cell phones or GPS, remember). And then there were other woodsy places like the Sitka Center for Art and Ecology in Oregon where I failed miserably photographing the forest. A few months later, back in Massachusetts, I found my way to Walden Woods after hearing an NPR report that the land around Walden Pond was being saved from development. Powerhouse Don Henley had stepped in after Thoreau Society scholars like Tom Blanding had done the groundwork.  So, I went to Walden to see what the fuss was about. This started my intimate relationship with the cult of Henry David Thoreau.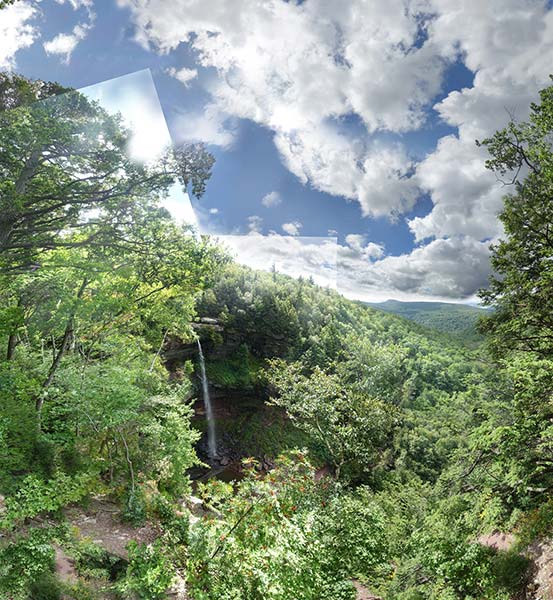 Nelson: How do you see your work evolving in the future?
Ragus: Chance encounters have always played a powerful role in my life. In April 2020, due to the Covid lockdown, I happened on the ancient Chinese energy practice of qigong via a free Zoom meditation series. Since then, I have become a daily practitioner. Qigong is more like a healing dance of mind, body, and spirit than it is a Western "exercise regimen." Its meditative qualities are helping me survive this truly horrific period in our history. Qigong is filled with imagery from the natural world — deer frolics, swimming bears, crouching tigers, dragon claws, and many tree references.
The practice also is focusing me consciously and subconsciously on energy realms that I have always been in touch with to some degree. Aspects of this practice are creeping into my work and I have started a new series that will take some time for me to develop, or to abandon. The focus seems to be on expanding energy. Who knows, I may have already done my best work and am now treading water. But I love treading water so maybe this will be the best.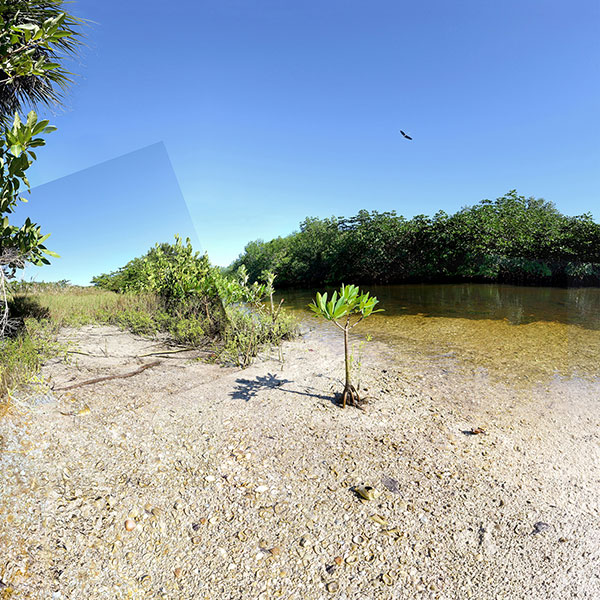 Click here to read more interviews with WTP artists
Copyright 2021 Woven Tale Press LLC. All Rights Reserved