Eye on the Indies:


A Look at Indie Authors and Their Publishers
By Lanie Tankard, Indie Book Review Editor
On Freedom: Four Songs of Care and Constraint by Maggie Nelson (Minneapolis: Graywolf Press, September 7, 2021; 288 pages; $27.00; ISBN 978-1-64445-062-8 hardcover).
"Lock up your libraries if you like;
but there is no gate, no lock, no bolt
that you can set upon the freedom of my mind."
—Virginia Woolf, A Room of One's Own (1929, p. 76)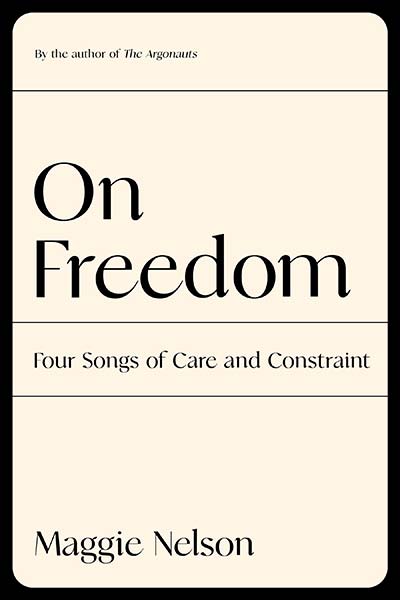 In this work of cultural criticism, Maggie Nelson considers the concept of freedom in four distinct territories: art, sex, drugs, and climate. She invites readers to accompany her on a journey of discovery.
On Freedom is an academic search, peppered with viewpoints from all the sources Nelson has consulted—and there are many. The list of works cited runs for twenty-four-and-a-half pages, in addition to an eight-page index of names as well as thirty-two pages of notes. When she works her own experiences into her treatise, however, it sings. Indeed, Nelson posits her book within a musical framework, as indicated by the subtitle: Four Songs of Care and Constraint.
The word freedom seems simple enough on its face: the power to act, speak, or think as one wants without hindrance or restraint—having the ability to act or change without constraint. Yet Nelson queries readers on the first page: "Can you think of a more depleted, imprecise, or weaponized word?" She notes its use as a past rallying cry. Her book's guiding principle is Michel Foucault's distinction between freedom as the achievement of liberation and freedom as an ongoing practice. In other words, is it a one-time event or an enduring exercise? She weighs freedom from against freedom to.
Nelson tries to figure out when artistic freedom reaches the point where it turns into hate speech.
Delving deeply into HIV/AIDS, she discusses seroconversion (but doesn't tie it to the current pandemic crisis of COVID-19).  She looks at changing standards of acceptability and fear of slippery-slope logic.
In answering the question "Why do people take drugs?", she acknowledges freedom being hard to bear and addiction offering "a counterweight to the unbearable lightness of being." At the same time, she hears that seductive voice of addiction whispering "just this one more time." Nelson follows up with one of her most powerful personal vignettes here on her moment of "deciding" to become sober.
She also writes of her doctoral exam in New York City across the street from the Empire State Building, contemplating the best way home after the orals amid the rubble a few weeks after 9/11.
Another highly successful sidebar story concerns Nelson's son and his longtime fascination with trains. She enlarges it to a running metaphor linking patenting of the steam engine to the climate crisis through the image of "riding the blinds" when hobos hitched rides on trains and rode between the cars. Such a strategy kept them hidden from authorities yet also prevented them from knowing what was ahead.
Nelson is at her most effective when sharing such individual segments during this discourse sprinkled with words such as phantasmagorical, perseverating, opprobrium, astralized, and inchoateness. I admit to keeping a dictionary handy, and pausing to wonder what the readability score might be on tests such as Flesch-Kincaid, Cloze, Gunning Fog, Coleman Liau, SMOG, or Fry.
Her analysis of the Anthropocene in relation to the steam engine becomes poetic as she watches her son playing with trains and wonders how long dead dinosaurs can fuel their comfortable lifestyle. She quotes NASA climate scientist Kate Marvel on the responsibility inherent "in raising my son in comfort and convenience," realizing "[s]omeday I must tell my son what I have done" in terms of being complicit in "the greenhouse effect." The end of the world, Nelson comes to see, is "a long process."
Storytelling assumes a role in that progression. How will we spin it? The "doomer dudes," she notes, have one way to frame the "game over" story. Even though her project unearths for her the relationship between freedom and anxiety, Nelson ultimately chooses hope: "to be in, all in: all heart, no escape."
One wishes for a fifth song of care and constraint, one on freedom in the COVID-19 era in regard to masking and vaccinations. Nelson does sprinkle brief mentions of the pandemic throughout her journey through the four realms of art, sex, drugs, and climate, while admitting at the end "there could have been more, but limitation begets fruition."
What she seems to be doing in On Freedom is "sandboxing" á la video gaming. As Merriam-Webster explains: "the player is not constrained to achieving specific goals and has a large degree of freedom to explore, interact with, or modify the game environment." Anthony Brandt and David Eagleman touch upon the idea in their book The Runaway Species: How Human Creativity Remakes the World.
Nelson takes the idea of freedom and broadcasts four videogames. She optimizes a voice chat with many past and present freedom thinkers, on a channel allowing us to view her ruminations with no background noise. Her virtual output is fascinating. She calls it "thinking aloud with others." At the end of the game, she offers perceptive insight on her platform.
She's not your average streamer. Maggie Nelson's special talent hook is her mental acumen.
---
Maggie Nelson is a poet, scholar, and nonfiction author, as well as professor of English at the University of Southern California in Los Angeles. She holds a PhD in Literature from the Graduate Center of the City University of New York.
Nelson's book The Argonauts (which I reviewed for Women's Memoirs) won the 2015 National Book Critics Circle Award in Criticism. Her other books include The Art of Cruelty: A Reckoning (2011), Bluets (2009), The Red Parts: A Memoir (2007, reissued 2016), Something Bright, Then Holes (2007), Women, the New York School, and Other True Abstractions (2007), Jane, A Murder (2005), The Latest Winter (2003), and Shiner (2001). A book of art essays is forthcoming.
Her fellowships include a 2016 MacArthur ("genius"), a 2010 Guggenheim (nonfiction), and a 2011 NEA (poetry). The Creative Capital Foundation also awarded her a 2013 Innovative Literature Fellowship, and she received an Arts Writers Grant from the Andy Warhol Foundation. Nelson's book Women, the New York School, and Other True Abstractions earned the 2008 Glasscock Book Prize. 
Publisher: Graywolf Press

Graywolf Press in Minneapolis is a nonprofit literary publisher of poetry, fiction, nonfiction, and work in translation. The press has been publishing books for over forty-five years (distributed by Farrar, Straus & Giroux since 2002).
Scott Walker founded Graywolf in 1974 in Port Townsend, WA. Fiona McCrae has served as director and publisher since 1994. She is also vice chair of the Board of Directors of the National Book Foundation. During the 2015 opening of an exhibit on the Graywolf Archives housed at the University of Minnesota, McCrae said: "Sometimes people have asked me what defines…a Graywolf writer…. And one of our answers is that they don't sound like anybody else."
Graywolf seeks works "that combine a distinct voice with a distinct vision," and collaborates to publish award winners from various organizations offering literary prizes: Walt Whitman Award, Cave Canem Poetry Prize, Emily Dickinson First Book Award, and the Summer Literary Seminars Unified Literary Contests. The press also publishes several books per year from A Public Space, an independent magazine of literature and culture based in Brooklyn. The Lannan Translations Series, which supports the English translation and publication of new works, has awarded a literary grant to Graywolf since 2002. Along with other grants, Lannan enables the nonprofit press to publish two translated books per year.
Graywolf's mission statement emphasizes: "We champion outstanding writers at all stages of their careers to ensure that adventurous readers can find underrepresented and diverse voices in a crowded marketplace." In addition, it notes a commitment "to making our books, programming, publishing process, and workplace accessible to communities and individuals of all backgrounds and abilities."
Submission policies for poetry, fiction, and nonfiction are posted on the website. Unsolicited submissions outside of open periods and contests are not accepted.
Click here to read more Eye on the Indies features.
Copyright 2021 Woven Tale Press LLC. All Rights Reserved