Eye on the Indies:


A Look at Indie Authors and Their Publishers
By Lanie Tankard, Indie Book Review Editor
Lemon by Kwon Yeo-sun, translated by Janet Hong (New York: Other Press, October 12, 2021; 160 pp; $20.00 hardcover, $11.99 ebook; ISBN 9781635420883).
Originally published in 2019 in Korean by Changbi in Seoul, Korea.
"Consequences are unpitying."
—George Eliot, Adam Bede (1859)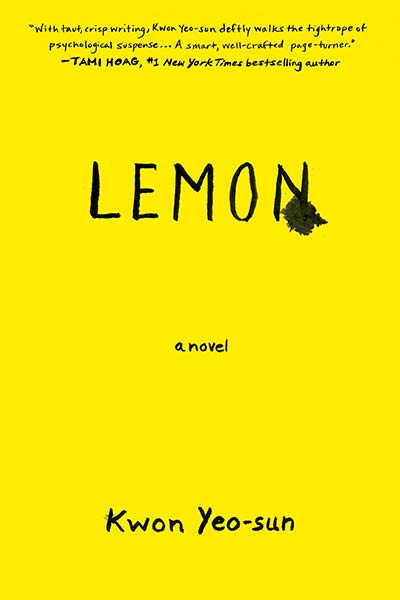 Lemon is a multilayered whodunit that's so much more—and that's the genius of this well-crafted short work by Korean author Kwon Yeo-sun. In her fourth novel, the first translated into English, Kwon is not so intent on ferreting out the killer as she is examining gender, social status, advantage, jealousy, religion, and revenge in the High School Beauty Murder, a cold case from 2002.
A beautiful teenage girl, Kim Hae-on, is killed during the summer of the FIFA World Cup cohosted by South Korea and Japan. Seventeen years later, her younger, less attractive, but smarter sister, Da-on, is still haunted by the unsolved crime as she tries to piece together what happened.
Initially, suspicion centers around two male classmates after Hae-on's body turns up in a park flowerbed near the school, her skull bashed in. Delivery boy Han Manu, who saw Hae-on riding in a Lexus RX300 driven by Shin Jeongiun, becomes the prime suspect after Jeongiun's alibis supplied by all his wealthy friends check out. All Manu has is his sister's word that she heard him come home that night. No evidence ties Manu to the crime, however, even after intense grilling by a police interrogator who, convinced of Manu's guilt, refers derisively to his mode of transportation as a "midget scooter." Manu bristles, telling the detective, "Don't call it that."
Manu is delivering chicken on his scooter when Yun Taerim, a girl from their class, flags him down for a ride in a "Follow that car!" scenario. She wants to see who's with Jeongjun in his sister's brand-new car, and gets off the scooter once she recognizes Hae-on. We are privy to Taerim's later angst in chapters spun as phone sessions with her therapist. Jeongjiun is sent to study abroad in America, Manu drops out of school, and Da-on transfers to a different school.
Kwon brings in the voices of several others, each chapter a psychological perspective from a different year. Summoning readers as a jury, she adroitly lets the Rashomon Effect play out. Kwon undergirds many of her scenes with implicit bias as she coaxes out the triggers by which each character categorizes others by their wealth, education, or social status. Individual points of view emerge during swirls of self-talk. It's an effective tactic.
Four years after the murder, another girl from Hae-on's class named Seonghui sees Da-on outside the university library and almost doesn't recognize her. In an attempt to look more like her gorgeous departed sister, Da-on has had plastic surgery that went awry. In addition, she's lost a shocking amount of weight. Seonghui and Da-on were in literary club together during high school. Kwon employs the subject of poetry a few times throughout the novel. Here, the two girls recall a poem Seonghui had written called "Lemon Platt." Kwon plays with the opening paragraph of James Joyce's Portrait of the Artist as a Young Man: "The moocow came down the road where Betty Byrne lived: she sold lemon platt." (Joyce invented the word platt in the sense of lemon-tasting sweets.)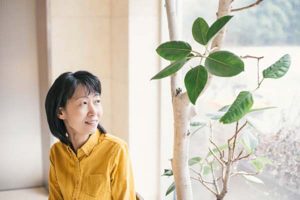 Lemon is a theme worthy of note for its bitter and sweet contrasts. The fruit's bright color brings to mind cheerfulness, yet this book is about murder. Kwon keeps returning to the yellow motif of the novel's title throughout the story. There's yellow egg yolk. Seonghui treats Da-on to a lemonade in the library café. Several characters wear yellow dresses, bringing to mind the lyrics of the U2 song Lemon. The aroma of lemon oil can have an uplifting effect, and has been called "liquid sunshine." Yet the word lemon is also used as a negative, in the sense of something not being up to par (particularly a car) but also as slang to imply someone who's "a loser." Kwon employs such opposing metaphors to spotlight societal and familial differences.
Facts have been called "stubborn things," but refusing to accept them doesn't mean they'll disappear, nor will their aftereffects. Finally confronting her long-running anger, Da-on pays a visit to Manu hoping to clear up the mystery—but there's always more. Anaïs Nin observed: "We do not see things as they are, we see them as we are" (Seduction of the Minotaur, 1958).
As more and more details come to light, Lemon becomes as compelling as the murder mystery game of Clue. What's actually being unearthed in this tale, however, is both the meaning of life and the grief about its unfairness—as well as how to mourn.
Kwon Yeo-sun has won a number of Asian literary awards already, and now the English-speaking world can see why.
---
Korean author Kwon Yeo-sun of Seoul has published in a variety of genres. In addition to Lemon, her novels include Niche of Green (The Blue Opening), House of Clay Figurines, and Legato. Her short stories appear in five collections: The Virgin Skirt, Pink Ribbon Days, Red Fruits in My Garden, The Nutmeg Forest, and Hello, Drunkard. She also has a book of essays, What Do We Eat Today?
Kwon Yeo-sun's writing has garnered a number of Asian prizes: the Sangsang Literary Award, Oh Yeong-su Literature Award, Yi Sang Literary Prize, Hankook Ilbo Literary Award, Tong-ni Literature Prize, and Lee Hyo-seok Literary Award.
Kwon Yeo-sun majored in Korean Literature in graduate school. Lemon is her first novel to appear in English, but her work has been translated from Korean into other languages.
Translator Janet Hong is a writer and translator in Vancouver, Canada. Her work earned the 2018 TA First Translation Prize from the Society of Authors and the 16th Translation Award from the Literature Translation Institute of Korea (LTI Korea), which supported publication of Lemon into English.
Publisher: Other Press

Other Press, founded in New York in 1998, began by publishing academic and psychoanalytic titles and later added novels, short stories, nonfiction, poetry, and memoir.
Judith Gurewich, who began as publisher in 2002, was born in Canada and raised in Belgium. She earned a law degree from Brussels University, a Master's of Law from Columbia University, and a PhD in Sociology from Brandeis University. Gurewich is a Lacanian-trained psychoanalyst.
Editorial Director Janice Goldklang joined Other Press in 2014 after being executive editorial director of Lyons Press. She had been with the Knopf Publishing Group for three decades as publisher of Pantheon Books and associate publisher of Knopf.
Editor Alex Poreda started at Other Press in 2016. She graduated from Amherst College with a double major in English and French, and has been an intern at Europa Editions and an editorial assistant at Cambridge University Press. Born in London, she's lived in Istanbul, Hong Kong, Beijing, and Burglengenfeld, Germany.
Other Press does not accept unsolicited manuscripts, proposals, or queries.
Click here to read more Eye on the Indies features.
Copyright 2021 Woven Tale Press LLC. All Rights Reserved