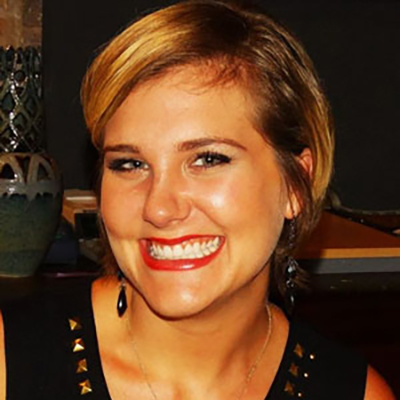 Lauren Taylor Grad is an installation artist from Anderson, SC. She combines her love of materials with found objects to explore the many aspects of life that intrigue her. Her artwork is displayed in a variety of galleries and art organizations around the South. She is the Director of Communications for Winthrop University's College of Visual and Performing Arts, and an adjunct professor there. In 2020, she received an MFA in Studio Art from Winthrop University in Rock Hill, SC, and in 2012, a BFA in Painting and Metal Sculpture from Clemson University. She now resides in Charlotte, NC. Her work appears in WTP Vol. IX #9. 
Interview with Lauren Taylor Grad
By Jennifer Nelson, WTP Feature Writer
 Nelson: In "Old Boot" and "Repair," you take photographs of found objects. Where did you find these and what are you interested in conveying?
Taylor Grad: "Old Boot" was created after I found this object while camping one day. It was lying in a wet forest beside a waterfall, covered in moss and very much alive. This object once discarded and forgotten had adapted to become a living organism with a new purpose. Housing several different species of moss and plants, it was beautifully metaphoric in symbolizing the process of death, and rebirth.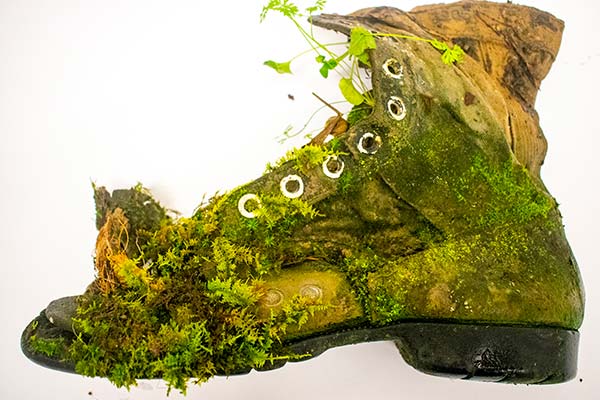 "Repair" is about the processes of natural decay, reparation, and preservation. The bucket was found near a hiking trail one day. I decided to keep it because I loved the way that it beautifully displayed the effects that time can have on a common household object. As it was full of holes, and covered in rust, I began to think about how a bucket is a vessel, and I associated vessels with a mother's womb, as something which carries and protects. I wanted to find a way to symbolically repair this vessel by utilizing a common feminine act such as sewing. The sewn thread is attempting to hold this old, rusted bucket together, yet failing to do so, and the irony of this, for me, related directly to the process of a woman aging out of her reproductive years. The thread and the bucket are strong, yet delicate and fragile. The bucket once long ago served its purpose but has passed its time and is no longer useful as a vessel yet is still beautiful and shows its scars and age spots proudly.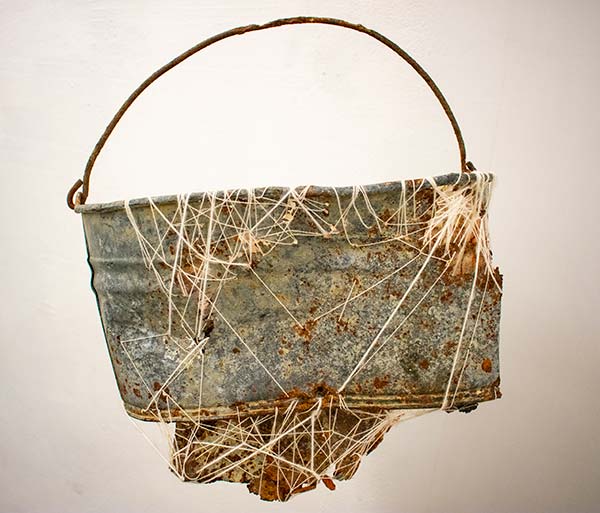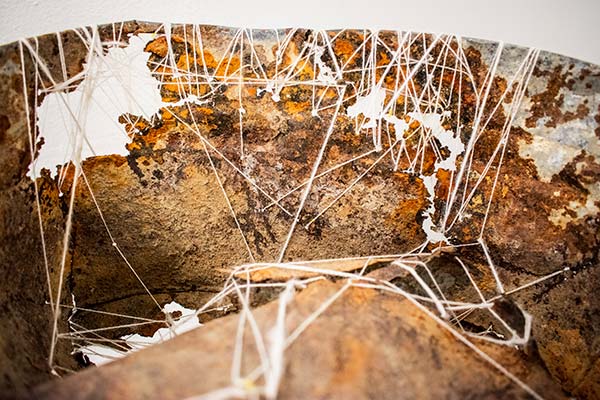 Nelson: Please describe your techniques in creating the installation Tethered, which involves making a sculpture from hand-me-down clothing and concrete and making a film performance to accompany it. From where do you draw inspiration for such artwork, and what were the challenges and joys of producing a video, as well as a sculpture?
Taylor Grad: Tethered is a sculpture about the importance of relationships. My sister is two years older that I am, and we are very close. I always received her hand-me-downs growing up. I wanted to find a way to demonstrate the connection that siblings or close loved-ones share, as well as the nurturing act of being clothed by another's previously worn clothing. Hand-me-downs carry with them the history of the previous wearer, as the smell of their body and detergent lingers within the threads. I have quite a large collection of hand-me-downs from my sister and mother, and I often think about the nurturing act that passing on worn clothing to another person embodies, this act of clothing another.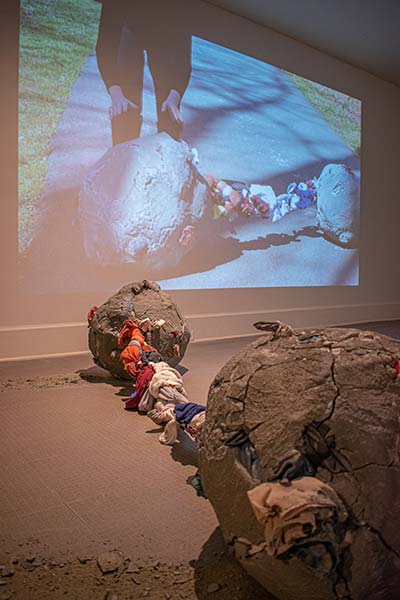 The sculpture consists of two large boulders attached to each other through a braided strand of hand-me-down clothing. The boulders are created similarly to a jawbreaker candy, with knotted clothing and concrete repeatedly layered on top of another to form a collective mass. Each boulder is extremely heavy to move, and it is very difficult to move the sculpture without the help from another person. Without the progression of both boulders moving forward, neither will advance. This is a representation of a close relationship or how one needs a connection with another human to grow and advance through life. The layers of cloth and concrete resemble time—as time goes on, more layers are added. As the boulders roll throughout the filmed performance, crumbs of concrete fall off, exposing the layers below, revealing past memories embodied within the boulders.
The boulders stand at a distance that is close enough for the people rolling the boulders to touch hands, maintaining the importance of physical contact in a relationship. My filmed performance with the sculpture consists of me attempting to roll the boulders along a path, exposing the difficulties with various turns, hills, and valleys that occur as obstacles along the way. At times, it seems that I have a rhythm of how to advance on my own, however it soon becomes very apparent how difficult it is to take this journey alone. The need for another's help is apparent in the struggle and demonstrated throughout the performance.
Many challenges accompany the filming of a public artistic performance. For me, it was important for this piece to be filmed along a winding path. So, the first challenge was to find the ideal place to film this piece—which happened to be in a public park in Rock Hill, SC. The logistics of transporting these boulders and figuring out how to get them down a steep hill to get to the actual path, was interesting to say the least. But the most difficult part of filming this piece was convincing the park rangers to allow me to roll these boulders along a pathway that was open as a public walking trail. Let's just say, they were not at all happy with me, and when filming a performance such as this one, it's better to ask for forgiveness than for permission! But, at the end of the day, I got the footage that I needed for the piece, so it was all worth it.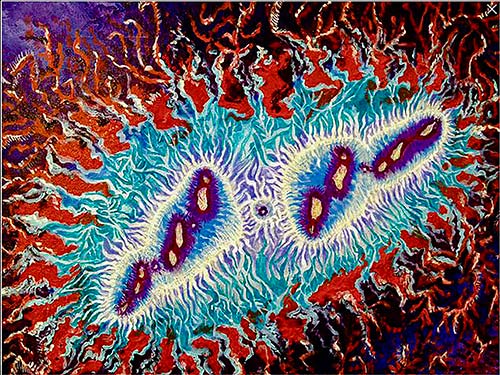 Nelson: In "Zombie Amoeba" and "Invasion" from your Pathogen series, you use bright, psychedelic colors to create paintings that explore similarities and differences of items found in nature with those that exist within our bodies. Please describe the processes you use for these oil and acrylic paintings on canvas.
Taylor Grad: This series of paintings and sculptures was created in 2012 as part of my senior thesis exhibition at Clemson University. Before studying art, I studied biological sciences, so I have always been extremely interested in the microscopic world that surrounds us. Merging these two worlds together and utilizing microscopic images in my artwork is something that I have been interested in since the start of my artistic career. The series explores the similarities and differences of things found in nature with those that exist within our bodies. By utilizing microscopic images of viruses, amoebas and bacteria, I wanted to display these natural elements cohesively in an environment and capitalize on the beauty of each separately and also together.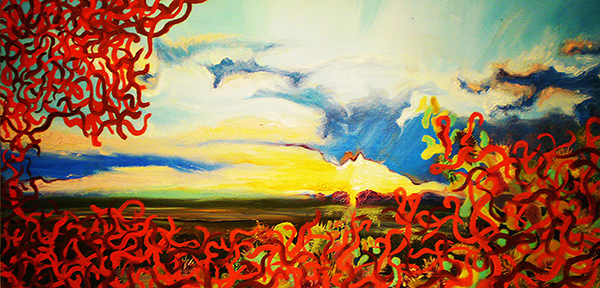 Nelson: Why did you feel it was important to earn an MFA and what have been some of the highlights and setbacks of your journey as an artist?
Taylor Grad: This is a great question! The decision to go to graduate school and earn my Masters in Fine Arts was not one that I took lightly. It is a huge investment, both in time and money, and I wanted to be sure that it was the right path for me to take before I made that leap. I personally really enjoy academia; I think that the amount of growth and nurturing that occurs in an individual throughout art school in such a short amount of time is transformative, and unlike anything that you can get elsewhere. I'm not saying that you cannot do it on your own, but you can get much further much quicker in such a nurturing environment surrounded by like-minded individuals. I decided to take six years off from school after receiving my Bachelors in Fine Arts, to travel and have a go at being a practicing artist outside of academia. It was important for me to try out a couple of different career paths first, to decide which path I ultimately wanted to invest in. The journey of being a practicing artist on your own, in the "real world" is one that is extremely challenging and isolating and is really the thing that sets apart "artists" from those with "art degrees." Not all individuals with art degrees make it as practicing artists once they are out on their own. And this is something that I have seen time and time again with my peers. The fact of the matter is that artists need to be surrounded by other artists for feedback, critiques, and the sharing of ideas. I have always loved teaching and knew that I wanted to have the ability to teach at the college level, so I knew that to be qualified, I needed to have a Masters in Fine Arts. This passion for teaching, combined with the desire to be amongst a community of other artists, is the reason that I decided to go to graduate school for my MFA. And again, the amount of growth that occurs in such a short period of time is insurmountable and I am forever thankful for the opportunity.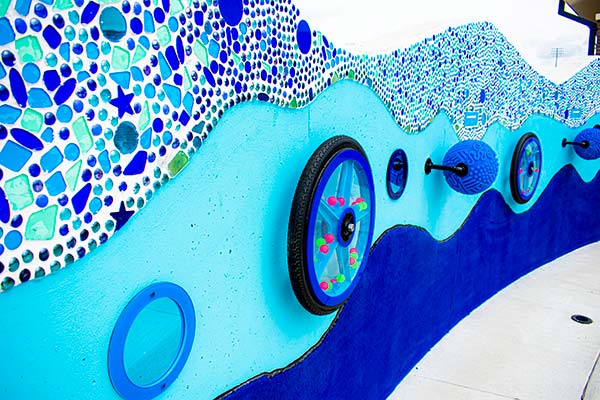 Nelson: You've completed several public art commissions in Rock Hill, SC, including Miracle Park and a mural for Dust Off Brewing Co. What adjustments in your artistic practice did you have to make to create such big installations?
Taylor Grad: Public art is a creature unlike any other type of commissioned art that I have ever completed. It comes with its pros and cons and is not for the faint of heart. Public art pieces typically take a very long time to be completed. From the first idea pitch to the final installation, it can take anywhere from months to years, and for a lot of artists this can seem daunting. You must approach these multi-year long projects with a different mindset and know that there will be months of non-stop work, and months where your work is on hold from some reason that is outside of your control. However, something that I love about public art, is that you can work with a multitude of individuals from different sectors of the community who you may have never encountered before. I have worked alongside architects, builders, concrete pourers, art educators, art therapists, and so many more. This has allowed me the ability to create connections within my community, and expand my outreach through my art, and for me, that is worth the months and years of hard work.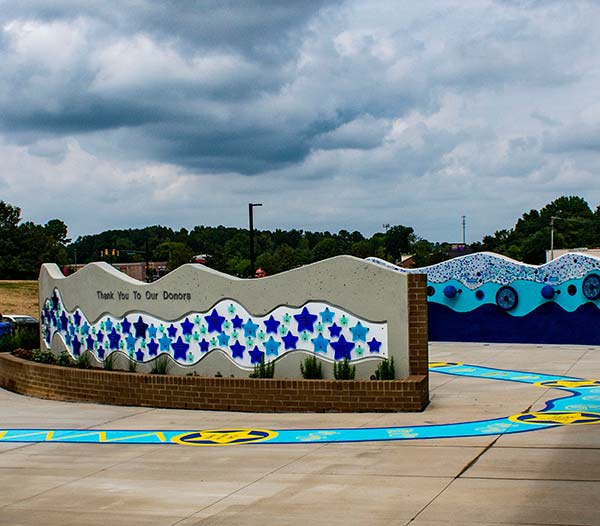 Nelson: How do you see your art evolving in the future and do you plan on tackling a new project during your artist in residence stay at Sculpture Space in Utica, NY, in 2022?
Taylor Grad: All work that I make evolves with my life because I make work about my various stages in life, and experiences. I am currently pregnant with my first child, which is both exciting, terrifying, and exhilarating all at the same time. I am hoping that the work that I make during this upcoming residency will be inspired by this new perspective that I have. The ability to create life and grow a human from within yourself is pure magic, and my perspective on who I am, and what my life is about evolves everyday with my growing belly. I hope to be able to utilize this life-changing moment and introduction to motherhood as inspiration in my art making practice and create work that is more powerful than ever before.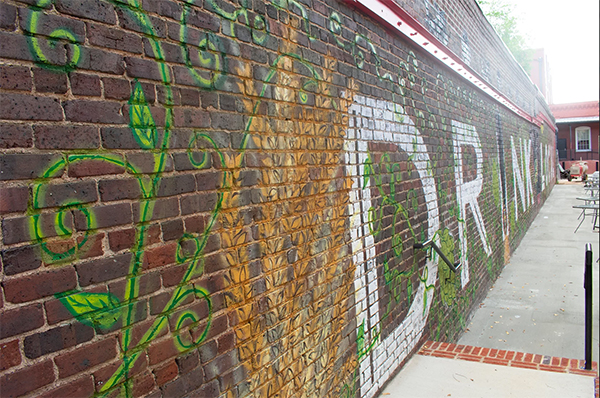 Click here to read more interviews with WTP artists
Copyright 2021 Woven Tale Press LLC. All Rights Reserved