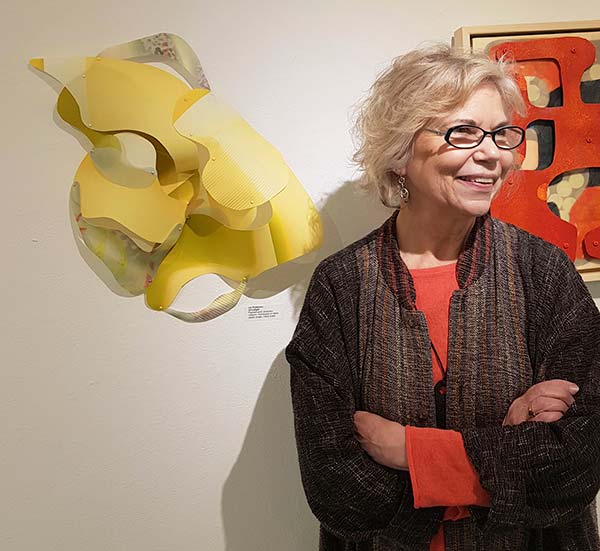 For over forty years, Lia Rothstein has been a professional photographer and artist. She has taught digital photography and imaging in colleges and art centers throughout New England, as well as workshops in cold wax painting and encaustics. She directed the award-winning PhotoStop Gallery in White River Junction, VT. Her photographic and mixed media work has been exhibited in galleries and museums across the US and is in numerous private and public collections, including the Polaroid Permanent International Exhibition Photography Collection, and the collections of John Hancock and the Radisson Group. Rothstein's encaustic and cold wax paintings are seen in the book, Cold Wax Medium: Techniques, Concepts and Conversations. Her artwork was featured in ArtMaze Magazine. She attended artist residencies at the Vermont Studio Center and the Baer Art Center in Iceland. She holds BA and MFA degrees from Boston University. Her work appears in WTP Vol. IX #10. 
Interview with Lia Rothstein
By Jennifer Nelson, WTP Feature Writer
Nelson: Your background is fascinating—as a professional photographer for over forty years, how did you come to working in encaustics and cold wax? And then working these mediums into the sculptural?
Rothstein: Once digital photography came along, and yes, I was an analog photographer with a darkroom before that time, I started exhibiting my more abstract work in galleries and shows. I grew frustrated that I always had to mat and frame my work, putting my images behind glass. I felt that viewers should be able to look into a photographic image as they did with paintings and not be distracted (and distanced) by the intermediary glass and its reflection.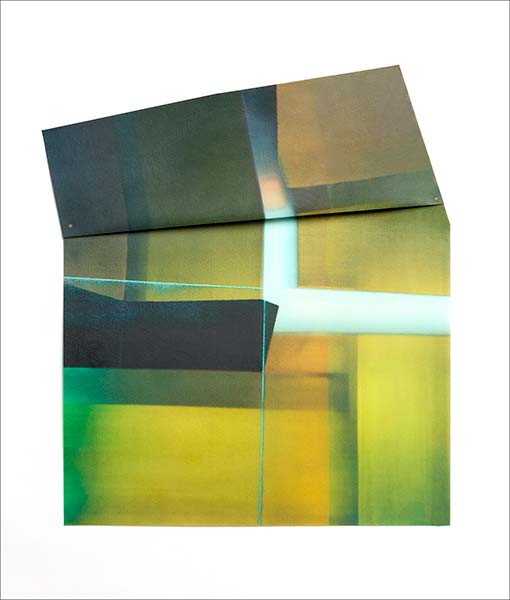 A photographer friend of mine was putting a certain kind of wax on his prints and displaying them, instead of framing them and I became intrigued with this idea myself. The materials he was using did not work for the kind of matte photographic papers I wanted to print on, so I started researching and experimenting with other methods and materials that would protect the work and allow the viewer to interact with it more intimately. I first used encaustic wax on my images and later developed methods for using cold wax as well, which is essentially an oil painting medium, put directly on my prints. The waxes do not obscure the images but, rather, enhance them with a luminous and translucent surface that's inviting and tactile.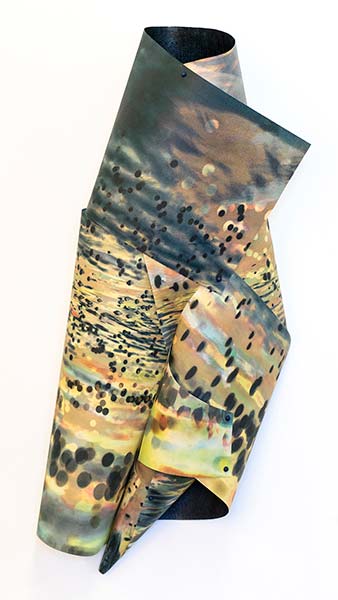 More recently, I have been printing my photographs on a fabric that's very durable, absorbent, and heat tolerant—all qualities that work well with hot waxes. After printing the photographs on the fabric and coating them with wax, I've been cutting up the images. Responding to my intended subject matter, I reposition the abstracted elements and create the three-dimensional pieces. I use various attachment methods to hold the pieces together and sometimes include monotypes, handmade papers, and other materials in the composition. "Shivelight" and "Fold 1" are examples of this process. In these works, I am seeking to extend the meaning of the original photos into a more sensory experience.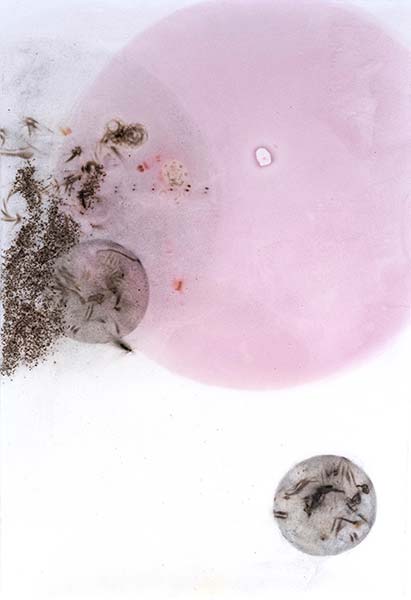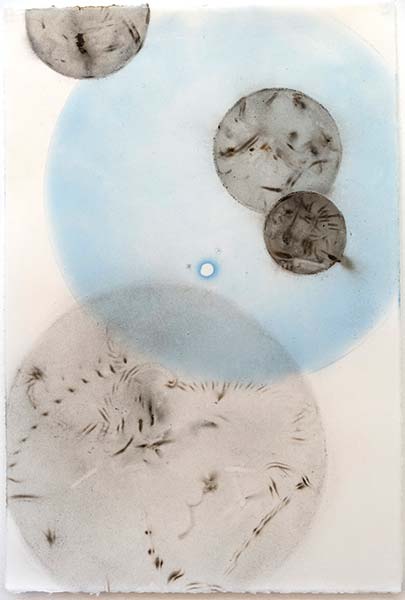 Nelson: Your Combustion series is especially unique — can you talk about how you came to drawing with soot, gunpowder, and fireworks?
Rothstein: At an international encaustic conference, I took a workshop with an artist who was using gunpowder and fireworks on paper in some of her work and I became very interested in the processes and their unpredictability. You can only control small incendiary explosions to a certain point and then chance happens. After the workshop, I purchased a wide variety of firework materials and started experimenting with them. At the same time, my mother was developing dementia and I felt that these materials mimicked the disrupted brain function I was observing in my mom. Drawing with soot, gunpowder, and fireworks on handmade paper, encapsulated, and thereby held together on the paper by encaustic medium (beeswax and tree resin), served as a metaphor for what is, and isn't, controllable. Working with these materials; explosive, transient, transformative, and unpredictable, I hoped to illustrate the complexity, temporality, disconnection, and fragility of obstructed neurological functioning.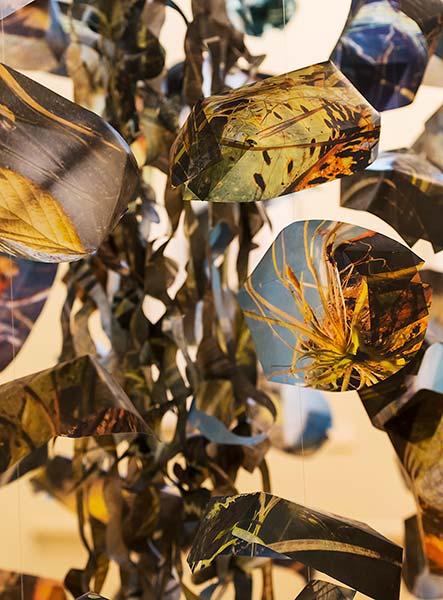 Nelson: There's a strong resonance of your abstract photographic works in your sculptural works. How does one medium inform the other?
Rothstein: I've always been intrigued by the calligraphic textures and linear elements I see in the landscape, a language unique unto itself, whether it's observed above or below the water's surface or elsewhere in nature. In my "Capsized" installation, for example, the boats are made of photographs printed on handmade Japanese paper, coated with wax, and then folded into boat forms. All the photos in the boats were taken underwater with a camera I attached to a pole while kayaking in a pond I know well. "Capsized" references a boating accident I was in when I was a young child and nearly drowned. I remember looking up through the river's water and seeing plants and people in a disorienting and dizzying way. In the installation, because the boats were so light and tethered only by thin pieces of monofilament, they continually spun and shifted with the breezes in the air creating constant gentle movements. I wanted to recreate the feeling of that sensation of looking up through the water to the surface with this piece, which was also illuminated from above and below with lighting activated by remote controls.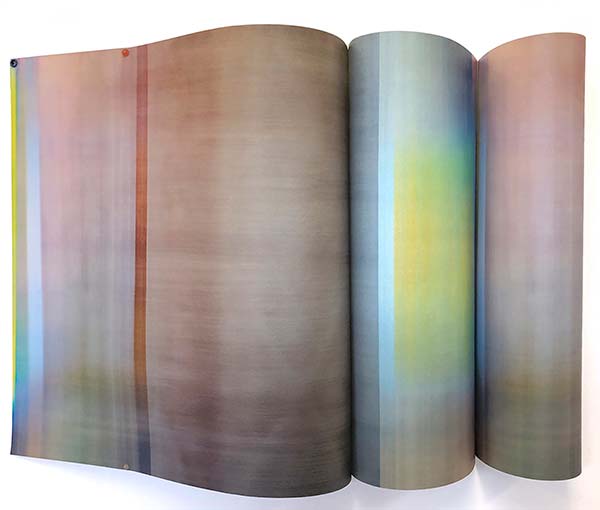 Other abstract photographic images reflect my interest in the spatial relationships between overlapping planes of pure color, light, and shadow and the illusion of three-dimensional space that shadows can achieve on a two-dimensional surface. Sometimes my photographs are of a single scene; sometimes the images show layers of superimposed light and shades. My "Lightwave" sculpture is one example of this interest. The original subject matter, industrial elements with lights cast on them, were reconfigured and recombined here to create an undulating sculpture with reflections, shadows, and modulated colors.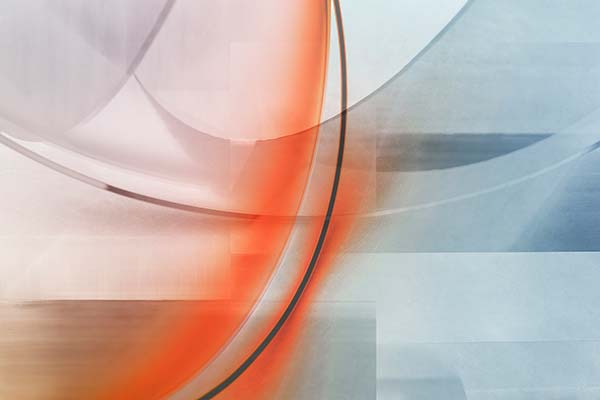 Nelson: Can you talk about your abstract photographic works in your Photopsia and LightForm series that involve layering of composited forms and shooting objects in your studio and nature? How did you arrive at this series and achieve these bold effects?
Rothstein: In these series, my interest lies in exploring the relationships between translucent compositional elements and their emotional impact on the viewer. Sometimes the photographs are of a single scene; sometimes the images show layers with composited forms or locations, made either in-camera or in post-production. Photography means "drawing with light" and I captured reflected sunlight or manufactured light with my camera to extend meaning beyond the literal recording of a single scene. Many of the images in this body of work are combinations of locations, settings, and even time periods coalesced into one image. I photograph anything that interests me wherever I am and some images in these series were taken in Europe, Iceland, India, and in my own backyard. Technically speaking, I combined the images in Photoshop and, using a variety of digital painting techniques, was able to reveal or conceal parts of images on multiple layers within the image-editing program and combine them to make these works.
Nelson: How do you see your artwork evolving in the future?
Rothstein: As you can tell, I love to work with a wide variety of materials and to test them extensively to see what works and doesn't to convey my evolving ideas. I adore experimentation! Most recently I've been working with gut material in a sculptural way in my Sinew series. I'm drawn to gut's translucency, quirkiness, and challenging nature.
I see direct parallels with my earlier sculptural work and my interest in light, line, movement, and holding on to the intangible and fragile. Juror Jenine Shereos, in her statement for a recent exhibit in which I showed these pieces, said that in my work, "gut has been stretched seemingly over air, creating a container for that which is unseen. Suspended in a state of tension, this skin-like membrane folds over and under itself in unexpected color shifts." Just as our own internal guts hold feelings, the gut material in my sculptures visually represents exactly that which is unseen and internalized.
I've also been exploring new methods of mark-making and calligraphy and look forward to combining these with work in encaustic wax and printmaking in new, exploratory, ways.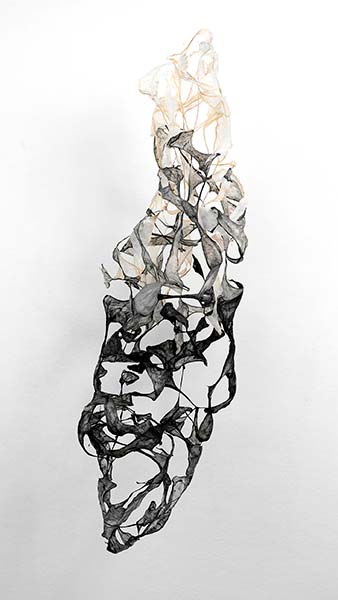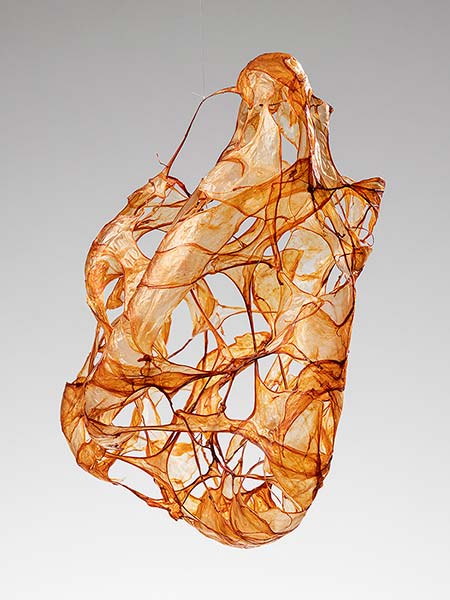 Click here to read more interviews with WTP artists
Copyright 2022 Woven Tale Press LLC. All Rights Reserved