Inside the Studio with David Provan
Inside the Studio offers a behind-the-scenes peek into the work environments of WTP artists, as well as insight into their creative process within these resonate spaces. See David Provan's work in WTP Vol. X #1.
By Jennifer Nelson, WTP Feature Writer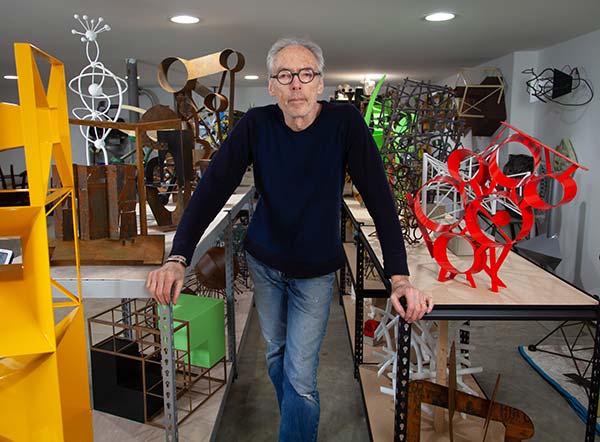 David Provan is grateful he has a studio that allows him to create artwork at all times of the day in four distinct workspaces at his Hudson Valley home.
He's dedicated a newly built studio—an addition to his house in Cold Springs, NY—to making metal sculptures. In a repurposed family room, he draws and paints. The garage houses some larger tools including a table saw, band saw, pinch roller and English wheel, as well as raw materials, such as steel, wood, and paints. An underground room has evolved into a ceramics' studio with a potter's wheel, slab roller, electric kiln, and air compressor—it's also where he stores completed sculptures.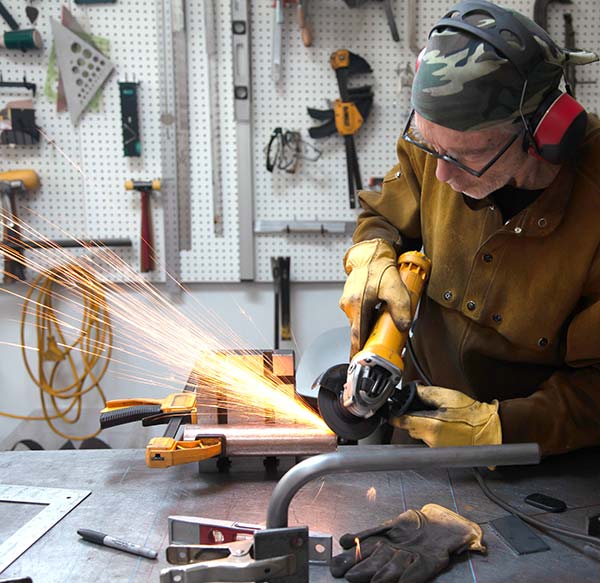 Now, after working forty years as an artist, he has some 2,000 square feet of space at his disposal. This means that most times, through careful arrangement and putting his large tools on wheels, he's able to work smoothly and without hindrance. "Occasionally, though, I make a large-ish sculpture—six feet or more in any dimension—and things become tight," said Provan. "This is the semi-sacrifice I make to have a home studio that allows me instant and 24/7 access. I work erratic hours and often late at night, and this suits my work style very nicely."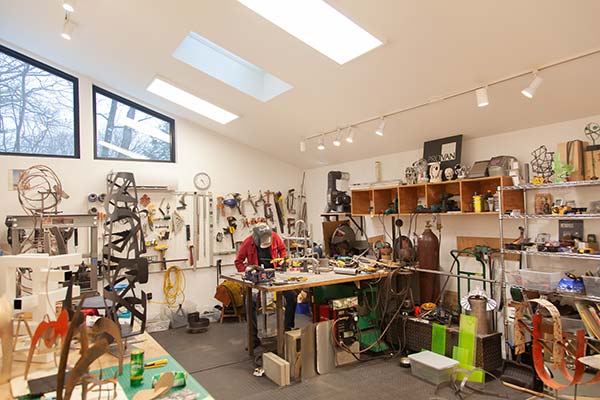 Provan has a created a life-long series of works that combine elements of Asian philosophy with modernist design, influenced by years of living in Japan, India, and Nepal. In his early 20s, he worked as a carpenter in Japan, building houses in Tokyo and Yokohama. "This experience, combined with the adventure of living in Japan for two years, sparked in me a deep appreciation for design, structure, and the art and philosophy of Asia."
After Japan, he went to India and Nepal to pursue his interest in Buddhism and yoga. While there, he was initiated into a monastery in the Himalayan foothills near Kathmandu. After two and a half years, he travelled overland by local buses through the Middle East to Europe, and then flew back to the United States.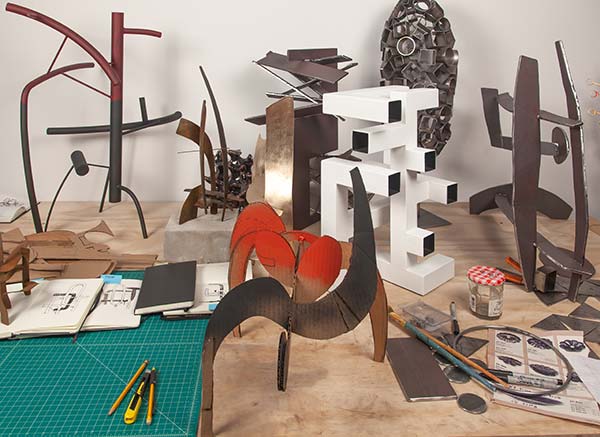 Provan works simultaneously on multiple pieces. Currently, he counts as works in progress seven paintings and drawings, and seventeen sculptures. He spends his mornings and early afternoons on yoga, Instagram, correspondence, and quick sketches. He gets to the studio around 3 p.m., picking up where he left off the previous day. Sometimes he works for days exclusively on paintings, sometimes sculptures, while other times he does both on the same day. He has no set pattern, focusing on what intrigues him in the moment. He works until dinner time, then draws in sketchbooks in a drawing area in front of the TV. He then returns to the studio where he'll work until midnight.
Provan's practice is grounded in the drawing process. He works in four or five sketchbooks at a time; the sketchbooks are scattered around the house and studio, so he always has one at hand. "When I get an initial idea for a piece, I may do ten or twenty sketches before starting the final painting or sculpture," said Provan. "Even then, the piece may only vaguely resemble any one of the sketches. I'm improvising throughout the process."
Click here to read more Inside the Studio features.
Copyright 2022 Woven Tale Press LLC. All Rights Reserved