Eye on the Indies:


A Look at Indie Authors and Their Publishers
By Lanie Tankard, Indie Book Review Editor
The Managua Trilogy By Sergio Ramírez: The Sky Weeps for Me, Volume 1, translated from Spanish by Leland H. Chambers; No One Weeps for Me Now, Volume 2, translated from Spanish by Daryl R. Hague; Dead Men Cast No Shadows, Volume 3 (forthcoming),translated from Spanish by Daryl R. Hague.
Kingston, NY: McPherson & Company: Vol. 1 (October 2, 2020; 256 pp.; ISBN 978-1-62054-020-6; $16.00 paper. Published as El cielo llora por mi by Alfaguara, Madrid, 2008), Vol. 2 (November 3, 2022; 288 pp.; ISBN 978-1-62054-050-3; $16.00 paper. Published as Ya nadie llora por mí by Alfaguara, Madrid, 2017), Vol. 3 (Forthcoming June/July 2023. Published as Tongolele no sabia bailar by Alfaguara, 2021; censored in Nicaragua).
"The treacheries of ambition never cease."
—Rubén Darío
"Litany for Our Lord Don Quixote"
(trans. Muna Lee, Poetry: A Magazine of Verse edited by Harriet Monroe,
Vol. 26, No. 3, June 1925,  pp. 135–37)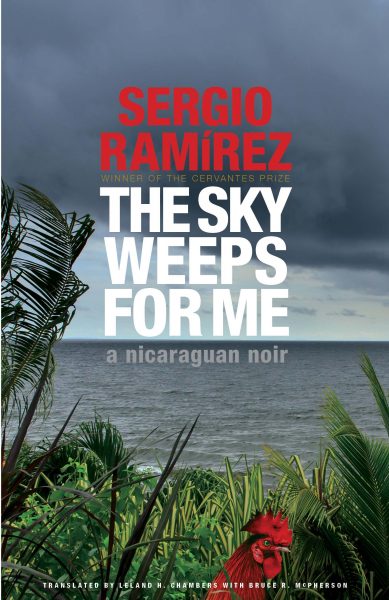 There are many ways to bear witness. Fiction is one of them. From a prolific and well-decorated writer comes a creative trilogy initially published in Spanish, now in English. The first two translated books are already available, with the final story this summer. The Spanish version of Volume 3 is banned in Nicaragua, and the writer lives in exile in Spain.
This compelling set of political police procedurals is sure to stimulate discussion from a wider audience of English readers. Perhaps it's time to examine the literary mission of author Sergio Ramírez, who was vice president of Nicaragua under Daniel Ortega from 1985 to 1990, before breaking with the changing policies of Ortega. Both men were members of the leftist Sandinista National Liberation Front (FSLN) that brought down the government of dictator Anastasio Somoza in 1979.
Certainly there are excellent mystery novels out there with memorable detectives, to wit: Donna Leon's Commissario Guido Brunetti in Venice, Louise Penny's Inspector Armand Gamache in Quebec, or Charles Finch's amateur sleuth Charles Lenox in Victorian England. This trilogy of noir crime novels by Sergio Ramírez is certainly in the same genus, but his Inspector Dolores Morales in Managua is a distinctly different species from Brunetti, Gamache, or Lenox.
Texas writer David Lindsey undertook a related Latin American slant with his Houston detective Stuart Haydon, particularly with the masterful Body of Truth set in Guatemala, but Ramírez brings the unique perspective of someone who has actually dwelt among the history of his Nicaraguan plots. The trilogy reflects the approach of his earlier noir crime novel Divine Punishment, but what Ramírez did differently this time is add a detective protagonist to guide the storyline.
Inspector Dolores Morales brings a viewpoint honed through what he terms in Volume 1 "the clandestine struggle against Somoza." Ramírez fashions colorful characters bearing reflections of actual people and events. Morales serves as a charismatic travel guide to his country throughout the trilogy, a knight-errant detective tilting valiantly at the historic windmill of politics still whirling there. Volume 2 opens with his biography in the guise of a Wikipedia entry, stating: "The book's author, Sergio Ramírez, is one of Inspector Dolores Morales' fellow citizens, and the two men enjoy a close friendship."
The inspector's name is an example of nuance in "Easter eggs" scattered about, for those who wish to speculate on possible allusions. José Dolores Estrada Morales served as acting president of Nicaragua for a week in 1910 before handing the reins over to his brother.
Inspector Morales establishes his distinct persona in Volume 1, called "a Nicaraguan Noir" on the cover. As Chief of Intelligence in the Office of Drug Investigations, part of the National Police, he is aided by Deputy Inspector "Lord" Bert Dixon, who alerts him to what appears to be routine drug smuggling in a luxury yacht named the Regina Maris (another Easter egg?), run aground on the Caribbean coast. Until, that is, the eagle-eyed office janitor, Doña Sofía Smith, keeps asking pertinent questions about the evidence, which includes a bloody T-shirt and a book. The investigation slowly deepens into a far more labyrinthian puzzle after Doña Sofia inquires whether they've flipped through the pages of the book. Lo and behold, out floats a woman's business card and the chase is on.
Ramírez develops this dauntless trio of crime solvers, all former Sandinistas from the Revolution, against a backdrop of the entire country as they slowly uncover an international drug conspiracy involving another past Sandinista comrade. Ramírez has a patient writer's hand for slow plot reveal in this trilogy—never in a hurry, content to enjoy the journey and observe the sights as in a Nicaraguan travelogue. He embeds literature, geography, sociology, history, economics, psychology, and events such as the lasting effects of the earthquakes that have rocked Nicaragua. Yet the three entertaining tales are the polar opposite of dull textbooks. There's witty banter amidst poignant drama illustrating the effects of a dictatorship on a country's population.
Morales nicknames Dixon "Lord" due to his gentle and thoughtful ways, even when Dixon is needling his superior. The two men become good friends outside their work. Unfortunately, by the end of the first volume, Lord Dixon is no longer among the living. Ramírez, however, resurrects him in charming otherworldly form for the second volume. Lord Dixon becomes a ghostly italic voice whispering tips in the ear of Inspector Morales while fleshing out the backstory for readers. It's a very handy and entertaining plot device.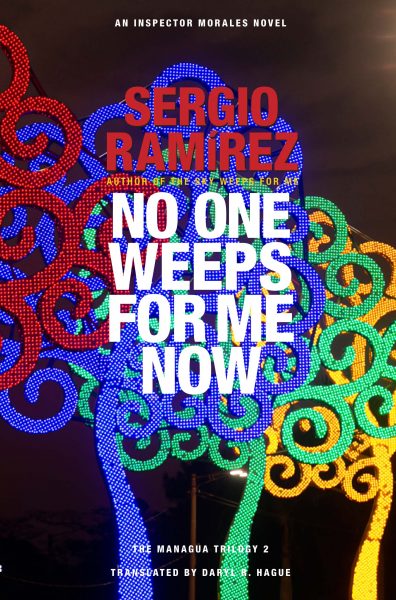 By the time of the second story, the detective is a lowly private eye operating out of a shopping center in a former children's clothing store after being fired from the National Police after the previous tale. Lord Dixon continues to keep him on task through wry digs, sometimes causing Morales to shush the voluble Dixon as he would his conscience. The good lord even tosses occasional oblique asides to Doña Sofía, as she's risen now from janitor to the detective's office assistant and also lives in his neighborhood barrio. The agency specializes in adultery cases.
Case #2 is quite different from the first. A rich and politically influential Nicaraguan businessman named Miguel Soto Colmenares hires Morales to locate his missing stepdaughter Marcela—but once again, the hunt becomes much more complicated and dangerous than the detective bargained for, even with the lucrative fee he's promised. Morales begins to suspect his employer may not really want his stepdaughter found. (There's an echo of the 2019 documentary Exiliada, which sociologist Leonor Zúniga directed, involving the 1998 sexual abuse allegations by Zoilamérica Narváez Murillo, stepdaughter of Nicaraugan President Daniel Ortega.)
Various colorful characters join the plot, such as the King of Vultures, Hermógenes, a poet with a monopoly on the garbage-collecting business. He keeps a vegetarian pet vulture named Chepe who eats papaya. Morales debates the bourgeois class with Hermógenes.
By the end of Volume 2, Morales finds himself deported to Honduras. Along the way though, he picks up a new sidekick, Serafín, another former Sandinista soldier he calls "Rambo," who still sports his jungle boots and refers to the detective as "Jefe" because he was the leader, saving Rambo's life in the same battle in which the detective lost his left leg. Morales went to Cuba for a prosthetic replacement, and now uses a cane. He had his ancient blue Russian Lada car outfitted so he could continue driving. His vices of wine and women remain the same in both books.
When Morales first encounters Rambo in this second tale, Rambo lives up to his nickname—thrashing his former chief before recognizing him. Rambo's a good addition to the character interaction. He appears to be headed into the third and final translated volume with his jefe as they return to Nicaragua undercover. Could they be preparing to open a stealth detective agency? Morales is actually going back to help a hospitalized woman—his longtime lover Fanny Toruño, married to another man. She's a colorful personality in both previous books. The intrepid investigative trio gradually evolves into a quintet with the addition of Fanny and Rambo.
A list of Dramatis Personae in Volume 1 was a good aid in keeping the characters straight. A similar catalog of names would have been helpful in Volume 2 as well. Tongolele, a crucial character from the second story as head of Nicaraguan secret services, seems to be the focus of the forthcoming third volume. A white lock of hair earned him the nickname (which was the stage name of Mexican-American actor/dancer Yolanda Montes, who also had a distinctive white streak in her dark hair). Tongolele distrusts computers and wonders how many people actually read books.
Apparently Morales does, as he corrects Lord Dixon after he quotes Peruvian Mario Vargas Llosa. "No, it's Gabo" (Colombian Gabriel García Márquez), the detective quickly replies. Ramírez brings in other Latin American writers, too. For example, one character offers a critique on Argentinian Julio Cortázar's novel Hopscotch.
Now, if Ramírez were simply trying to present a portrait of only one country through the genre of detective novels, these excellent police procedurals would more than suffice. His skillful rendition, however, creates a metaphor representing dictatorships past and present around the globe. It illuminates repressive authoritarianism and the power of the pen to call it out—and doesn't overlook the role of imperialism.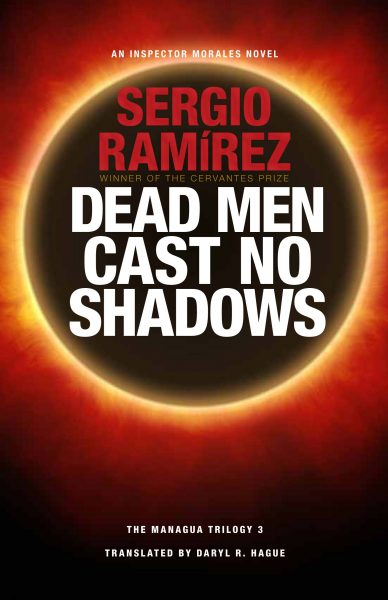 In Dolores Morales, Ramírez pays homage to Miguel Cervantes in this likeness of Don Quixote. Lord Dixon serves as his Sancho Panza in Volume 1 and partway through Volume 2 via his ghostly italicized voice, but Ramírez alludes to the Quixote/Panza pairing with other characters, too. Rambo shoulders the role after he enters the storyline. Ramírez does a lovely job of evoking a scene in the Cervantes novel where Don Quixote and Sancho Panza sleep sitting side by side against the trunk of a tree awaiting their next adventure. Ramírez places Morales and Rambo sitting similarly against the large tires of a semi truck in Honduras to rest at the end of Volume 2, before setting off on their next adventure in Volume 3. Rambo appears to be continuing in this Sancho Panza role in the forthcoming tale, since the two men are heading back to Nicaragua. Will Lord Dixon's voice travel with them?
All the knight-errant missions in the three tales involve damsels in distress. Perhaps the real damsel in distress, however, is a country run amok. As Morales dreams the impossible dream, he sweeps readers along with him in pursuit of moral justice—if actual legal justice can't be obtained. This trilogy is a symbol of hope to every writer who has been attacked or exiled or murdered simply for viewing the world through a literary lens. Sergio Ramírez holds a beacon here to those whose words flow on, despite. Take, for example, Salman Rushdie publishing yet another novel, Victory City, just last week after recovering from a vicious knife assault in August 2022.
Vargas Llosa, in his lecture when he won the 2010 Nobel Prize in Literature, notes "the marvel of writing, creating a parallel life where we can take refuge against adversity."
Ramírez himself, in his acceptance speech for the 2017 Cervantes Prize, underscores that idea: "Narration is a gift that springs from the need to tell…." He went on to urge novelists to "bring the torch close to the faces of the characters hidden in the darkness, revealing the changing, hidden details of the human condition." And that, in his own words, seems to describe just what  he did in The Managua Trilogy.
Akin to other authors who push themselves beyond the confines of a sole genre—such as Ben Okri, Isabel Allende, Margaret Atwood, or George Saunders—Ramírez has channeled his voice through varied megaphones in over fifty books to communicate via novels, poetry, essays, short stories, memoir, and journalism. He's been translated into at least twenty languages.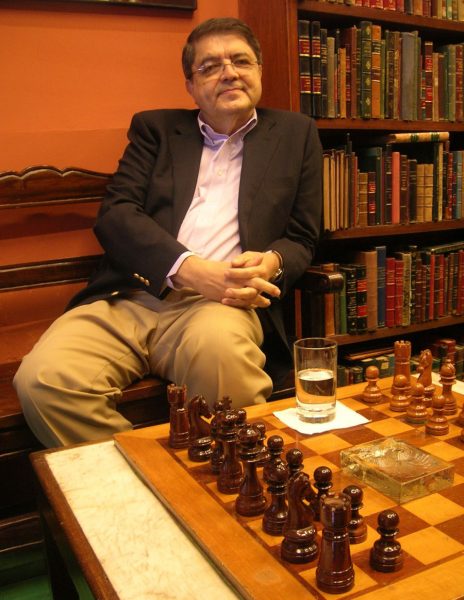 He describes the Nicaraguan way of life as if he's painting scenery for a play's backdrop. Readers meet people from all walks of life in the itinerary of his storyline, establishing what makes Nicaragua Nicaragua.
Alongside, Ramírez presents well-drawn accounts of international drug smuggling in Volume 1, and the culture of silence surrounding rape and its psychological repercussions in Volume 2. The second story feels stronger, packed with more wit, depth, and literary allusions—leading one to speculate where the third tale might fall along this spectrum. Of course, Volume 1 was originally published in Spanish in 2008, while Volume 2 came out nine years later in 2017, followed by Volume 3 in 2021—swiftly banned in Nicaragua, with his arrest sought before he moved to Spain in exile.
After reading these tales, with plots unfurled and conclusions revealed, what remains are portraits painted by an artist in love with his place of birth, etched in the brain as favorite paintings in art museums around the globe. Rendered in words on paper instead of oils on canvas, they illustrate one nation's life force—ever present amidst the politics. For "politics is a question of language," Ramírez declared when I heard him speak at the University of Texas in 2016, sitting next to his fellow countryman Ernesto Cardenal when Cardenal donated his papers to the LLILAS-Benson Latin American Collection. Ramírez added, "You cannot explain the Revolution without Ernesto's poetry," noting it was "a new type of poetry that came very close to prose, as if he were a storyteller telling verses." In addition to their connections during the Revolution and afterward, the two were neighbors for over four decades before Cardenal's death in 2020.
"Do you mean to say that the story is finished?" asked Don Quixote of Sancho Panza in the Cervantes novel. Ah, but this one isn't, for Sergio Ramírez has that final volume of his powerful trilogy being translated into English right now. Kudos to Bruce McPherson for making these works accessible to English-speaking readers through translations, well performed by Leland Chambers and Daryl Hague.
And Felicidades to Sergio Ramírez for writing them.
---
Sergio Ramírez, born in Nicaragua, currently lives in exile in Spain, where he has citizenship. Nicaragua ordered him arrested in 2021, and banned the third volume of this trilogy when it came out in Spanish.
An active journalist, Ramirez was deputy vice president of Nicaragua between 1985 and 1990 and a long-time member of the leftist Sandinista bloc. He holds a law degree from the University of Nicaragua.
He won the 2017 Miguel de Cervantes Prize, awarded since 1976 for lifetime literary achievement in the Spanish language. Ramírez also won the 1998 Alfaguara Prize in Spain for his novel Margarita, How Beautiful the Sea. He is the only author from Nicaragua to win both prizes. He has won numerous other honors, most recently the seventh International Solidarity Humanism Award "Erasmus of Rotterdam" on January 20, 2023, in Madrid.
Leland H. Chambers, who translated Volume 1, was emeritus Professor of English and Comparative Literature at the University of Denver, where he directed the Comparative Literature Program and edited the literary magazine Denver Quarterly prior to his death in 2017.
Daryl R. Hague, who translated Volume 2 and the forthcoming Volume 3, is Professor of Spanish and Portuguese at Brigham Young University in Provo, Utah, where he earned bachelor's and master's degrees. He holds a law degree from the University of Washington and a PhD from the State University of New York in Binghamton.
Publisher: McPherson & Company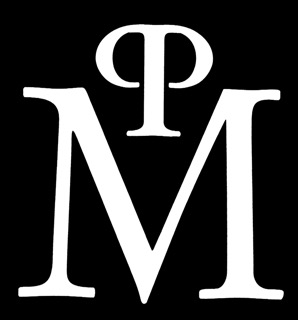 McPherson & Company is an independent literary and arts publisher in Kingston, New York. Bruce McPherson began the endeavor in 1974 as Treacle Press, and it's been a full-time undertaking since 1984 when he changed the name.
McPherson was production director for the Publication Center for Cultural Resources in New York City, and holds a BA degree from Brown University.
The press specializes in contemporary fiction, recovered classics, cultural nonfiction, and translations, with some titles available as ebooks or DVDs. To "bring  a little cheer" during the COVID-19 pandemic, McPherson created a free series of PDF Booklets of Short Fiction called Fortnight to download.
Manuscript submissions are not currently being accepted.
Click here to read more Eye on the Indies features.
Copyright 2023 Woven Tale Press LLC. All Rights Reserved