Eye on the Indies:


A Look at Indie Authors and Their Publishers
By Lanie Tankard, Indie Book Review Editor
Hunger Heart by Karen Fastrup, translated from Danish by Marina Allemano (Toronto, Ontario, Canada: Book*hug Press, November 22, 2022, first English ed., Literature in Translation series; 272 pp.; trade paper, ISBN 9781771667722; $21.00 US, $25.00 CAD).
First published as Hungerhjerte by Gyldendal, Copenhagen, 2018.
"Identity failed me."
—Virginia Woolf,
The Waves (1931)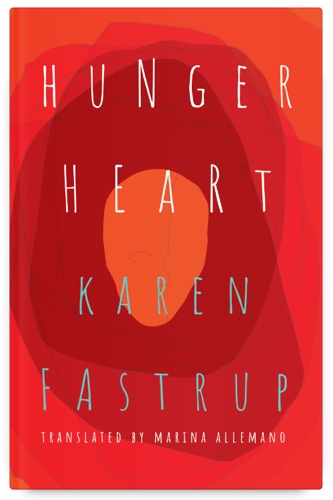 Language plays a hefty role in Danish author Karen Fastrup's reflective psychological work titled Hunger Heart. In this autofiction, the protagonist is also named Karen and, like the author, is a writer and translator. The book itself is a translation, from the original 2018 Hungerhjerte published in Denmark and brought out in English last fall by a Canadian press.
The autofiction genre is a merger of techniques yielding neither a memoir nor a novel but rather both rolled up into one. Akin to autobiography, it's actually fiction prompted by the author's own life experiences, often traumatic. Indeed, Fastrup begins Hungry Heart in the ER of a Copenhagen psychiatric unit, where Karen's boyfriend Jan has brought her after she threatened him with a knife.
French writer and critical theorist Serge Doubrovsky coined the term autofiction to describe his 1977 novel Fils, which explored identity. Literary scholars continue to debate the concept.
In one sense, autofiction adjusts life events to bear witness by modifying them, possibly assisting the author in pattern recognition. Fastrup here zigzags along timelines in staccato bursts of chapters imitating a racing mind. She'll examine her protagonist's childhood in one and then abruptly return to the present psychiatric crises in another, while alternating between sensual love relationships and mental illness descending down a family tree.
Fastrup adroitly employs this complex method to bring readers inside the whirling thoughts of a patient awaiting diagnosis. Is it Borderline Personality Disorder? Or is it Bipolar Disorder? Is she suicidal or not? Possibly an eating disorder? Hmmm, maybe comorbidity, the simultaneous presence of two or more diseases or medical conditions?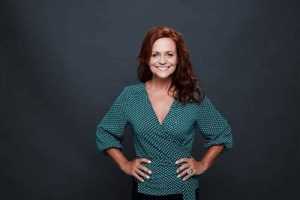 Some chapters hearken back to the beginning of Karen and Jan's relationship as they try to "meet in the middle." He's a therapist treating young people with drug abuse problems, and also a drummer. His twenty-year-old son, Oliver, lives with him. Emma, Jan's ex, moved out two years ago. We meet Jan's extended family at dinner the night of the knife incident—his mother, brother and wife, and two nieces.
The book's focus, however, is solely on Karen in the context of her entire family and upbringing. She has two children still in school, daughter Selma and son Malte. Her sister, Anne, and husband Mikkel take them in when Karen is hospitalized. Her younger brother, Niels, cries when he comes to visit. Her older brother Jens died young.
There's a family inheritance of insanity. Karen had "episodes" as a very young child. She doesn't learn to read until she's ten, and decides she wants to be a writer at age twelve.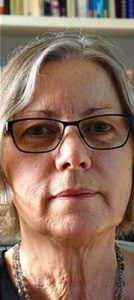 When Karen is nine, her mother studies developmental psychology to be an early childhood educator. Karen feels closer to her father, a former ski jumper. He's the one who comes to comfort her when she cries in bed. He teaches her to notice the world around her. She's bullied in a new school after they move, and he tells her people see newcomers as "different." Yet he also lashes out at her as she grows up, saying she's fat during puberty.
In present time, Karen hears many people at the psychiatric unit say they were bullied growing up. She finds comfort underneath a weighted blanket when her emotions seem overwhelming.
Fastrup offers incisive views of patients' reactions to hospital personnel. Her presentation pulls readers in as sleuths to join a host of professionals in the search for possible causes of Karen's current state.  We observe a nursing assistant, a psychiatrist, a "hippie" psychologist, a mentor—and "Cognitive Johnny," who visits twice a week after Karen is discharged. Teaching her the importance of self-praise, he employs "Cognitive Restructuring" to integrate her back into society after Jan leaves her.
What does it take to recover? Is it even possible if you've never had a normal state of being? By the end of the book, protagonist Karen seems to look up, beseeching readers.
Author Karen Fastrup conducts a fascinating study here in identity formation and society's role in it. Hunger Heart is a lesson in resilience and strength.
---
Karen Fastrup, who lives in Copenhagen, has written six novels and also translated more than fifty into Danish. In 2019, Femina Magazine named her one of the seven most remarkable women in Denmark.
Marina Allemano translated Karen Fastrup's Hunger Heart from Danish to English. She teaches at the University of Alberta in Edmonton, where she earned a PhD and an MA in Comparative Literature. Her publications include Historical Portraits and Visions, Suzanne Brøgger: en introduktion (written in Danish), and various literary articles.
Publisher: Book*hug Press

Canadian indie publisher Book*hug Press in Toronto, begun in 2004, specializes in literary fiction, narrative nonfiction, poetry, and literature in translation. Founding co-owners, co-publishers, and spouses Jay MillAr and Hazel Millar have long been immersed in the literary scene there. Former students at York University in Toronto, the duo has hosted a monthly reading salon series called HIJ.
He has published poetry, coauthored a microfiction novel, edited a book, curated the virtual online bookstore Apollinaire's Bookshoppe, and taught poetry/poetics through his Toronto New School of Writing (which he founded in 2009). She has been board chair of the Literary Press of Canada as well as publicist for the League of Canadian Poets.
Submission guidelines for Book*hug Press may be found on the website.
Click here to read more Eye on the Indies features.
Copyright 2023 Woven Tale Press LLC. All Rights Reserved