Eye on the Indies:


A Look at Indie Authors and Their Publishers
By Lanie Tankard, Indie Book Review Editor
The Circumference of the World by Lavie Tidhar (San Francisco: Tachyon Publications, September 5, 2023; 256 pp.; ISBN 9781616963620; $17.95 print; $11.99 digital).
"Is all that we see or seem
But a dream within a dream?"
—Edgar Allan Poe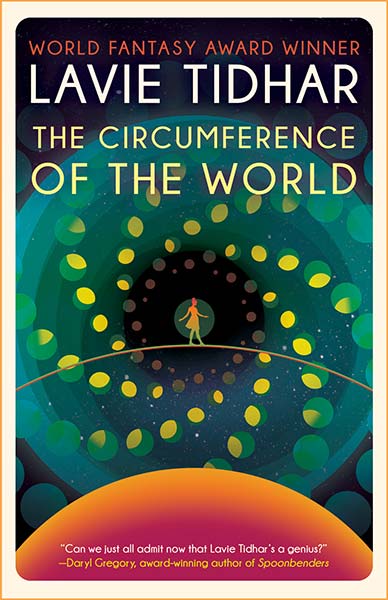 Earth's circumference has long been used in navigation. Lavie Tidhar employs it as a GPS along the celestial equator in his forthcoming book, The Circumference of the World. Right at the beginning, mind you, he posts a caveat: "Just remember: none of this is real." Then he whisks readers 10,000 light years away to test that statement, doing so with his typical mixture of genres in a creative space opera strewn with Easter eggs from science fiction and fantasy.
Circumnavigating the life of L. Ron Hubbard is the doppelgänger character Eugene Charles Hartley. Tidhar presents Hartley as an eminent science fiction and fantasy writer who founded the Church of the All-Seeing Eyes and penned a crucial novel titled Lode Stars. It's the heart of Tidhar's narrative—except no one can find the book.
The Circumference of the World swarms with dark matter lit by lodestars—which typically guide or lead, such as the North Star. To Shakespeare, they were beautiful and bright, as when Helena tells Hermia in A Midsummer Night's Dream: "Your eyes are lodestars." Not so in the tale told by Tidhar. Here they are more what Primo Levi described in his poem "The Black Stars."
Opening Tidhar's novel is Delia Welegtabit, a young mathematician in London  recalling her South Pacific childhood in Vanuatu, where her family had a copy of the now-vanished Lode Stars. Today her husband, Levi Armstrong, desperately wants it. Also a mathematician, he hopes the book will steer him to make sense of the world as he chases a Fields Medal or a Nobel Prize. He believes "We're all just complexes of information, of data." Levi is trying to prove the Holographic Principle mathematically. The problem is, everyone who claims to have had Lode Stars turns up either dead or missing. Soon Levi disappears as well, after claiming he's located the volume.
Tidhar loves to toy with what he's crafting, so here he starts to tweak The Circumference of the World from one character's memoir into a detective novel. Delia turns to Daniel Chase, a rare book dealer who has face blindness (prosopagnosia, or the inability to recognize faces—although he can see Delia's). She asks Daniel to track down Lode Stars, but what she really wants to find is her husband, who walked out of their London flat for good. Reluctantly, Daniel agrees to help.
Enter four new characters: Billy and Macaroon (large bald henchmen), Detective Barnes (a police officer), and Oskar Lens (a powerful mystery man who spent time in a Siberian penal colony until the Soviet Union fell). Oskar really really really wants Lode Stars after meeting Levi in a monthly London book group at "Arthur C. Clarke's flat." Oskar thinks Levi now has the volume.
"The book posited the idea that we were all not ourselves but reconstructed memories. That we were matter swirling inside a black hole, at the very end of the universe." Levi had said: "The idea that the universe is a simulation is not exactly new." Yet apparently the novel also contained a code, The Occlude,  protecting a person from being sucked into a lodestar by blocking it off from "the eaters."
When Oskar hears Daniel is tracking Levi, he dispatches Detective Barnes. Billy and Macaroon stuff Daniel into their black car and deliver him to Oskar. Telling Daniel money is no object, Oskar orders him to find Levi and retrieve the Lode Stars book. When progress is slow, Oskar slaps a God Helmet (invented by neurotheology researcher Michael Persinger) on Daniel's head to comb through his memories. A recent (6/12/2023) New Yorker short story "Thursday" by George Saunders creatively explained a memory helmet.
From here on, Tidhar pulls out all the stops in a pastiche of science fiction tropes. He includes the Lode Stars manuscript. In it, a character named Delia learns her father died 10,000 light years ago. Because they'd argued when last together, she wants to travel back through her grief  to find him. Meanwhile she's fallen in love with Ghis, who swarms as bees, representing hive intelligence. Ghis buzzes Delia to say she'll help locate her father.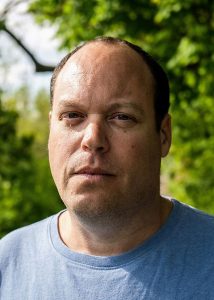 Off they go, to a cluster of suns called Sevagram 500 light years from Earth's solar system to find the Keeper of Ancient Artefacts, who says Delia's father came there looking for an Occlude but didn't find one. The Keeper suggests they try the planet Murkheim, "away from that small and insignificant galaxy that was notable only, and if at all, as the birthplace of an obscure species called humanity."
Onward they travel, meeting Grand Aunt Dorothea from the Church of the All-Seeing Eyes. Tidhar intersperses letters between various well-known people with segments of Hartley's memoir, in which he describes attending the first Westercon (West Coast Science Fantasy Conference) in 1948: "That kid, Bradbury, was there….You have to understand—we were more than writers, we were prophets of a new age. We could see the future, we could imagine it and give it shape."
More than a fun fantasy romp exploring reality, The Circumference of the World reflects current research, such as a much-debated June 2023 article by Lucas Lombriser (Department of Cosmology and Astrophysics, University of Geneva) suggesting expansion of the universe could be a mirage—flat and static instead, which would affect the nature of dark matter. Albert Einstein initially held the flat and static view. Neuroscience researchers study how we construct reality. Science reporter Brian Resnick explains: "Our brains work hard to bend reality to meet our prior experiences, our emotions, and our discomfort with uncertainty."
Can science fiction writers forecast the future and sculpt it? If only they could. In The Circumference of the World, Tidhar notes: "War, humanity had finally learned, was a poor species' choice." Such authors keep trying as they spin metaphorical worlds and imagine possibilities. Tidhar remarks: "Without stories we can't really be human," reflecting psychologist Jerome Bruner's view on the narrative production of reality.
The Circumference of the World is a playful but well-constructed tribute to sci-fi and fantasy—a panegyric that warrants serious consideration. Of course, as Lavie Tidhar winks throughout: "None of this matters if none of this is real."
---
Lavie Tidhar is Science Fiction and Fantasy Writer-in-Residence at Richmond, the American International University in London, where he is a Film lecturer. His writings include mobile games, children's books, short stories, novels, animation, comics, graphic novels, anthologies, poetry, crime fiction, detective stories, interactive fiction, noir, and Washington Post columns.
Tidhar is editor of the Apex Best of World Science Fiction series (of which Volume 3 will be out in October 2023 from publisher Head of Zeus). His novel Central Station earned the 2017 John W. Campbell Memorial Award. He received a 2015 Jerwood Fiction Uncovered Prize for Best British Fiction based on his novel A Man Lies Dreaming. His book Osama garnered the 2012 World Fantasy Award for best novel.
He also published the World SF Blog (2009–2013), which earned a Special Award (Non-professional category) at the 2011 World Fantasy Awards.
 Tidhar's short story "Temporal Spider, Spatial Webs" won the 2003 Clarke-Bradbury International Science Fiction Competition sponsored by the European Space Agency.
He grew up on a kibbutz in northern Israel, and his book Maror about Israel came out in August 2022. Tidhar has lived around the world, in places such as South Africa, Laos, and Vanuatu.
Publisher: Tachyon Publications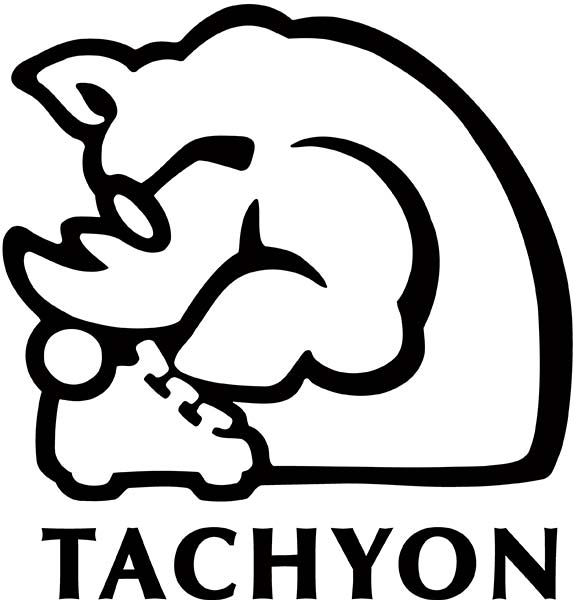 Editor and Publisher Jacob Weisman started Tachyon Publications in 1995. This San Francisco indie press is known for titles in a variety of genres: science fiction, fantasy, horror, mystery, memoir, young adult, literary fiction, and out-of-print classics.
"We champion the creative storytelling of authors who inspire us through intelligent prose and imaginative worlds." In physics, a tachyon is a hypothetical particle that travels faster than light but has never been observed. Since physicists don't actually know whether tachyonic particles exist, they can only predict them in their imagination.
Weisman shared the 2018 World Fantasy Award for Best Anthology with Peter S. Beagle for their coedited book The New Voices of Fantasy. He is coauthor of  Hellhounds (2022) and Mingus Fingers (2019) with David Sandner. Weisman's writing has appeared in publications such as The Nation, Realms of Fantasy, Louisville Courier-Journal, Seattle Weekly, and Cooper Point Journal. He and his wife, Rina Weisman, coordinate SFinSF  (Science Fiction in San Francisco), a monthly series of movies and author readings hosted by Terry Bisson.
Managing Editor Jill Roberts began her work at Tachyon in 2002. She has been a columnist for the library newsletter Books to Watch Out For and also for the feminist literary magazine 13th Moon. Roberts worked as consulting editor at Streetside Stories, a Bay Area nonprofit writing program cultivating the voices of young people from underrepresented communities.
Baker & Taylor Publisher Services in Ashland, Ohio, distributes Tachyon to the book trade. Tachyon submissions are open only to literary agents, artists, and designers (but not authors representing themselves).
Click here to read more Eye on the Indies features.
Copyright 2023 Woven Tale Press LLC. All Rights Reserved