Read —> Through The Looking Glass – Adventure In Zenland
'So What's Next?' I thought as I saw the caterpillar on the tree vanished into the smoke he puffed. 'Does this mean I have more surprises today?' Even before I concluded my thoughts, I heard an uncanny voice near the tree.
'Oh my furry whiskers
I'm late. I'm late. I'm late.
For a very important date!'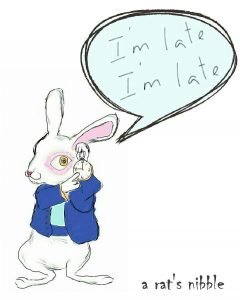 The bushes behind the tree ruffled and a furry white rabbit, wearing a blue waistcoat and holding a pocket watch, hopped out of his burrow. Checking his time, the furry rabbit started walking in hurry. I got 'curiouser and curiouser' to know where the rabbit was heading to. I started following him. On the way, I met 3 men dressed as playing cards.
Three spade card men out of no where
Landed in a parachute gliding in the air
Planting the flowers everywhere
And painting the roses red with flair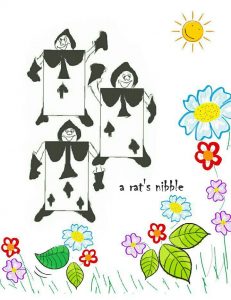 That sight reminded me of my morning walk with PixelMaster
Oh! How lovely these flowers are,
Wide open my eyes, I still stare.
Reliving my cherished memory
Visiting their colorful Gallery!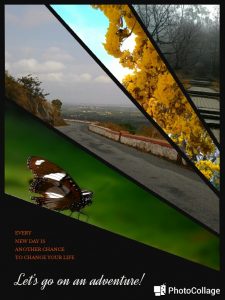 Rabbit's hurry burry hops brought me back from my memories and I started looking for him. But he was no where in sight.
'Mister Rabbit Mister Rabbit, where are you?
I don't know What's Next, tell me, will you?'
While searching for the rabbit, I came across the rummy Tweedle Twins who owned a Playstore, full of games.
'Come play with us, young girl!
Do you want to crush the candies and eat some?
Or keep your Heads Up and act the words to play dumb?
Come play with us, we are the Dee and Dum!'
'Well, its nice meeting you both, but I will Do It Later. I got to follow the white rabbit. Goodbye'
As I followed the trails of the white rabbit, it led me to a lonely tree house. There hanged a name board, ZenUI Help Wizard. I climbed onto that house. To my surprise the Caterpillar whom I saw vanished into the smoke earlier was sitting on a mushroom couch, smoking Hookah and reading a book sipping his black coffee. He lifted his head and adjusted his reading glass. 'A,e,i,o,u,a,e,i,o,u…. Who are you?'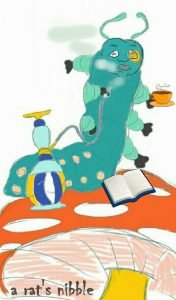 'I- I hardly know, Sir. I followed the white rabbit but lost my way and ended up here'
'Ah.. you must be that newbie in town.. I will help you meeting some of our citi-Zens.'
That sounded promising. He was polite and helpful. I was happy to get assistance from the wizard himself.
A pigeon was delivering him an Omlet for his lunch. At the sight of it, I felt very hungry. He invited me to join his table for a chat. I was happy and sat down for my lunch with him. I wished not to forget these wonderful moments. Reading my thoughts, he handed me a yellow notebook. 'Er. What is this?' I was puzzled. 'It's Quick Memo. Use this magical book to scribble your thoughts quick and short', he said.
As we continued our delicious Omlet and Chat, the wizard pointed a finger at the branch outside.
'Meet Mister Pencil Bird,
Over the branch so brown
He may look a bit weird
But he is the best doodler in town'
I peeked out of the window and there I saw a bird with a pointy pencil nose, merrily singing and pecking his lunch.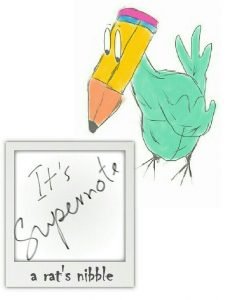 'Yum Yum my noodle
Mine is the best doodle
Palette of colors in my tote
Thanks to my Supernote!'
After my hearty lunch with the ZenUI Help wizard, I bid adieu as he was stretching lazily for his power nap. I climbed down the tree house and there I saw the white rabbit.
'Mister Rabbit Mister Rabbit, Wait for me
Don't make it a habit, Please guide me'
But the white rabbit replied swiftly,
'Tick Tock Tick Tock
Screams this mad clock
Hurry Hurry, leave my way
I don't have all day'
As if he was reminding me something very important and ran through a giant gate disappearing again. I walked into the gate and saw a house wondering whom I'll meet next. At the door steps it was written "Welcome to the Par-Tea".
I entered the house and what I saw next amazed me. Merry citi-Zens of the Zenland were partying at a huge table, connecting with each other and sharing their happy moments. PixelMaster smiled and said 'Turn on your Party Link and Rejoice'.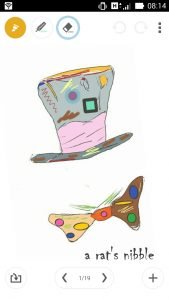 I pulled out a chair and poured me some hot lemon tea to join them, sharing my happy moments in Zenland. As the evening faded all the citi-Zens were parting out of the party, I saw the white rabbit hopping towards me. He was not in a hurry this time, contrastingly he whispered, 'Leave all the distractions and focus on what matters, My Princess'. When he moved out of sight, all I saw was a yummy looking cupcake left alone at the table. It had a sign board on it saying 'Eat Me'. I reached for it and took the first bite. Indulged in its taste, my eyes closed for a second.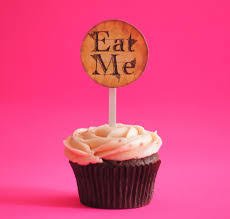 For the next bite, I opened my eyes and here I was sitting at my dining table with the cupcake in hand. Asus Zenfone 5 was lying on the table next to my laptop. I took it and went through the pictures I clicked, the rhymes I wrote, the doodles I drew and that's when What's Next buzzed 'Publish Your Fairytale'. Even after all my adventure, I was surprised to see the phone's Battery was still intact.
I fetched the gift box lying under the table and found a small handwritten note inside the mobile case.
Happy Birthday, My Little Princess!

                                                        Loving, Daddy.
Thanks to my Dad, Asus Zenfone 5 turns my everyday life into a fantasy. Now, I am turning on my laptop to publish my Adventure in Zenland.
PS – The doodles are sketched and edited by me.