Perhaps Cuba's most memorable patriot and National Hero, José Martí was born in Havana in 1853 and spent twenty-four years in exile. The José Martí Memorial that dominates Plaza de la Revolución in Havana's Vedado district, aside from being the tallest structure in the city, has a story as long and complicated as Cuba itself.
As a poet, journalist, and philosopher, Martí wrote passionately about liberty, oppression, love, human rights, duty, and rebellion. He was a key figure in the first wave of Cuban revolutionaries seeking independence from Spanish rule. One month after regaining admittance to Cuba, Martí died in battle fighting Spanish soldiers. If the Castros and Che Guevara represent the administrative triumvirate of modern Cuba, Martí represents its historic heart and soul.
The first attempt to create a memorial to Martí, in the form of a design competition, was launched in 1939. Several years would pass and three more competitions would take place before the design by architect Aquiles Maza and sculptor Juan José Sicre was chosen. However, there were problems with securing the necessary land in pre-Communist Cuba. It wasn't until 1952, when Fulgencia Batista assumed power, that the project resumed in earnest. But other obstacles materialized: Baptista preferred another design to the one that had been selected in the competition. After numerous squabbles, the decision was made to incorporate ideas from several designs. So very much like the Cuban people themselves, José Martí's tower was an amalgamation of disparate elements. The tower was completed in 1958, a short time before Batista fled the country and Fidel Castro's 26th of July Movement took control.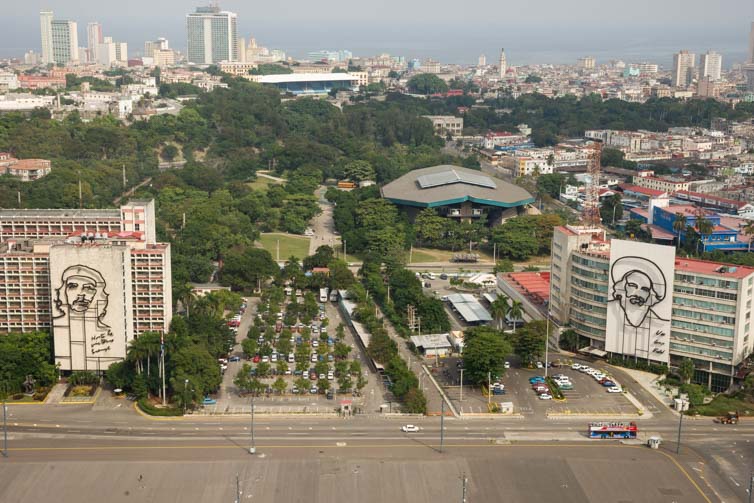 The shape of the building is that of a five-pointed star reminiscent of the one that graces the Cuban flag, a symbol of independence. The bottom floor of the memorial serves as a museum of Cuban history and the top floor provides a 360 degree panorama of Havana. The tower itself, though constructed of marble, resembles mid-20th century Brutalist architecture and would be nothing more than another soulless government building were it not for the elegant Sicre sculpture of Martí at the building's entrance. Martí's serene countenance looks down on approaching visitors, reminding tourists and native Cubanos alike of the ideals and aspirations that are part of the island's past and the sacrifices and struggles that are yet to come.