Surreal Visions of the Natural World
By Richard Malinsky, Arts Editor
Initially, Tula Telfair's sweeping landscape compositions in her Invented Landscapes series may remind you of the large panoramic vistas of nineteenth-century Hudson River School painters, such as Thomas Cole or Frederic Edwin Church. All have similar attention paid to rendering natural splendor in great detail. However, Telfair's works are finally quite twenty-first century influenced—her landscapes are more invented than realistic, composed of a variety of imaginary components. The paintings—on view until the end of the year at the Forum Gallery in New York City—free up viewers to make their own associations, especially as to contemporary issues in relation to our planet.
Telfair's dramatic, large-scale compositions explore diverse landscapes, from deserts and rain forests to Antarctic glaciers. While she employs the traditional smooth look of oil paint on canvas, on closer examination, one can appreciate myriad textures achieved with large brushstrokes, tiny pinpoint brush stippling, and occasionally palette knife scraping: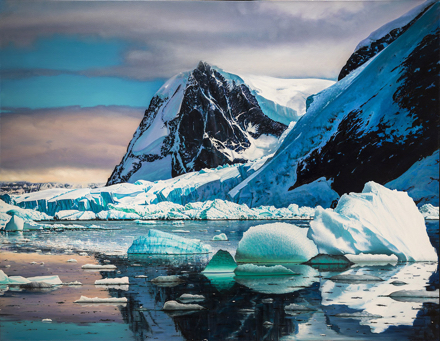 Unexpected color combinations lend the surreal to her imagery. Red-hot active volcanic ember in "Encountering Dormant Connections" is dramatically contrasted against the more neutral of a scenic mountain and placid blue sky:
Artificially constructed light sources enhance the overall mystery of her works. In "The Wilderness Does Not Locate Itself," a large, stormy, grey cloud blocks the sun, yet the mountain tops are highlighted in gold, as if light is actually emanating from the mountain itself:
These paintings are a culmination of Telfair's life journey, both literally and artistically.  Throughout her work, there is a reverence for the land expressed through a contemporary vision.
Telfair is a graduate of the Moore College of Art & Design in Philadelphia. She then became a graduate fellow, receiving her Masters of Fine Arts degree from Syracuse University. She currently serves as a full professor of art at Wesleyan University, Middletown, CT.
In collaboration with this exhibition, Abrams has published the first monograph of this nationally-known artist.
Invented Landscapes is on view at the Forum Gallery in New York, NY until December 31, 2016.
Copyright 2016 Woven Tale Press LLC. All Rights Reserved.