Winter 2017 Highlights
By Marni Elyse Katz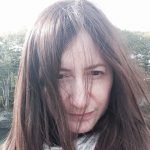 Four times a year, WTP art correspondents from around the country will report back on the previous season, with images from exhibitions you otherwise might have missed, and their own insights into these varied venues.
It's winter in Boston. I can't say I've been crisscrossing the city daily looking at art in sub-zero temps. Not due to a lack of exhibitions. There have been many, but did I mention it's winter? Brrr. In fact, there's a blizzard happening right now. I'm tucked into a booth with my husband (snow day!) at our favorite restaurant, reviewing the art I saw and loved. Let's have a look, and get ready for a warm, art-filled spring.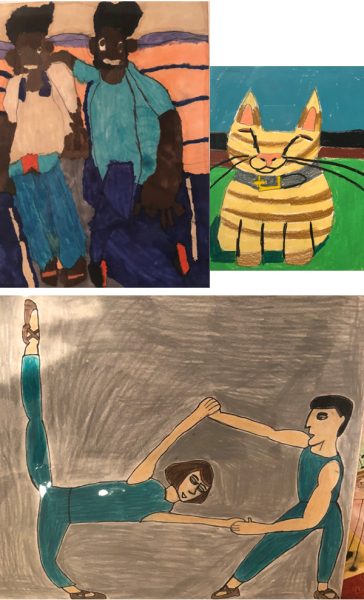 Following up on the exhibition at Martha Richardson Gallery I wrote about last fall, I visited Gateway Arts's storefront and studios in Brookline for their holiday sale. Gateway is a non-profit organization that works with adults with disabilities and talent in fine arts and crafts to develop professional skills. I was very drawn to the simplicity and joy in these colorful figurative works. You can tell those guys are great friends, that cat is happy and smiling (and not at all creepy Cheshire-y), and I can feel the stretch of the dancer's pose.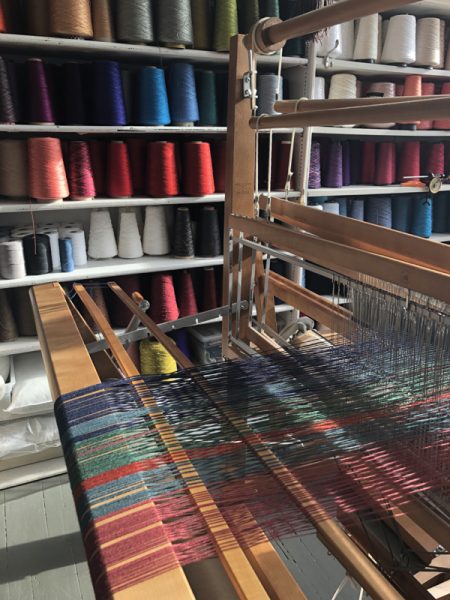 The Gateway facilities are huge; much larger than I expected. The looms and weavings were particularly interesting. In fact, Gateway's Linear Time exhibition, which closed March 10, celebrated fiber works inspired by the freeform weaving style of SAORI weaving studio in Worcester.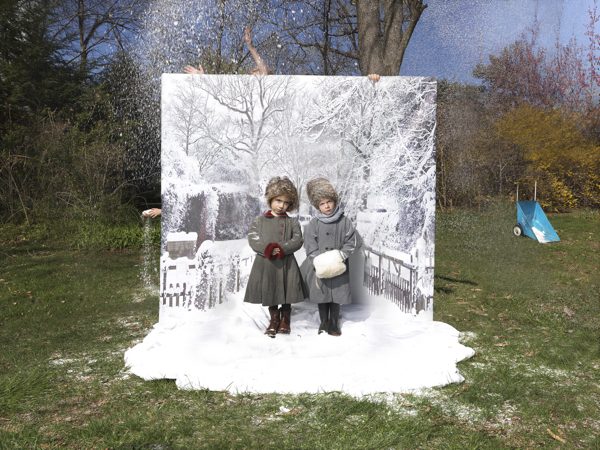 Boston's top gallery dedicated to fine art photography, Robert Klein Gallery, mounted Fake Weather, a show of Julie Blackmon's new work, at their SoWa location at Ars Libri in December, and on Newbury Street in January. I first saw Blackmon's posed suburban imagery at a friend-of-a-friend's home. Blackmon, who is based in Springfield, Missouri, creates scenes of everyday family life with her family and extended family as participants. In these newest works, Blackmon has incorporated political themes. In the title image of the exhibition, we see two annoyed tykes in their finest winterwear posing in front of a snowy backdrop, and friends from behind throwing powdery stuff into the scene. A holiday card gone awry, or commentary on the current situation in the media?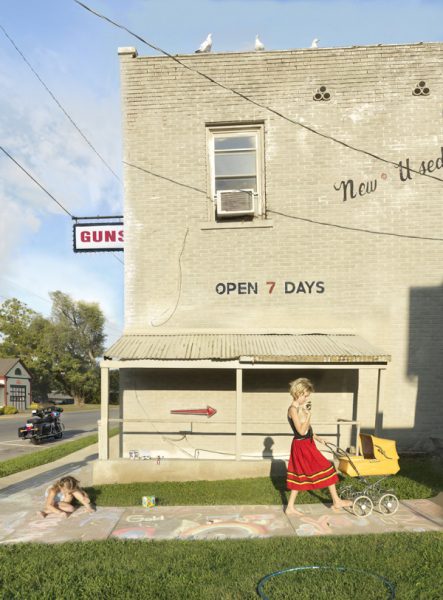 In "Sidewalk," we see the sweetness of youth, complete with rainbows, absorbed in play beside a gun shop. To me, it seems Blackmon is also commenting on the persistence in Southern culture of pressuring young women to be barefoot and pregnant.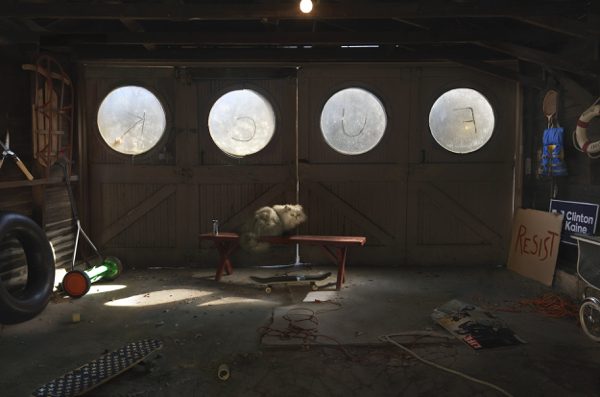 The message is blatant in "Trapped." Trapped within the confines of family, of suburbia, and of the current presidency. The question here is, for how long?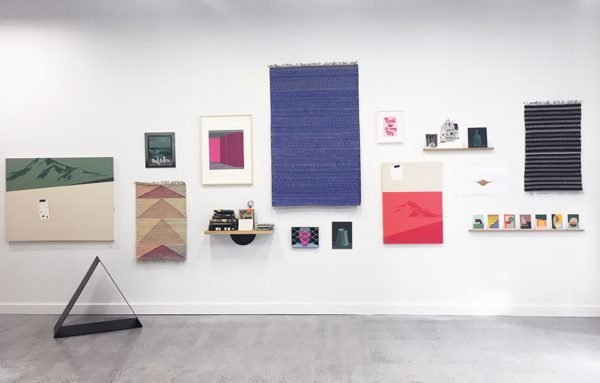 Room 68, one my favorite design shops-cum-gallery in Provincetown, has popped up in Fenway for the winter, and looks to be firmly rooted as we head into spring. Co-owner Brent Refsland's eye is impeccable, in both furniture and product design as well as emerging art. And by impeccable, I mean he has similar tastes to mine. (Half kidding.) In preparation for summer, the gallery curated a Winter Salon show featuring selection of work by artists who will be on display, in more depth, this summer.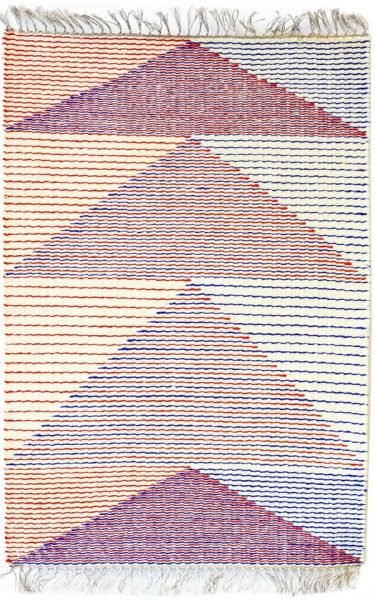 Comfortable with works in all mediums, Room 68 has shown an interest in fiber art of late. These gorgeous woven wool and linen tapestries by Alec Sutherland, handmade under his rug label Haut Beau, are too pretty for the floor. The Canadian artist weaves, knits, and holds symmetry in high regard. His designs are inspired by color studies, music, and the landscape.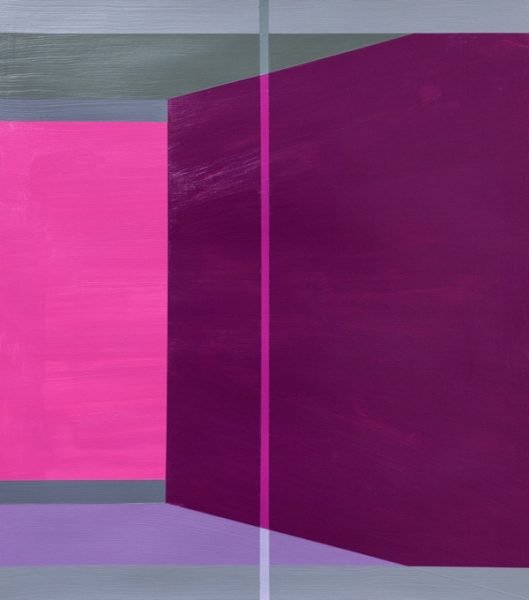 Speaking of color studies, I have my eye on these geometric color field paintings by Thomas Dahlberg. "Vestibule #8" is part of the artist's Twenty Vestibules series. Dahlberg, who was born in Kentucky, studied art at Brown University and the Hoffberger School of Painting at MICA. He also constructs geometric color field dioramas, but given the work I want to talk about in another exhibition I saw this winter, I'll stick to these two-dimensional pieces. Either way, this Baltimore-based artist has a clear interest in spatial perspective. The shapes take on alternate meanings depending on the way it is viewed.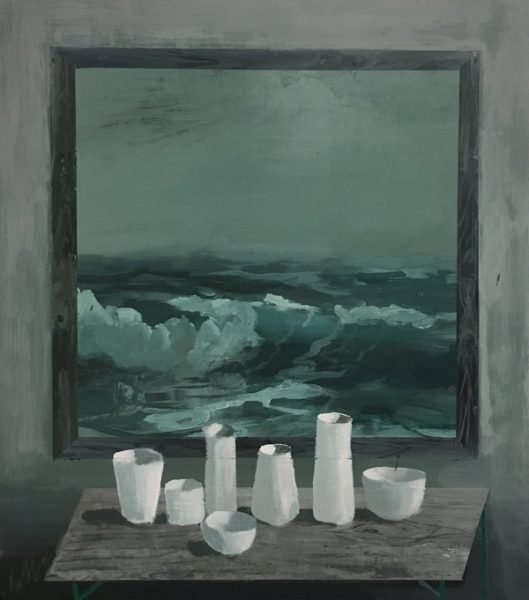 I've been a fan of Jeremy Miranda's work for years, since discovering his prints on the art site Mammoth & Company. My young son took a liking for them as well, and asked me to order him one. Although he is New England–based—born in Newport, attended the School of the Museum of Fine Arts and Massachusetts College of Art, lives in New Hampshire—I had not seen his work in person until last summer at Room 68. Miranda's work often melds landscape and architecture in almost other-worldly scenes both figural and painterly, without being precious. His subjects resonate with me, and often seem reminiscent of Scandinavian design and Icelandic ice-scapes. In addition to this landscape-cum-still life, Room 68 has some individual pottery studies as well.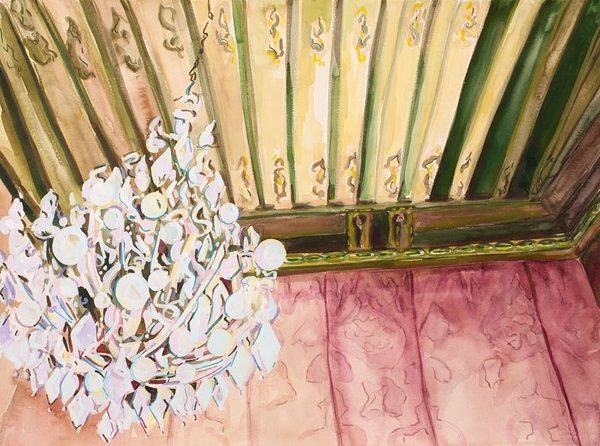 My husband and I popped into Childs Gallery on Newbury Street on a whim, and were met with a happy surprise—Lee Essex Doyle's paintings of Venetian lanterns. Doyle is one of my closest friends; we met when our now teenagers went to preschool together. I own a few of her works, including a piece from the Venetian palace series. The gallery must have realized they were holding a surplus of Venetian-themed art, and decided to mount a show. While somewhat disjointed—the styles of artwork were inconsistent—I enjoyed a few of the contemporary pieces.

We stood in front of British artist Patrick Hughes's paintings for a full twenty minutes, marveling at the optical illusion. Hughes has been making three-dimensional works, which he's dubbed "reverspectives," since the late 1980s. Basically, he depicts the depth as opposite of what it should be. Hughes constructs wooden wedges on which he paints scenes, arranging them into buildings and interiors. The work is so precise, it takes convincing to understand that these are oil paintings, not photographs. There are also print versions, also presented three-dimensionally. You really have to see them to comprehend them. The one above, a print, is particularly fun; notice the works of art on the walls. Hughes used to do commissions; imagine what you might ask him to depict.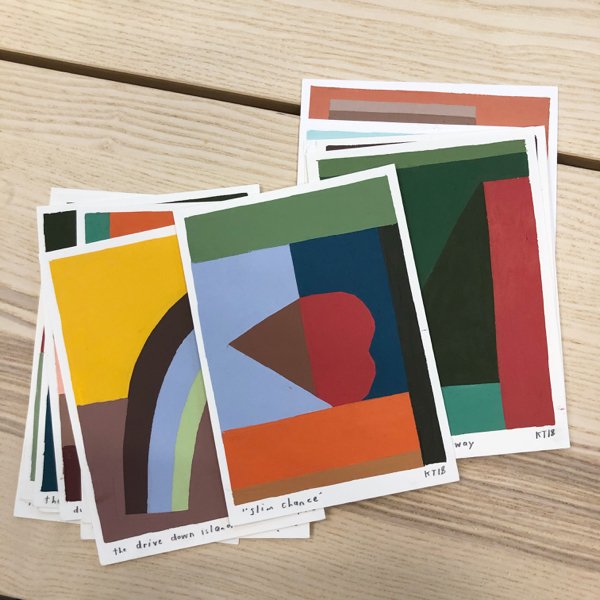 I think I first came across Brooklyn-based artist Kristin Texeira's work at the Massachusetts College of Art Auction; she graduated from there in 2010. A couple of summers ago I became smitten with her postcard-like Memory Maps at Room 68. She spent a couple of weeks in residency, creating charming, colorful, abstract works inspired by scenes around town. The captions are as appealing as the work itself. I purchased two, after much agony as to which pair I liked best.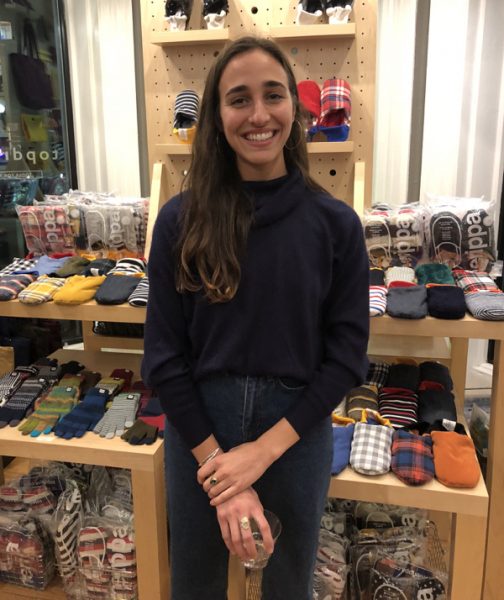 Texeira, who is a local Boston girl, was in town this January to discuss her life as an artist, her process, and her travels, at the Newbury Street shop Kolo Top Drawer Tools for Nomads. I kind of want to be her best friend. She's quirky, thoughtful, creative, and full of energy.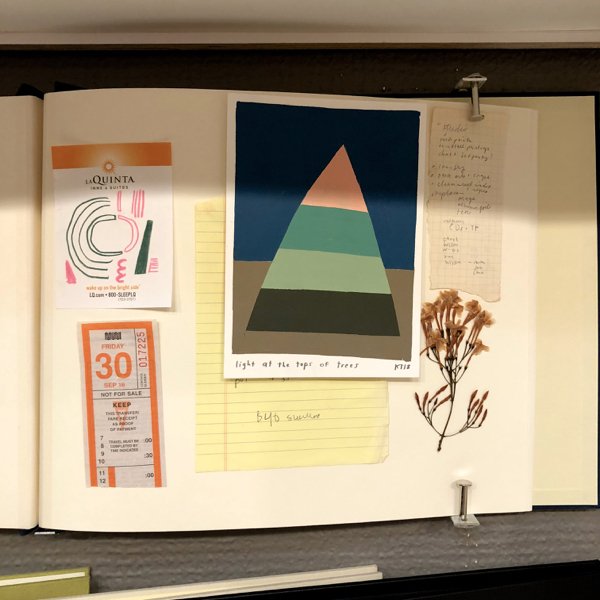 Texeria has garnered a huge Instagram following, and I imagine, if she continues to put herself out there, will have huge commercial success. She talked a bit about balancing the need to make money and churning out art, sewing sweatshirts (need one!) with her need for introspective exploration in the world, to look, see, and draw. She passed around half a dozen or so journals and sketchbooks from her travels.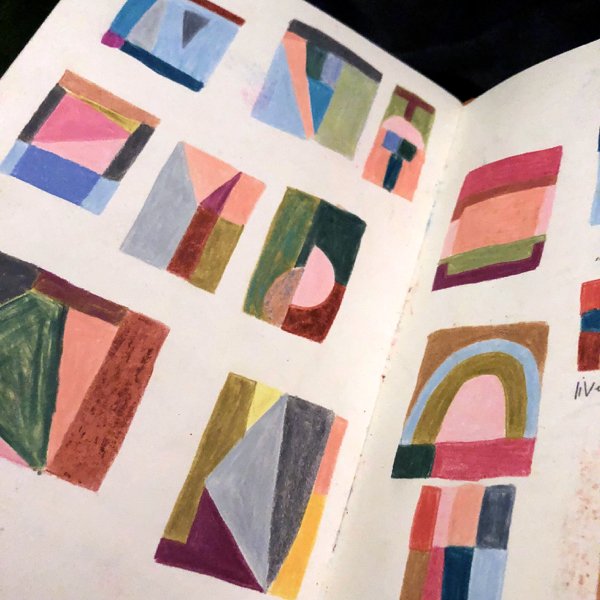 Color as you can see, is a significant element of Texeria's work, which is based on memory. She says that her interactions with people are imprinted on her mind in different colors. She records her memories somewhere—a journal, a scrap of paper, what have you—then matches each to a color that reflect the emotions she felt. Richard Diebenkorn has been a huge influence on her work. She tries to write for fifteen minutes each morning, and to draw what's right in front of her too. She's a traveler; it's essential to keep her palette fresh. She's worked in Giverny, Paris, Sausalito, Newfoundland, and according to Instagram, is about to head off to the Southwest.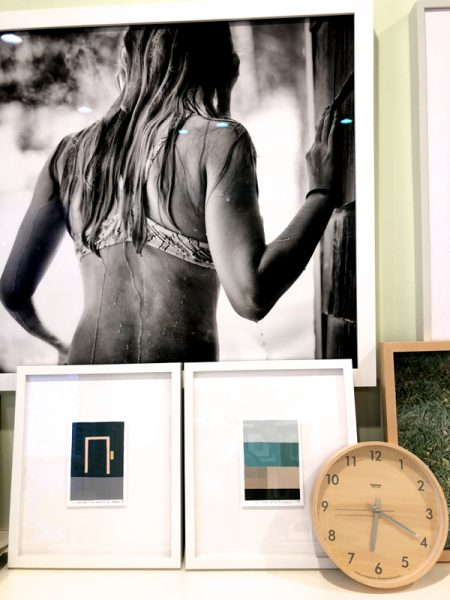 If you are interested in becoming an art correspondent for WTP, please inquire at wtp@thewoventalepress.net
Copyright 2018 Woven Tale Press LLC. All Rights Reserved.