Vibrant Display of Acrylic Paintings
By Richard Malinsky, Arts Editor
Sheila Grabarsky opens her artist's statement with "I paint because I bleed Alizarin Crimson." While this may not be literally true, it certainly is metaphorically. There are quite a few other colors also!
Her website "Gallery" is a beautiful and vibrant display of this New Jersey abstract painter's passion for lush, physically tactile surfaces of thick gestural brushwork and multiple layers of spontaneous, contrasting color forms. On occasion she embeds pieces of dried acrylic remnants from past painting sessions, and other small objects, into the surface.
Lightness and joy emanate from these paintings, from her crisp color combinations and lyrical line movements. In "Calling Butterflies" you can easily imagine her drawing with a heavily loaded brush through the composition, to her own animated musical rhythm, what marks her signature style.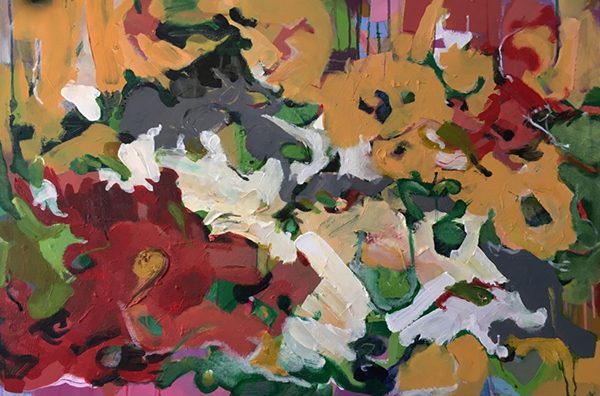 Grabarsky's process begins intuitively, with her painting until the canvas seems overflowing with multiple color combinations and movement connections. As she studies the work, she begins reducing extraneous elements and redirecting motion and accents by freely over-painting areas, to refine her compositions. By focusing on the process rather than the product, she sharpens her conceptual thinking. She compares this to "seeing the world's confusion," then "obliterating that world-chaos."
Her earlier work, prior to 2013, seems less free, more deliberate, as in the composition of "Flying Dog." Here, the forms seem more carved than spontaneously created, though there is that familiar tactile of fusing old acrylic remnants, and the embedding of small objects into the surface to enhance its reflective quality.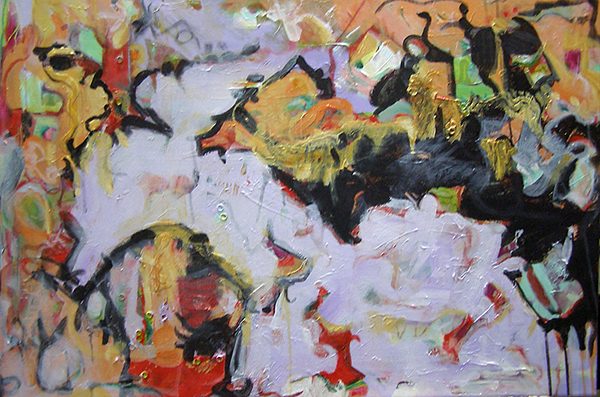 The site also features twelve sumptuous samples from her well-known early series, Fantasy Garden. This work transcended the literal depiction of her subject matter and formed the basis for her stylistic evolution up to the present. Loosely formed, two-dimensional flora shapes are defined by a muted, moody palette. About this series, Grabarsky states, "I am not a gardener…these paintings are in pursuit of the gardens in my mind."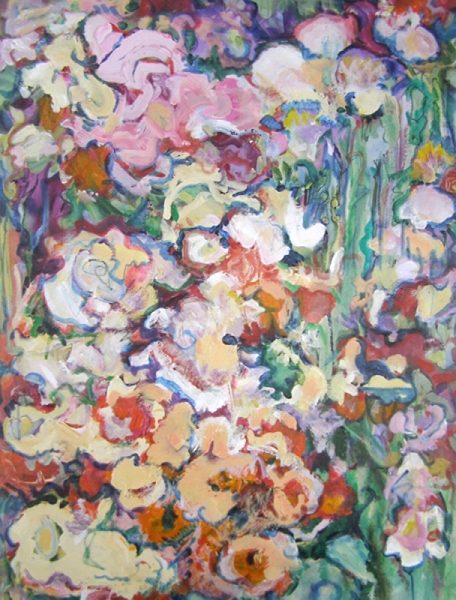 While each of these paintings most certainly embodies the expressive, it is this reviewer's opinion that "Fantasy Garden 2" is the work that set this artist free, that marked a turning point in the evolution of her career.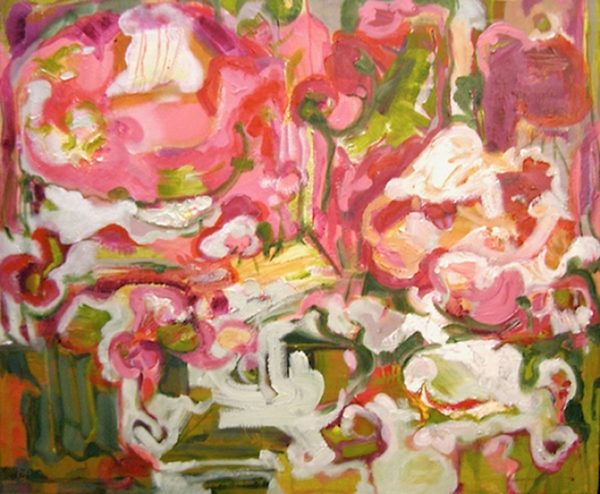 Copyright 2018 Woven Tale Press LLC. All Rights Reserved.