May 2018
By Sandra Tyler, Editor-in-Chief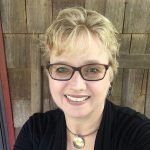 Happy May! And with it we bring you a stunning May issue of The Woven Tale Press. Well, all our issues are stunning, but there are some particularly unique mediums featured this month that you don't see every day: Karen Fitzgerald's gilded tondos of astonishing luminosity, and look for her interview May 18th where she speaks of how she has become quite dedicated to this unique circular form. Then there are N.R. Hills's collagraphs, a particularly textural medium and to beautiful and complex effects. We also have several installation artists you don't want to miss; two terrific short stories; and interestingly, three poems based on Rainer Maria Rilke but by two separate poets.
From April on WTPCentral we continue our latest series, Studio Tours, with illuminating inside peeks into Josie Bell's and Susan Clinard's studios. We also featured two gallery profiles, The T.W. Wood Gallery of Montpelier, Vermont, and White River Gallery, both cited in our NH/VT December Art Roundup by WTP Art Correspondent Susan Apel.  If you live in an area active in the arts and are interested in becoming a WTP art correspondent, email me at editor@thewoventalepress.net.
Speaking of poets: start gearing up for our 2018 poetry competition! Submissions open July 15th. Submissions for the fine art photography category will open then as well, so stay tuned to this link for specifics: https://www.thewoventalepress.net/wtp-literary-art-competitions/. One of our 2017 winners will be flying in from Texas in June for her Hamptons retreat, and the other one from New Mexico in September—I'm pleased that we had such a reach last year, and hope to hear from other phenomenal poets and photographers from across the country  this year.