Fall 2018 Highlights
By Susan B. Apel, WTP Art Correspondent
Four times a year, WTP art correspondents from around the country will report back on the previous season, with images from exhibitions you otherwise might have missed, and their own insights into these varied venues.
In these northern climes, autumn is a season that offers a final opportunity to soak in the outdoors before the arrival of hip-high snow and sub-zero temperatures. Toward that end, several exhibitions could be found in full daylight, and with the protection of only a light jacket. As the season wore on, however, the warmth of galleries beckoned.
Saint-Gaudens National Historic Site in Cornish, NH, is one of the country's smallest national parks, and contains the home and studio of sculptor Augustus Saint-Gaudens. On its sumptuous and gardened grounds, dotted with the master's own famous works, were the creations of contemporary sculptors in the exhibition Natural Forces. "The One That Got Away" by Rosalyn Driscoll draped the park's Birch Allee in a "shared fascination (by Driscoll and Saint-Gaudens) for the expressive qualities of cloth and other soft, malleable materials." A first impression was disappointment in the beige blandness of the fabric, but later, an appreciation for how the lack of color allowed the trees to shine and the viewer to focus on its undulations. Driscoll transformed the always beautiful Birch Allee into a walkway with some kinetic verve. Surely I was not the only viewer who felt compelled to skip down the path.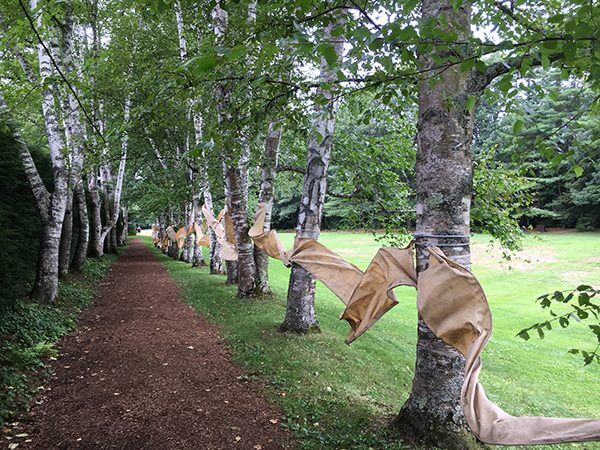 Irish-born and now living in Boston, contemporary sculptor Clive Moloney brought his first outdoor installation to Saint-Gaudens. "Your Water Footprint" translated the dry (pun intended) statistics of everyday water use into twenty-seven blue pipes shooting into the air, their heights determined at one centimeter per gallon of usage in the production of various goods. A flight from Boston to Toronto (19,574 gallons), a cheese sandwich (124 gallons).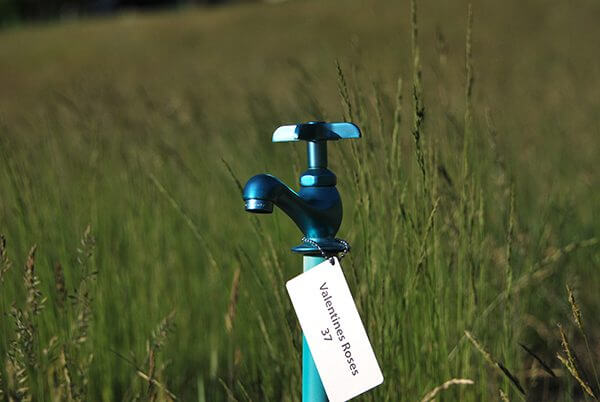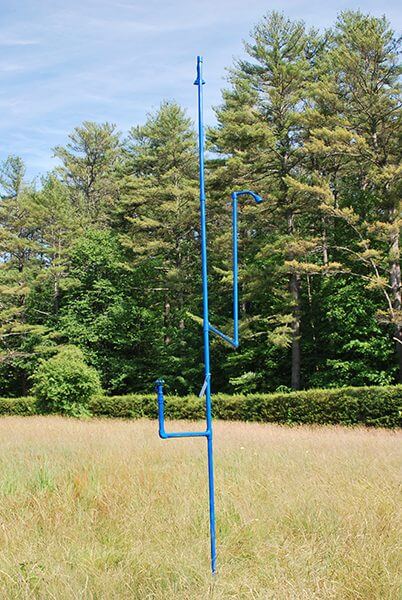 What is it about found art that is so intriguing? Janet Van Fleet's Long Haul at AVA Gallery and Arts Center in Lebanon, NH, is a series of found-art creations that hang suspended from the ceiling. My favorite was "Baggage," a grouping of human-like figures faced forward, encapsulated in a plastic tube. They appear as if they are shooting through time in something between a modern subway and a spacecraft. It's their baggage that begs for closer inspection. In this long, strange trip, one clutches an array of academic paraphernalia, another her home. It may be baggage, but it's embraced.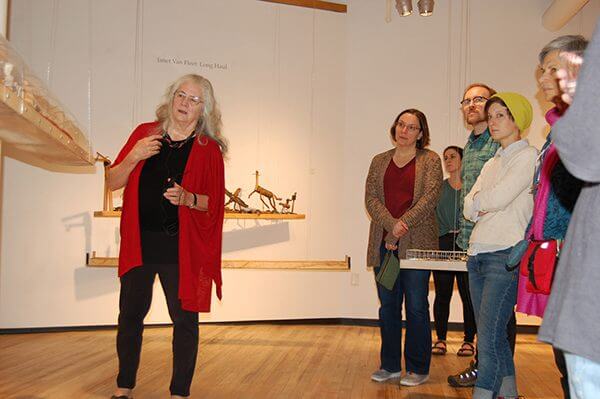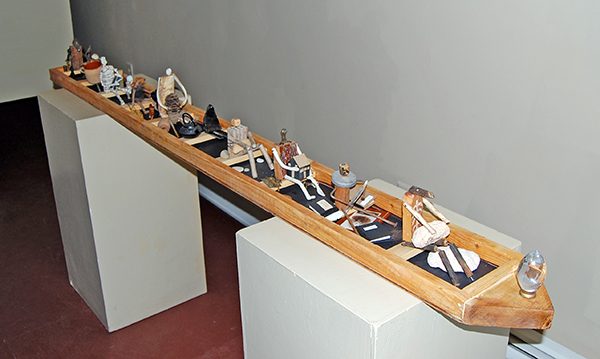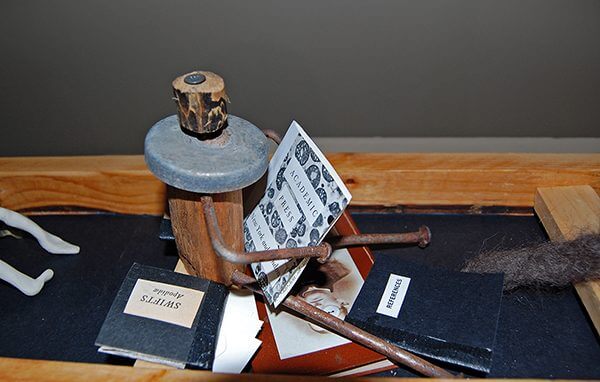 The only disappointment of Elizabeth Turk's Heaven, Earth, Home are the numerous "Do Not Touch" signs. Sigh. Turk carves huge blocks of marble into "sinuous ribbons" and other light-as-air works that beg to be touched. Her pieces are paired with natural objects that have been worn by time, like redwood tree roots and green quartzite. The lucky museum curator who installed this exhibition at the Brattleboro Museum and Art Center got to touch every single piece, and more than once, she admitted.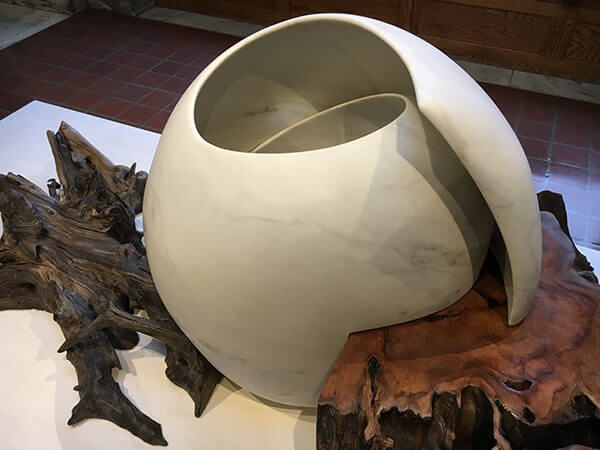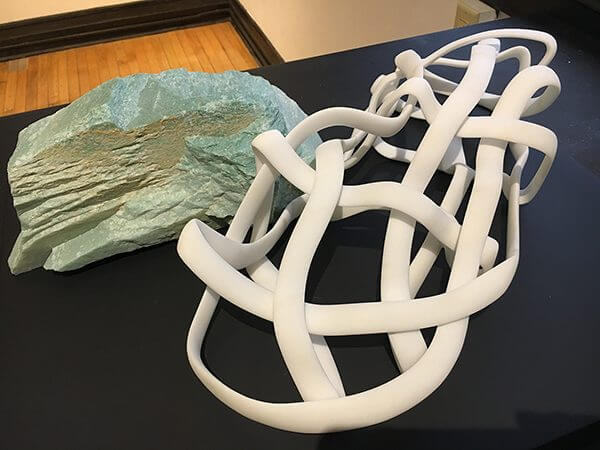 Lauren Gillette's Things I Did is a multi-media presentation that exists in real space (in this case, at AVA Gallery and Art Center in Lebanon, NH) and online, and in the camera lenses and emails of her audience. It is visual, literary, philosophical, and draws in its viewers and then puts them to work if they choose. Things I Did is an evolving series of plaques, upon which are engraved five statements composed by an individual about his or her life. The plaques are mirrored, which means that the face of the viewer is reflected in each story she reads. Each provides both a glimpse (only five?) and the whole (these five). At the exhibition, Gillette invites viewers to email her with their own life synopses. I took her up on the challenge. It may seem like a fun party game; it's actually a deep introspection.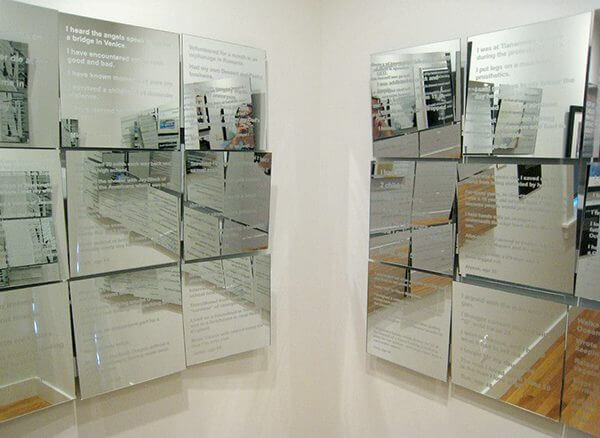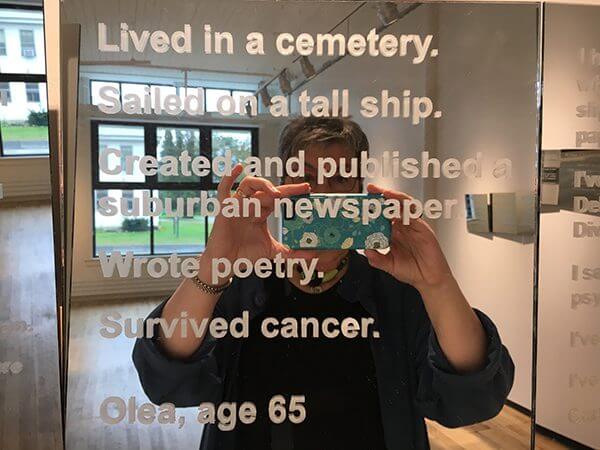 The tiny town of Greensboro in the far reaches of Vermont's Northeast Kingdom (pop. 710) saw the construction of the new Highland Center for the Arts, with a state-of-the-art theater, other performance venues, and a gallery for the visual arts. Driving the Back Roads: In Search of Old-Time Vermonters is a multi-media exhibition by photographer and storyteller Ethan Hubbard, produced by the HCA, Hubbard, and the Vermont Folklife Center.
Hubbard is a photographer of international renown who spent decades living in Vermont, traveling its dirt roads to interview and photograph "real Vermonters." In addition to more than forty large-format black-and-white photos, the gallery was filled with the murmurings of the portrait subjects' voices, audio excerpts of Hubbard's interviews. Visitors hear the stories in authentic Vermont tones. Although many of the works feature life and work in Vermont's great outdoors, I was drawn to those that captured the interiors of Vermonters' homes. One shows Lillian Marcotte, grasping her worn chair and engaging in a quintessential Vermont pastime—seasonal birdwatching. A second photograph is of Vermonter Virginia "Ginnie" Foster, who, with her husband Frank, raised seventeen children. On the day that Hubbard visited her, Foster was in bed, ill and near the end of her life. I can't improve upon her own words: ". . . I've got all my work done, the seventeen children are all raised up, and they're good for the most part. I've succeeded. You asked me why I always wear this apron. I'll tell you. It's my uniform, for having done a lifetime of caring for those I was responsible for."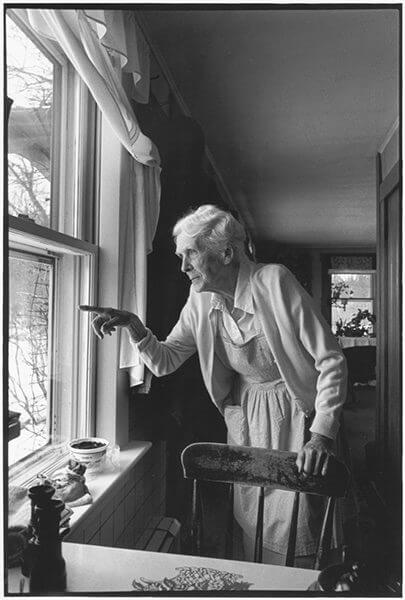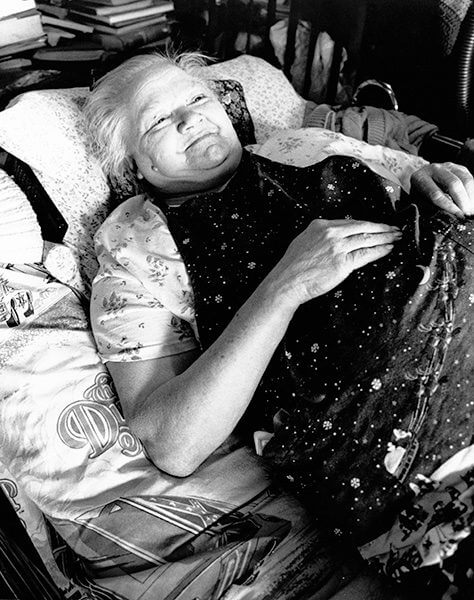 Finally, consider not just the art, but where it is showcased. The Hopkins Center for the Arts at Dartmouth College in Hanover, NH, with several art galleries, now has another, and it may be the world's smallest. The Booth is just that, two re-purposed old-fashioned phone booths that have stood, gutless, for years. The booths' inside walls are now a place for mini-by-necessity student art exhibitions. Located in a heavily travelled corridor, The Booth's curator hopes to bring art to those with just a brief moment to spare.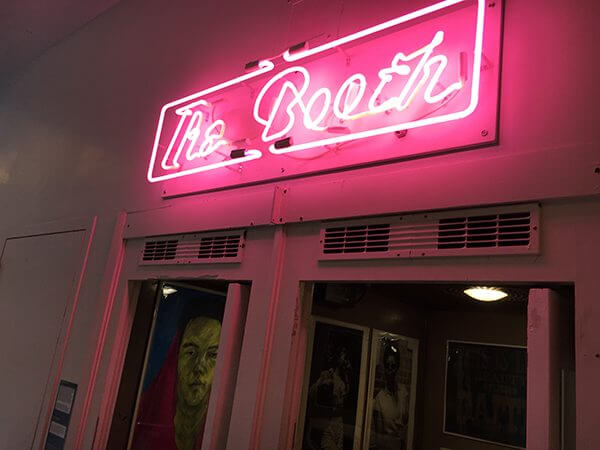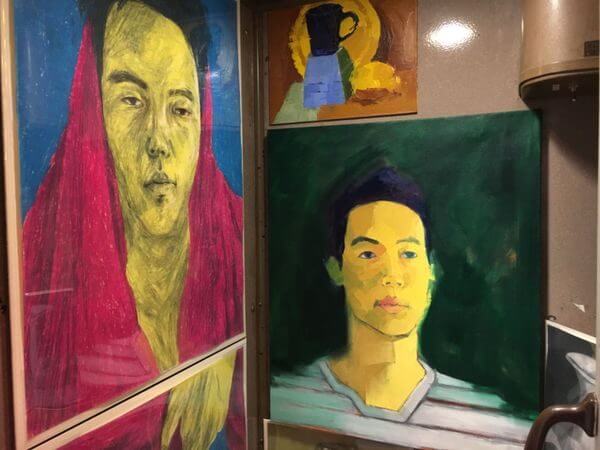 If you are interested in becoming an art correspondent for WTP, please inquire at wtp@thewoventalepress.net
Copyright 2018 Woven Tale Press LLC. All Rights Reserved.