---
Photography Challenging Objectivity
By Richard Malinsky, Arts Editor
Photography has long been perceived as objective visual truth. However, a photograph can alter perceptions and be just as open to misinterpretation as recorded history, and it is within this discrepancy where multimedia photographer Sarah Nesbitt finds her inspiration. For her images, she researches forgeries, memory, misattribution, and the re-writing of histories, her goal "to create broad awareness of our shortcomings in recording and portraying history so people understand it not as static stories frozen and dead in the past, but as a medium of active engagement—a living breathing investigation into what came before us, constantly striving to reach the truth."
This concept seems aptly evident in her composite photograph "and we went to the same high school?" Being educated in the same school at the same time doesn't necessarily mean we reference that time and place in the same way.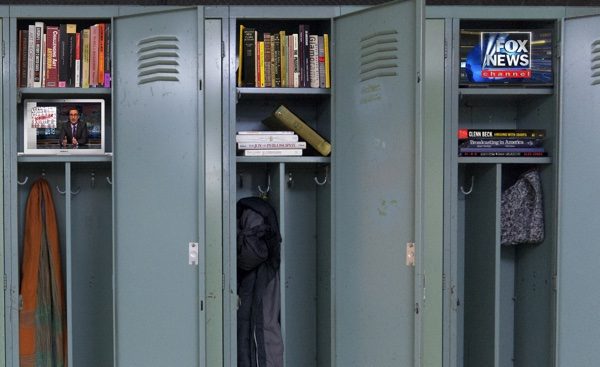 Her website, www.smnesbitt.com, is divided into three categories: Photography, Media/Installation, and Wet Plate Collodion. Navigation is a bit confusing, as the home page is a composite of all the images contained in the three categories. And Wet Plate Collodion is never fully explained, other than as an 1850s technique, and would present difficulty to many art enthusiasts. Nevertheless, I was drawn to her Media/Installation work that I felt best executed her concepts.
Her printed media installations frequently feature surfaces altered by sewing, cutting, and writing, to reveal these techniques as accessible forms of media.  She states, "we've been taught that a printed photograph is complete and should be treated as a precious object. It absolutely is an object—but it's not precious. Rather, it's vulnerable to disruptions put forth by outside forces."
She comments that some famous photographers have attempted to burn or hide their negatives, to erase themselves from history. She notes: "Several of these photographers never lived long enough to see their negatives resurface to much historic fanfare and acclaim." The media installation "Losing the Collection" presents a strip of negatives with the collection inventory tags sewn into an inkjet print and drives home her concept.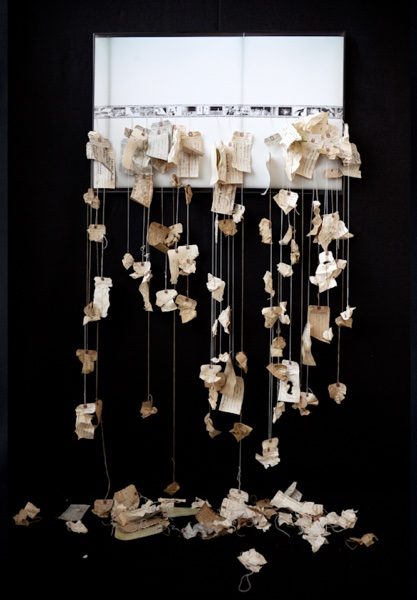 The interactive installation "Augmented Reality" begins with a photographic print from the 1917 book The Story of the Telephone displayed on a wall.  The viewer is invited to point a smart phone or tablet containing custom augmented reality software that instantly scans the photograph and displays a video of the text slowly being erased, leaving clusters of eraser debris on the pages. A fascination juxtaposition with today's phone, now about so much more than just communication.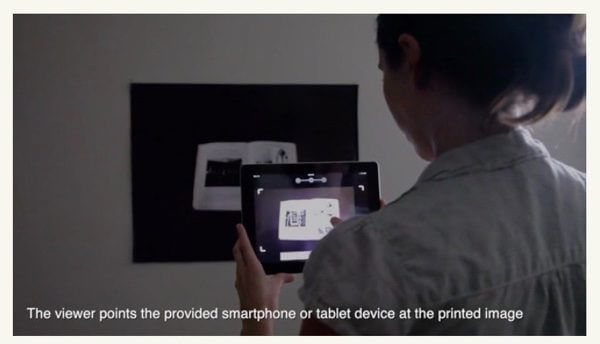 Sarah Nesbitt's work is an excellent example of intellectual curiosity, research skills, concept development, and creative execution. She exhibits nationally and internationally and currently is a Lecturer of Applied Arts at the University of Michigan-Dearborn.
Copyright 2019 Woven Tale Press LLC. All Rights Reserved.