---
Surreal Paintings and Works on Paper
By Richard Malinsky, Arts Editor
Joshua Field is a surrealist painter who creates dream-world narratives that entice the viewer into making emotional connections. On his website, joshuafield.com, you'll find an impressive collection of paintings grouped by theme, followed by smaller projects and works on paper.
There is a quiet meditative quality to many of these skillfully composed paintings, a dreamlike atmosphere populated by figures, animals, architecture, and other seemingly unrelated imagery. As soon as the viewer begins to construct a dialogue, contiguity becomes the reigning principle.
From the In Absentia series, I was drawn to "The Harbinger," a small painting of an out-of-scale yellow bird on the roof of a house. In the foreground two trees—or two branches of a single tree—appear tethered to grow apart rather than together, as if to suggest a stressed household. Or the ghostly white outline might represent a divisive narrative based on a clouded childhood memory.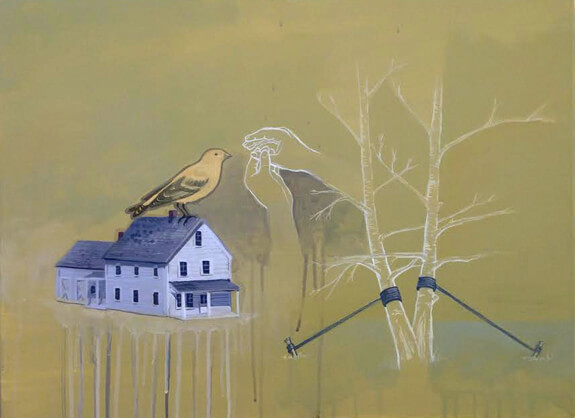 But Field may finally not be seeking such linear connections. Rather, he is more interested in the abandonment of the logical for the less linear: "Much like the currency of our dream lives, the indirect language of contiguity, analogy, metaphor, and simile are the lenses through which this world is viewed." 
"Stand for the Emperor's Clothes" is a good example, perhaps, of this more disjunctive but perhaps even more compelling narrative: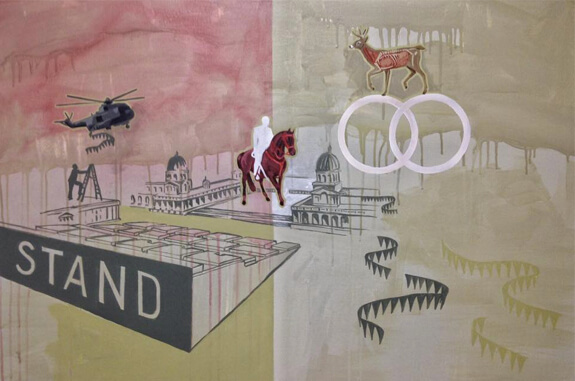 I found Field's multi-dimensional Projects conceptually refreshing, and in many ways unique. He describes being surprised to discover single trees completely destroyed by lightning strikes while hiking in the Colorado Rocky Mountains: "I was caught off guard by the seemingly randomness of the destruction and its isolation among areas of otherwise healthy trees." One of his works, "Struck," is an assemblage of an actual remnant from this randomness, arranged alongside a painting that documents its geographic location. Unlike his dream-like imagery, the conceptual power of this work stems from its reality.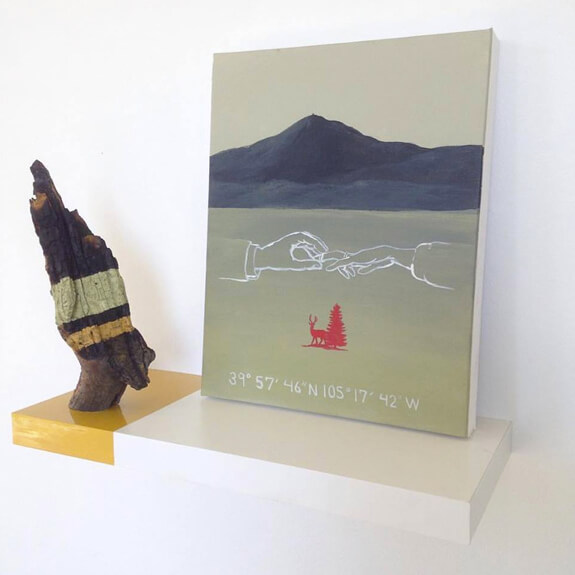 Another project, "A Thousand Hours," examines how a collage is often the weaving of disparate pieces. Field explains, "I wanted to create a different mode of looking at collage by making a reel-to-reel collage poem with the kind of arc of ancient epic poems."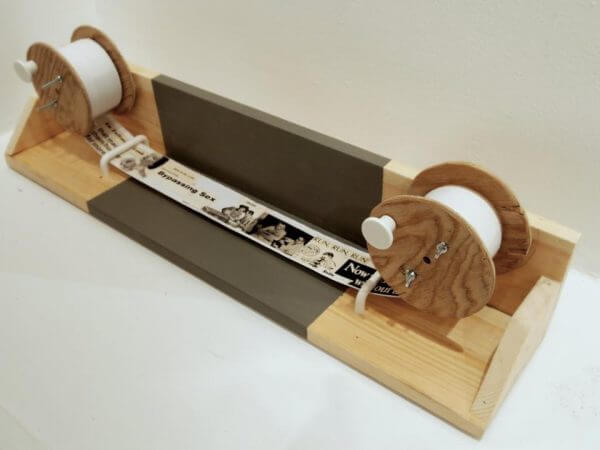 Joshua Field has exhibited extensively across the country and is Assistant Professor of Foundations and Fine Art at Rocky Mountain College of Art + Design. His fertile conceptual imagination is expressed through a variety of techniques and materials. We look forward to seeing his vision evolve.
Copyright 2019 Woven Tale Press LLC. All Rights Reserved.