See Ridgeway's work in WTP Vol. VII #2
Inside the Studio offers a behind-the scenes peek into the work environments of WTP artists, as well as insight into their creative process within these resonate spaces.
By Jennifer Nelson, WTP Feature Writer
For the past thirty years, Bette Ridgeway has worked full-time as an artist, painting colorful canvases in large and small studios. Most recently, she converted a 14′ x 14′, light-filled bedroom in her Santa Fe home into a working studio. She removed doors from a long closet and put in three large metal bookcases to store art supplies. This allows her to preserve floor space so that she can create paintings as long as 130 inches. For large commissions, she also has access to a big warehouse with a 13′ ceiling.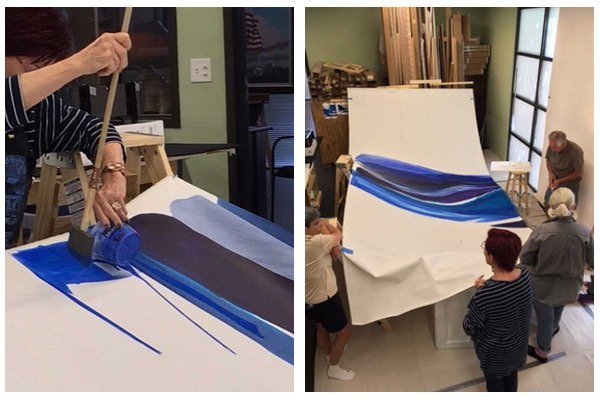 "I'm able to create work of enormous scale, such as my recent commission which was a triptych 15′ high by 21′ wide," says Ridgeway, about what she calls a "grand studio."
In January, her triptych "Arc of the Imaginals" was installed in Boro Towers, an office building in Tysons, VA.
Creating large artwork has its own set of challenges. Ridgeway needs a climate-controlled storage space to accommodate extra rolls of canvas, stools, stretcher bars, and paintings. Costs of materials, shipping, and storing are higher than with smaller paintings. "This is a blessing and a curse," she says. "There is a demand for large work, so I have worked purposefully to fill that niche."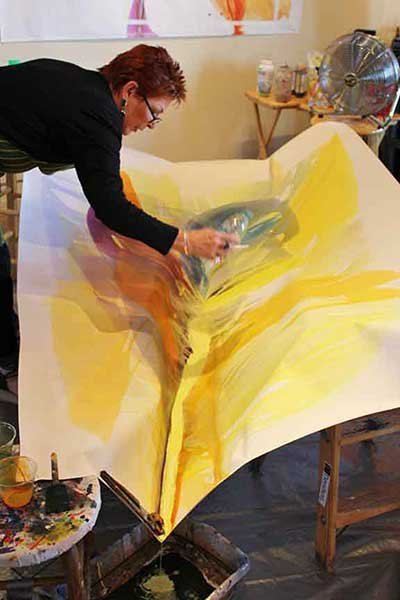 Ridgeway works four days a week from 10 a.m. to 4 p.m. with a short lunch—and email catch-up—break. She feels fortunate to have an assistant, who keeps her focused on making art during the hours they work. They usually have a plan for the week. They recently completed five large pieces for Ridgeway's solo exhibit at Anticus Gallery in Scottsdale, Arizona. Next they will work on a large piece for the London Art Biennale in late May.
Before starting work at the studio, Ridgeway has already sketched out ideas. "Often, I'll take progress photos, pop them into Photoshop and manipulate the image to determine the subsequent pours," she says.
Key to her artwork is setting up of the piece. This involves using stools and ladders of different heights to support the canvas. Once the canvas is draped on the supports, she pours layer upon layer of acrylic paint on it, usually culminating in a focal point with excess paint flowing into a bucket.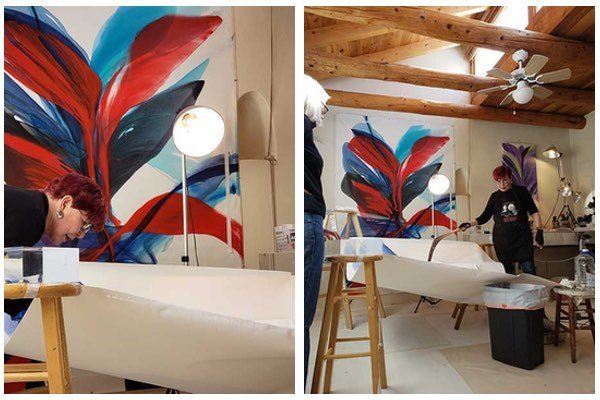 Often, she has several paintings in the works. Sometimes, she will get stuck before finishing it. When this happens, she'll roll up the canvas and start another one. When the time is right, she'll return to the unfinished ones. "When I get inspired, I get busy," she says.
She's never at a loss for ideas. She writes in journals, makes sketches, and takes notes. She sketches on anything nearby, including notepaper and napkins. "I am often inspired by nature, which is beyond amazing in the high desert of New Mexico," she says. "With the change of seasons, it really gets my creative flow flowing."
Copyright 2019 Woven Tale Press LLC. All Rights Reserved.