"I tell myself to live writing!"
Interview with Sara London, Poetry Editor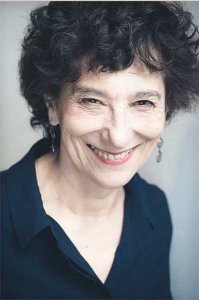 Lee Briccetti is the author of Blue Guide and Day Mark, poetry collections published by Four Way Books. She is also the Executive Director of Poets House, a national poetry library and literary center in New York City. Born in Italy, she earned her MFA from the Iowa Writers' Workshop, and has received fellowships from the New York Foundation for the Arts and the Fine Arts Work Center in Provincetown. Her poems have appeared in many national journals, and she's been awarded residencies at MacDowell, The Millay Colony, and the American Academy in Rome.   
London: No doubt most of your waking hours, for some years now, have been taken up with transforming Poets House into a vital twenty-first-century literary hub for poets and the public. But I'd like to begin with your own poetry. Your poems reflect such wide-ranging pulses of illumination, very personal, yet always about the world. There's constant movement between the exterior and the interior, between the fragment and the whole, between the words of others and your own. Your newest collection, Blue Guide, which features a map of Rome on the cover, continues some of the earlier book's wanderings in Italy and New York City ("walking…/alone in the progressive temperament/of stink-laden Manhattan"). In one poem the speaker asks, "where do 'I' travel beyond mind?" Can you talk about this deep connection to place, and the impulse to map out meaning as you roam?
Briccetti: Because I was born in Italy, my affections and intellect are pulled between two different places—that is, different geographies and life-worlds that build from geography; two (of course, more than two!) different registers of beauty, expectations, attitudes about the body, language, and what it means to live well. I love Eudora Welty's simple definition of a story: you and me, here in this place. In many ways, place is as mysterious as you and me. One can be entranced by a dripping trumpet vine draped on a stone ruin—then discover it was once a place of torture. We often don't know where we are.
In Rome, the streets are frequently pulled open, making it possible to look at layers of the past. Time as a visible presence is oddly placing. Because I left Italy at a young age, there will always be a personal archeology involved in my relationship with that place. I experience the power of place in the United States differently. Gorgeous as the wild outdoors of our country is, public memory is not part of the landscape. There is such violent erasure here—erasure of indigenous peoples, slavery and internment. A number of the poems in Blue Guide deal directly with this. "The Face of North America" has at its core an almost accidental bumping-into the Heart Mountain internment camp for Japanese Americans in the early 1970s. At that time, there had been a complete repression of this shameful part of American history—I tried to find out more. No one I asked knew, or would talk about it. So, where are we? How do we expand the notion of you and me? How do we expand the notion of here in this place?
London: The "places" your poems take us are often ruins—of buildings and of the body: "the dead/always tell us live." These lines from "Blue Guide: Ruins" articulate a mysterious and hopeful contradiction—one that only a mortal being could conjure! In "My Life as a To Do List," are the dead also telling us to write?
               1. Why live as a to-do list?
     a.    No choice
     b.    I cannot otherwise be multiple
     c.    Lists exist because of writing
             c. is the answer: C is Sun in Cup of Sky
             body squinting pleasure
             (C my cup size)
             monumental Roman C
             engraved on the plinth of The Association of Flute Players
Briccetti: The dead tell me to live. I tell myself to live writing! "My Life As To Do List" is inspired by one of my favorite books, Orality and Literacy by Walter Ong, which explores the shift in consciousness that occurred as writing replaced oral culture. Orality is never far from good writing. But Ong is interested in how writing invented interiority and the concept of individuality. In my early twenties, writing and reading were the beginning of self-determination and freedom. Reading the poetry of Adrienne Rich, Ntozake Shange, and Audre Lorde ineluctably opened my world and helped me to think about my agency as a woman—and how I wanted to live. But as activities with their own history, reading and writing are fairly new, from a few thousand years ago. Ong's work inspired me to explore the notion that "myself as to-do list" couldn't exist without a writing culture that deeply interiorizes a sense of the self as a productive unit. The often-destructive way I think about my life as a function of what I do—all that distilled anxiousness about daily accomplishment!—is a by-product of how writing has been interiorized in my life.
London: That "interiority" then emerges so dynamically on the page. I'm interested in how you use form and punctuation in the "Sky Notes" sonnets. In "Sky Notes/Sky Sonnet (4)," the lines begin with a comma, as they do in the other sonnets:
, South-South-West, does Venus
, appear, gleaming in her dish of treetops
, Mercury, in chill darkness
, I go outdoors, that I may see myself
This seems to remind us that one's thoughts and observations are never a beginning in themselves, but come mid-breath, mid-continuum. How did you come to structure the poems in this way?
Briccetti: The commas at the beginning of each line in the broken sonnets signal a mind in motion, in mid-thought. Hopefully, those commas also create a conversation with the notion of the traditional sonnet's turn, that is, the moment when the argument takes another direction. But here, everything is in motion, turning, like a dervish. The initial comma of each line also slightly raises the musical register of the voice, lifting the utterance as it begins. All of these broken sonnets were written when I was looking at the night sky, thinking about the material world(s) in motion. I was getting up at night to study the constellations, going out with a Star Gazer app, squinting to see my phone, laughing at myself because I had to take my glasses off then put them back on (over and over) to use the damn app. Those night times made the ancients feel closer, invoked a sense of other people as they looked (sans app) at the trajectory of Venus in the summer sky. The people living three thousand years ago, in the place from which we look now, saw the same stars we see.
London: That image of lyrical illumination brings me to your amazing work at Poets House. What a wonderful Literary Piazza down there on Manhattan's River Terrance—the bountiful library of contemporary poetry, exhibits, readings, talks, classes. Great poets and great lovers of poetry coming and going. Are there anecdotes you might share, a few memorable moments during your years as Nourisher-in-Chief?
Briccetti: The Poetry Walk Across the Brooklyn Bridge (now in its twenty-third year) is a favorite. I love the ritual encounter with my city as hundreds of people walk together, physicalizing our presence in the places that the poems we read together celebrate. We always hear Whitman's "Crossing Brooklyn Ferry" in its entirety when we arrive at the Brooklyn waterfront. Galway Kinnell read that poem from the inception of our event until his death, with barges and ferries sliding behind him on the sunset-river. One year, a by-stander asked me was this some kind of religious group? In 2018, the spectacular Patricia Smith read "Crossing Brooklyn Ferry" and a passenger boat slowed down behind her on the shore to linger and eavesdrop. Whitman's presence is always palpable:
 I am with you, you men and women of a generation,
..or ever some many generations hence,
Just as you feel when you look on the river and sky,
..so I felt,
Just as any of you is one of a living crowd, I was one of a crowd,
Just as you are refresh'd by the gladness of the river
..and the bright flow, I was refresh'd,…
I also loved the People's Poetry Gatherings in the late 1990s that brought together oral traditions, text, and song from around the world. I will always remember walking in the East Village in the middle of the night with the cowboy poets as they sang ballads.
One more note. One of the first events I hosted at Poets House in 1990, when it was still in a home economics room in a high school, featured Susan Howe presenting her independent Dickinson scholarship. That was the moment Dickinson came alive for me as a radical consciousness; Dickinson had previously been ruined for me by The Belle of Amherst. Now, I like to encounter Dickinson's poetry on a daily basis; and she is always the poet I turn to in extremity. Howe's program on Dickinson changed my reading-life, which is to say, my life.
London: And perhaps we can close with a few other poets who excite you?
Briccetti: I read from We're On: A June Jordan Reader on an almost daily basis as an essential life tool; I love having the poetry and prose side-by-side, hearing her remarkable voice on issues of race, power, and the agency of poetry. I go back to Robert Creeley, George Oppen, Audre Lorde, Emily Dickinson, and also Jane Valentine, who was a beloved teacher. Because I work in one of the world's great poetry libraries, I take a day off each summer (to go to work) to study our Showcase of new books. Last year there were 3,200 books from 700 publishers. Since then, I have been reading new books by Kaveh Akbar, Chen Chen, Tarfia Faizullah, T'ai Freedom Ford, Brenda Hillman, Craig Morgan Teicher—and I will always follow their work.
Also last year, after reading Emily Wilson's new translation of The Odyssey aloud to a beloved friend (how bold and blunt and fresh her translation is!), I pored over a number of poets who had been classicists: Anne Carson, Alice Oswald, Carl Phillips. The way they balance intellect and emotion, their broad view of history, their control of the line, thrills me. They know just when to let the sails out, then pull them back in. Dart by Alice Oswald, which follows the course of the Dart River from its source in Devon to the ocean, is possibly the book of poetry that I would like to have sown into my jacket pocket, close to my heart! What a miracle of sound and connection to landscape.
For more about Lee Briccetti and her poetry go to: https://fourwaybooks.com/site/lee-briccetti/, http://www.cortlandreview.com/issue/76/briccetti.php, or https://poetshouse.org/
Copyright 2019 Woven Tale Press LLC. All Rights Reserved.