Shell Machine
See Walter Crump's work in WTP Vol. VII #3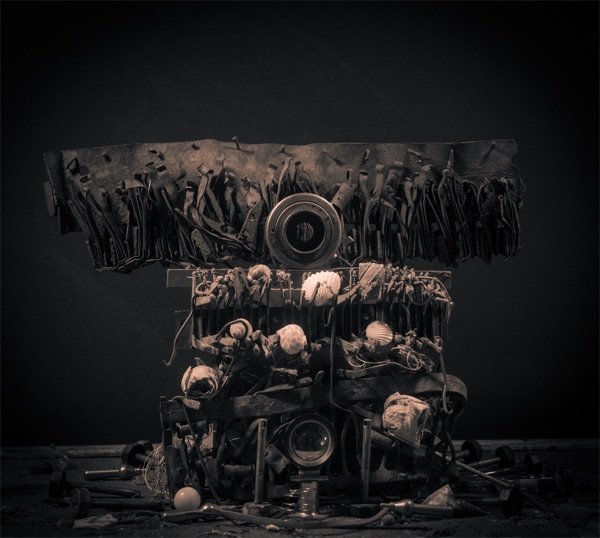 inkjet pigment print on Hahnemuhle,
Glossy Fine Art Baryta 325 gsm
31" x 22"
"I explore alternative ways in which cameras see the world.
Trained as a painter and printmaker, I gradually mastered the art of photography when, in 1986, I was asked to teach photography at my school. Previously, I had never worked in a darkroom. I became fascinated with the possibilities of extending my vision through photography and began to concentrate on alternative ways to photograph, using both traditional cameras and handmade pinhole cameras. I soon gravitated from printmaking to photography.
Over the years, I have collected and photographed objects discarded from the fading industrial world, fragments of defunct mechanisms [machines], mangled circuit boards, worn gears and tangled rusting whackmadoos. Like Morandi who grouped and regrouped his dull crockery, to create his luscious nuanced paintings, my constructed still lifes are not permanent; once photographed, they are taken apart to be reassembled in a different configuration. I think of these impermanent structures as machines without a purpose or machines that have lost their purpose, invoking rusting metropolises or ambiguous edifices, elusive images appearing as cloudy wrecks of a dubious age, blending fiction and reality, shivery things surviving on the edge of memory."
Walter Crump's work has been exhibited both in the United States and abroad, including Poland, Iran, and Pakistan. It is also included in numerous museum collections, including The Philadelphia Museum of Art, the Pinhole Resource Collection of the New Mexico History Museum, NM, and the Smithsonian, Washington, DC. Most recently he was co-curator of Seven Pinhole Photographers from Poland at the Gallery of Art, Institute of Boston, MA.