"I've never had, except once,
that happy time when something writes itself…"
Transcribed by DeWitt Henry, Prose Editor
These reflections were from a recording of Tillie Olsen's reading at Emerson College, MA, March 23, 1974. I first read Tillie Olsen as part of editing Ploughshares in the 1970s. Sam Lawrence, whom I had contacted as the Boston publisher of Richard Yates and Brian Moore, was publishing her novel Yonnondio: From the Thirties, and she had just taken a teaching post at MIT. I loved Tell Me a Riddle, sent her copies of Ploughshares, and invited her to send work for my special realism issue. We corresponded and became friends. She came to dinner at Connie's and my apartment, a three-floor walk-up near the BU bridge. She sent me a packet of published essays that became Silences, as well as an unpublished piece of her juvenilia, which I rejected, although I did solicit an admiring review of Yonnondio by her former student from Amherst, Scott Turow, then at Harvard Law. As an adjunct Prose Writer in Residence at Emerson College, I also arranged for her to read on campus, March 23, 1974, after which she allowed me to record her remarks, and later to have a student transcribe and publish them in a student magazine. I edited the highlights for my fiction workshops and recently rediscovered them in my personal archives. She remains one of the essential voices in my head and Tell Me A Riddle a book I share.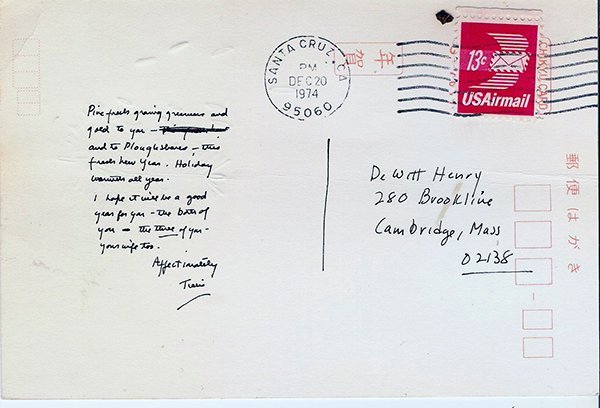 1.  ON NOVELS AND STORIES
I do not recognize those distinctions between stories and novels, because to me there are some things that are only a few pages and yet remain and persist to people in their power, while so many things usually thought of as novels seem all fat and repetition, yards of word….I never know how long anything is going to end up. There's so much in my head and then some things end up shorter, others longer, and in my work—I've published comparatively little as you know in number of pages written—there are some things that fall into the academic definition of a story (though even that varies), while there are others, like "Tell Me a Riddle," that share some of what are supposed to be the attributes of a novel. But regardless, I think it is an artificial distinction and wrong in talking about literature to limit things to a definition of form.
2. ON WRITING SLOWLY
I'm a slow writer. I was much faster when I was writing Yonnondio and was young and in my early twenties, but I lost whatever ardor, sureness, that confidence of knowing, having to say that maybe has to do with being young. Though I must say too, that when I found the manuscript again a few years ago and began the work of reclaiming it, when I came through all those different versions of things—chapters, scenes, sentences—none of which had ever become a final thing, I see I was already a writer who was having trouble getting right what I wanted to say. 
But now the slowness has to do with too much being in my head, with all those years in which I wasn't writing, but was living, and living not only very fully as a human being, but also living a life. And it was a working life. I was working paid jobs as well as the unpaid job (in monetary terms) of raising a family, keeping a home. And it's been some time since we've begun to have writers who are familiar with the worlds of work and the worlds of so-called everyday people, and who must write about it because it's their people, and their world, even if like D.H. Lawrence or Camus (to mention two great writers) you don't dwell in it after you become a writer. 
Still this is a problem for me, an extra problem in writing, because I'm writing about—how can I say it? In the first place I have to make it as close to art as I can make it, because those kinds of human beings must have it to accord them, what Van Gogh wrote his brother he would like to have in his paintings of the weavers: "I would like to have in those paintings around their heads that invisible halo."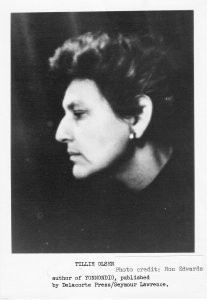 In Yonnondio that means showing that it's not only Anna, for instance, or she as she is now, but also what else is in Anna. Normally the world would just see what people in the book saw in the scene with Anna and her three little ones walking down a suburban street, so the problem of the art is in showing what universes are in each of my characters and I must put it in terms of what we all are, what we want and feel—the "ties of equality"—and something more than that, something closer, so that people really feel that quality of miracle. Then there is also the problem that my vision is very different from the usual vision that might more readily accommodate itself to the usual "rhetorics" of art.
I don't think in terms of quests for identity in explaining human motivation and behavior. I feel that in a world where class, race, and sex are so determining that that's nonsense and has little to do with the realities. What matters to me is the kind of soil in which people have, out of which they have to grow, and the kind of climate around them: circumstances are the major concern and not the personal quest for identity. And as these circumstances belong to what I know and the way I read literature and history, my concern for them is larger than writing.
I'm not the writer who writes only because I so love writing—and I do love writing and I wish I could give many, many lives to it. But I also want to use the kind of language and write the kind of things that help change what is not right and not good for human beings. And this larger concern is a problem and gets in the way and one has to work one's way through it in trying to write even something as simple as the first story I considered publishable that appears in Tell Me a Riddle, "I Stand Here Ironing."
All of these are part of the problem of my slowness, in addition to my life problem, which I've written about in two published articles—a time when the need and the capacity to write was there but circumstances didn't make it possible. And a destruction began to take place in me as a result of that time, so that if I am interrupted it takes me a long while to get back again to my full powers, able to write the whole way I need to write and to make my writing be what it has to be.
"I Stand Here Ironing" took me several years, but I wasn't in a room sitting and writing that. Some of that was written on the ironing board late at night, some of it was written on buses standing up, and it was many versions and several years after I wrote it that I was able to write certain pages in it that never came right. I think the thing I wrote fastest was "O Yes." This was when I had much more time. I had a Stanford Fellowship, and it wasn't full-time, but I did write that over a period of about four months. "Tell Me A Riddle" itself I started at the end of my Stanford time and I had to put it aside and took it up again and put it aside again and did not finish it until out of nowhere (I never had applied for it) I was given a Ford Fellowship and then I went ahead and was able to win back what I needed to really write the rest and finish that.
3. ON DISCARDING AND INCLUDING
I wrote several thousand pages for "Tell Me A Riddle," at least several thousand are what I still have of what I wrote, and many of those pages were full scenes that are either in the finished story in a sentence or two or are not in the finished story at all, except that I think the reader now writes them for me. I'd reached that point in my writing where I trusted…I didn't trust the reader or respect him nearly so much, in my earlier and younger work, as I did in writing this story or as I now do. I had to learn that: that the reader knows too, and give him enough and he will truly be your partner in the writing: you don't have to put everything in it.
But it takes me a very long time. A book that is unfinished I started in 1964 and worked on off and on, then after six very wonderful, full work months, put it aside and haven't been able yet to go back to it. That will be novel length—what is considered novel length—but that too: I've written thousands of pages, yet when I've finished, certain things from those pages are not going to be in it, except they are going to be in it, even if not on the printed page. I have all that material to work through, to see what absolutely has to be there.
I've never had, except once, that happy time when something writes itself, which happens to many writers but evidently that's been destroyed in me in the years when I wasn't writing. I have to get it all just by climbing walls and very hard work and going back again and reading and going through that painful thing of discarding, but to me it's the happiest thing in the world and the greatest privilege to be able to do that too—I'm not complaining. I'd like to just go ahead and have all that agony I could.
—transcribed by DeWitt Henry