Mixed Media Inspired by Magical Realism
By Richard Malinsky, Arts Editor
Inspired by the literary movement Magical Realism, Maya Kuvaja's storytelling paintings explore the way we perceive and construct our own realities. It's no wonder she includes in her artist statement a quote by Gabriel García Márquez: "What matters in life is not what happens to you but what you remember and how you remember it."
Her work, a combination of collage and painted images, invites deeply personal interpretations of her complex and mysterious narratives. In these narratives, she is seeking to gain a deeper understanding of human perception, of how we create our own realities. The painting "La Ruche," from her 2012–2014 series, features a human hand surrounded by bees, touching, or moving, a single molecular structure. The image suggests that a basic molecular relationship between the human and insect genus may not be as far removed as one might think. She states: "In these mixed-media works, I explore the tenuous nature of memory and dreams. I also examine the ways in which humans interact and conflict with nature."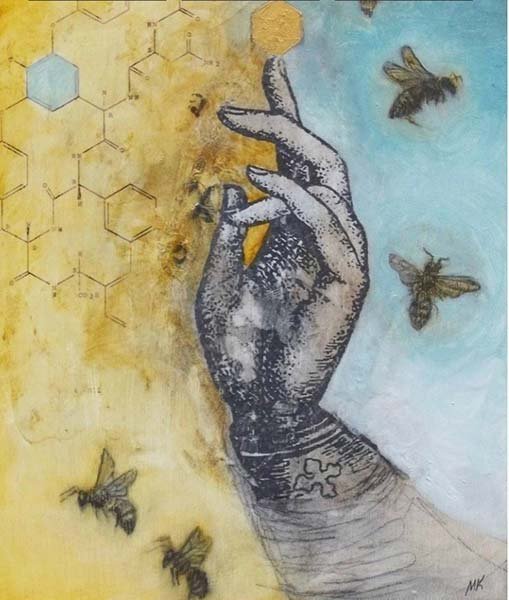 Her current work from 2017–2019 evolves beyond a single dominant image into a rich graphic surface created by the collage of various printed texts, and of diagrams adhered to plywood panels that form a base support for painted overlays. The small website images do not allow for the reading of the exact printed content in "With Bated Breath," but you can easily imagine that the maps and charts are documenting air flow patterns, geography, and the incredible annual migration route of the Monarch butterflies, all which challenge our human reality.
An endless supply of printed materials from discarded textbooks, maps, scientific diagrams, etc., provides content for her to reconstruct new narratives. These found materials become part of her palette as she integrates her own images drawn from personal histories, dreams, and experiences.
I was particularly drawn to the "Meditations on Being" collage, an interpretation of Albrecht Dürer's "Adam and Eve." At first glance, it seems so much content would be too busy. However, her masterful design of precisely cut paper and drawing lures you into the composition so that you can follow this new narrative without even reading it. Male and female (positive and negative) forms are united by a dramatic angular pattern, a kind of energy flow. A fern in the foreground hints at a garden. In her narrative, Adam and Eve are a contemplation of place and time in the universe.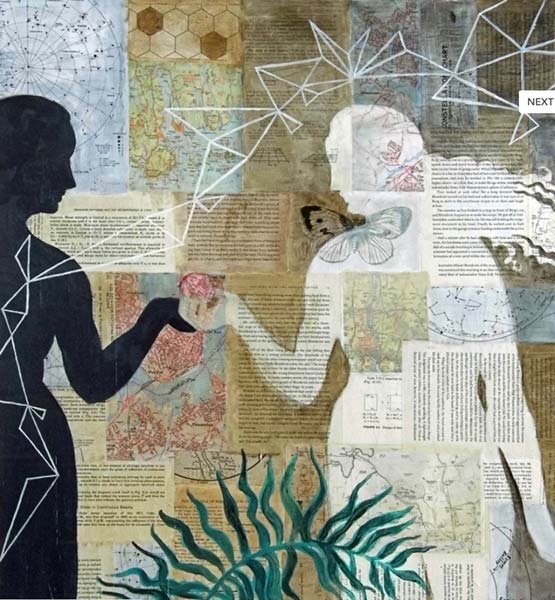 Kuvaja's website, http://mayakuvaja.yolasite.com, also includes work inspired by the Passenger Pigeon Project—a group of scientists, artists, and educators working to raise awareness of species loss and promote preservation. She describes these works as "a series of paintings influenced by the fragile balance of the natural world and the continued conflict between mankind and the environment.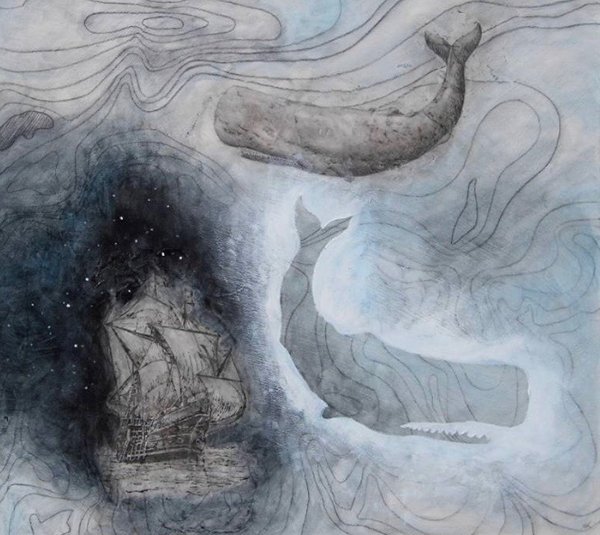 Maya Kuvaja earned her degree from the Maine College of Art. She lives in rural Western Maine where she paints in her studio in the woods, inspired by the relationship between nature, science, and spiritually. 
All images © Maya Kuvaja. Images cannot be used without permission
Copyright 2019 Woven Tale Press LLC. All Rights Reserved.