An Artist's Journey
By Richard Malinsky, Arts Editor
I have long been an admirer of Helen Cantrell's gestural abstract paintings, and was delighted to be able to spend some time with her exploring her early beginnings, influences, and her recent successes.
Helen knew she wanted to be an artist early in her childhood growing up in the Midwest. She remembered at seven or eight being totally mesmerized by the Big Box of Crayola crayons, and recalled the "yummy fuchsias, brilliant chartreuse, and the whole ranges of blues."
After high school, she attended Washington University School of Fine Art in St. Louis, MO, for two years. Financial pressures forced her early withdrawal, and in the midst of the social unrest and restlessness of the late '60s, she migrated to New York City and found a job as an apprentice typesetter. That training blossomed into a full-time career for many years. Whenever the art muse surfaced, she took weekend classes at the Art Students League, even a painting class with Will Barnet.
After the death of her mother, she began to feel like she had never really given her art the chance it deserved. She dedicated some part of every day to something art related—even if it was simply thumbing through an art periodical to reignite the spark. It took several years before she began to paint again.
After retiring from the typesetting service, she and her husband moved to Connecticut.
She described the experience as "like a whole different planet, seeing the sky and light and air all around me all the time. And grass and trees and flowers. And ever since then, I have worked at painting and doing printmaking full time." Her painting "Merritt Parkway Rain" captures the excitement of traveling from the city to the Connecticut countryside.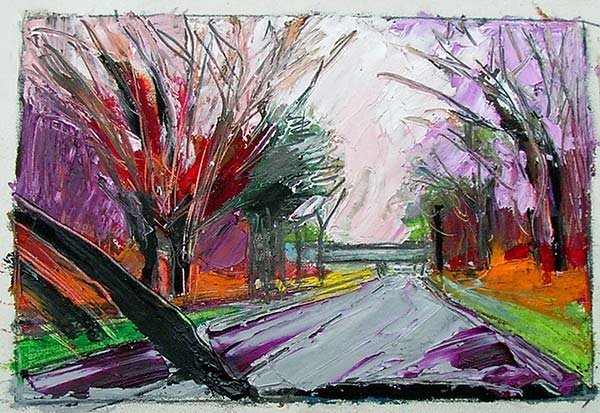 Feeling a need for professional guidance, she attended the noted School of the Museum of Fine Arts in Boston, MA, for two years, with a focus in printmaking. "City Burn Matrix", with its reference to 9/11, is representative of this period. She returned to Connecticut refreshed, totally committed, and ready to fearlessly make her mark.
The physical quality and spontaneity of Joan Mitchell, the elegant composition of Richard Diebenkorn, and the early work of Wolf Kahn have informed her painting for the past twenty years. Her color is fused with energy complemented by her passionate gestural brushwork. She frequently works from photographs of things that catch her eye, and then creates a framework of light and structure to evoke a mood and place. She's not afraid to let an expressionistic image become a focal point.
The large "Las Vegas" painting was based on a glimpse at the airport. She states, "Those dark glittering glass buildings, that black pyramid, those fantastical palaces, all in the dry wide desert surrounded by barren, red, scary mountains, fascinate me. Kind of like the land of Oz." After emphasizing the building's blue-black verticality, she said she still felt it needed something sensational: "So I took a big brush and splattered runs and drips of blue down the center. Because what's more magical than water in the desert?"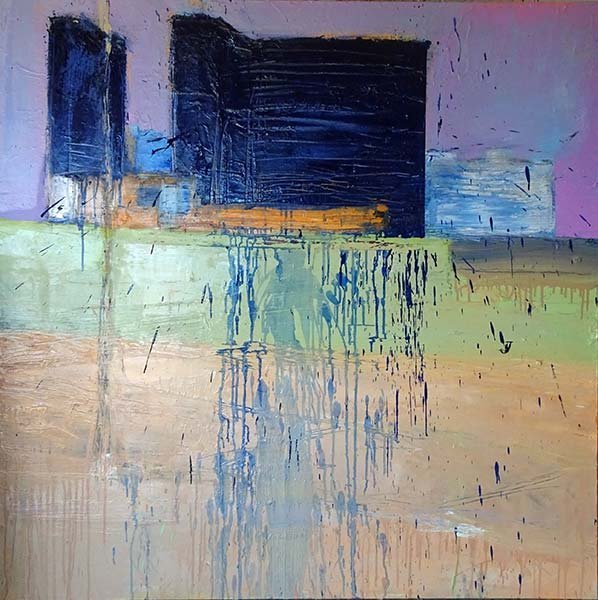 Cantrell is in love with oil paint—its physicality, thickness, thinness, how you can carve into it, and as she says, "fling it around." She combines these attributes to produce a sumptuous surface of color as seen in "Harlem River Bridge Snow," with its saturated heavy wet raspberry-sherbet sky and chartreuse bridge structure, distant in the swirling snow. She states, "It's about the excitement of going into New York City, crossing the Harlem River heading into Grand Central Station, with candied Christmas colors and a delicious sense of cold outside."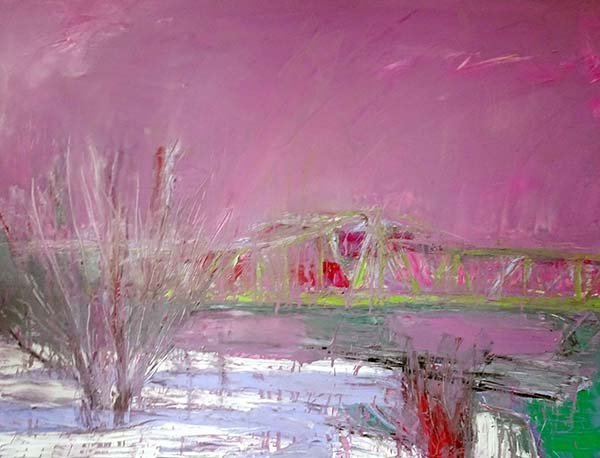 Over the past seventeen years, Cantrell has amassed an impressive exhibition list that includes numerous awards and prizes. Most recently, adjudicator Douglas Hyland, former Director of the New Britain Museum of Art, awarded "Salt Marsh Radiant Pink" (pictured below) First Prize at the 75th Annual Connecticut Artists Juried Exhibition held at the Slater Memorial Museum of Art, Norwich, CT.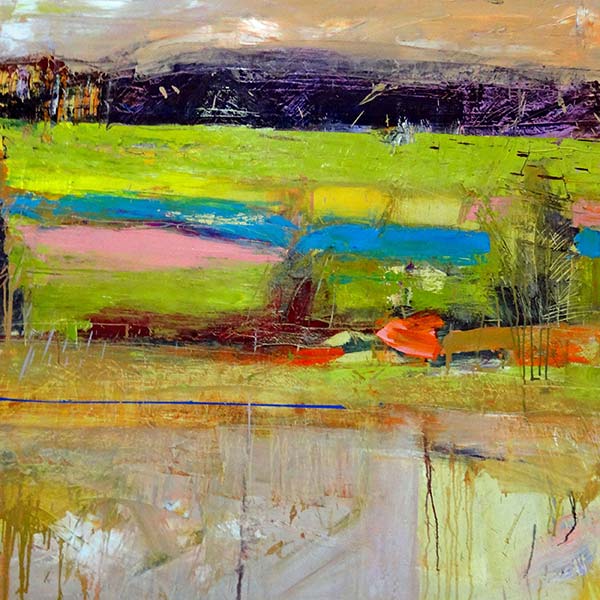 Helen Cantrell's solo exhibition Helen Cantrell: A Sense of Place is open from May 24th–July 28th, 2019, at The White Gallery in Lakeville, CT.
See her work in WTP Vol. VII #4. 
Copyright 2019 Woven Tale Press LLC. All Rights Reserved