Paintings Made from Digital Montages
Interview by Jennifer Nelson, WTP Feature Writer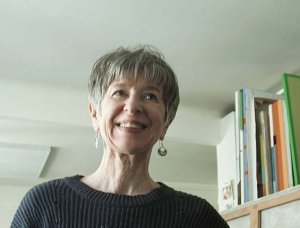 Susan Cantrick is an American painter who lives and works in Paris, France. In 1997, due to chronic tendonitis, she left her career as a violinist to pursue visual arts studies in Paris for several years. During that time, she had her first solo exhibition in Paris, and in 2002 she established her studio practice there. In 2004, she attended a winter residency at the Vermont Studio Center, and in 2007 she had her second solo show in Paris. Since then she has shown regularly in solo and group exhibitions in France and the United States.  Her most recent solo exhibition, Impure Situation(s), at Le Pavé d'Orsay in Paris, featured fifteen works on canvas and paper. In September 2013, she received the Art Absolument prize at the Salon des Réalités Nouvelles, Paris.  Private collectors in France, the United States, and Japan have acquired her work. Her work was exhibited at a group show at the Marylebone Crypt, London, in the summer 2018. She holds a bachelor's degree from Bennington College and a master's from the Peabody Conservatory.
Her work appears in WTP Vol. VII #4. 
Nelson: Can you tell us about your transitioning from a violinist to a painter in your mid-forties—how you made that transition from music to not just the visual arts, but to such bold abstract works?
Cantrick: It was not a difficult transition, because I'd always felt that painting was my missed métier. In addition, because of the chronic tendinitis that caused me to make the lateral move to painting, playing the violin under professional pressure had become more of a psychological burden than a pleasure. Leaving all that behind was a great relief. As for how I ended up as an abstract painter, that, too, was a natural proclivity. Even though during my formative years I loved drawing from life and pursued that for quite some time, I would always go home and do abstract paintings, first in watercolor and later in acrylic. Once I transitioned to an independent studio practice, I ceased drawing and painting figuratively. That observational phase had served its purpose, and I felt ready to go forward exclusively with the abstract painting with which I was already intensely engaged.
Nelson: Your work is a fascinating hybrid of the tactile of painting and then the digital—can you talk about how you came to work with the digital, and from fragments of your own work? 
Cantrick: It all started back in 2001, when I was experimenting with the book format and photography, while continuing to paint and draw. I wanted transparency and overlay in the photographic imagery but couldn't get the desired results with conventional procedures. In the process of putting a photo-book together, I happened onto someone who introduced me to Photoshop, and a new world of experimentation opened up. In addition to the book art and photography experiments, I was also working a lot at that time with conventional collage. Photoshop allowed me to synthesize those media and techniques into what I call digital montage—the digital equivalent of conventional collage. Photo fragments of my own painting and drawing got immediately folded into this abstract mix, which yielded images that I felt could be successfully transformed into paintings, and so I began to use the montages as compositional studies for that medium. In 2006–7, I made a book of digital images paralleling a selection of poems by a friend of mine, Beverley Bie Brahic. This book—the eye 'goes after'—took me further into the complex process of combining my own drawing, painting, photography, and collage via Photoshop. 
Nelson: Your Boston Pebble series are ink-jet prints with digital montage on paper. Can you talk about your digital process—what programs do you rely on, or is it all done in Photoshop? 
Cantrick: Yes, Photoshop is the only digital tool I use.
The Boston Pebbles images are actually part of the ponge.pebble.paint project that was exhibited at the Boston French Cultural Center in 2012, so that goes back a bit. Some of these works are just ink-jet prints of digital montages and others are prints with other interventions added.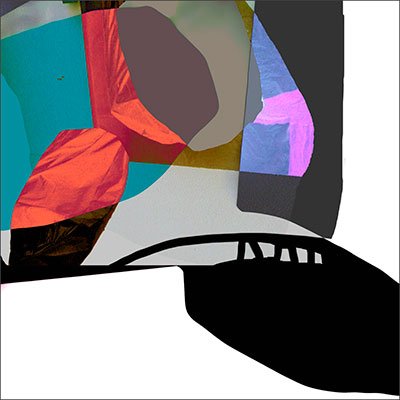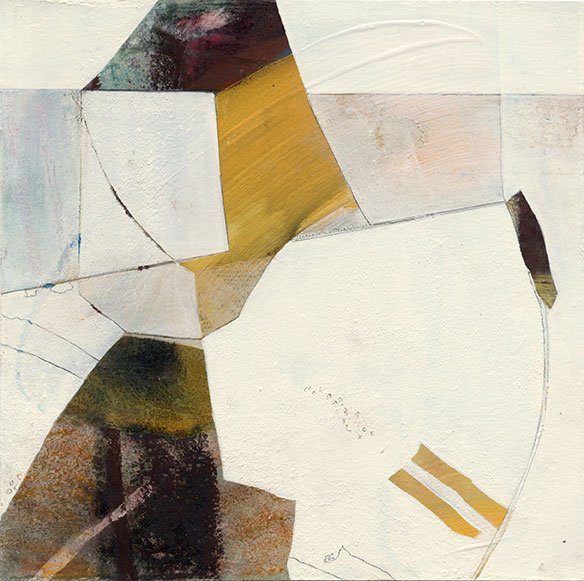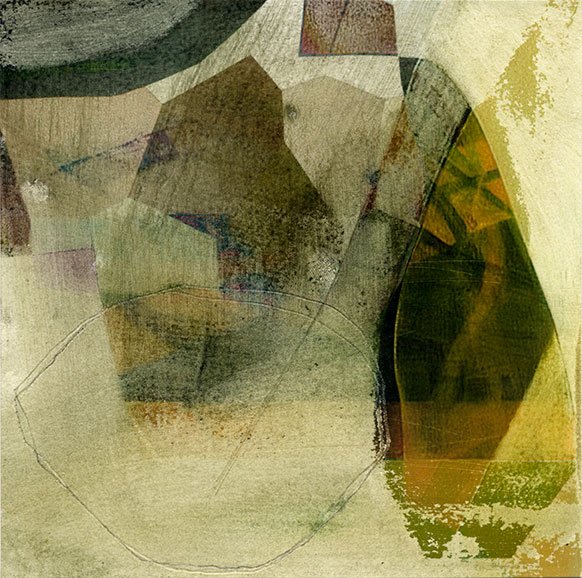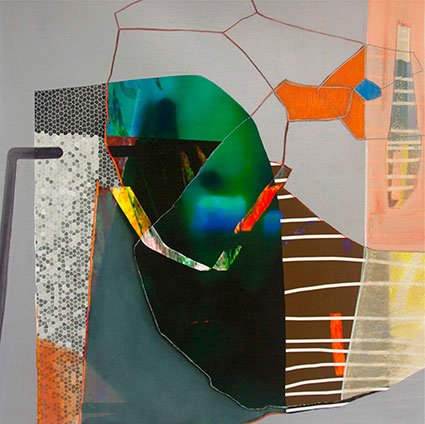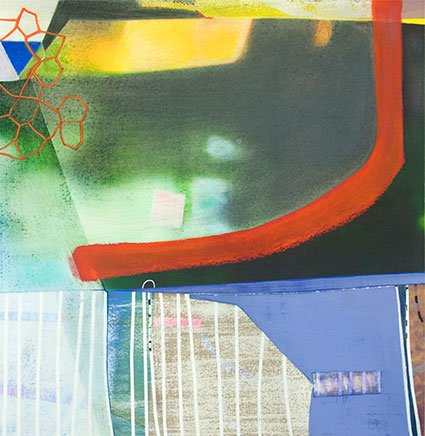 I needed a French subject for the show and by chance ended up choosing a poem—"The Pebble"—by the French modernist poet Francis Ponge, because it was amongst the works in a volume of Ponge's poems that had been recently translated for the first time into English by my poet friend Beverley Brahic, whom I mentioned earlier. This project—not an illustration or interpretation of the poem but rather a visual exploration of one of its main themes—pushed forward my experiments with digital composition and painting. I used a pre-existing photograph, of a scene taken from my studio window, having nothing to do with Ponge or anything else, to develop a composition from which I painted a medium-sized diptych on canvas, a photograph of which I subsequently deconstructed into a grid, digitally reworking random sections of it into new montages. 
In turn, I printed out, in small format, a number of these montages, which I subsequently sanded down, painted upon, and sometimes ran through the printer a second time. These were dubbed the "pebbles." Ponge's poem is in large part about an evolutionary scaling down—from big bang boulders to the pebble. In some of the pieces, I decided to evoke that evolution by building erosion literally into the technical process, sometimes sanding down the surfaces of the printed pieces and reworking them. As I progressed with the project, I also became interested in how the segments I was working on retained or distanced themselves from their initial identity as part of the larger matrix, i.e., the original painting. 
In addition to these small mixed-media works on paper, I also made six medium-scale acrylic paintings on canvas based on the matrix painting. The digital studies for those paintings were also generated from the grid fragments, but the paintings themselves were not subjected to subsequent interventions (sanding, printing/drawing upon) as were the small "pebble" works on paper.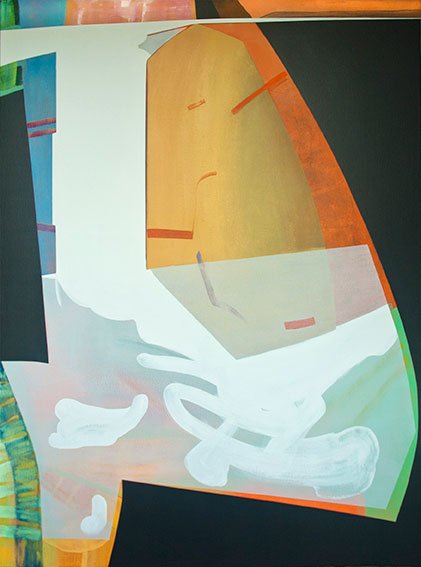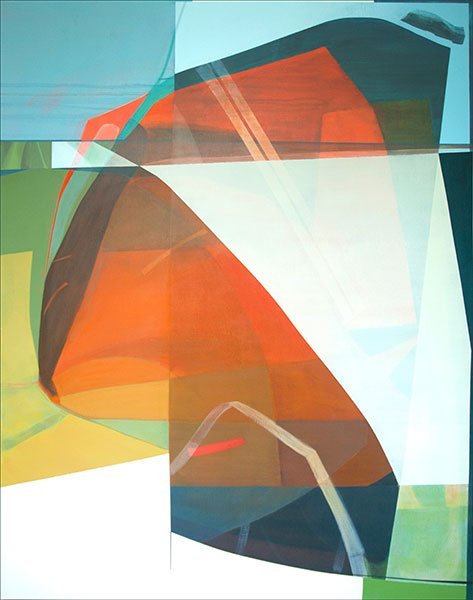 This latter process—pure painting on canvas or paper, using digital compositions as models or starting points, with little or no intervention with other media—is my more common practice. The way that process evolves, in a nutshell, is that I start from the digital model, and as the painting takes on its own life and develops its own problems, I photograph it and rework it in Photoshop, then continue painting, and so on and so forth until the painting finally has a compelling presence.
Nelson: You reference music as painting's "mute cousin." How has your career as a violinist influenced you as an artist? 
Cantrick: That's a fair question that I am often asked; my answer has been pretty consistent from the beginning: if there is an influence, it's subconscious. I rarely think consciously about the relationship, and in fact have always felt that music and the visual arts, for all their seemingly obvious parallels (like their both being "mute," or non-verbal) are more metaphorically than structurally related. They both exist because they are essentially different. And vive la différence!
That said, I think it helped me a lot to already have the built-in discipline of daily practice, and to know that the creative process entails ups and downs and plateaus that must be kept in perspective.
Nelson: What artists have influenced your artwork, and do you draw inspiration from elsewhere?
Cantrick: As with music, what interests and influences me most when I look at past or contemporary work is its presence or the energy that it emits. If I walk away from an artist's work excited and wanting to get back to work, that's all the influence I need. It's hard to pin down in general terms what it is that creates such excitement, which, when you think about it, is not surprising. After all, we respond to what's original, and you can't really generalize about originality, because it's specific to itself.  That said, clarity, precision, complexity, strangeness, and vitality are among its most salient features (though they might not all be present at once). My excitement might just as well come from looking at an illuminated manuscript as from Bosch, Holbein, Dürer, Vermeer, or Degas; as much from an aboriginal painting as from Manet, Picasso, Diebenkorn, or Joan Mitchell; as much from James Castle or Basquiat as from Jasper Johns, Louise Bourgeois, Elizabeth Murray, Shirley Jaffe, Amy Sillman, Juan Uslé, or Charline von Heyl.
The real world is perhaps the most constant influence: though I never paint directly from life, I'm always amazed at how body and landscape creep, unsolicited, into my paintings. Perhaps that's the price one pays for continuing to think of painting as a space, or a continuation of oneself and one's space. The challenge, as ever, is to bring those two influences to life in a new form.
Nelson: How has living in Paris impacted your artwork? 
Cantrick: I would say that Paris has influenced my trajectory as an artist more than the content of my work.  
First of all, I'm not sure that I'd have quit music and become a painter had my husband and I stayed in Washington, DC, where I was developing a teaching career. The move to Paris, ironically, put me in a position to do more performing and no teaching, which meant an aggravation of the tendinitis, which led to my early retirement.
Secondly, as a latecomer to painting, I was too old to enter the Écoles des Beaux Arts system here, so the conventional academic route was closed to me. That has been part blessing and part curse. I avoided all the awkwardness inherent in trying to become a painter in an atmosphere still dominated by conceptual art, while being deprived of a systematic education, not to mention the networking and prestige associated with being a graduate of an academic institution. I like to think that the blessing part is ultimately more significant than my lack of a diploma. For all the benefits of a formal education, there's also something to be said for being able to develop outside the academic box. Nevertheless, I'd certainly have pursued institutional training had I been able to.
Of course, proximity to great museums like the Louvre, Orsay, and Pompidou in Paris, as well as all the other rich public and private collections here and in other nearby European cities like London, Amsterdam, and Berlin, continues to provide a great advantage for continuing education.
Nelson: How do you see your work evolving in the future? 
Cantrick: I am currently poised to start work on six to eight paintings on canvas in similar mid-size formats (120 cm square and 113 x 122 cm) that are based on digital models that have been on the backburner for a while, passing the test of time. I feel a certain coalescence of ideas and form coming together in recent digital work and want to seize the moment!  Ditto for some experiments on paper with combined painting/drawing/collage that I started last fall.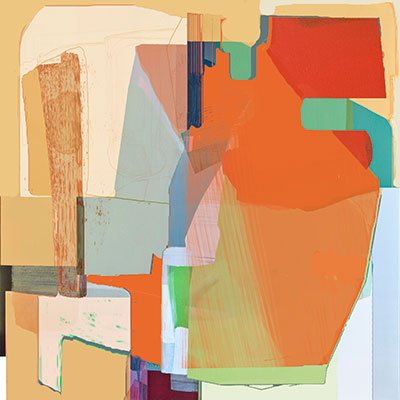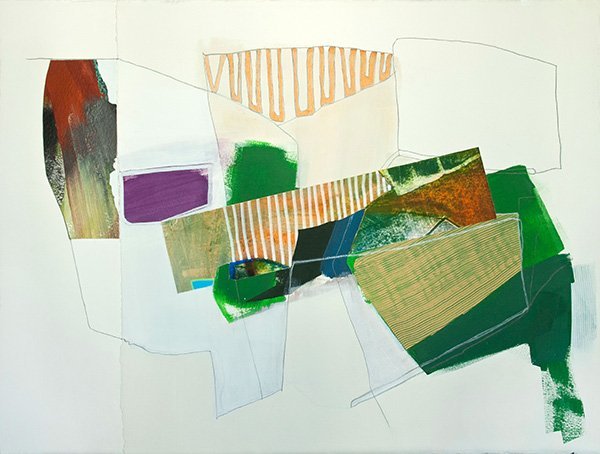 Copyright 2019 Woven Tale Press LLC. All Rights Reserved