"I've always been interested in suggesting a sense of place,
the timelessness of the natural landscape."
Interview by Jennifer Nelson, WTP Feature Writer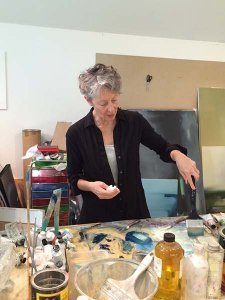 Liz Dexheimer's paintings and works on paper have been exhibited widely in the Northeast and Southeast. Her work, including commissioned pieces, is in numerous private and corporate collections, including the corporate headquarters of Frontier Communications, J.W. Marriott (Essex House), Hudson Insurance, Ritz Carlton, and United Peoples Bank.
A native of Manhattan, Dexheimer currently resides in Washington, CT, where she maintains a painting studio. She creates her monotypes with the assistance of master printer Marina Ancona. She studied at Oberlin College, the School of Visual Arts, and Parsons School of Design. She is a juried member of the Silvermine Guild of Artists and is affiliated with several galleries.
Her work appears in The Woven Tale Press Vol. VII #4.
Nelson: When and how did you first get interested in painting?
Dexheimer: I'm not sure that there was a specific moment or occurrence that started me on my course as an artist. I think I always just knew that's who I was. My earliest memories relating to art are all about staring in fascination and wonderment at how color, shape, and form interact to define objects, space, everything. In terms of painting specifically, ever since my first introduction to the medium, in a finger-painting class at the Metropolitan Museum shortly before I turned three, I've always painted. I like oil paint. I like the viscosity, how it blends, how, by its nature, it has the potential to convey a sense of limitlessness. 
Nelson: How did you come to leave a career in corporate America to pursue work as an artist full-time?
Dexheimer: Actually, I never really wanted or intended to pursue a corporate career to begin with, but after graduation, I needed a job and ended up at a boutique advertising agency in Manhattan. It turned out to be a lot of fun; I was working with smart, interesting, creative people and with clients who respected creative integrity. It was a good fit for me and I did well. During that time, I would spend evenings working at my studio practice as much as possible and continued fine-arts course work in Manhattan to help me focus and also give me access to studio space. It just wasn't enough, though, and at the same time my corporate positions became more and more demanding, leaving less time for my own work. I found myself getting increasingly caught up in a world I never really intended to be part of to begin with. I was at a point where I was able to leave, so I did. At first, I did a lot of freelance graphic design and illustration to supplement, but again, it was time taken away from painting/studio art. I am very fortunate in that my husband has always been extremely supportive and understanding.
Nelson: What techniques do you use to create your large-scale painting series Preternatural Entanglements and Koi Ponds/Waterways, and from where do you draw inspiration for this beautiful works?
Dexheimer: These series are basically hybrids—I incorporate a lot of the layering techniques I use in my works on paper with more conventional brush painting. The hard surface of the panels allows me to really dig in, wipe out, layer more, push the oil paint more vigorously.
The inspiration for these pieces comes from the intricate structures of marshes, swamps, and other wetland environments, with their elaborate and dense combinations of linear and fluid elements. I find a lyricism in their tangled framework. As I'm working on them, though, they become more about gesture, movement, playfulness, joy. They provide a visual and energetic counterpoint to my more atmospheric works on canvas. With the panels, I'm looking in, focusing more on the micro, the beautiful busy-ness of the minutiae, without much, if any, reference to horizon lines.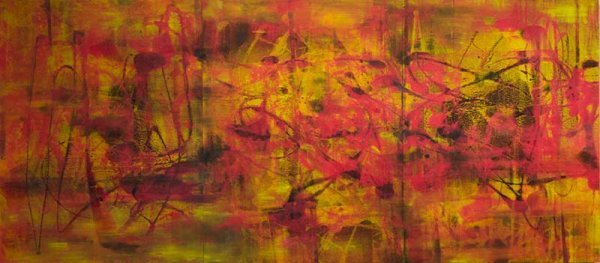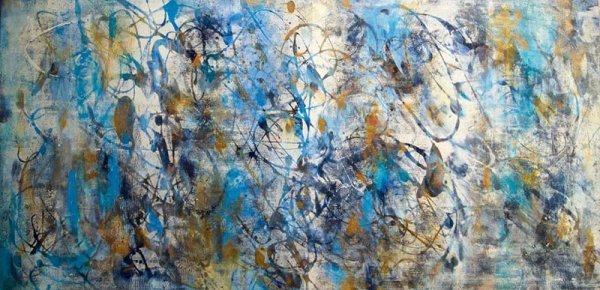 Nelson: Your series The New Landscape is deeply evocative—there's at once a strong sense of place, but a new fluidity to your work. Can you talk about this?
Dexheimer: I've always been interested in suggesting a sense of place, the timelessness of the natural landscape, the interplay of the ephemeral and the enduring in the natural world, the co-existence of motion and stillness, a completeness, a fullness. As my work evolves, I'm becoming more and more interested in how the qualities inherent to oil paint can help me to achieve this, pushing further with the paint itself. I do a lot of blending on the canvas, pulling the paint in layers, separating, reducing, and building back up. Working wet on wet creates a different sense of dimension and atmosphere. There's a continuum where you can create something without a beginning or an end, eliminating vestiges of the analog painting process. I want the image to look like it was always there, whole, that it's continuing off the canvas. The idea of the continuum is also why I tend to go to nature for inspiration and image—there are no discernible beginnings.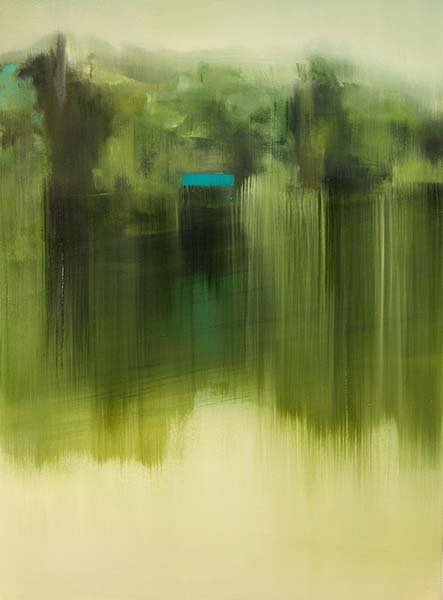 Nelson: Can you talk about your paper works—how you transition back and forth between those and your paintings, and how they might influence each other?
Dexheimer: I've been a printmaker almost as long as I've been a painter and take great joy in exploring what each medium has to offer. My wish is to create something that speaks to the unique processes and properties inherent to each medium, pushing each as far as I can. In the works on paper, that translates to working with multiple layers, each a complete thought on its own and a part of a greater whole.
I've stopped trying to reconcile the differences in imagery that I create with each, realizing that they are both part of the whole of my visual vocabulary. I think the commonality is the idea of the continuum, of creating something that seems as if it were always there, even though the end imagery is so disparate.
In terms of transitioning between the two mediums, it's just about what I feel like doing.  After a period of working with the energy of the monotypes and the panels, the meditative process of painting beckons me and is a cherished respite. And then it reverses. I have no problem working on panels and canvas concurrently, I enjoy it. There is nothing, though, like the feel of brush on canvas.
Nelson: What processes do you use to create a monotype series on paper such as Nocturne Suite 2018, and how does your collaboration with the master printer Marina Ancona work?
Dexheimer: My specific process for most of my monotypes, including the Nocturne Suite, is to build the image with layers. Each layer includes opaque and transparent color and open space, allowing for the interplay of colors and shapes as the surfaces react to each other. I think of each layer as a complete thought; dropped on each other the layers create a fuller story.
My collaborative process with Marina involves discussing what palette I'm thinking of working with and what I'm hoping to achieve. We work together, her extremely high level of technical expertise enabling me to focus on the process of creating my imagery and taking it farther that I would be able to on my own. Printmaking is very process oriented, more so than other mediums; having access to the expertise of a master printer is extremely liberating. We've been working together for so long that we can practically finish each other's sentences in our collaborative process.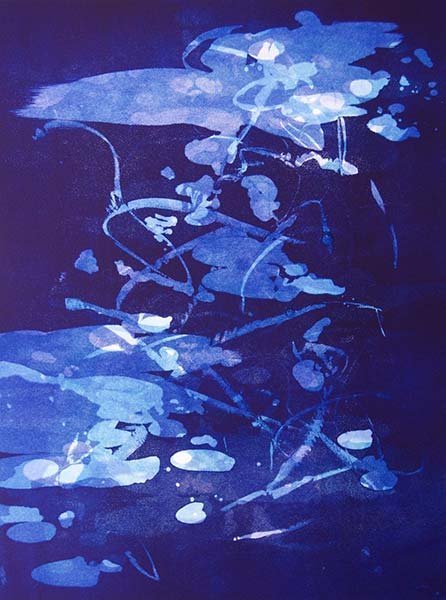 Nelson: How do you see your artwork evolving in the future?
Dexheimer: I'm not sure. I feel there is a lot more to say with the series that I'm working on now. I know the work will evolve into something else when the time comes. There is no fixed end, but I'll know when it's time to move on. I feel that the materiality of the paint itself is playing a more prominent role in my imagery and I will probably keep pushing that along with whatever else sparks my interest and curiosity. Each new series builds, I hope, on all that I've done before and what I've learned.
Copyright 2019 Woven Tale Press LLC. All Rights Reserved