Interview with Amy Bennett
Interview by Jennifer Nelson, WTP Guest Writer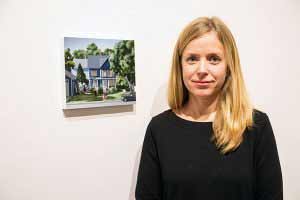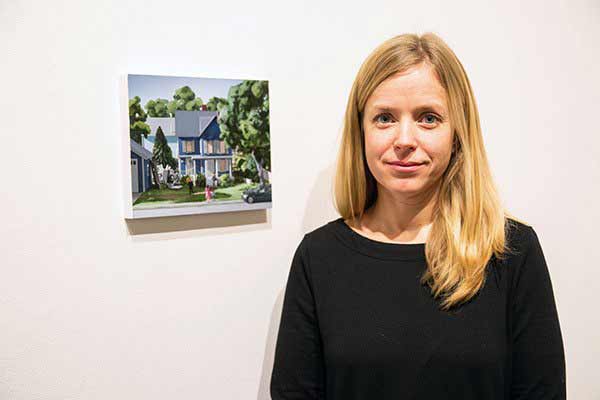 Amy Bennett is an American artist who lives and works in Cold Spring, NY. Her paintings have been shown at numerous national and international solo exhibitions, including Miles McEnery Gallery in New York; Brattleboro Museum & Art Center in Vermont; Galleri Magnus Karlsson in Stockholm; and Tomio Koyama Gallery in Tokyo. She's had recent group exhibitions at Wilding Cran Gallery in Los Angeles; Metropolitan Museum of Art in New York; Bruce Museum in Greenwich, CT; and MUba Eugène Leroy museum in France.
Bennett is the recipient of many awards, including the John Simon Guggenheim Memorial Foundation Fellowship; the Pollock-Krasner Foundation Grant; the American Academy of Arts & Letters Purchase Award; and the New York Foundation for the Arts Fellowship. She received her Bachelor of Fine Arts from the University of Hartford and her Master of Fine Arts from New York Academy of Art.
Nelson: Your process as an artist is unusual and fascinating! Can you talk about how you go about these paintings, at once realistic and somehow dreamlike—how did you come to working with miniatures, creating three-dimensional neighborhoods as your subject? If you were, for instance, to paint from photographs perhaps the mood of these works would have been quite different?
Bennett: I prefer painting from life, observing light hitting objects in a space and translating 3D into 2D. In searching for an approach to make narrative paintings, I worked first from dolls and then dollhouse furniture and eventually discovered the world of model railroad miniatures. I have been working at that scale, or even smaller, for the past fifteen years. 
For each painting I create a miniature 3D model to serve as still life and a stage on which I develop scenes. I construct model houses and interiors using cardboard, foam, wood, paint, and glue. I use and re-use models, repainting and reconfiguring/reconstructing as needed.
Eleanor Heartney referred to my work as "an unsettling kind of realism—simultaneously artificial and naturalistic." I think that painting a scene that has been faithfully observed and feels believable and convincing but is actually a crafted toy scene creates a tension and an uncanny quality that working from photographs would miss.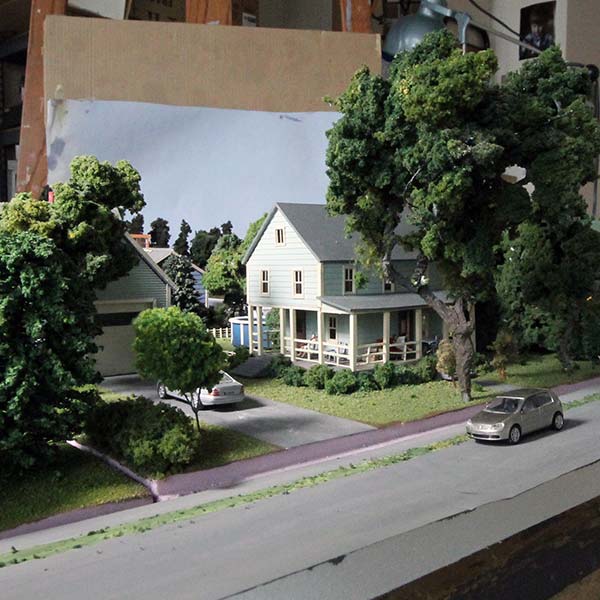 Nelson: Your paintings depict life in small-town America, exploring themes of marriage, parenting, and female identity in the middle class. What lead you to explore these ideas in your paintings, and specifically your series Nuclear Family, appearing in this month's issue of The Woven Tale Press? 
Bennett: Six years ago, my family and I moved from New York City to the very small town of Cold Spring. This bucolic setting and the families who live in this close-knit community provided inspiration for my most recent series, Nuclear Family. I have painted scenes of suburban home life in the past but they were more related to themes of isolation and voyeurism. Now that I am entrenched in suburban family life myself, my perspective has shifted. Nuclear Family is more concerned with the vulnerabilities and anxieties of parenthood and marriage. The series presents a complex depiction of family life, considering both the joy of having a family as well as the universal and substantial challenges involved in raising children, and maintaining a committed partnership.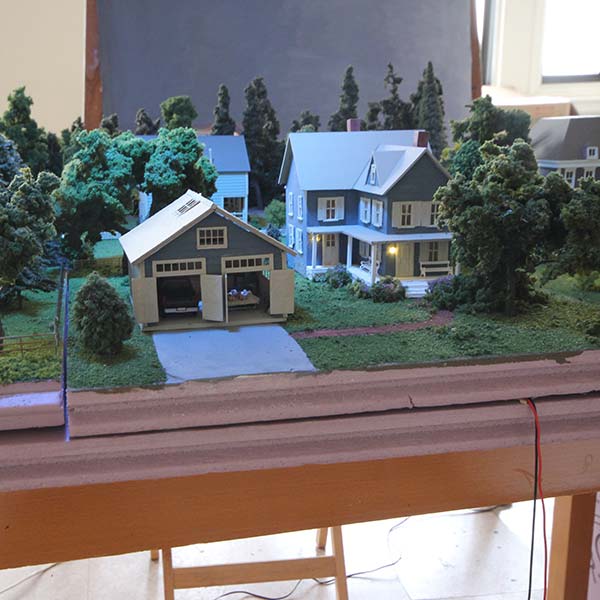 Nelson: Your paintings of home life invite viewers to create stories around these families. How much are these scenes inspired by your own life and how much invented?
Bennett: I think of these narratives more as fiction than autobiography. I take inspiration from my own life and observations of course, but the translation into a model and then the painting is rarely direct and literal. Creating and lighting new, imagined scenes is half the fun.
Nelson: How did your childhood in Portland, Maine, influence your artwork and decision to become an artist?
Bennett: I was born in Portland but grew up an hour north in Chelsea, Maine, a town so small it didn't have its own high school or library. Long winters may have contributed to a sense of isolation that permeates much of my work, but I had very limited exposure to the art world until going to art school. I'm not sure how I became so driven to paint, but it started in middle school and became my central focus in high school.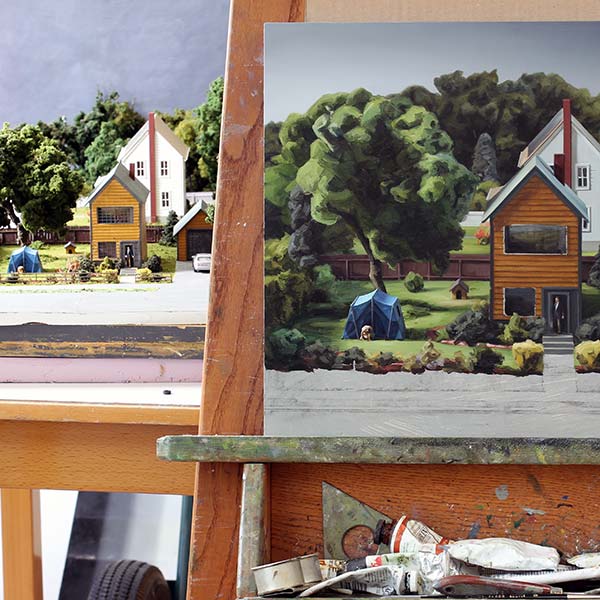 Nelson: In the series Small Changes, the works are from a bird's eye view instead of eye level. How do you decide what point of view to paint, and what might you be trying to convey by working from these different perspectives?
Bennett: Choosing a perspective is like choosing a narrator for a writer. The bird's eye view is akin to an omniscient narrator, lending an all-knowing sense with its map-like view, but it comes with a certain remove implicit in its distance. Small Changes Every Day was about following the development of a fictional piece of land as it evolved from natural landscape to farmland to a village. The viewer was elevated enough to eliminate figures, like when you are flying in a plane and can no longer see people. Cutting close in on a room is a more intimate approach. A viewer can feel that they are in the room or feel that a wall has been removed for their benefit, which lends a voyeuristic quality. Most voyeuristic of all might be the overhead view of a domestic space, where we have artificial, or surveillance access to something private.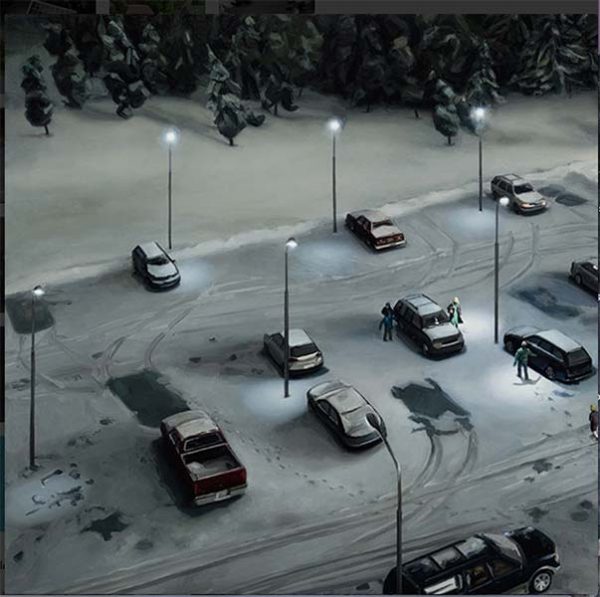 Nelson: Some paintings in the series Sore Spots are very small—only a few inches wide and long—and depict scenes from daily life such as doctor's visits, church services, and theatrical performances. What are the challenges of making these tiny oil paintings, and the reasons behind your decision to scale back their size?
Bennett: In both the Nuclear Family and the Sore Spots series, I used a consistently tiny scale, with figures measuring about an inch tall. The size of the painting is dictated by the space around the figures, so interiors are only a couple of square inches while landscapes are necessarily larger. The small scale reduces the detail to the essential expressions of the poses and the relationship between the figures. It also establishes a more intimate connection with the viewer, who must get close enough to become a fly on the wall.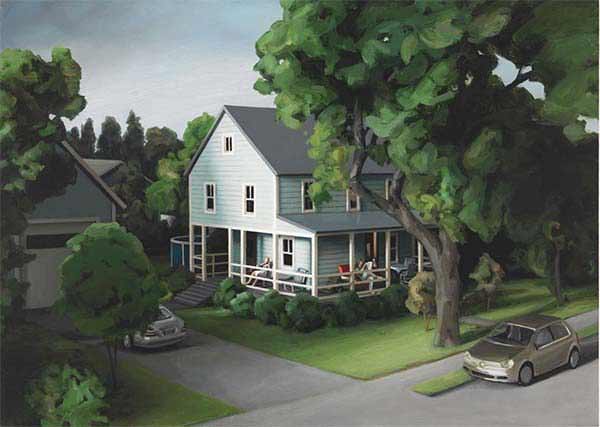 Nelson:  How do you see your art evolving in the future?
Bennett: It's very difficult to predict. Painting and model making are very slow processes. Even when I want to impose changes, it happens over a long time. And most changes happen without my realizing it until looking back over a finished series. I hope to include more time to paint outside, which feels like a race against the clock and the perfect counterpoint to the long, hyper-controlled paintings I make in the studio. It would be great to incorporate into my studio paintings some of the qualities of painting en plein air.
Copyright 2019 Woven Tale Press LLC. All Rights Reserved.