Summer 2019 Highlights
By Susan B. Apel, WTP Art Correspondent
Four times a year, WTP art correspondents from around the country will report back on the previous season, with images from exhibitions you otherwise might have missed, and their own insights into these varied venues.
While touring through some new and some familiar galleries in Vermont this past summer, I kept finding Vermont staring back at me from those galleries' walls. The New England countryside is the very definition of artistic inspiration, but it can sometimes produce images that sag under the weight of Yankee cliché. Two artists have reinterpreted the Vermont narrative in fresh and compelling ways.
Ken Rush splits his time between New York City and a studio in southern Vermont. His urban subjects include the Gowanus Canal, which he says "has been one of the constants in my work since 1974." This return to the "same type of subject" applies to his Vermont-influenced works as well. Nothing says Vermont like an iconic red barn. "Meadow Barn," just one of many of Rush's interpretations of this countryside staple, has the simplicity of a child's drawing, a straight-on look at—and as it turns out, through—an uncomplicated building that Vermonters have seen thousands of times. Rush has reduced it to its elements: the reddest of red painted walls, a green meadow that seems to cradle the structure, a blue sky that encircles it. The creeping shadow in the foreground, and the ability to see through the barn window and door to the sky on the other side, bring movement to this placid setting. The viewer can feel the breeze.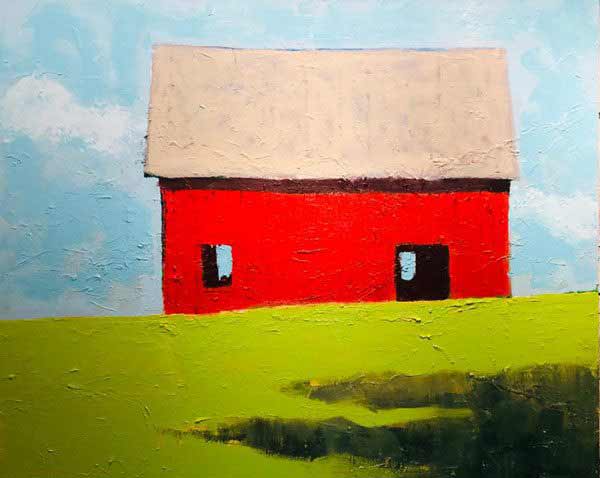 Big sky, tiny houses. "Lone House" captures the Vermont farmhouse, not in the expected rolling green hills but in a cloud-filled sky. It hovers on the very edge of the painting as though to announce a human presence in the natural environment, but just barely.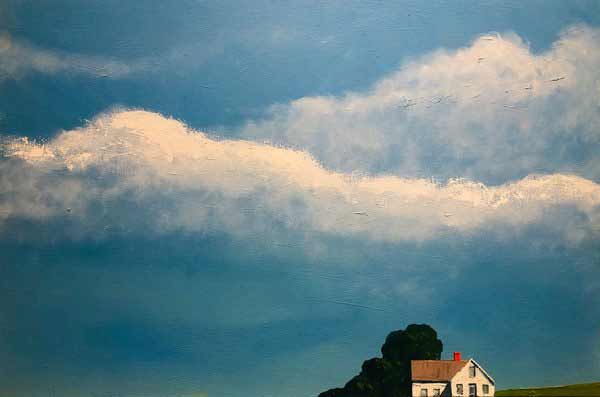 "Westward" has moved the red barn to the far-right edge of the painting, situating it in a setting from which the majority of observers would most likely encounter a barn—as something to be passed by, maybe admired, but on the way to somewhere else. "Westward" also features a series of vertical poles, one of Rush's signatures. (According the gallery owner of 3 Pears Gallery in Dorset, VT, visitors sometimes show up and ask to see the work of the artist who "paints poles.") Power lines are often thought of as less than lovely, but in Vermont, where some portion of the population lives "off the grid," they are a feature deserving of comment.

Kathleen Kolb's exhibition, Night & Day, Now & Then, which just closed at the Highland Center for the Arts, captured places in and around Greensboro, VT, in a somewhat abstract form but still identifiable by Greensboro dwellers. At an artist's talk and slide show, members of the audience delighted in shouting out whose farm was depicted, which road out of town had that particular bend. The writer's adage is to "write what you know." Kolb's work is to do likewise with oils and watercolors, producing art that is organic, or to borrow from the culinary world, evinces terroir.
A subset of Kolb's work is her "night paintings." Some are cozy and domestic, with warmth oozing from windows, a palpable sense of welcome that paradoxically, Kolb notes, is experienced by the viewer only as an outsider.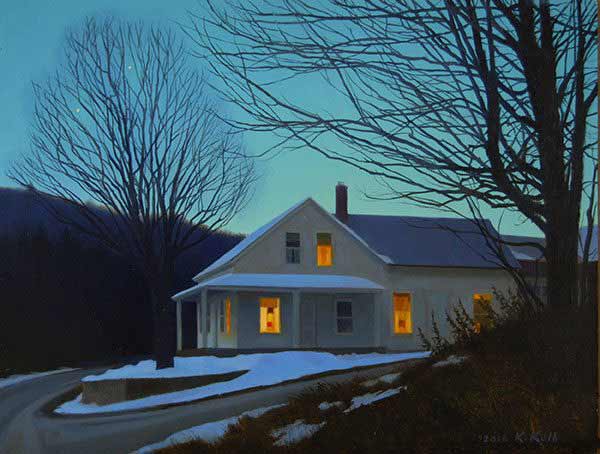 Less cozy, and my favorite of this genre, is "Village Evening," in which a pale light is all that stands between the town inhabitants and their night terrors. The lone lighted window assures that someone's home. Never has the passing dusk looked more beautiful or more lonely.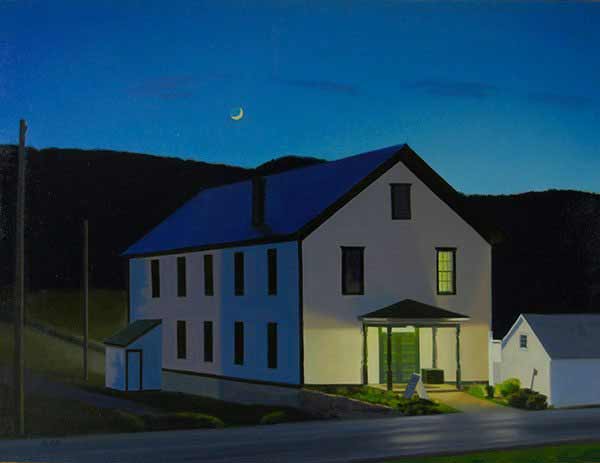 Finally, Kolb has wandered into the fabled Vermont woods to find loggers at work. "Talk at the End of the Day" shows the winter-brown hills, the snow that has just drifted and that has been crunched under tires. Central to the work is the trio of workers in what one imagines might be a working culture-specific conversation or maybe just a simple good night. Kolb's logging series has been published as a book, Shedding Light on the Working Forest, with Vermont poet Verandah Porche.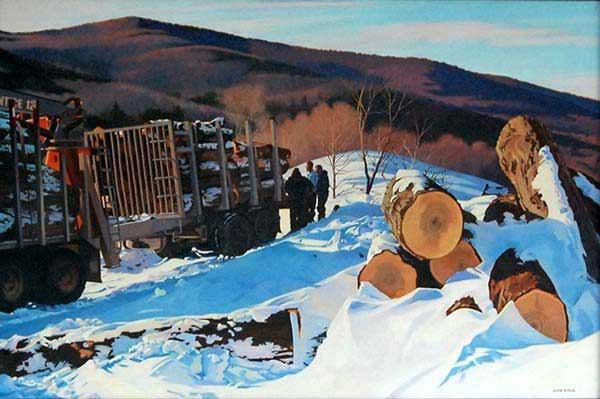 Cuba is geographically and culturally remote from the American Northeast, and feels even more so given the political climate and travel restrictions that make it more difficult (though still not impossible) to travel there. Photographer Elliott Burg travelled as a journalist and brought back a trove of scenes from Havana's streets for an exhibition at one of the galleries at Dartmouth-Hitchcock Medical Center in Lebanon, NH. Burg, who has previously exhibited his images of senior athletes, and life at Sunset Park, Brooklyn, has a fondness for faces in this slice-of-life collection entitled Conga!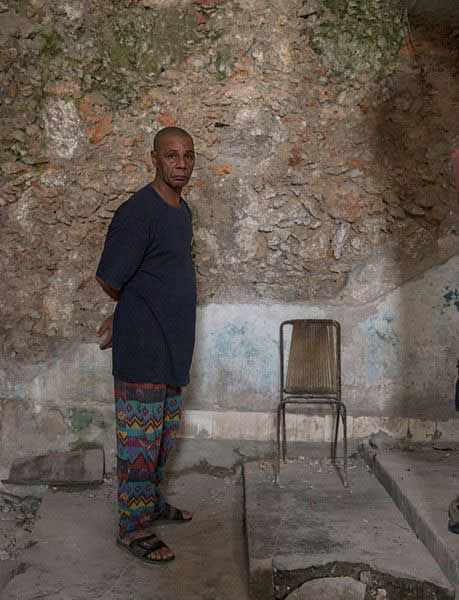 "Reinaldo" is especially poignant, as Burg snapped it just as the subject of the photo had learned that the crumbling theater in which he had lived for the past thirty-four years was being closed for renovation. The ruined beauty of the structure echoes the desolation on the man's face as he contemplates impending homelessness. "Miguel's Barbershop" is initially a narrative of the joy of work; the details crowded into the frame speak of politics, religion, and the ubiquity of the cell phone.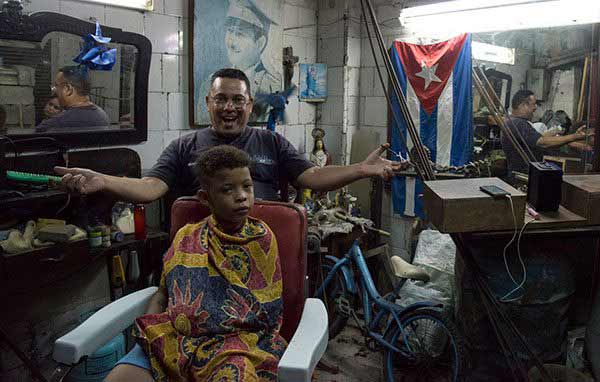 Finally, a rehearsal of dancers caught mid-gesture, aptly titled.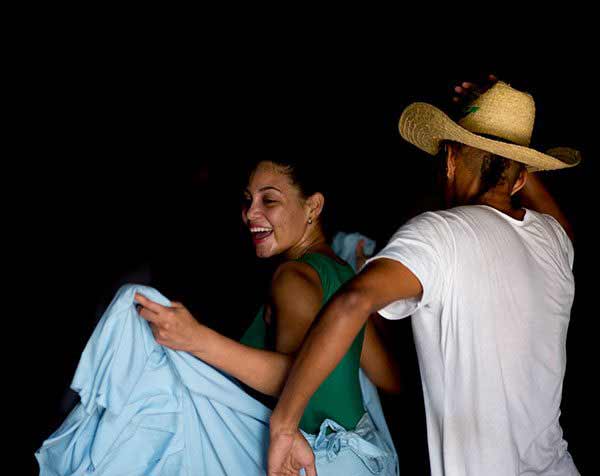 At the Southern Vermont Arts Center in Manchester, VT—a former sprawling estate now housing several galleries and a performance center—guest curator Stephen Schaub resurrected what was commonplace before the easy availability of 35mm film in the early 1930s, i.e., photographers' use of motion picture film for still-camera use. Motion picture film "…represents the pinnacle of color film technology, characterized by a distinctive, luminous richness of both palette and tonality." This exhibition, Everything is Still: Photographers Working in Motion Picture Film, was eclectic and uneven. Two photographs were riveting. In Carol McGorry's "Throw Some Men Around," the title, the outfit, the facial expression, and the luminescent yellow are all of a piece. The framing of the doorway adds heft and surprise to the work. John H. D. Wagner's "Plug a Night Light In" is an urban and grittier equivalent of Kathleen Kolb's cozier night paintings. The advertising has faded, but someone is definitely still home.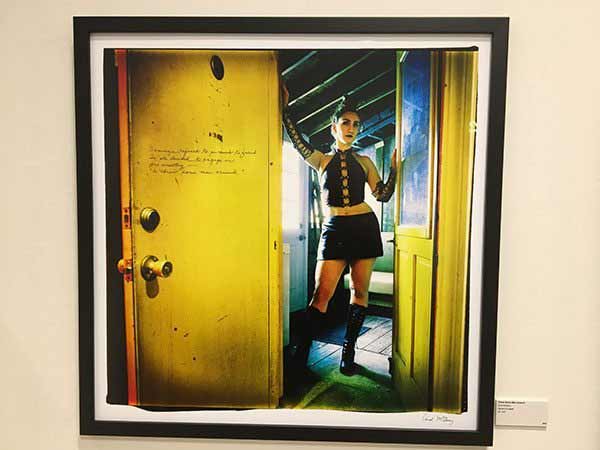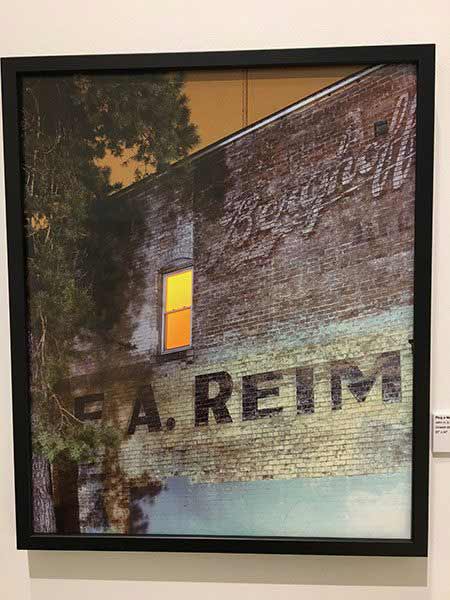 Every year, the town of Woodstock, VT, hosts a weekend-long literary celebration called  Bookstock, with readings, lectures, workshops, and massive book sales. Nearby, in Pomfret, VT, ArtisTree Gallery used Bookstock as an inspiration for a contemporaneous multi-genre exhibition devoted to the book called Unbound that included the ambitious, the quirky, and imaginative uses and repurposing of that phenomenon—the book—everyone wants to claim is obsolete. Dorsey Hogg's "Carefully Bound" is a sinuous rope made of a discarded and damaged American Heritage Dictionary.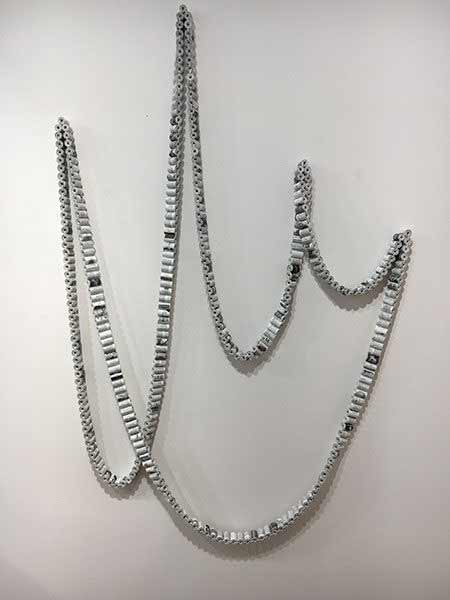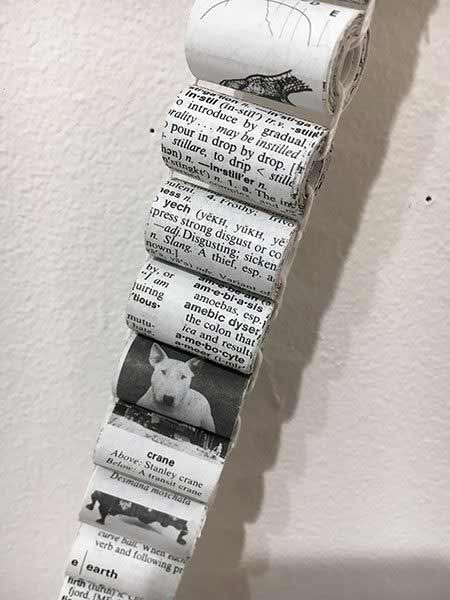 Artist Charlet Davenport constructed a porcelain piece that references Mrs Dalloway, incorporating the text.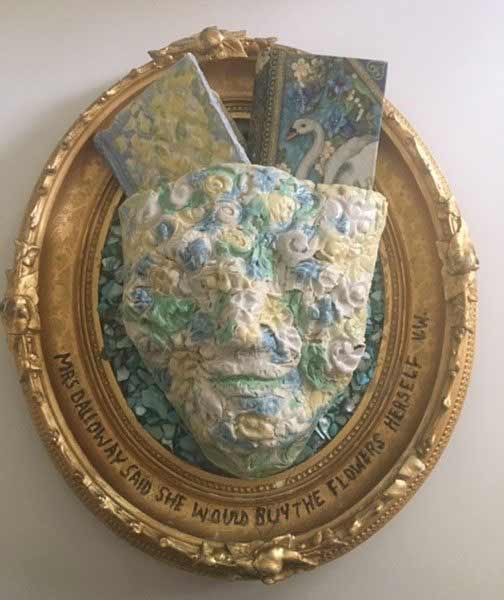 A.S McGuffin's oil painting on archival aluminum, "Your Words Were Found So I Ate Them," sees the book as sustenance.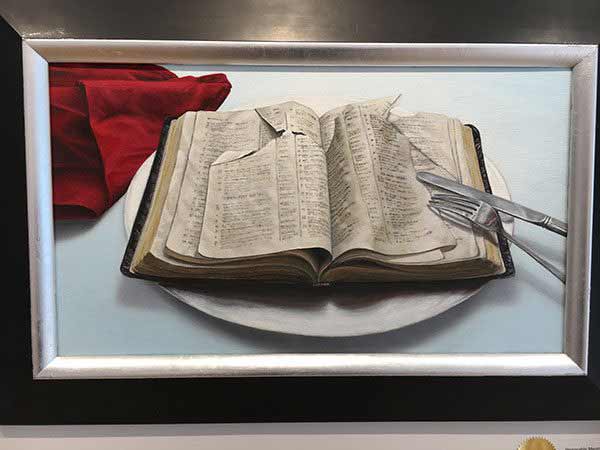 If you are interested in becoming an art correspondent for WTP, please inquire at wtp@thewoventalepress.net
Copyright 2019 Woven Tale Press LLC. All Rights Reserved.