Enjoy our WTP Spotlights, notable selections featuring artists and writers from our Woven Tale Press magazine. To read the issue in full subscribe here.
Glamour Shot
See Susan Dory's work in WTP Vol. VII #7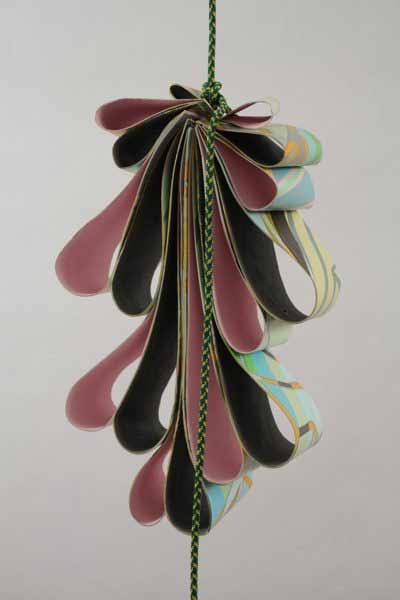 acrylic on canvas, rope
18" x 8" x 4"
Re-envisioning her paintings as raw material, Susan Dory deconstructs and reassembles her canvases. Pieces of painted canvas are cut, looped, overlaid, and sewn onto colorful climbing ropes. The sculptures, suspended at the end of these lines, are at once structured and organic, appearing familiar yet enigmatic. Similarly, her paintings, worked as collages and bas-reliefs, investigate concepts of fragmentation and reconstruction in new depths.
In her paintings, Dory employs a complex process of layering paint and color. She creates vibrantly fractured geometric paintings inspired by politically gerrymandered maps, in which the majority party re-draws voting districts in an intensely surgical way to favor their party. Some of the shapes are lifted directly from maps; others are created by Dory herself as she considers the separation of territories and the resulting abstractions in the world. The large-scale paintings provide balance to the smaller, more domestic scale of the sculptural pieces.
Dory was born in Oklahoma City, OK, and currently works and resides in Seattle, WA. She studied at the Iowa State University in Ames, IA, where she was awarded a Bachelor of Arts. Dory has received both national and local awards, including the Pollock-Krasner Foundation Grant, the Willard R. Espy Foundation Artist-In-Residence Fellowship, and the Behnke Foundation's Neddy Artist Fellowship. Dory's works have been featured in The Seattle Times, Art in America, and Blouin Art Info.
Image courtesy of the artist and the Winston Wachter Gallery