Summer 2019 Highlights
By Emilia Dubicki, WTP Art Correspondent
Four times a year, WTP art correspondents from around the country will report back on the previous season, with images from exhibitions you otherwise might have missed, and their own insights into these varied venues.
Summer in New York often brings group shows to galleries before the spaces close for summer break. This can mean anything from a mix of work by gallery roster artists, to survey exhibits and curated themed shows. Kasmin on 10th Avenue featured a perfect summer exhibition Painters of the East End, a collection of works by Mary Abbott, Nell Blaine, Perle Fine, Helen Frankenthaler, Jane Freilicher, Elaine de Kooning, Lee Krasner, Joan Mitchell, Charlotte Park, Betty Parsons, and Jane Wilson. These mid-century artists spent time on Long Island's South Fork, and the East End landscape, its water and the conditions of light and atmosphere that is captured in these diverse works, conjures up a time when the Hamptons were a laid back, inexpensive place for artists to be inspired by their natural surroundings.
Betty Parsons' 1965 painting "Early Light" is interesting; within its seeming simplicity lies its complexity. Four ochre/umber shapes float on a gray blue-green ground, as if in a morning haze, emerging only after the eyes have adjusted—perhaps here the shapes are rocks or buildings. Jane Freilicher's  "Landscape in Water Mill" is also sparse in details but includes enough color and loose shapes to convey a sandy scene under a pale blue summer sky.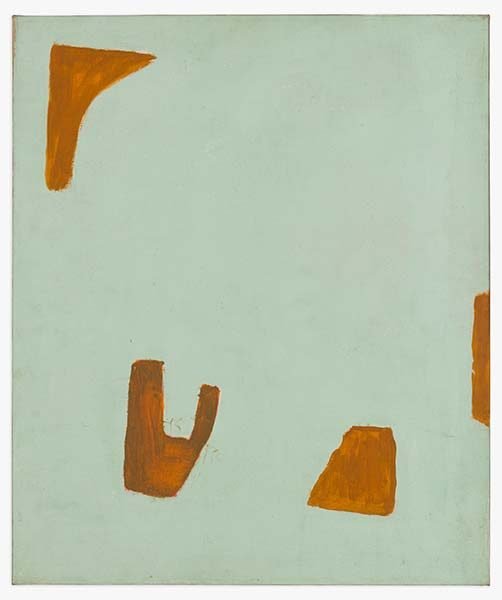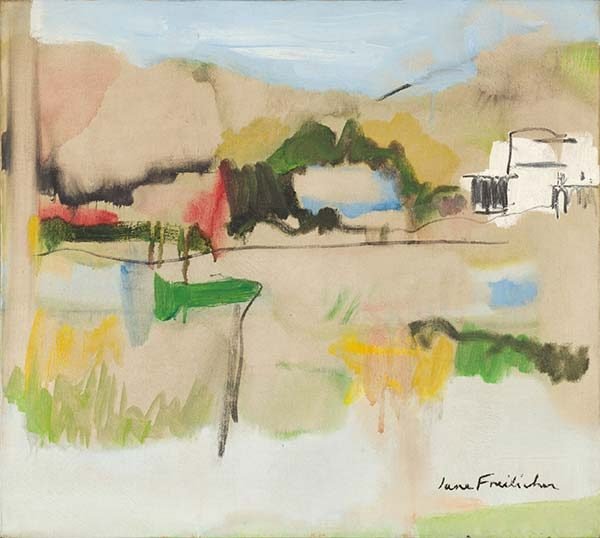 Also capturing the light of summer is Charlotte Park's "Untitled," a loose tangle of yellows, oranges, reds, and blues in oil and oil crayon, hinting at a landscape on semitransparent white. Mary Abbott's "Island Edge," a large oil painting, is a mix of swirling oranges, blues, with a few swipes of violet. The verdancy and heat of summer radiate from this 1950s work, with green leaf shapes as a bit of reference. Nell Blaine's "Shell and Wine Bottle," a still life, captures the props of a summer home: a conch shell, half-empty bottle of red wine, a lime, all on a blue striped tablecloth, with a rattan chair nearby.
There was community on the East End and that in itself was as much a draw for artists as its close proximity to New York City. Helen A. Harrison, Director at the Pollock-Krasner House and Study Center in East Hampton, said of the period: "The painters who gravitated to Long Island's South Fork in the mid-twentieth century were a far more varied group than the earlier artists, who came primarily for the picturesque scenery. They ran the gamut from landscape painters to Surrealists, Abstract Expressionists, and Pop artists, so it's clear that many were motivated by factors other than subject matter. Perhaps even more important than the beautiful surroundings and the ease of access from New York City was the magnetism of association, as artists attracted one another to form a vibrant creative community that continues to thrive today."
A success of this show was how the works, however varied in style, came together effortlessly on Kasmin's walls. There was conversation among the paintings, as they cohesively represent a sense of place as much as they do these individual artists who flourished on the East End.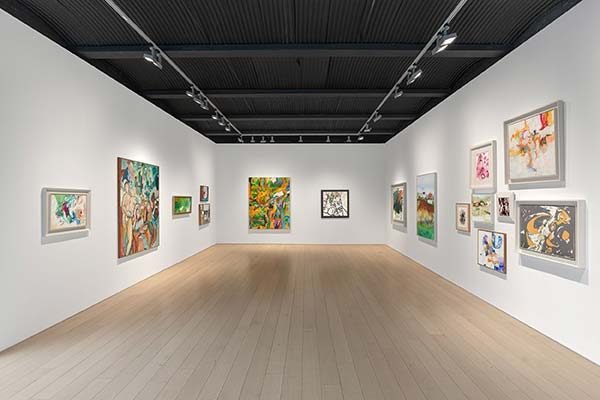 A completely different take on nature and landscape was featured in Plastic Garden at the Asya Geisberg Gallery on West 23rd Street. In the works of seven painters—Madeleine Bialke, Jennifer Coates, Sharona Eliassaf, Adrienne Elise Tarver, Joani Tremblay, Emma Webster, and Brian Willmont— the outdoors was interpreted in bright, saturated colors, and with synthetic materials and surreal themes. In contrast to the Kasmin exhibition, these artists imbued their works with a flatness and perfection not found in nature, and one intensified by florescent hues. This over-saturation seemed to manipulate the natural into something closer to the futuristic, or perhaps a parallel universe.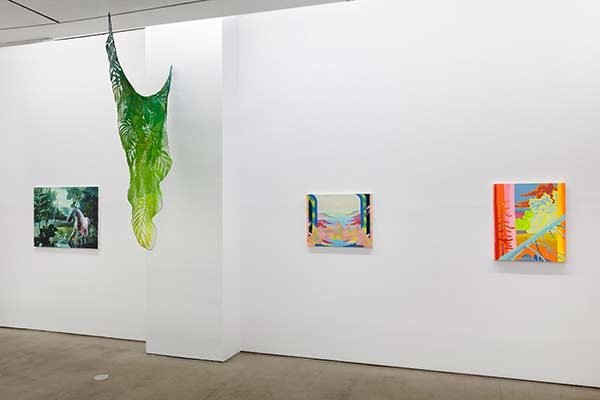 Two landscapes by Joani Tremblay featured domestic houseplants in outdoor "utopian backdrops," with sharp-lined green plants emerging from moody gray clouds in the distance. In "A Room Of One's Own" the plants are layered against stucco colored arch, a muted structural element reminiscent of Georgia O'Keeffe.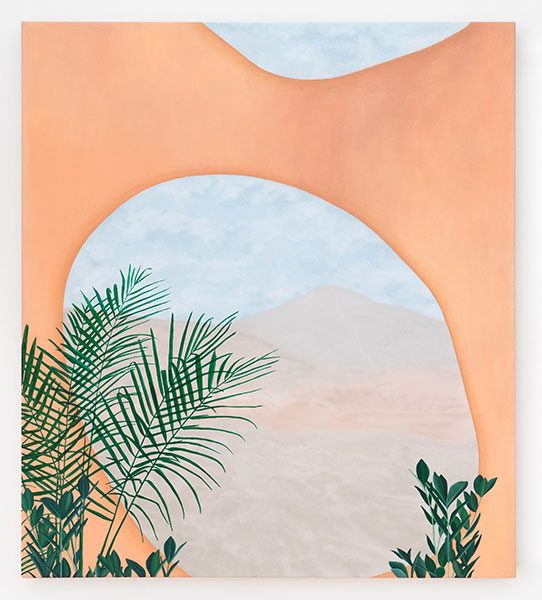 In Brian Willmont's "Bio-Metamorphosis," a collage-like work, three perfectly rendered tulips top blue stalks and three identical swallowtail butterflies take flight toward a hot pink, white-rimmed sun against a blue background. It's interesting to note that there is not a single green shade in this painting.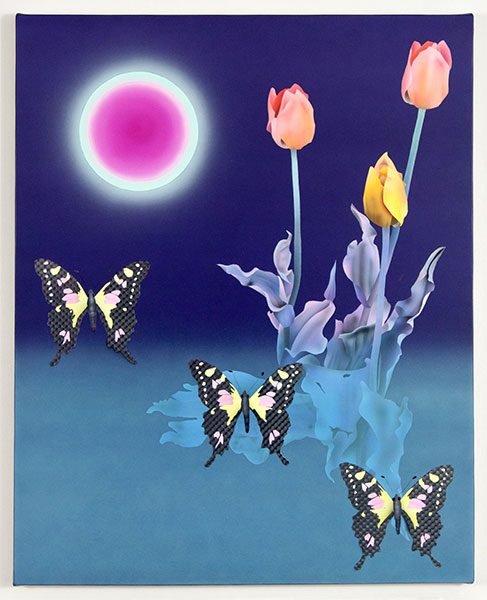 Adrienne Elise Tarver's latex caulk leaves painted in green acrylic are adhered to a piece of triangular- shaped mesh. On closer look, one can see within the leaves a pair of woman's green legs. The piece was draped from the ceiling like a giant leaf. Madeleine Bialke's "We are Meant to Change" suggests a post-apocalyptic landscape. A blue tree trunk with bare branches diagonally cuts across the picture plane. On the left is another odd spindly tree, behind which a dark rust cloud floats against a blue sky; on the horizon a blue and yellow cloudlike form rises—or is it a giant splash of water? Nuclear fallout? There is something cartoonish about the scene and its shapes, with its pinks, yellows, and bright greens, but yet the colors are off and the whole thing sort of sets the teeth on edge. In contrast to the East End landscapes, what unified these works was an alternative type of summer, or perhaps a new altered reality defined by global warming, pollution, nuclear disaster, fires, deforestation, and a growing reliance on computers versus human connection.
Up on the High Line, there's always plenty to see, whether it's the beautiful plantings or the architecture flanking the walkways. The addition of art into this winding wondrous park is perfect. En Plein Air, on view through March 2020, is a group exhibition of commissioned works that challenges the historical notions of outdoor painting. The exhibition is installed along the length of the High Line and features artworks by Ei Arakawa, Firelei Báez, Daniel Buren, Sam Falls, Lubaina Himid, Lara Schnitger, Ryan Sullivan, and Vivian Suter.
Here en plein air is not about the singular painter laboring in the elements at an easel to capture some bucolic landscape. These commissioned works seem integral to the park's natural features and its environs of  high rise buildings, city street vistas, billboards, and a high volume of pedestrian foot traffic. I especially liked seeing Ryan Sullivan's abstract paintings installed among the gardens lining the walkway near 29th Street. Industrial castings of layered pigment and resin applied to open-faced molds, they can be seen from either approach to the High Line and appear as windows into another abstract, colorful world.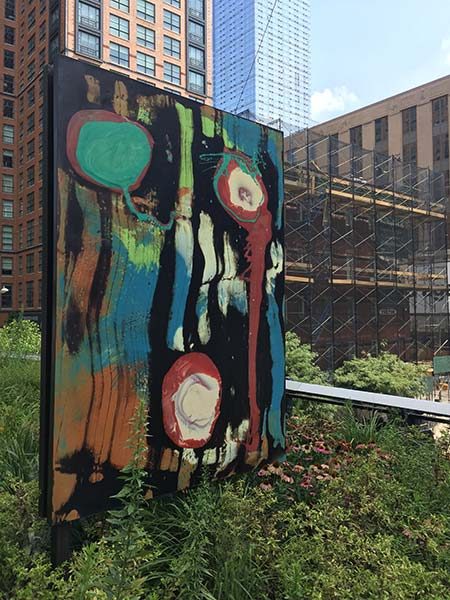 Located at 20th Street, Firelei Báez's painted sculpture of a Haitian Sans-Souci Palace ruin appears to be sinking into the ground. Situated among the old railroad tracks, the piece can be viewed from various angles, with a changing city backdrop. The arched sculpture looks at once out of place and very much a part of this landscape—a remnant, like the tracks, of history. In this ongoing body of work, Báez examines incarnations of Sanssouci: the eighteenth-century Rococo palace built by Frederick the Great, the palace of Haitian Revolution leader and proclaimed first King of Haiti Henri Christophe, and Haitian revolution leader Jean-Baptiste Sans Souci assassinated by Henri Christophe. A recreated architectural ruin in the midst of gardens of a developed Chelsea conjures up questions of decay, memory, preservation, while contrasting the past with the present.
I went to The Shed, a new multi-disciplinary arts space on the west side at Hudson Yards, to see the two summer art exhibits Open Call Group 2 and Collision/Coalition. For Open Call, presented in four parts and continuing into 2020, fifty-two emerging artists and collectives living or working in New York City have been commissioned to create new work. The Shed's request for proposals encouraged projects that push the boundaries into multidisciplinary or collaborative realms across six creative disciplines: design, visual arts, music, performing arts, literary arts, and cinema. More than nine hundred applications for Open Call were received over a three-month period and all were vetted by a committee of curatorial and producing staff with a collective eye toward identifying synergies between artists' projects that were inventive, thought-provoking, risk-taking, timely, and culturally sensitive to a diverse audience. Panels of New York–based artists, cultural programmers, producers, and academics made the final selections.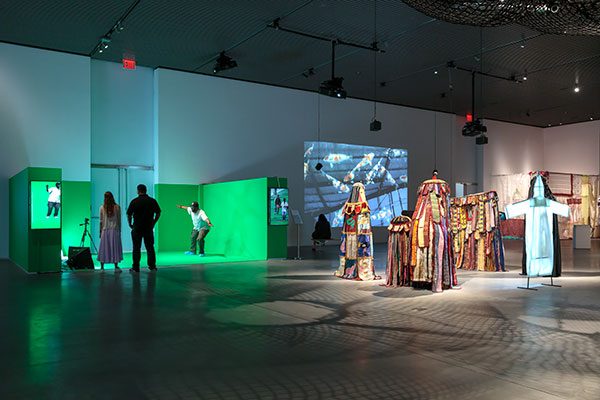 In The Shed's spacious Level 2 Gallery, Open Call Group 2 featured twenty-two separate projects. There was much to take in here and a few of the works I found especially powerful; their messages reverberated in their straightforward presentations combined with intense analogies.
The masquerade traditions of West African secret societies brought to the New World by enslaved Africans are juxtaposed with the Ku Klux Klan's regalia in "KUYE'N KEGBE KEGBE, POSSESSION OF STOLEN GODS" by daaPo reo. The first three letters in the piece's title are loosely translated from Yoruba as "death keeps itself alive/death was averted," to spell out the acronym KKK. The installation consists of four reproductions of Yoruba (Nigeria, Benin) Egungun masquerade dance costumes arranged next to a reproduction of a Ku Klux Klan two-piece ensemble, and a short video of Egungun masked figures performing a spiritual dance.
Nearby, in Moko Fukuyama's installation "A Kind of Pain," a tree trunk is beautifully carved into a painted fishing lure suspended from the ceiling. Behind the unmoving eyes of the glossy airbrushed lure, a video runs of not only Fukuyama carving the oversized log, but also about how the sculpture came into being. The artist's connections to fish in tanks, as sushi, in the sea, or in a bait shop, examine the crossover between the natural world and urban society—maybe we are all just fish out of water.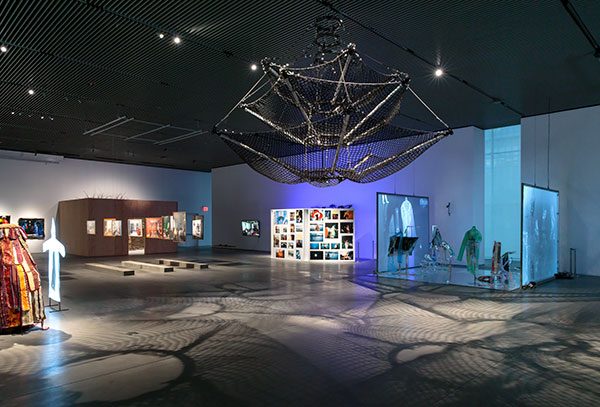 "Lotus" by Tahir Carl Karmali is a large suspended sculpture made from the same material used to build suicide netting outside cell phone factories in Shenzen, China. Karmali was inspired by a migrant worker who took his life by jumping out of a factory dormitory window. His lotus flower represents "our complicit participation in abusive systems of global manufacture and production." Its shadows across the gallery's floor extend its physical boundaries and enmesh the viewers.
Hugh Hayden's "Hedges" is an installation surrounded by three mirrored walls, of a wooden house overtaken by branches—or is the house taking over the branches? Wood processed into building materials for human housing and wood in its natural state—how do these two things coexist? "Hedges" is especially thought provoking as the mirrored walls give the illusion of an infinite row of these houses among the tangle of branches.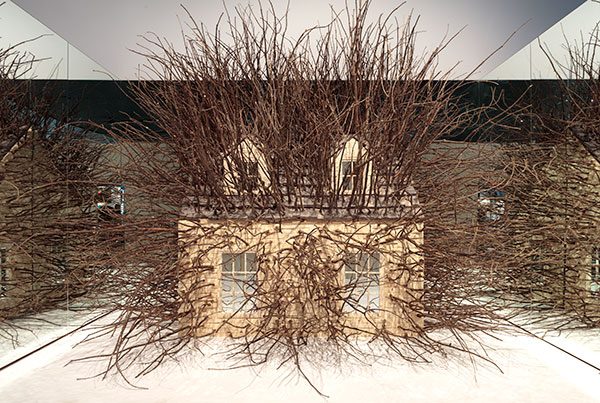 The Shed's exhibition Collision/Coalition featured new commissions by Tony Cokes and Oscar Murillo, and a new documentary film about artist Beatriz González. Oscar Murillo, known for exploring the conditions of contemporary globalization defined by cultural exchange and cultural displacement, created an installation of paintings, drawings, sculptures, and performance inspired by Diego Rivera's famed mural at Rockefeller Center.
The darkened gallery space exhibiting Murillo's work was both cavernous and intimate. Large black paint-soaked canvases—burned with an iron to form a tough, skin-like texture, some ragged and stitched—hung like flags from the ceiling. Viewers could weave in and around their heavy presence, feeling the works' textures. Among these black draped partitions were a series of drawings Murillo made during international flights. They were suspended, as if in flight, between panes of clear glass. Using carbon paper so the traces of his drawings linger on top of one another, Murillo covered the drawings with repetitive lines and words, an airplane here and there. On the walls were Murillo's large abstract paintings also on black painted canvases. Visible stitched areas were added to the texture of tactile blue, red, yellow, brown, and white paint. The paintings are reflective of the drawings' marks. They too hung like some sort of flags or banners representing humanity, our struggles, creativity, connections and migrations.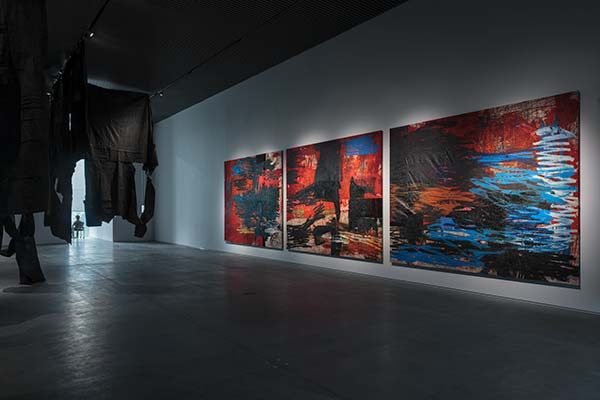 The mural, in which Rivera contrasted socialism and capitalism, was commissioned by the Rockefeller family in 1932 but removed in 1934 before it was completed, dismissed as "anticapitalist propaganda" by the media. Murillo organized a procession from The Shed to Rockefeller Center, wheeling human-scaled stuffed figures through the streets. On view in Collision/Coalition were the actual effigies as well as a recording of the procession, with a soundtrack by the contemporary American composer Missy Mazzoli. At the Shed, the effigies were seated in rows of chairs arranged in a long narrow windowed space, as if in a waiting room where the wait is endless.
If you are interested in becoming an art correspondent for WTP, please inquire at wtp@thewoventalepress.net
Copyright 2019 Woven Tale Press LLC. All Rights Reserved.