Summer 2019 Highlights
By John S. Berman, WTP Art Correspondent
Four times a year, WTP art correspondents from around the country will report back on the previous season, with images from exhibitions you otherwise might have missed, and their own insights into these varied venues.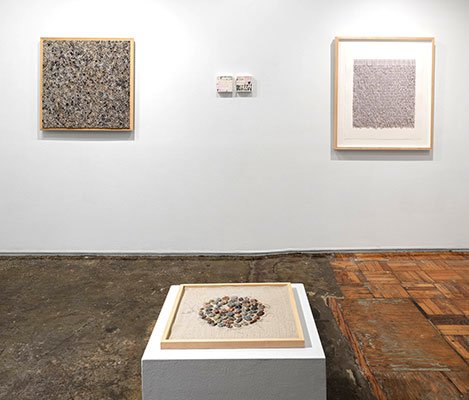 Since summer is the season for travel, it feels somehow appropriate that the venerable A.I.R. Gallery, a stellar fixture in Brooklyn's DUMBO neighborhood and a nationwide leader in promoting and supporting women artists for many years, would present a dynamic exhibition featuring seven artists from different cities and towns (largely in New England but also in upstate New York and California). The show, Make Make Make: Repetition and Accumulation, curated by Providence, Rhode Island–based artist Allison Paschke, whose work is also presented in the exhibition, explores the process of how repeated gestures in small, intricate patterns create a physical intimacy and tactile quality that encourages us to slow down from the frenzied pace of our high-tech digitized reality and pay close attention.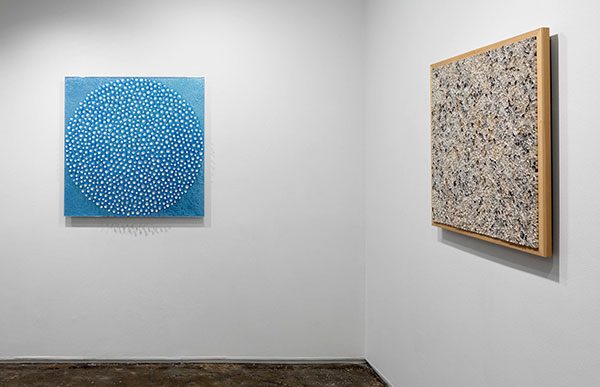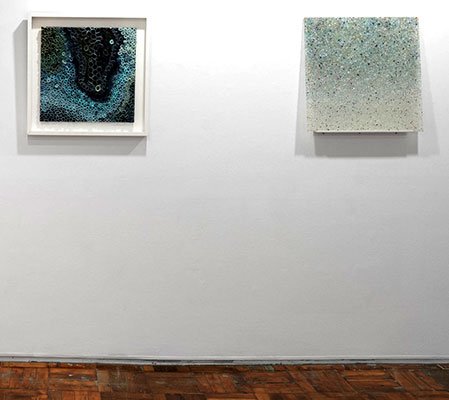 In her curatorial statement, Paschke writes "although the pieces in the exhibition often appear to be an accumulation of identical elements that imply the infinite or cosmological, there are also subtle variations that result from the action of the artist's hand action and by the different materials used by each artist, thus no two resulting strokes on the art are exactly alike." Paschke's own work, pinfield: blue sand around ips (she uses lower case for the title), consists of hand-formed porcelain elements suspended on tiny insect pins or attached to coated mirrors with resin and acrylic gel. Her aim is to focus the viewer's gaze on discovering subtle variations inherent in the materials, as well as delineating complex and ever-changing patterns of light and reflection in the piece. Paschke's self-proclaimed "obsession with light" evolved from her earlier years as a photographer.
The second of the three Rhode Island artists in the show, Wendy Wahl from West Kingston, RI, deconstructs and reconfigures the pages of an old Funk & Wagnalls encyclopedia in her playfully titled piece, "Alternative Flora #8." But Wahl is not being entirely ironic. Her composition uses the tight scrolls of her source material to resemble what feels like a hidden natural world in the same way that an encyclopedia provides an archive that is both visible but also concealed in its size and multiple layers of information.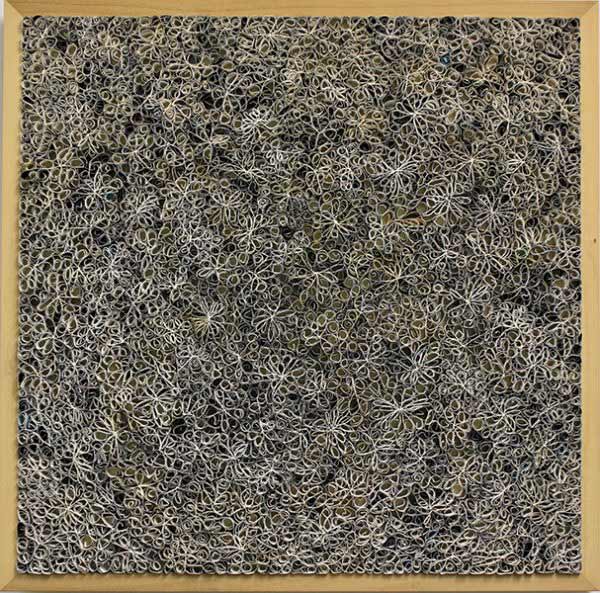 In "Memorial Stones…Las Vegas," Anna Lisa Sorensen (Gloucester, RI) draws from the ancient Indian tradition of creating a mandala as an act of devotion—in this case to commemorate the victims of the horrific 2017 mass shooting in Nevada. By carefully wrapping each individual stone in a bed of sand while also grouping them together in a circular pattern, Sorenson both elevates the importance of each individual life taken away in the attack and also honors the carnage as a collective tragedy.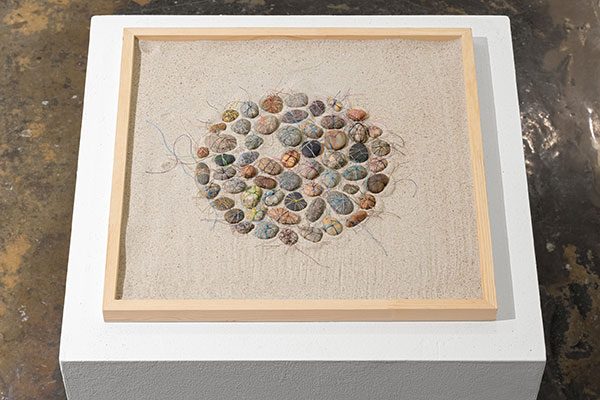 Hartford, CT, sculptor and painter, Amy Genser (featured in WTP Vol. V #8), has a deserved reputation for applying her artistry to interpret the natural world as simultaneously ordered and chaotic. In "Agate Cobalt," she applies rolled paper units and bright blue acrylic paint on wood to create what she refers to as"cells" that evoke a series of visual landscapes. It is easy to get lost in Genser's creation and feel as if you are flowing under the sea, drifting in air or shooting into another galaxy. As she notes, "playing with the paper images sculpturally, allowed me to find a way of creating the images I saw in my head and the beauty I saw in the world."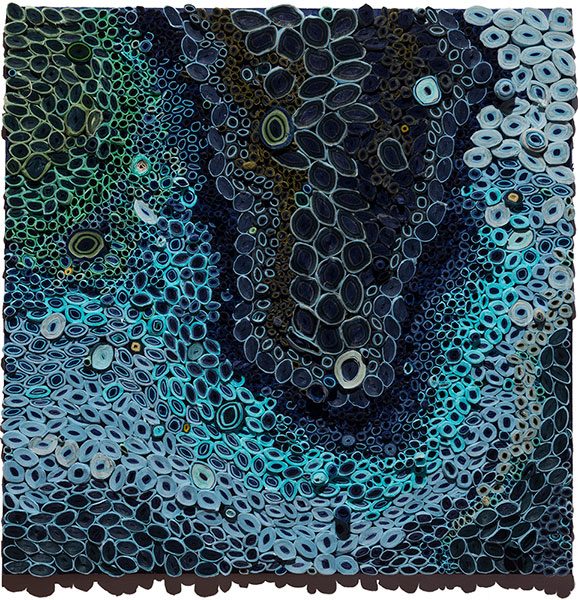 When it comes to understanding the power of intricate repetition to create a unified composition, Meg Hitchcock, now based in upstate Plymouth, NY, would have to be considered a master of the genre. Hitchcock's signature designs emerge from letters and words cut from different kinds of paper—in some cases timeless religious texts but also her own hand-typed pages—often focusing on only one word as a focus for her creation. "As I type a word over and over, it's meaning slowly fades until all that is left is ink, paper, and the sound of the typewriter keys," she explains in her artist statement. Hitchcocks's two pieces in the show, "Crown" and "Mantra 03," exemplify this process, and her application of brush strokes of paint and gold leaf illuminate the works with color and light.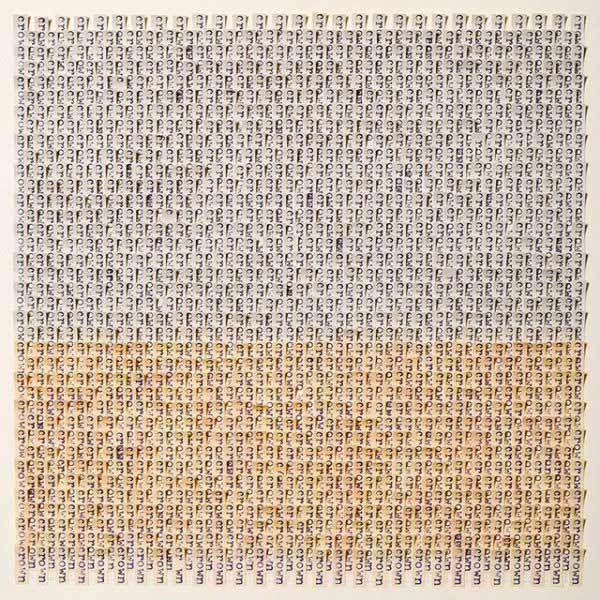 Lari Washburn from Brunswick, ME, also contributes two pieces to Make Make Make, comprising work from her Venetian Mend series. Like the other artists in the show, Washburn emphasizes the power embodied in the simple act of "mark making" and its direct connection to elements in nature. In both cases, she writes, "no two are ever alike." Combining ink and paints using squeeze bottles and sometimes adding textiles, she riffs on the tradition of classic Venetian tile making as a deliberative and meditative practice.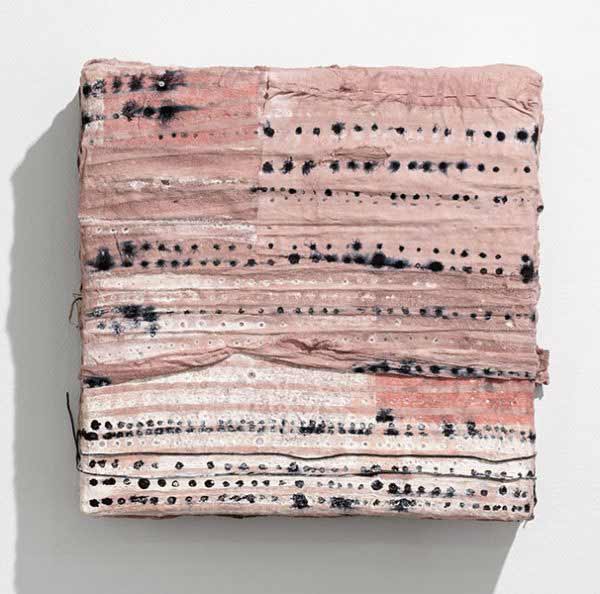 San Francisco artist Jen Shifflet, whose worked traveled the farthest for this exhibition, has a unique approach to playing with light in her glass works to create a sense of expansiveness. By shaping and forming tiny balls on sheets that she fuses in a kiln, Shifflet's "Transparent Handfuls of Sand" dramatically demonstrate how micro particles, repeated over a twenty-two-inch panel, can give the viewer the feeling of a macro universe. In this case, it is the illusion of thousands of grains of sand populating her canvas, even though the material she uses is actually kiln-formed glass. As she notes, "as a material, glass points to the space between oppositions. It has an amorphous structure, existing as both a liquid and a solid substance at the same time."
As an A.I.R. National Member, Allison Paschke not only brought a group of talented artists to Brooklyn but has also succeeded in conceptualizing a cohesive theme that expands both our perspective of each woman's individual work and our ability to understand the threads that unify the exhibition as a whole. 
If you are interested in becoming an art correspondent for WTP, please inquire at wtp@thewoventalepress.net
Copyright 2019 Woven Tale Press LLC. All Rights Reserved.