See Kuvaja's work in WTP Vol. VII #7
Inside the Studio offers a behind-the-scenes peek into the work environments of WTP artists, as well as insight into their creative process within these resonate spaces.
By Jennifer Nelson, WTP Feature Writer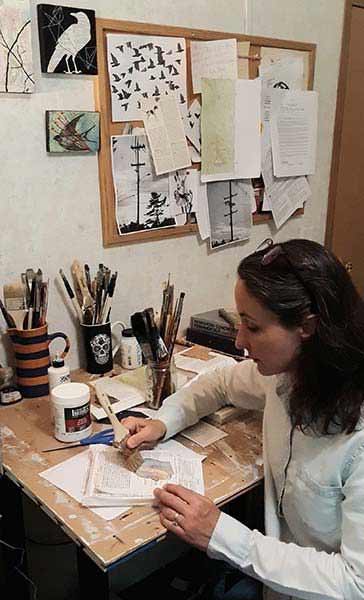 Maya Kuvaja loves how she can experience nature from her home-based studio in the Lakes Region of western Maine. Through a single window in a two-hundred-square-foot room, she gazes out on acres of pine and oak forests and visiting animals. The varying light shining through the room influences her artwork. "Bright orange summer afternoons, pale blue winter mornings, deep violet autumn evenings all filter in and inform the atmosphere and mood of my work," says Kuvaja. "My studio feels like a part of my natural surroundings. It is a space where I am lost in abstract thoughts and tuned in to nature."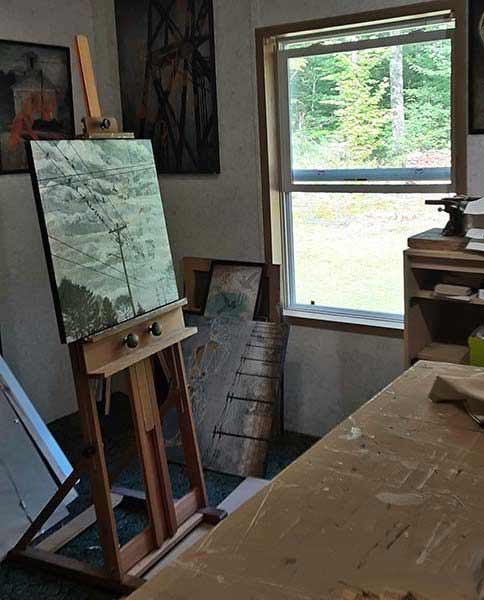 Since 2006, Kuvaja has worked in this studio in her family's four-bedroom ranch-style house in Bridgton, not far from Long Lake and Shawnee Peak ski resort. She turned a spare bedroom into a studio with the only alteration being the installation of vertical storage shelves running right up to the ceiling. The house, built in 2003, comes with five and a half acres of land.
She views her studio as both an escape and integral part of her life. A studio at home allows her to squeeze more time out of her day for her art when she can't spend the whole day there. It is separate but central to her busy family life. "I am, of course, sometimes distracted by household activities, my fifteen- and eleven-year-old boys, and my curious dog," she says.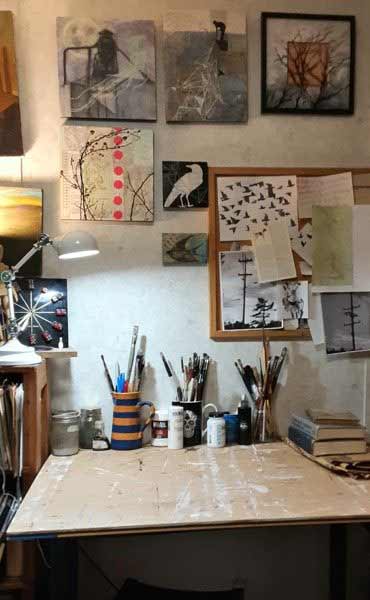 A full day at the studio begins with observation and poring through antique books, newspapers, and strange images. At her desk, she gathers her thoughts. In the morning, she'll work on small pieces such as painted book pages and do prep work, preparing collage materials for layers of paint in the first of many layers and steps in the process. While layers dry, she communes with nature and gathers photographs to use in the next layers. She works on several projects simultaneously. "The afternoon is my time to pull out all palettes, acrylic or oils and tap into my nature photography, dreams, memories and mix images together."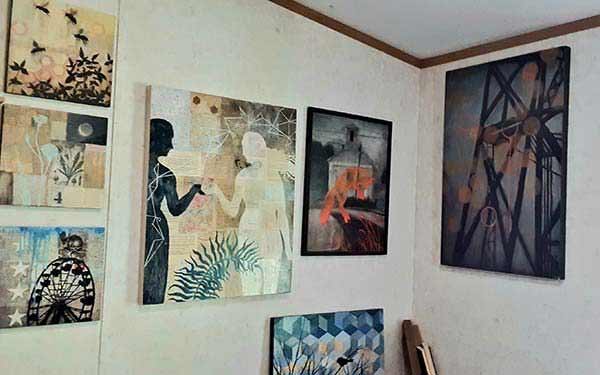 Kuvaja finds her studio efficient and comfortable—with enough space for all her supplies. She usually works on fairly small pieces. When she needs to work larger than three-feet square, she'll bring her easel out into the family room right outside the door. Ideas about current projects come to her at all times of the day and night. "Artwork permeates my home and fills my thoughts," she says. "I'm always thinking about it and always working in some capacity on it."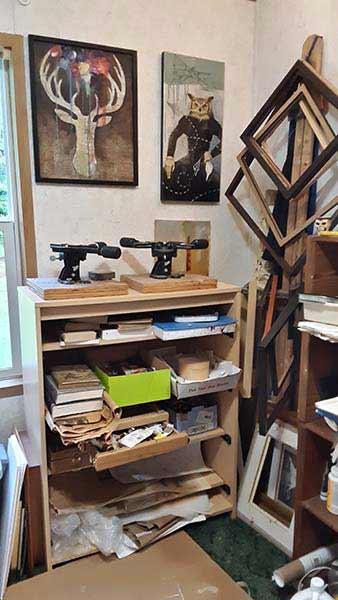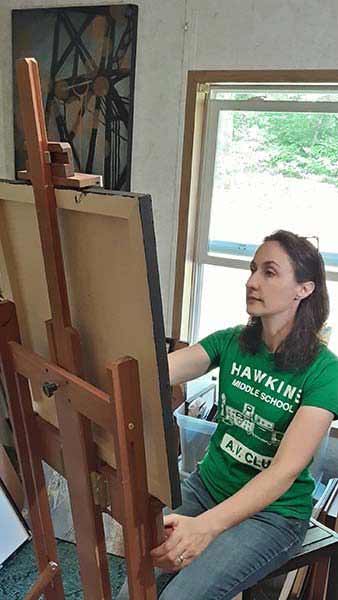 Copyright 2019 Woven Tale Press LLC. All Rights Reserved.