The Artist's Choice at MoMA
By Emilia Dubicki, WTP Art Correspondent
The Shape of Shape, on view through April 20, 2020, at MoMA 
The newly renovated and reopened Museum of Modern Art in New York City, NY, is expansive, airy, and open. Upon entering one is faced with a choice of going left to the new wing or to the right, to what was the original museum with its entrance to the sculpture garden. Heading east or west, the floors connect at upper levels and the galleries, rehung without timelines and artistic movements as central organizers, will not disappoint, with more works from MoMA's collection to discover. Observing similarities, influences, and cross referencing between artists' works is one of the best parts of being in a museum and it's also why I could live for a week in the exhibit The Shape of Shape with works selected by artist Amy Sillman.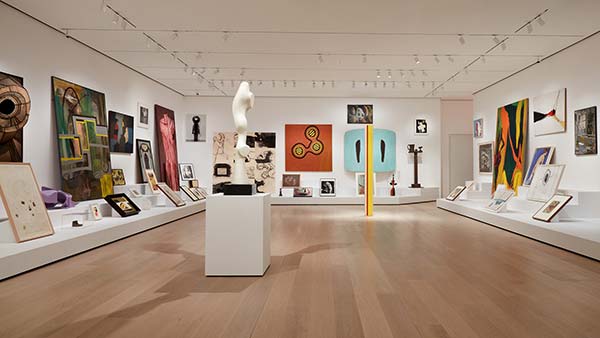 I really like and respect Sillman's paintings and drawings especially, but also appreciate the way she has expanded into printing and installations. In 2015, Sillman's large abstracts were a solid force in MoMA's group show The Forever Now: Contemporary Painting in an Atemporal World. Her no-nonsense grounding shapes and colors layered and juxtaposed with floating lines and curves are what make her work timeless. Sometimes, looking at her paintings, I think this shouldn't work, but Sillman makes it work with her intuitive sense of balance. In her painting "Untitled (Head)," for example, a rectangle of orange on the right side of the painting immediately grabs your attention, but then above it, a thin black line pulls your eyes to the left and to more subdued tones of gray and green. Her selection here, spanning time periods, styles, and mediums relating to shape, is part of MoMA's Artist's Choice series, and she allows the viewer many entry points into the art, giving us a lot to consider, compare and contrast, and simply enjoy.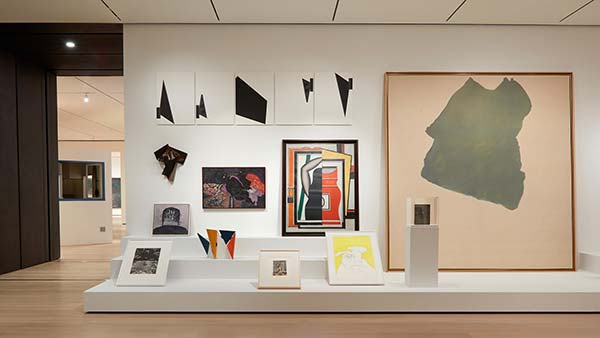 The exhibition, representing over seventy artists, is rather intimately installed in a fifth floor gallery, employing shelving that wraps around three walls. The viewer is within what I call a "surround vision"; works can be taken in several at once or one at a time, in what feels like a flipbook of shapes by artists as diverse as Auguste Rodin, Romare Bearden, Kiki Smith, Charline von Heyl, and Pierre Bonnard. Describing her curatorial process, Sillman says, "Even though shape is everywhere, we don't talk about it much; it's not a hot topic in art, like color or systems. So I decided to look for works in MoMA's collection in which shape does prevail over other considerations. I found a wealth of artworks, far too many to include here, by artists who dig into life's surfaces, who start with physical perception rather than abstract logic. Often eccentric, poetic, or intimate, these works are like bodies that speak, operating at the hub of language and matter, signs and sensations."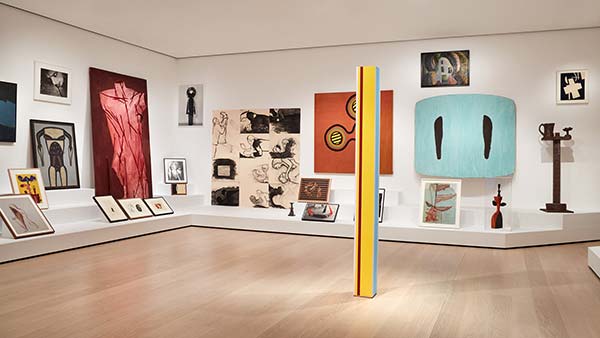 A Susan Rothenberg drawing of a small head, a black shape within it, sits across the room from Lee Bontecou's wall sculpture with its gaping black "eye," and these two works echo each another with their "black holes" of intensity. Rothenberg's work makes me think of Philip Guston's gnarly figures and, not surprisingly, a small Guston head painting is also across the room. Just over from Guston is Helen Frankenthaler's painting "Commune" with one zen-like green-gray form rising up the canvas, as if soon the shape will slide onto the ceiling. Jean Arp's sculpture "Floral Nude," a morphed figure in the center of the gallery and in front of Frankenthaler's painting, not only plays with her form but is in sympatico with Julian Schnabel's painting "St. Sabastian" with its wounded torso. Schnabel's pink and red figure in turn calls out to Matisse's small painting of a male nude, fit bather. The bather looks down on Rothenberg's disembodied head, leading me back around to where I started making connections. This cross- referencing can be initiated by any one of the exhibition works, the reason why an extended period of time can be spent with this exhibit.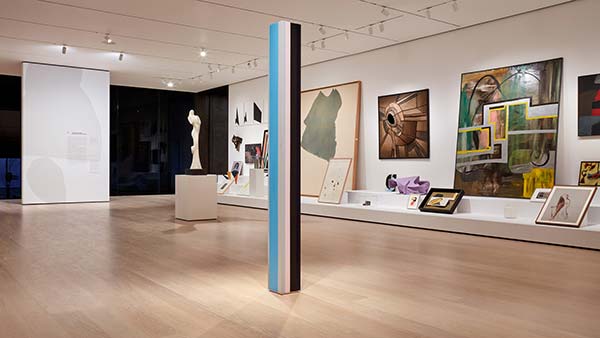 "As a painter, I've always had an eye for shapes. Shape defines every outline, mass, and negative space," says Sillman regarding her interest in shapes. "And everyone has a personal shape: namely, a shadow, that strange, flat, constantly shifting form that goes wherever you go, attached to both body and psyche. But even though shape is everywhere, we don't talk about it much; it's not a hot topic in art, like color or systems. I wonder if, in fact, shape got left behind when modern art turned to systems, series, grids, and all things calculable in the twentieth century. Was shape too personal, too subjective, to be considered rigorously modern? Or is it just too indefinite, too big, to systematize?"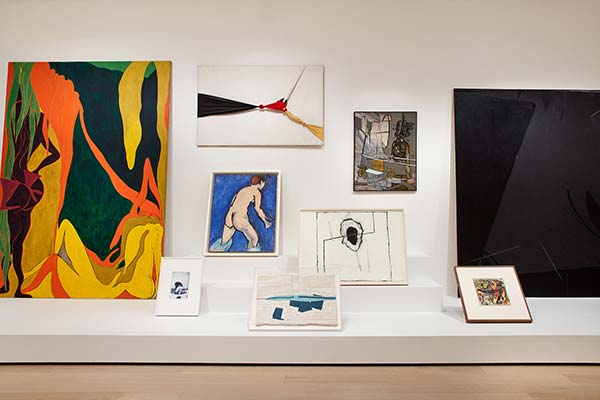 In a 2013 video in conjunction with Sillman's exhibit One Lump or Two at the Institute of Contemporary Art in Boston, MA, the artist talks about having "a devotion to a procedure of transformation." The transformation of shapes is exactly what this thoughtful MoMA exhibit is about.
Copyright 2019 Woven Tale Press LLC. All Rights Reserved