Eye on the Indies

A Look at Indie Authors and Their Publishers
By Lanie Tankard, Indie Book Review Editor
Last of Her Name: A Novella & Stories by Mimi Lok (Los Angeles: Kaya Press, October 22, 2019. 200 pages; $16.95; paperback original ISBN 978-1-885030-61-0).
"…thereby hangs a tale."
—William Shakespeare
(As You Like It, The Taming of the Shrew,
Othello, The Merry Wives of Windsor)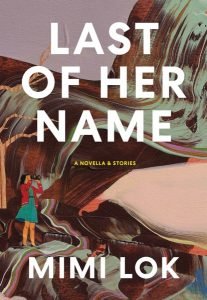 The tales in Mimi Lok's book debut, Last of Her Name, hang on people out of their elements—displaced by barriers of anomie. These seven short stories and one novella feel fresh, imbued with creativity, and full of imagination.
Set in neighborhoods of England, Hong Kong, and California, Lok's dramas portray universal power dilemmas of class, uprooting, and fitting in. Varying in length from two to fifty-seven pages, this narrative collection is understated in its minimalism but it packs a wallop.
The title story shifts in time and place from 1941 Hong Kong to 1983 England. Events of yesteryear provide background for ones four decades later halfway around the world. Lok contrasts the hubbub of Hong Kong with quiet English suburbs, where Chinese immigrants shed their names for ones that sound more British. June, formerly Jin-Jin, ponders what it means to be the "last of her name." Her teenage daughter's life has started to parallel Jin-Jin's teen years. Survival may be more important than preservation of lineage to June, as she recalls what she left behind in Hong Kong during the Japanese devastation—and how she came to do that. It's a story with a startling end.
"The Wrong Dave" is a case of mistaken identity. Lok mixes in the backstory via emails immersed within another story—and a wedding in each one. It's an imaginative perspective.
In "A Reasonable Person," Mei and her husband attend the Hung Shing Plastics annual anniversary dinner in a hotel to celebrate the opening of a new factory. The account zeroes in on Mei's thoughts as she wrestles alienation during sleeplessness, sequestering off her emotions. Lok conveys a lot in five pages here.
And in just ten succinct sentences, Lok presents an unnamed man's unresolved feelings about his sister as drivers photograph car damage in the ultra-brief story "Accident."
The slightly longer "Bad Influence" reverses the roles, examining Mayling Chan's relationship with her younger brother, Nelson. They both grew up in Hong Kong but haven't seen each other in six years. After high school, Nelson took a gap year that never ended as he worked his way around the world, avoiding their parents by staying silent about his whereabouts. Mayling, a patent lawyer in Ocean Beach, picks him up at the Greyhound bus station in San Diego. He's en route to Mexico to work on a solar-powered school. After dinner and drinks, they wander down to the beach and discover a group partying around a campfire, where Mayling gains insight into her dutiful younger self and how she came to be the woman she is today—the polar opposite of her devil-may-care brother.
In "Wedding Night," Big Sister Fong pops in for tea at Sing's house to tell him her cousin, Wai Lan Yip, has returned. Sing was Wai Lan's suitor years ago, before Wai Lan…well, that would be giving away the sensitive plot.
The remaining two tales are remarkably intriguing, the first for its intricacy and the last for its poignant cleverness.
"Motet" is a deceptively straightforward account of two people on their way to visit a third, yet Lok has layered this story as deep as the Mariana Trench. Audrey Ma, on the brink of her teens, is in a car with her stepmother, Vivienne. They are on their way to see Audrey's father, who's in a Kowloon hospital with an ulcer. Their driver, Keung, has been with the Ma family a long time. Lok doesn't tell us what happened to Audrey's mother, focusing instead on Audrey's relationship with her stepmother. The two can't quite seem to connect. Part of the difficulty is Mr. Ma, who hollers a lot—at everyone except his daughter.
Vivienne wants to stop at Tiffany & Co. to buy sterling silver crab cufflinks to bring her husband (who doesn't wear cufflinks). Audrey wants to stop at the Museum of Art for a school assignment. Keung drives them to both places. As Audrey and Vivienne are about to leave the museum, they spot a room with forty stereo speakers set in an open oval. Curious, they enter Canadian artist Janet Cardiff's brilliant sound installation titled "Forty Part Motet (2001)." For her motet, a vocal composition based on sacred text, Cardiff set up eight choirs of five voices each in Salisbury Cathedral to sing a piece by British Renaissance composer Thomas Tallis called Spem in Alium (Latin for "Hope in another"). Tallis adapted the title from a prayer by Judith, a Hebrew woman who saved her people from destruction by the Assyrians. Cardiff recorded the performance as forty separate voices and plays them individually through forty different speakers. Thus, listeners may experience the performance polyphonically by literally walking into a piece of music.
Lok had set the stage for this disembodied experience shortly before Vivienne and Audrey discover it. Audrey was viewing a bronze sculpture of a man in another room. Slowly moving closer and back, closer and back, Audrey plays with distance while searching for that particular viewpoint where the statue no longer resembles a human figure but simply "texture and form," akin to what listeners can do in Cardiff's sound installation. One of Lok's themes here is voice and how its sound affects others, not only in listeners' emotional responses to the choir but also in Audrey's awareness of her own voice and how it affects her stepmother—as well as herself.
Audrey narrates the tale, probing her relationships with Vivienne, her father, and Keung along the way. When Audrey's father married Vivienne a year ago, Audrey found herself displaced, migrating in a family diaspora. Yet even though Audrey flails around in her relationship with Vivienne, she still maintains the motet's "hope in another" that Vivienne won't leave her and her cantankerous father. What an elegant depiction of sensitive connections in this story.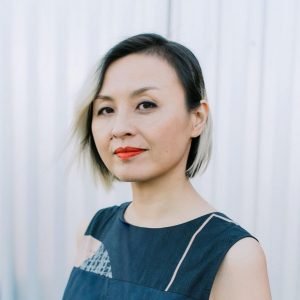 The marvelous Granny Ng comes last, and for good reason: Granny Ng steals the show. "The Woman in the Closet" is a novella about a Hong Kong woman whose son and his wife want to move her out of her apartment and into a home for older people. Granny wants no part of it. She takes off and becomes homeless, rattling around from one tent village to another as city officials relocate residents to prevent communities from spreading.
Lok's perceptive and moving descriptions of such populations constitute an ethnographic case study of their social hierarchies. How do people living in tent cities maintain a sense of self-worth? Lok sketches word portraits of Granny's neighbors in their blue tents: Kitty, Miss Kwan, Uncle Chow, Brother Shek—all of them adept in face-saving techniques, practical cleanliness solutions, creativity in the activities of daily living, and preparation for colder weather. Experience teaches the wisdom of preparing one's sleeping arrangements before darkness falls.
As Granny Ng grows older, she fears being forgotten—but more than that, she fears being a burden. One day she crawls in an apartment window and sets up house in a man's closet for a year. While he's at work, she emerges and slowly tidies up. One day she straightens a drawer, another she dusts the blinds…eventually netting the man's lazy cleaning lady an undeserved raise. Granny begins to cook for the man, who becomes her secret surrogate son. Preciousness surrounds the witty details Lok intersperses amongst the pathos. Each day Granny Ng learns a bit more about the man's life. We don't learn about hers until much later.
This astute chronicle of a year in the life of Granny Ng runs the gamut—sadness, humor, resilience, practicality, and injustice. Lok offers meaningful insight into the growing homeless experience through fiction, in ways rigorous academic studies simply can't. Her data do not appear in statistical analyses here. Instead, Lok presents observations on the psychological obstacles separating people. The tale will reside in your mind for a long while.
In each of the book's eight fictional pieces, Lok discovers correlations within an overall theme. Her distinct and unifying idea is merely a literary search for what constitutes belonging, but her findings are significant.
Mimi Lok, a Chinese writer and editor in California, is executive director of Voice of Witness (VOW), a nonprofit based in San Francisco using the power of story to amplify the voices of those impacted by injustice. She cofounded the organization in 2004 with author Dave Eggers and physician Lola Vollen. 
Lok, born and raised in the United Kingdom, earned an MFA in Creative Writing from San Francisco State University (SFSU).
The title story in Last of Her Name was a finalist for the 2018 Katherine Anne Porter Prize in Short Fiction from the University of North Texas Press. Lok was cowinner with Eggers of the 2013 Smithsonian American Ingenuity Award for Social Progress, honoring their work on VOW. She received a Miriam Ylvisaker Fellowship in Fiction from the SFSU Department of Creative Writing. She was a finalist for the Susan Atefat Prize for Creative Nonfiction from the Arts & Letters journal at Georgia College. Her work has appeared in a wide variety of literary publications, such as Electric Literature, McSweeney's, and Hyphen.
Lok has been a freelance reporter for the Asia bureaus of The Washington Post, Chicago Sun-Times, and USA Today. She taught Creative Writing at SFSU and schools in Hong Kong and China.
Publisher: Kaya Press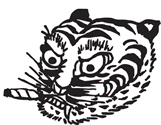 Kaya Press is a nonprofit publisher based at the University of Southern California in the Department of American Studies and Ethnicity. Established in 1994 by postmodern Korean writer Soo Kyung Kim in New York, Kaya began as literary translations and was also a journal named Muae. Juliana Koo joined as managing editor and remains on Kaya's board of directors today.
Sunyoung Lee, who had been working for Kaya in New York, moved to Los Angeles with it in 2012 to become publisher and editor, roles she continues.
Kaya publishes writing from the Asian and Pacific Island diasporas. "We strive to bring to light works that have been unfairly overlooked or forgotten, whether because they were ahead of their times or because no one recognized their worth."
The press takes its name from a tribal confederation of six ancient Korean city-states "remembered as a utopia of learning, music, and the arts due to its trade and communication with China, Japan, and India." Kaya Press continues that vision "to explore the multiple connections, chance or otherwise, between cultures." The diverse list of titles includes "experimental poetry, noir fiction, film memoir, avant-garde art, performance pieces, 'lost' novels, and everything in between."
Submission guidelines may be found on the Kaya Press website.
Copyright 2019 Woven Tale Press LLC. All Rights Reserved