Christine Olmstead is an abstract painter living and working in Northern Virginia whose clients include tech companies in San Francisco, Marriott Hotels, and home furnishings store West Elm. Christine's mixed-media paintings focus on movement and mood, as well as the use of color, metallic, and reflective elements. In 2015, Olmstead graduated from Patrick Henry College in Purcellville, VA, and released her first painting collection. She's currently pursuing an MFA in Painting from Savannah College of Art & Design. See her work in WTP Vol. VII #10. 
Interview
with Christine Olmstead

By Jennifer Nelson, WTP Feature Writer
Nelson: How did growing up with a mother who was an art historian impact your decision to become an artist, and when did you first become interested in drawing and painting?
Olmstead: I wouldn't be an artist if it weren't for my mother. From infancy, my mother was reading us art history books. She wanted us to recognize an artist based on their stroke, palette, or subject matter. Despite all of my mother's work, I never saw being an artist as a viable career for a woman until I was a senior in college. My mom put me in private lessons, but I didn't know any living female artists who worked full time as an artist. My mom gave me history and technique, but the history books largely exclude women. I pursued many other different career paths growing up and through college because I didn't think painting was a "real job" for a woman. It wasn't until I graduated from college that painting was the only value I felt I could really bring to the world. Painting is the only thing I've done my whole life. It's the thing I've been trained in from infancy, with private instructors and professors at every stage of my development. It's the only thing I've enjoyed my whole life, and it's something I will do my whole life. Even today institutions, museums, and galleries purchase, exhibit, and represent artists at a ratio of 87% men to 13% women, according to the National Museum of Women in the Arts. Painting is a very hard career to break into as a woman.
I don't know that my interest ever began; it was always there. My mother worked as a graphic designer and she had a room in our house full of all of her design tools, seeming endless amounts of paper, boxes and boxes full of pens and pencils. Our entire basement was filled with supplies for us to create with. My brother and I were always painting, drawing, coloring, making things. I don't think it's an interest that began; painting, drawing, and creation are just integral parts of who my family is and the way we live.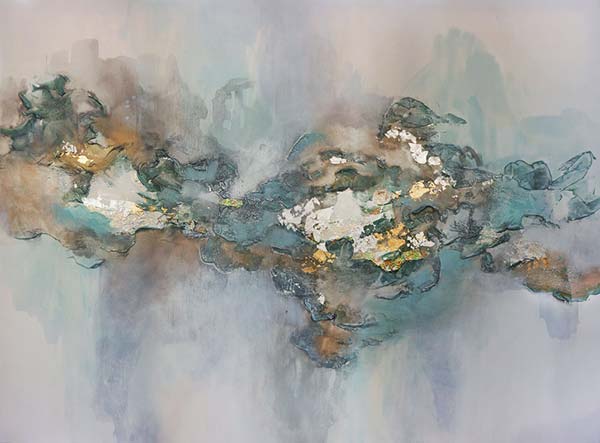 Nelson: Please comment on working with interior designers in private homes, and how these commissions differ from ones with companies.
Olmstead: Every designer is different and so is every company. But generally, when working with designers, the works are customized and have a specific budget. Large companies and firms normally give me more leeway and trust my decision-making more than interior designers do. Large companies are often willing to let me paint and present my vision, while with interior designers, I am usually executing their vision.
Nelson: At such a young age, you've achieved success as an artist. What do you feel are the factors that contributed to your success, and how has this impacted your view on your profession?
Olmstead: I am thankful for where I am in my career, but I'm not where I want to be. Success always seems much farther away than where I am at any given moment. The training I received from a very young age contributed to my current place, but I also work about seventy hours a week, so that accounts for anything I have achieved. Hard work, lots of hours, not being afraid of numbers, spreadsheets, asking for what I deserve, and putting in long hours have contributed to where I am today. I think being an artist is much more possible than I initially surmised when I began my career. Artists are known for being flaky, for breaking the rules, for not following through, for being late, and self-indulgent. I try to be none of those things. Showing up on time and putting in long hours have gone a long way for me.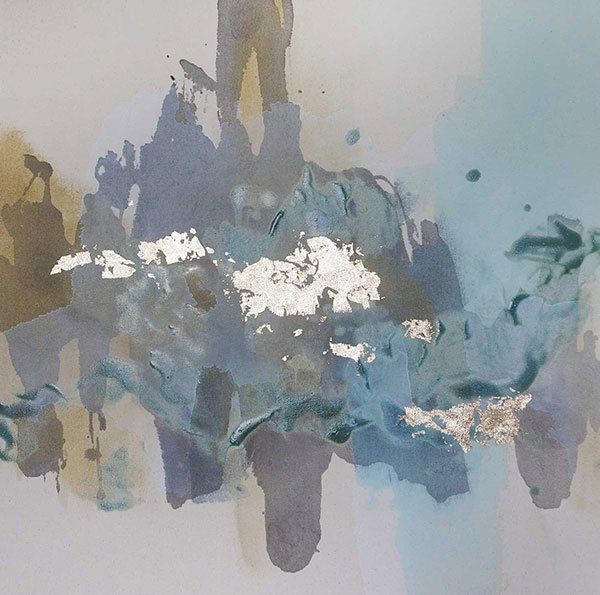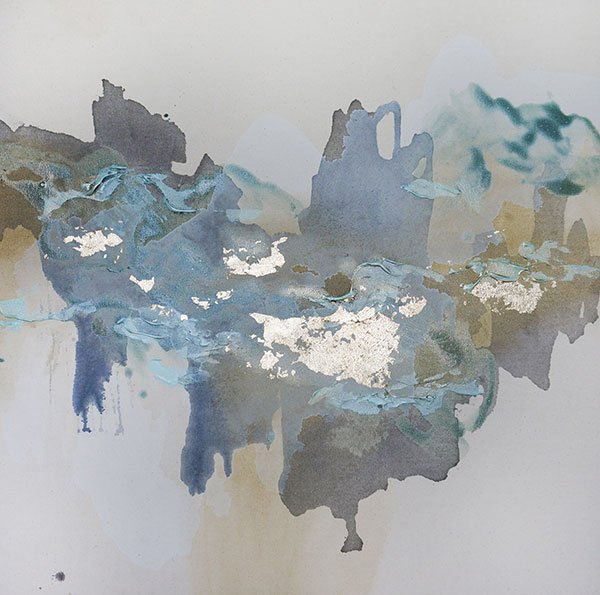 Nelson: Your mini-series Iridescent Light uses mixed media and different shades of blue, black, whites, green, and gold. Please talk about the processes and materials you use, as well as from where you draw inspiration for these eight paintings.
Olmstead: The works from Iridescent Light were inspired by a recent trip to Iceland. The landscape there is so "other," it was impossible for me to not try and play with the colors and textures I found there. These works are mixed media, acrylic, oil, silver leaf, gold leaf, and iridescent Mylar on canvas. The colors are representative of the many colors I found in Iceland, including the baby blue and dark grey glaciers, the milky teal of the blue lagoon, the black lava rock, to the green rolling mountains and patches of snow. There were so many peaceful colors and textural delights I wanted to capture some of them on canvas. The Mylar is reminiscent of the northern lights that change colors and move. This series was a reminder to play more and to pursue fun. I view them as icons to that end. I tend to be a workaholic and I'm not very good at play.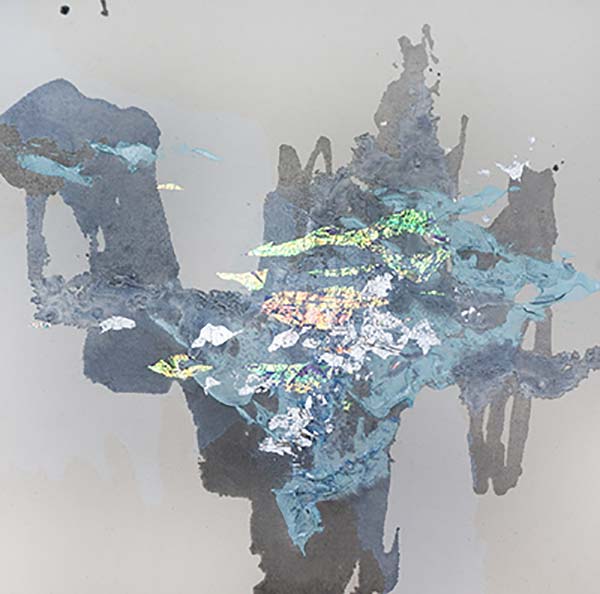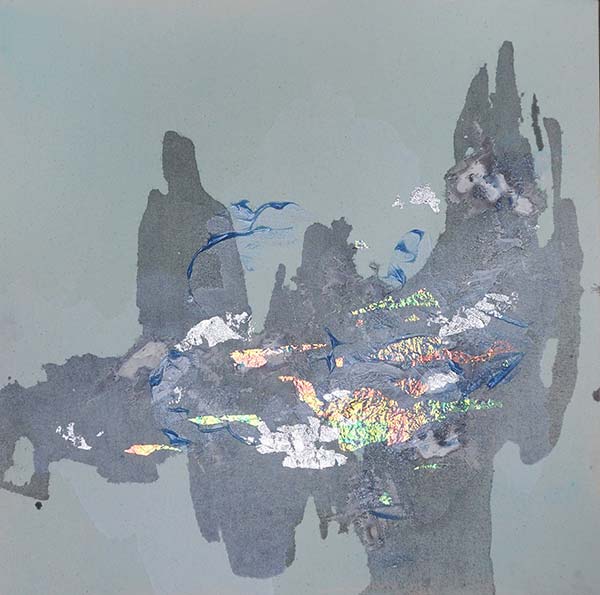 Nelson: I understand that you're making your art practice eco-friendlier by minimizing waste around your studio. What are some of the ways you're doing this and any advice for other artists who may be trying to do the same?
Olmstead: I'm very passionate about minimizing waste and making my practice eco-friendlier. Here are a few tips for other artists. Never throw away paint, or pour it down the drain. It is so bad for the environment. I try to buy paint exclusively in jars, not tubes. Jars are recyclable and reusable; paint tubes are not. I use all the paint on my palette. If I can't finish it in one painting session it gets saved in a jar for later. I use all my paint for under paintings, or to add texture. I don't pour any paint down the drain, it all gets filtered before getting disposed of. I reuse all shipping and packing materials like cardboard Styrofoam from material shipments. I try not to throw away any surfaces, they all get painted over and over until it's a work I'm happy with. Even my own paper and old studies I've been playing with recycling it myself by breaking it down, and remaking the paper from scratch. You can find more of my minimal waste studio ideas in this blog post. 
Nelson: Please elaborate on the importance of music and synesthesia in your practice as an artist.
Olmstead: Music and synesthesia are an integral part of my painting practice. I can only enter a flow state of painting when I'm listening to something; music, or even audio books or podcasts. I create my best work when I'm aurally stimulated. Synesthesia is like a super power, I see colors and movements when I hear sound and it's just a fun way of getting to experience the world. When I'm painting and listening to music it is as if I cease to exist. The art and paint move through me and I'm no longer present or part of the process. I paint in a sort of unconscious, out of body experience for hours when I'm listening and when I'm in that state, it's the best feeling in the world.
Nelson: How do you see your work evolving in the future?
Olmstead: Hopefully for the better! I have a lot of ideas I am constantly working through, exploring a lot of different ideas and techniques. My work is always made to inspire and to bring beauty, peace, and light into the lives of my collectors. I don't see that mission changing, but I'm always playing with the application of that theme.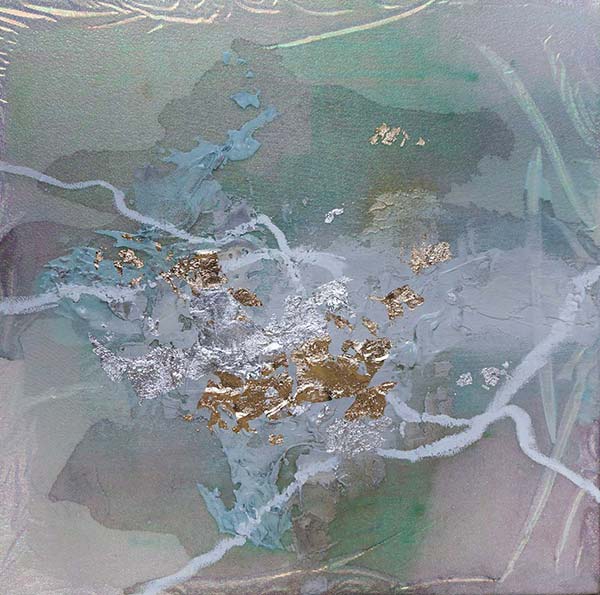 Copyright 2020 Woven Tale Press LLC. All Rights Reserved