Wen Yu is a multi-media artist from Suzhou, China, who now lives in Boston where she creates research-based projects that integrate art, technology, story-telling, and tangible materials. Yu explores the line between digital and handcrafted. She currently works as the principle artist at ArnoX in Boston. Her work has been exhibited at the M.H. de Young Museum and Asian Art Museum in San Francisco; the San Francisco Art Institute; the Lens Gallery in Boston; Boston University; and the Massachusetts Institute of Technology in Cambridge. She co-founded Mo+CA Projects, an arts organization for contemporary artists in China. In 2017, she graduated from Boston University with a degree in arts administration. See her work in WTP Vol. VII #10.
Interview
with Wen Yu

By Jennifer Nelson, WTP Feature Writer
Nelson: How did growing up in Suzhou, China, the birthplace of famous architect I.M. Pei, impact your decision to pursue a career as an artist?
Yu: Suzhou is a city with twenty-five hundred years of history. It is also a city of canals (it's often called the Venice of China). But Suzhou is mostly known for its classical Chinese gardens. One of the most distinctive characters is its specially designed window that works as a frame to include the scenery from outside. It is an exploration of space, time, and movement, and you could compose your own image with the frame. I was inspired by such design and aesthetic from a young age. I think the experience helps me to understand intellectual pleasure, which I think is critical to an artist. Also, I grew up in an atypical Chinese family. My father is a cardiologist, and my mother is a professor of English literature. They gave me the freedom to make my own decisions, including the course of education I wanted to pursue. This allowed me to construct my own knowledge structure and a system of critical thinking, both of which are scarce assets in the current Chinese education system.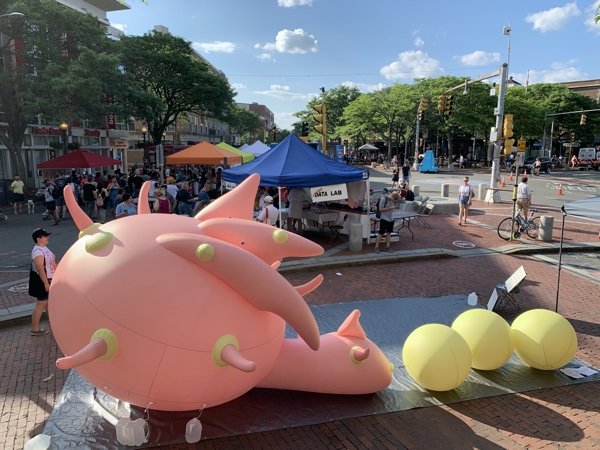 Nelson: Last July, you showed your "Baby Virus" installation at the ArtBeat Festival in Somerville, MA. Please explain the process of creating this oversize, pink imaginary deadly virus, including your choice of materials, and the importance of this work in raising people's awareness of the global warming crisis.
Yu: My inspiration comes in part from the fact that artificial global warming brings back to life those dormant ancient viruses and bacteria now residing under the cold, airless, dark permafrost soils and icebergs. It is no secret that climate change has spread illnesses such as West Nile virus, Zika, and malaria. Melting permafrost soils release ancient viruses that could cause rare illnesses or unleash other infectious agents. I want to bridge the distance, which makes us so powerless, between the pressing issue of climate change and ourselves. 
I made an imaginary virus, and it looks very friendly to kids. I intended to create a piece that is accessible to the general public, an idea that everyone could understand. An AR (augmented reality) app visualized the conceptual design. It enabled me to see the piece on a large scale in public. I sent it to an inflatable manufacturer in China. The piece is portable, so we could use it many times.

Nelson: How did you come to co-found Mo+CA Projects, an arts organization for contemporary artists in China, and what have been its main accomplishments?
Yu: It has been a dream to form an artist community. We had organized exhibitions and events in San Francisco, Taiwan, and Boston.
Nelson: Please comment on your being selected as the principle artist at ArnoX, an art complex in Boston that presents interdisciplinary programs in visual arts, new media, design and cutting-edge technology, and its importance to you.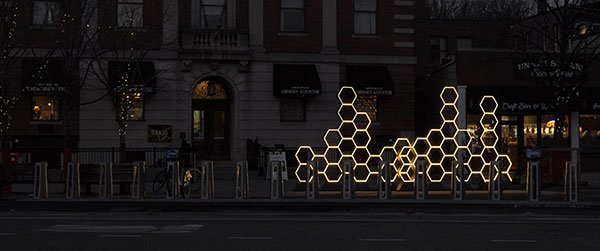 Yu: ArnoX's mission is to support and cultivate young artists as they explore the interaction and impact that technology has on their art. It is very much aligned with one of my focuses, which is to probe the intertwined spheres of technological advancement, culture, and human empathy. We have worked together on three projects so far. One of the projects is Drone, which is a public lighting installation consisting of forty-eight wood hexagons and 350 meters of LED light strips. The project questions man's condition in the future: are we going to benefit from the technological development or be obliged to feed intelligent machines? The project researches and showcases new uses for Unmanned Aerial Vehicles (UAVs) in the field of touch; namely, grasp, carry, and deliver targets autonomously and precisely to any designated point. The original design had two UAVs pick up and build the installation similar to the way honeybees build their honeycomb. The project includes two robotic drone performances, which were conducted in collaboration with Boston University's School of Engineering. The movement of the robotic drone imitates the bees' process of building a honeycomb by moving a hexagon prototype.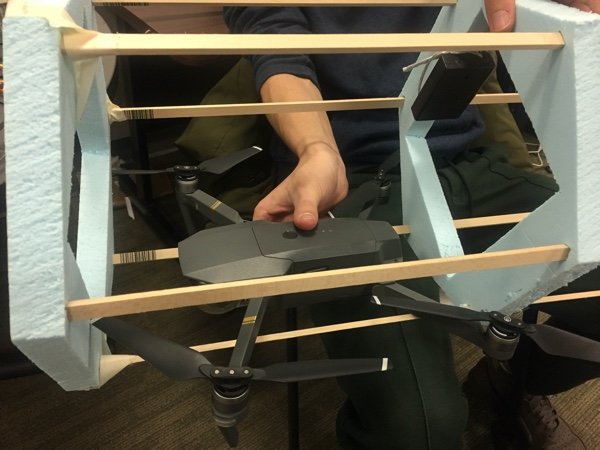 Nelson: Your series Myth recounts your family's true experiences since 1923. What inspired you to undertake the project, and what materials and processes did you use to create this work?
Yu: Two books that inspired me were The Captive Mind by Czesław Miłosz and The Road to Serfdom by F.A. Hayek. I made sketches and incorporated them into my digital paintings. I printed them out on giclee print and then did drawings on the boards.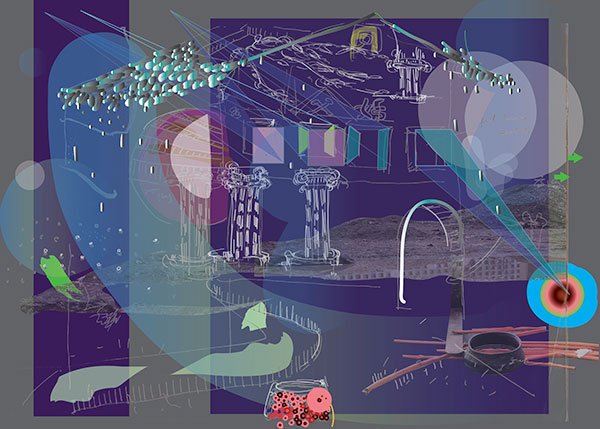 Nelson: While attending an artists' residency in Milford, IA, you created videos about soybeans that illustrate the trade war between China and America. What was it like spending time in the Midwest, and what inspired you to broach this subject?
Yu: I read a news clip last year about a ship containing tons of soybeans that had to linger in the ocean, awaiting a final decision on tariffs. That piqued my interest in soybeans. Like most Chinese children, I grew up drinking soy milk (soy milk in many Chinese households is like cow's milk in an American diet). To my knowledge, China was a huge agricultural country, so I thought the soybeans we ate all came from China. I was surprised to learn that 80% of China's soybeans were imported from the United States. Why? Soybean consumption in the United States is not integral to the American diet, so why are so many soybeans grown in the United States? How would American farmers respond to the trade war? 
I went to Iowa (one of the largest soybean-producing states in the United States) with those questions in mind to learn about the soybean industry. I had never been to the central United States. My work as an artist helped me when interviewing locals to better understand their issues. I was able to offer fresh insights to those farmers, including the situation of Chinese farmers.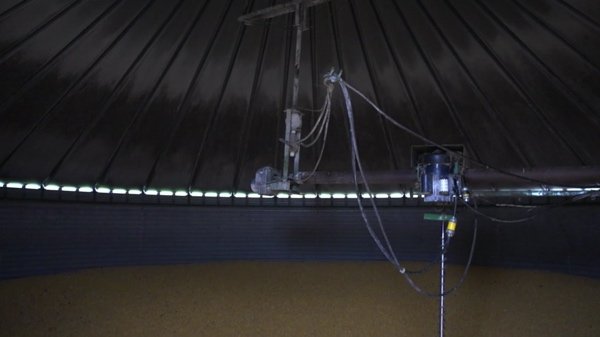 Nelson: What does your work for Build-it-Yourself, a youth enrichment program in Cambridge that teaches children engineering and design skills, entail, and what are the challenges and rewards of it?
 Yu: It is a rewarding experience, and I have learned a lot from that experience. Educators today face a significant challenge. The world in which we live is evolving rapidly, but the way we teach students has hardly changed in over one hundred years. My effort at BIY is to incorporate art into STEM. It is an experimental involvement to see how the future of education can evolve. For me, I think the biggest challenge is to understand how kids learn. It is very reflective in terms of thinking about our own learning process.
Nelson: How do you see your art evolving in the future, and where do you see yourself working after your O-1B (individuals with an extraordinary ability in the arts) visa expires in 2021?
Yu: I think artists nowadays are quite international. You could do residency programs and research projects around the globe. I tend not to limit myself to the same circle.
I will continue to work on my current projects. I have two focuses that I wish to pursue further: One is to identify and develop a non-normative method of generating art and cultural productions that will enable me to understand and interpret dramatic but fleeting characteristics of social/political/environmental scenarios of our time. The second is to probe the intertwined spheres of technological advancement, culture, and human empathy.
Copyright 2019 Woven Tale Press LLC. All Rights Reserved