Madara Tropa is a visual artist living in Latvia, Mexico, and the United States. In her paintings, installations, and videos, Tropa constructs dream-like spaces where the sense of human vacancy is uncertain and nebulous. She studied at the National University of Latvia and the National School of Art in Mexico City. Recent exhibitions have been at The Museum of Mexico City, The Cultural Institute of Aguascalientes, The Modern Art Museum of Toluca, and The Daugavpils Regional Museum of Art in Latvia. She was awarded the 2019 Elizabeth Sloan Tyler Memorial Award for Fine Art.
Interview
with Madara Tropa

By Jennifer Nelson, WTP Feature Writer
Nelson: When did you decide to become an artist, and how did your upbringing influence your decision to pursue a career in the arts?
Tropa: I decided to study art after a highway accident, which inspired me to re-evaluate my life path. I always had a great interest in the arts but was focusing on other things. First, I studied English philology because I enjoyed writing, but it was never satisfying enough to continue studying it. All I would write about would be extensive descriptions of places, their color and light, which naturally led me to painting.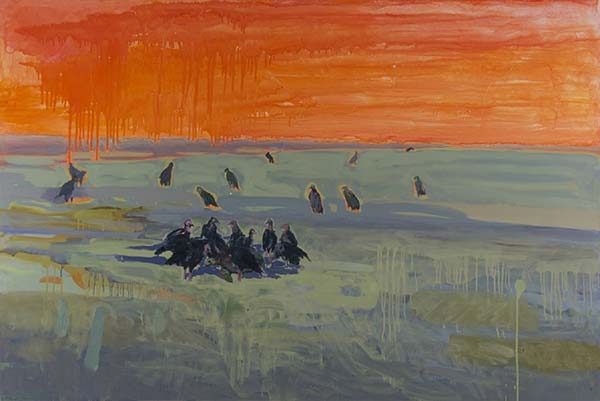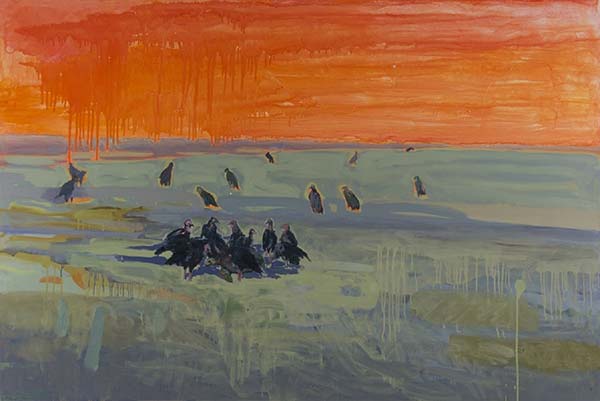 Nelson: Please comment on the processes you use for the series Passages, also featured in last month's WTP, as well as from where you draw inspiration, and the advantages of oil paints.
Tropa: The series of paintings of Passages was created while I was working on an investigation about how the landscape is seen within the limits of visual perception. I was looking for a panoramic image that would not only portray a visual experience, but also present a metaphor of looking into oneself through the temporal experience of the places.
I have been always attracted to the idea that an artist could express the totality of one's visual and subjective experiences. My approach was to go to remote places and take numerous photographs on which I would work from later. I would review the photographs numerous times and join together my fragmented observations. I would then work on them with oil until the detailed mechanical vision of the camera lens was destroyed and the main importance would be stressed on the atmosphere and the feeling it evokes.
Memory has the force of altering everything that has been seen, creating new visions and different stories. Oil as a traditional medium is very attractive to me because of its plastic character, which allows numerous layers of paint to work together in a range of densities.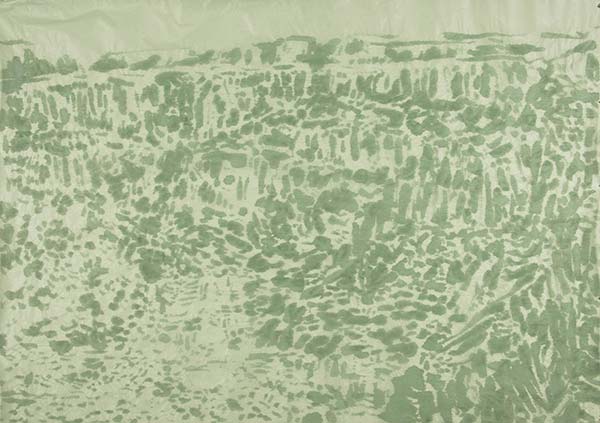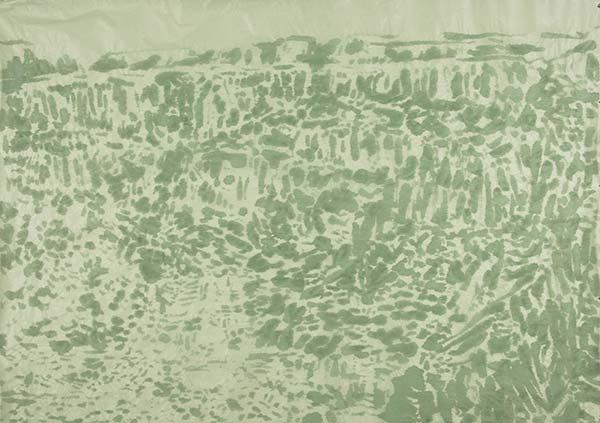 Nelson: In Revelations, you depict a descent from the Sierra de San Francisco Mountains in Mexico from various perspectives using green ink on silk paper. Please comment on your choice of these materials, as well as the changes in points of view.
Tropa: Revelations is an ensemble made from observations from my records at the moment of the descent of the Sierra de San Francisco Mountains. It shows different points of views on a trail, which lead to a group of cave paintings whose origins have not been determined. While working on the photographs, the immensity of the details seen on the mountain staircase on the way to the destination inspired me to meditate on the vastness of nature and how easy it is to get lost within the vision.
In optics, it is observed that the nature of the eye is to register everything according to the levels of luminosity and only after by color. I followed this approach in my works and observed that the image is being described and at the same time is freed from the description. It is finally turned into pure calligraphic-like prints, similar to symbols, which, when set all together impress the transcription of the whole.
How we construct an image is different from how we write a literal work. But in the process of this work, I chose to paint on silk paper in order to point out the observation of some similitude. This material also has properties that allow color to bleed through several layers of sheets of papers. At the same time, it shows that the second and the third print can reveal the same marks until it's almost unnoticeable.
I described the work previously as reminiscent of the seen, and the evocation of the unseen. It comes from the obsession with the desire to see as an analogy to the seeking of knowledge. The etymology of the word revelation comes from Latin revelatio, which is the sum of three elements; (re) backwards, (velum) vail, and (cion) which indicates action and effect.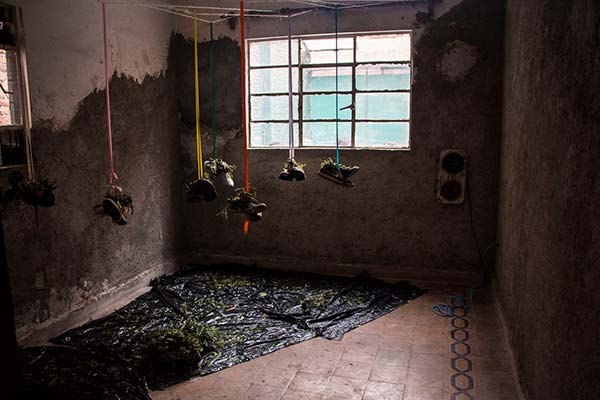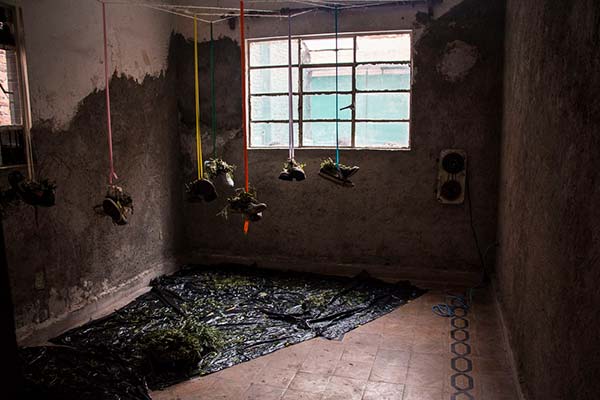 Nelson: How did your exploration of contemporary Mexican rituals of spiritual healing lead you to create the series Mystic Objectives, and what drew you to use materials like donated shoes, cleansing herbs, and an electric stove-top?
Tropa: I have particular interest in Mexican spiritual healing rituals and the knowledge involving them because they contain traditions and knowledge that have been preserved to the present day. They manifest a part of human nature that relies on imagination and are creative acts used to heal and express the human psyche in a similar way that art can.
I relate to the idea of an artist as a primitive shaman who has the capacity not only to recognize the presence of a problem which has to be fixed, but also his persona can be recognized as a projection of the desire of many people to change some thing for the better. Spiritual healing is not a miraculous event but implies a figure of a shaman who represents power. It is given to some people by their clients and can actually be seen as human acts of desperation arising from lack of personal, economical and political balance.
Nevertheless, in my installations the actor of the healing ritual is always absent. There is only material: primitive and personal, which exists in its installation format to interact and play through senses, colors, scents, and temperatures. The symbolism of each healing material and the personal belongings of people could make the viewer ask himself the reason why it is there.
Nelson: You divide your time between Latvia, Mexico, and the United States. What impact does this have on your artwork?
Tropa: To move between different settings is certainly contrasting and allows me to see in a new light each time. Coming back and forth allows me to recognize each country's peculiarities. It gives me the illusion of transit in time. But we have to understand there is no back and forth, but only an exchange.
As my work is about looking for the sense of being through sensory perception and the analysis of the peculiar character of memory, transit for me plays an essential role to come closer to its understanding. The extension of space and time is never exclusively physical but rather internal and I like the idea of pilgrimage as a tool of personal transformation.
As my paintings are centered on landscape, they experience an incredible exchange of impressions. Some of them grow with time and invade recent ones, therefore I can paint a tropical beach in the Pacific with the Baltic Sea's blue, green, and grey. Some uses of colors are delusions of a sunset or a sunrise, which certainly is untraceable and exist in all places.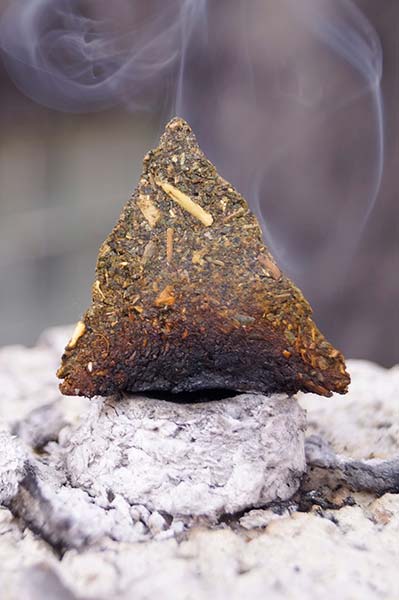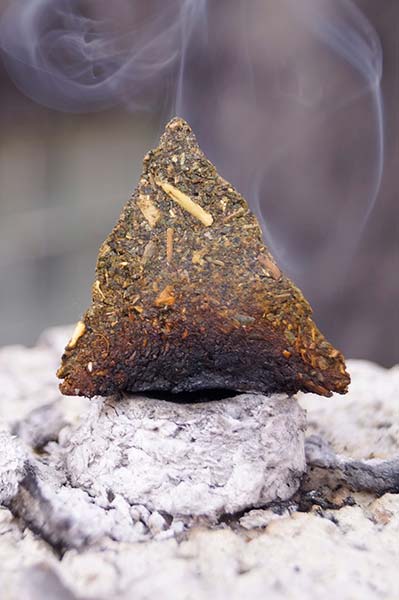 Nelson: How and why did you start making videos of beaches, forests, and mountains and what are the advantages and disadvantages of using this particular medium?
Tropa: Since the first time that I travelled to remote places rich in nature as an act of resilience in order to reconnect to my inner self, I discovered that it is exactly where most of my creativity can recharge and I can experience change in my perception of time. Painting a landscape takes a certain amount of time where you look at the same scene for a prolonged time again and again. This involves thinking, rethinking, and then looking again and transforming the image according to the needs of the artist.
Taking a video also takes a certain amount of time where I have to stay still and observe the landscape. I don't use a tripod, thus when holding the camera in my hands a certain amount of human pulse and presence can be transmitted.
Thinking about just standing and contemplating is something uncommon and mildly repulsive to most people in western culture, but it has a long tradition and meaning in the history of Eastern philosophy.
Nelson: How do you see your artwork evolving in the future?
Tropa: I have been working on constructing ephemeral spaces where I present video projections of remote landscapes together with live plants and other collected organic materials from a specific geographic source depending on the exhibition or installation location. I work on experimenting with creating different contemplative settings through visual and olfactory experiences that provoke collective memory. I study the fauna of each locality and their chemical properties. And I am continuing my painting practice.
Copyright 2019 Woven Tale Press LLC. All Rights Reserved.