Enjoy our WTP Spotlights, notable selections featuring artists and writers from our Woven Tale Press magazine. To read the issue in full subscribe and you can also register on our site to enjoy our archive.
Gladys Nilsson's work is featured in the collections of major museums around the world, including: the Art Institute of Chicago; the Los Angeles County Museum of Art; the Milwaukee Art Museum; the Morgan Library, New York; the Museum Moderner Kunst, Vienna; the Museum of Contemporary Art, Chicago; and the Museum of Modern Art. In 1990, she accepted a teaching position at the School of the Art Institute of Chicago, where she is now a professor.
Photo credit: Alexa Viscius, Gladys Nilsson in her studio, 2020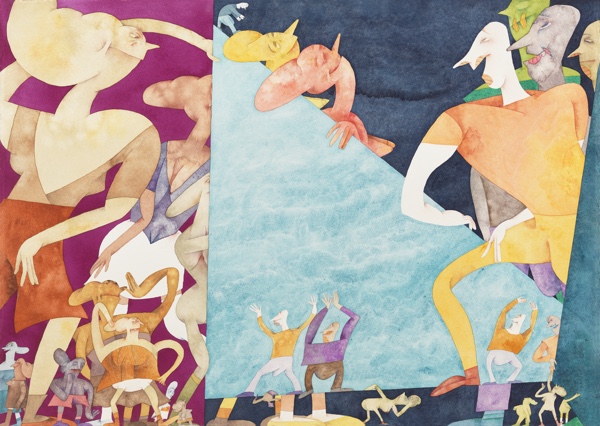 Blue Glass
See her work in Vol. VIII #5
Nilsson is known for her densely layered and meticulously constructed watercolors and collages. She studied painting at the School of the Art Institute of Chicago, and first came to prominence in 1966, when she joined five other recent Art Institute graduates (Jim Falconer, Art Green, Jim Nutt, Suellen Rocca, and Karl Wirsum) for the first of a series of group exhibitions called the Hairy Who. Like many of the Hairy Who artists, Nilsson employed a type of horror vacui; many of her works feel filled to the brim with winding, playful imagery. Her work often focuses on aspects of human sexuality and its inherent contradictions. In 1973, she became one of the first women to have a solo-exhibition at the Whitney Museum of American Art.
All images courtesy of the artist and the Garth Greenan Gallery
[/tm_pb_text][/tm_pb_column][/tm_pb_row][/tm_pb_section]