The relation of the verbal to the painted image has preoccupied thinkers since antiquity, and that kind of staying power suggests it is a worthwhile conundrum to wrestle with…
A Poem Prompt from Robert B. Shaw,
A Poem from Susan Tepper
I have a longstanding interest in ekphrastic poetry, and although I'm sure it isn't a very original assignment, some of the best student poems I've seen over the years have been responses to works of art. And some of the best classes I've had were those in which we set the poems side by side with the paintings, photographs, or sculptures that provoked them. The relation of the verbal to the painted image has preoccupied thinkers since antiquity, and that kind of staying power suggests it is a worthwhile conundrum to wrestle with.
Editor's Note: "Ekphrasis," as Shaw points out, is an age-old tradition of engagement with the visual arts. In poems that employ ekphrasis (Greek for "description") the writer reflects on a work of art — painting, sculpture, drawing, or other forms. Homer's description of Achilles' shield in The Illiad is often cited as a key ancient example. Two famous modern examples are "Musée des Beaux Arts" by W. H. Auden and "Landscape with the Fall of Icarus" by William Carlos Williams. Here are four contemporary poems of this type, all of which can be found online: "Migration" by Lyrae Van Clief-Stefanon, "Four Premonitions" by Terrance Hayes, "This Way Out" by Terri Witek, and "Soldiers Washing (1927)" by Ricardo Pau-Llosa. See as well an example below by WTP writer Susan Tepper. 
Robert B. Shaw is the author, most recently, of A Late Spring, and After (Pinyon Publishing, 2016). Among his previous six collections are Aromatics, a co-winner of The Poets' Prize, and Solving for X. He is also the author of Blank Verse: A Guide to Its History and Use, for which he received the Robert Fitzgerald Award. He recently retired from his position as the Emily Dickinson Professor of English at Mount Holyoke College, Massachusetts, where he taught for thirty-three years.
His interview with Sara London can be found here. 
His poem "Enigmas of Weeding," from WTP Vol. VI #6, can be found here. 
---
An Ekphrastic Poem
By Susan Tepper
Painting by Digby Beaumont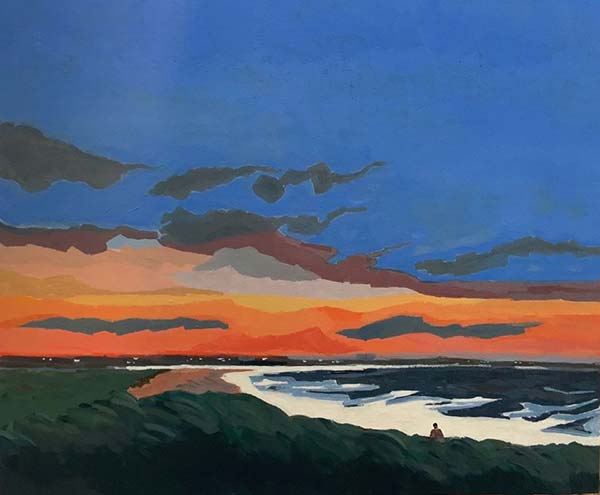 Dusk
After hell we stop worrying
entirely.  Get on our knees
split the rocks with bare hands
tongues lighting the fires.
We sleep with no blankets.
Garments barely covering 
though we don't tremble
nor do we stumble upon
any recognizable foods.
Travelling centuries along 
steep embankments
crowning dark water.  Would 
paralyze the most steady
a stirring dusk tune   
we don't care to hear.
The sky has encrypted blood
of the souls of our feet
forever marching forward. 
Inseparable. Thus 
separated. Once I saw you 
on ripe land across two seas. 
Susan Tepper has been a writer for twenty years and is the author of nine published books. An award-winning author, Tepper has been nominated eighteen times for the Pushcart Prize, has received a Pulitzer Prize nomination for the novel 'What May Have Been' (currently being adapted for the stage), Second Place Winner in Story/South Million Writers Award, 7th Place Winner in the Francis Ford Coppola sponsored Zoetrope Contest for the Novel (2003), Best Story of 17 Years of Vestal Review, a nomination for NPR's Selected Shorts Series, and other honors.  Additionally, Tepper has been an editor at Wilderness House Literary Review and Istanbul Literary Review. FIZZ her reading series at KGB Bar, NYC, ran for a decade, and showcased the talents of our literary stars as well as many first time authors. 
Her work can be found in WTP Vol. V #4. 
Digby Beaumont's work as an artist has developed over the past few years. His main interest has been in portrait and figure painting. Emotion is central to his approach. He aims to convey his innermost feelings about the subject and, in turn, to produce an emotional response in the viewer.
We invite you to peruse our "Art Central" website page, and the many artworks presented in WTP's magazine—or head out to a gallery or museum—and have a go at this word-and-image tango!