Inside the Studio with Tara Kennedy
Inside the Studio offers a behind-the-scenes peek into the work environments of WTP artists, as well as insight into their creative process within these resonate spaces. See Tara Kennedy's work in WTP Vol. VIII #5.
By Jennifer Nelson, WTP Feature Writer
To create her fiber works, Tara Kennedy spreads out in several places. Depending on the task, Kennedy works in her small studio, other rooms in her home, and at her parents' house. For stitching, she sits in a comfortable chair, while for technical and on-screen work, she goes to a different room where her work isn't surrounding her and in her way. In her parents' house, which was once her childhood home and housed her and husband's knitting business, she uses a knitting machine. "The space I work in is very important," says Kennedy. "It needs to feel right depending on what sort of work I'm doing."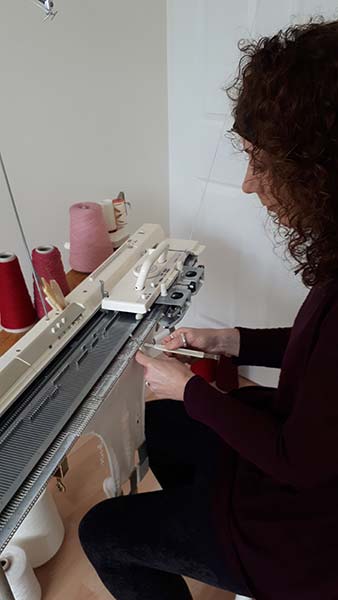 For over twenty-five years, she's had a studio in her home in the United Kingdom. There she enjoys the views of the garden and displays samples and small pieces of her artwork, which she looks at for inspiration. In boxes and tubs on shelves, cupboards, and drawers are stored materials. Materials and works that can't fit into her studio are put in her attic and at her parents' place. Her materials include yarn, embroidery threads, wool, ceramics, nails, wire, and fabric from old clothes.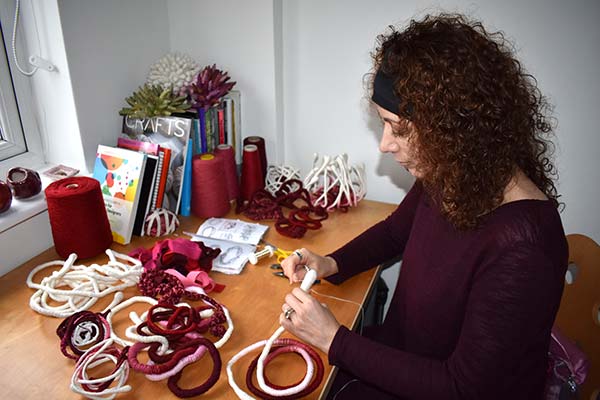 "I really would like a bigger space or at least another space to store my materials," says Kennedy, who hopes to build a studio in the garden in the future.
Kennedy doesn't work in her studio every day and her start time can vary from 6:30 a.m. to midnight. "Every day is different," she says. "Unfortunately, I am not a full-time artist, so it depends on what I am working on and why."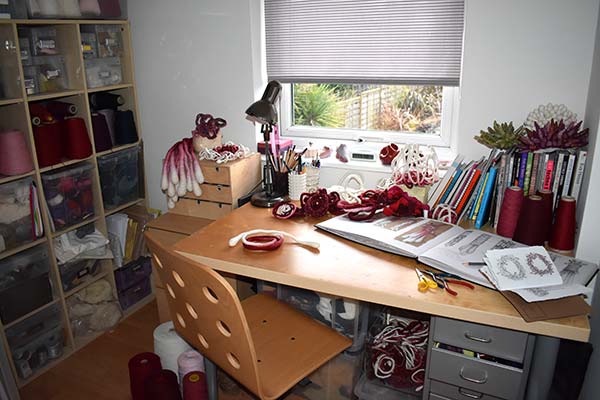 Before beginning a project, Kennedy takes quite some time to conceptualize. She keeps a sketchbook to organize her ideas, to collect images, color swatches, and relevant words. "Through this process of drawing, designs and forms for artworks start to transform. I don't always know what materials or textures they will be so I will start experimenting with techniques and then draw again to get more detailed ideas for final pieces. I also sometimes make more detailed larger drawings as a different media to express the concept and that sit well with the 3D pieces. As well as a way of working through ideas I also find the process of drawing incredibly therapeutic."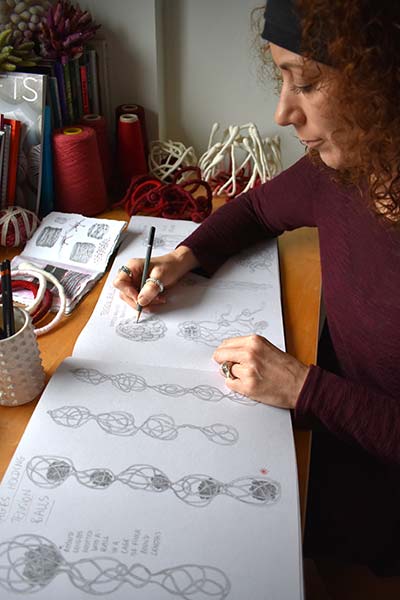 Last summer, at a month-long residency in Blonduos, Iceland, Kennedy also worked in large and small spaces. In the large studio, with beautiful ocean views, she enjoyed seeing what other artists were working on, and rummaging through materials they donated or left behind. Yet, at times, she found the space overwhelming and needed to escape from everyone. She also worked in a knitting studio in an attic-type space with windows that brought in lots of light. That studio was very old and a bit shabby, but that added to its appeal. Kennedy focused entirely on her work for long hours and experimented with different techniques, including circular tapestry. "I was inspired by the circular shapes formed by the basalt rock formations in the north of the country and thought this technique would work well. ..I even made the tapestry frame out of some cane I found lying around in the studio with the help of one of the other artists I went on the residency with, who is a basket maker."
At the center, which once housed a boarding school and women's college, she continued to collaborate with other artists on new pieces, including felt bowls. At home, she had worked on a sculpture with her husband, who's a ceramic artist. With four other textile artists, she had completed an outdoor installation in a nature reserve. "Fascinating ideas can form from collaboration, even just through conversations," she says. The residency "has made me realize how much I like working in my own little space, in my own little world surrounded by materials and visual sources for inspiration," she says.
Copyright 2020 Woven Tale Press LLC. All Rights Reserved