Enjoy our WTP Spotlights, notable selections featuring artists
and writers from our Woven Tale Press magazine. To read the
issue in full subscribe and you can also register on our site
to enjoy our archive.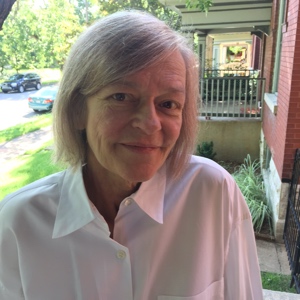 Pamela Sumners is a constitutional and civil rights lawyer from Alabama, who now writes full-time in St. Louis, MO. A 2018 Pushcart nominee, her work was selected for The Sixty-Four "best poets of the year anthology (Black Mountain Press) in 2018 and 2019. She is the author of Finding Helen (a chapbook published by Seven Kitchens Press, 2020), and Ragpicking Ezekiel's Bones (UnCollected Press, 2020). She was the third-place winner in WTP's 2018 Hampton Literary Competition.
Farm to Table
From WTP Vol. VIII #7
The Beggar's Purse featured in food couture mags
is nothing much we can afford—
a paper-thin crepe streaming a tablespoon
of Cornelius Vanderbilt caviar,
a dollop of crème fraiche, pleated
by the chef, and with his tailor's fingers
tied off with a ribbon of righteous chive.
But it's a lie. The truth is in the devil's
details, the flower, the deep-toothed leaves
pole-dancing on the stalk, the hoary
machine leaving its seeds in valentine shapes.
The beggar's purse, lady's purse, shepherd's
purse, all common names for the common weed
that grows alike in cultivated humus and ditch loam—
owes you nothing and dares you to pinch it
all the same, whether late fall or early spring,
just before full bloom when it turns a bitter green
that you dare not, you dare not pluck to eat.