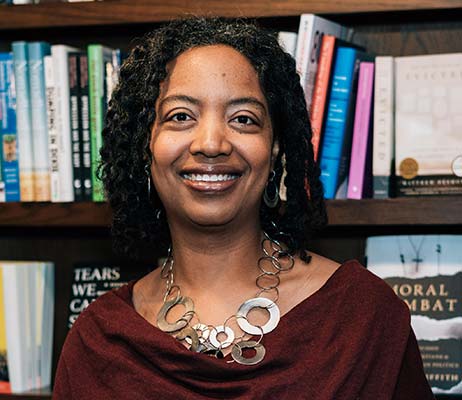 Cherene Sherrard is a poet, scholar, and essayist, and the Sally Mead Hands-Bascom Professor of English at the University of Wisconsin-Madison. About her most recent poetry collection, Grimoire (Autumn House Press, 2020), Terrance Hayes writes, "Her ingredients are positively cornucopian, but it's Sherrard's keen, enlivening spirit that gives this remarkable book its flavor….[She] shows us how to make language…both tool and weapon." Her previous collection, Vixen, was published in 2017, and her chapbook, Mistress, Reclining, received the New Women's Voices Award from Finishing Line Press. Sherrard is also the author of Portraits of the New Negro Woman: Visual and Literary Culture in the Harlem Renaissance (2007) and Dorothy West's Paradise: A Biography of Class and Color(2011), a 2013 Honor Book winner of the Black Caucus of the American Library Association's Literary Awards. Her creative nonfiction and poetry have been published in The Rumpus, Plume, The New York Times Magazine, Verse Daily, The Journal, Terrain.org, Blackbird, Water~Stone Review, Prairie Schooner, and numerous other journals. Her poems in the WTP magazine may be found here.
Interview with Cherene Sherrard
By Sara London, WTP Poetry Editor
London: In the first section of your new book, Grimoire, you include many poems inspired by the life of the 19th-century African American cookbook author Malinda Russell. Can you tell us about her, and how her life and recipes became ingredients in your poems?
Sherrard: Beyond the brief biographical sketch in her cookbook, Malinda Russell's life is a mystery. We know she ran a pastry shop in Tennessee and that she escaped to Michigan during the Civil war. She published her cookbook in order to support herself and her disabled son. Sections of Grimoire imagine a dialogue between Russell and a twenty-first century mother cooking through her recipes. For some poems, I borrowed lines from her recipes; in others, I took one ingredient, like ginger, or a tiny detail, like Russell's thwarted plans to emigrate to Liberia, and explored and expanded it in verse.
London: Your book's dedication reads, "For the mothers," and motherhood is a dominant theme in these poems, along with issues of race. In "Mama Said Knock You Out," you write "…Minutes / might be bullets, and I'm / rocking a glass cradle." As we look back at a year of police brutality and violent racism, and grapple with a deadly pandemic that's underscored societal inequities, I'm wondering if you could talk about the intersection of poetry, anxiety and rage at this moment in your writing life? 
Sherrard: I'm writing these responses after the attempted coup on January 6th and prior to the inauguration of President-Elect Biden and VP Harris.  It's been a challenge to find space for poetry in a year that's been a whirlwind of anxiety and rage. By turns I am swallowed by grief and loss, or galvanized and inspired by how communities of color have banded together to protest white supremacy and state-sponsored violence. I don't name "the mothers" in my dedication because it's a list that extends back in time and forward into the future. It includes Mamie Till, Sybrina Fulton, and Samaria Rice, along with mothers struggling to work from home while homeschooling, advocating for accommodations, or engaging in "essential" labor that puts their families at risk of COVID exposure. I couldn't anticipate how the pandemic would intensify the deep schisms that we still have to reconcile as a nation.
London: There's so much to grapple with, and such a tough road ahead of us, for sure. If only there were a super vaccine against dishonesty, hate and violence. Which brings me to your book's title. Can you tell us about Grimoire? It seems perhaps anticipated by a poem in your previous book, Vixen, "Between Pickled Pears and Preserved Peaches I Find." That poem begins: "A spell to summon dragons / A charm to vanquish ghosts / A potion to alleviate ill luck…"
Sherrard: A grimoire is a magical textbook, a book of power filled with spells or "receipts," which is an archaic term for recipe. Traditionally, these books were also passed down through families. A running theme in my book concerns inherited trauma, but also legacies of resistance to oppression. My Grimoire is a survival guide. I don't think I realized until you mentioned it that the last two poems in Vixen also contain spells and recipes. In addition to "Between Pickled Pears," the final poem of the book, "Blood-Red Velvet with Scream Please, Frost Me," includes a shout-out to "Gayma's signature 7UP Cake." It was surprising to revisit the content of poems I wrote before discovering Malinda Russell's cookbook.
London: The new book is peppered with pop-culture allusions, as well as historical and literary detail. And there's a voicey humor to be found in these poems: "Ok Navigator. / I need more to eat than some / Of these heifers on this mother. / Especially if each night we gone / Have a Funkadelic dance off" (from "We Are Stardust Brought to Life"). How consciously do you consider elements of tone in your poems? And how did tonal issues inform your selections—and ordering—of poems for the book?   
Sherrard: In Black culture, humor and improvisation have been essential responses to systemic racism and intersectional oppression. Grimoire intersperses poems based on or inspired by Russell's cookbook with others that probe health disparities and birth outcomes for women of color, especially the low infant-mortality rates and unequal treatment received by Black women and children in education and health care systems. The tonal shifts reflect the protective and performative practices that sustain the spirit in moments of crisis. I also have eclectic tastes in music, television, and literature—all of it finds its way into my poetry. 
London: When and how did your commitment to poetry begin?
Sherrard: I am an only child, so I spent much of my formative years in the company of books and imaginary friends. Poetry is my mother tongue. It's always been part of my life, but I didn't truly claim the identity of poet until I went to the Cave Canem Fellows Workshop in the early 2000s—it was there that I honed my craft and found a community of poets with whom I continue to consult and create.   
London: And who inspired your earliest love of poetry? Also, what poets move or excite you today?
Sherrard: Gwendolyn Brooks and Sonia Sanchez are the earliest poets that I felt a visceral connection to in terms of sound and substance. While writing Grimoire, I re-read Rita Dove's Collected Poems multiple times. A small benefit of quarantine: time to read some of the many excellent poetry collections published in 2020. A few that really lingered with me: Lauren Russell's Descent, John Murillo's Kontemporary Amerikan Poetry, and Danusha Laméris Bonfire Opera.
Click here to read more Poet Interviews
Copyright 2021 Woven Tale Press LLC. All Rights Reserved