Eye on the Indies:


A Look at Indie Authors and Their Publishers
By Lanie Tankard, Indie Book Review Editor
Red Rock Baby Candy by Shira Spector (Seattle: Fantagraphics, March 23, 2021; 216 pages; $29.99; ISBN 9781683964049 hardback).
"To be, or not to be:
that is the question…."
—William Shakespeare,
Hamlet (Act III, Scene I)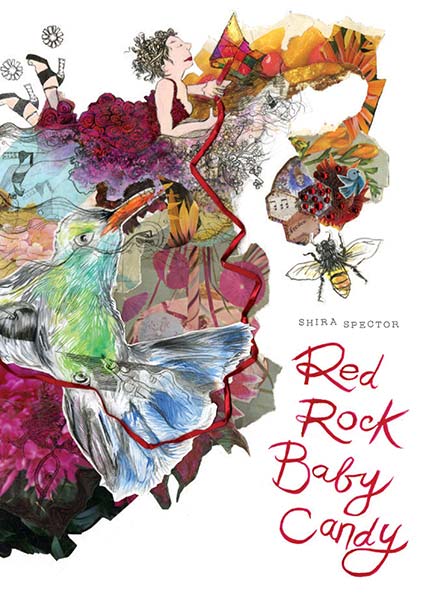 Artist Shira Spector's graphic novel is a verbal portrait of emotions from a lifetime of personal tumult. Grief is the supporting structure for her debut Bildungsroman.
Through visual storytelling set in Toronto and Montreal, Spector creates an outlet for her unexpressed feelings in Red Rock Baby Candy. She confronts gender identity, pregnancy loss, the silence surrounding miscarriage, infertility, coparenting, teenage gender transition, and the deaths of a father and a grandmother.
Like a colorless chrysalis gradually unfolding its beautiful wings, this fictional memoir illustrates Spector's long metamorphosis. Beginning in black and white, the book transforms by the end into a colorful magnificent butterfly.
Spector's development into an adult is a journey she depicts as a struggle for identity amid societal conflicts. Her grandparents come to live with her family when Spector is a child. Her mother is a nurse who keeps Gramma's cancer secret from her. Everyone laughed with Gramma in the living room—and then went into the kitchen to cry. In the end, "Bubbie died." Spector renders her childhood with poignancy.
Closely reflecting Spector's life, the plot's protagonist has a child called Aly, meets a woman named Chris and they marry, tries to conceive, suffers an ectopic pregnancy and miscarriages, sees teenage Aly transition to Max, and aches as her beloved father develops a glioblastoma and dies. There's much to mourn—yet much to celebrate.
The book isn't particularly long (216 pages) but it's large: coffee-table size at about 8 ½ x 12 inches, weighing 2.65 pounds. It's a basin to catch Spector's tears. They moisten her memories as if pigment on a palette. She daubs them onto the pages with brushstrokes that graze your heart, beseeching her "bones to photocopy themselves."
Her blended words and images convey deeper emotions than if she had spoken through the alphabet alone. Loss hurts, and the reader feels it. Some sentences are simply elegant, enhanced by the artwork. Spector does draw some typical comic-book panels, but mostly takes over the entire page as her canvas to deploy an array of collage, paint, pen and ink, colored pencils, old photographs—even a multilayered sketch of a selfie taken in a mirror. It's a creative process run imaginatively wild.
Spector even pens "A Queer Infertility Anthem" to the tune of "Big Rock Candy Mountain," calling hers "Red Rock Baby Candy." Harry McClintock, who composed the original song of a hobo dreaming about the good life, had been a train brakeman going by the actual Big Rock Candy Mountain near Marysvale, Utah.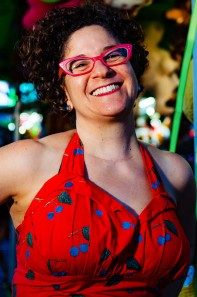 "We never really forget anything," Spector writes, reminding me of Wallace Stegner's words in his 1943 novel The Big Rock Candy Mountain: "…you carried your dead unquietly within you." (Dr. Who also used the term unquiet dead as a TV series, and author Ausma Zehanat Khan as the title of a novel.) Spector puts it this way: "Ghosts follow us everywhere." Ultimately she places enough of them on her pages to find inner peace.
On occasion, time sequences are hard to discern and various scrunched words are difficult to make out, yet both these aspects clearly convey jumbled thoughts of lamentation and feelings so intimate they are perhaps written only for personal artistic catharsis—just to get them out from under her skin. Spector's voice, filled with frustration and anguish, notes "Micrographic things calm me." She employs a child's shaky handwriting when coming to grips with the reality of her father never coming back.
Spector underscores the irony of life both beginning and ending in cell growth as she tries unsuccessfully to coax hers to multiply while watching in horror as the ones in her father's brain tumor do just that: "rebel cells that can't stop copying themselves." It's analogous to Maggie Nelson's poetic description in her memoir The Argonauts of her son being born as her mother-in-law dies from breast cancer, one entering the world as one leaves.
Both sorrow and joy abound in Red Rock Baby Candy, as Shira Spector realizes what a miracle it is simply to be alive—discovering through visual storytelling that "the best cure for pain is speaking."
---
Shira Spector is a Jewish Canadian lesbian cartoonist in Toronto, where she lives with her wife and son.
She holds a BFA in Fibers with Distinction from Concordia University in Montreal, and has received grants from the Canada Council for the Arts and the Ontario and Toronto Arts Councils, as well as awards from The Fund for Change and in 2018 the Sustainable Arts Foundation (a US foundation supporting artists and writers with children).
Publisher: Fantagraphics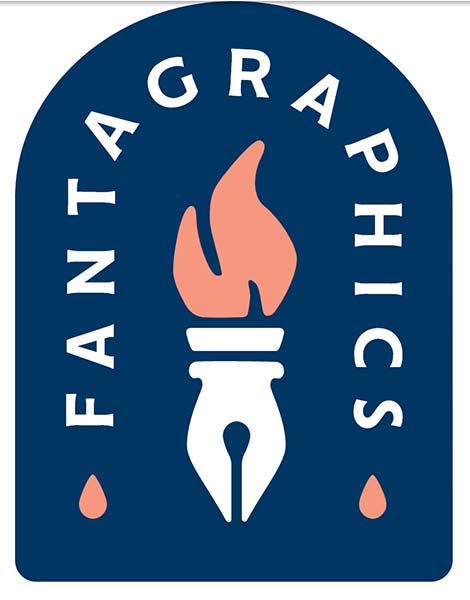 Fantagraphics in Seattle, founded in 1976, has been publishing graphic novels and comic books for forty-five years. Gary Groth teamed up with Mike Catron, later joined by Kim Thompson, to seek credence for literary expression through comic art.
Groth, current president and cofounder of this indie publisher, collaborated closely with Thompson until Thompson's death in 2013. Catron had left Fantagraphics soon after it was formed to establish Apple Comics, but returned as an editor in 2012. Eric Reynolds, current associate publisher of Fantagraphics, joined as a writer and editor in the early 1990s.
Groth, originally from Argentina, began his publishing career as a teenager with Fantastic Fanzine. 
He studied printing technology at Rochester Institute of Technology, and later started The Comics Journal (TCJ), where Thompson began working. Originally from Denmark, Thompson brought his European experience to Fantagraphics.
Eric Reynolds, who holds a journalism degree from the University of California Irvine, came in as news editor at TCJ before moving over to Fantagraphics.
Groth and Catron both attended the University of Maryland at College Park and have won Inkpot Awards from Comic-Con International, Groth in 1988 and Catron in 2015. Thompson won an Inkpot in 2001. Groth founded the Harvey Awards, named after writer and artist Harvey Kurtzman, in 1988 to honor achievement in comic books.
Fantagraphics maintains both a blog and a brick-and-mortar bookstore in the Georgetown arts district of Seattle. Submission instructions may be found on the Fantagraphics website.
Click here to read more Eye on the Indies features.
Copyright 2021 Woven Tale Press LLC. All Rights Reserved