A Search for Meaning in Grief
By DeWitt Henry, Prose Editor
Little Matches: A Memoir of Grief and Light by Maryanne O'Hara (New York: Harper One, April 20, 2021; $26.99; 351 pages; ISBN 978-0-06-302776-3).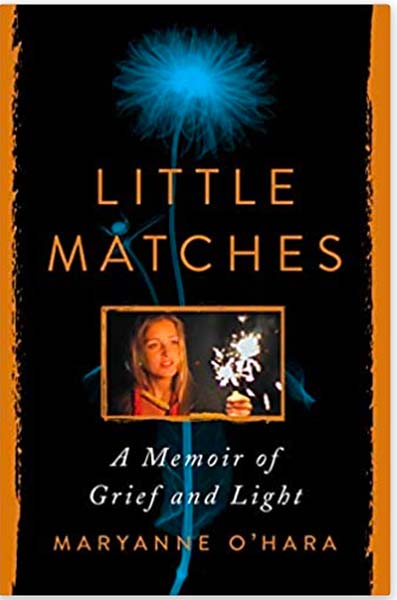 Maryanne O'Hara's affecting memoir is both a work of life, and of art. The author tells us flatly from the outset that she is grieving the loss of her beloved only child, Caitlin, who was born with cystic fibrosis and died at age 33.
One focus is on Caitlin's experience of suffering, her reversals at the hands of doctors and the hope for a double-lung transplant (which arrives too late); as well as her unfailing "positivity." Another is on the writer's parental suffering, and later on her survival; her own search for meaning in loss.
Despite her disease, Caitlin had a happy coming-of-age, close friends, college, and a loyal boyfriend, in addition to her own apartment and international travel. Thanks primarily to the father, Nick's providing as an architect and builder, they enjoyed a life of modest privilege outside of Boston.
Caitlin's character is Jamesian. Her mother loves and admires her, as do extended family and many friends in-person and online. She is an "old soul," her mother tells us, a "young sage to friends," and is developed for the reader not only through her mother's memories, but through her own words in their shared blog, in recovered emails, letters, and her notebooks.
Aware of Caitlin's fate, we share the suspense of hope as well as Caitlin's gift of life. As C.S. Lewis has remarked of Chaucer's Troilus, "every fluctuation of gnawing hope, every pitiful subterfuge of the faltering imagination, is held up to our eyes without mercy." The unrelieved pathos of her daughter's decline leads inevitably to the author's final, "crushing" heartbreak.
However, in the book's third section, "Afterlife," it turns into a ghost story. Now devastated, the writer remains skeptical, while craving evidence "that there is more to life than this life and somehow, in a way that no one can explain or disprove, consciousness endures and meaning is a real thing." She is surprised by seeing signs, anomalies, and "synchronicities" in ordinary life—sudden appearances of hawks, of cats (Caitlin's nick name), the number 3 (for Caitlin's age, 33), Joni Michell songs (Caitlin's favorites).
She consults journalist Leslie Kean's investigation-study of "evidence for an afterlife"; as well as research by Edith Steffen and Adrian Coyle on "post bereavement 'meaning-making.'" She reads neurological studies. She worries about her vulnerability ("you approach with a little curiosity and a lot of self-protection. If [the psychic is] wrong, well, it's all just hooey. If she's right, you add it to your little arsenal of hope"), but increasingly she is drawn to spiritualism.
Counseled long-distance by an Irish cousin, who claims telepathic powers, she approaches well-vetted mediums who help to interpret the signs. The most gifted of these, Karissa, summons Caitlin's spirit in a seance, but she is crowded out by "icebreakers," until O'Hara herself asks for "my daughter": "as soon as I spoke, she [Karissa] saw everyone step back and Caitlin's energy connected, and Caitlin said, 'The caretaking she did was for me.'" More consoling messages follow, "that she is happy and full of joy, that she did not feel fear when passing, that she wants to say thank you, that she feels [your] love." Yet O'Hara remains doubtful until she hears details that Karissa couldn't be guessing or making up; and Caitlin—through Karissa—tells her "Faith is a choice"; to reread the writing Caitlin left behind; and to write this book, which "is going to be about the two of you. It's not just your book, it's her book, too."
No simple switch is thrown from doubt to belief and comfort. Their story stresses O'Hara's self-doubt and vacillation. She has depressive swings where "the pain is as bad as it ever was." As she and Nick vacation in Florida, California, or the Caribbean, "We are migrants in the land of grief." But also "signs proliferate like a meteor shower" and "spreading the message in my book will be almost like a calling for me." She resolves to write.
In one of her late notebooks, Caitlin had reflected: "There is no normal. No right way. No belief system. No one thing that works or doesn't, no answer. You know what is wrong and right, inherently. Follow that." Her mother does, and has. And in offering this harrowing, intimate, and loving book, she accomplishes her mission of distilling "the material of our story into one that could inspire readers to contemplate for themselves what might really matter at the end of our temporary, beautiful lives."
Copyright 2021 Woven Tale Press LLC. All Rights Reserved.