Eye on the Indies:


A Look at Indie Authors and Their Publishers
By Lanie Tankard, Indie Book Review Editor
Begin by Telling: Essais Series No. 11 by Meg Remy, illustrated by Logan T. Sibrel (Toronto: Book*hug Press, April 21, 2021; 96 pages; $20.00; ISBN: 9781771666633 paperback; also available as pdf or epub, $14.99 each).
"You own everything that happened to you.
Tell your stories.
If people wanted you to write warmly about them,
they should've behaved better."
—Anne Lamott,
Bird by Bird: Some Instructions on Writing and Life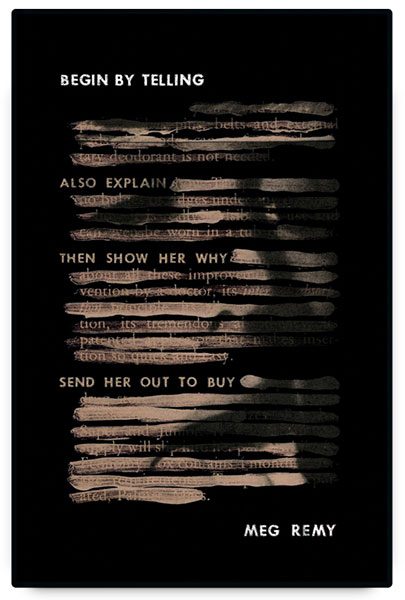 Indie pop artist Meg Remy sings her rage on the page instead of the stage in her book debut. It's a singular performance and the pain is palpable.
Begin by Telling is a series of brief essays following Remy from babyhood to her birthday in 2020, set alongside relevant quotations from literature and research. She juxtaposes her life against parallel news events, a presentation providing both context and editorial observation as the pieces flow into one another. She conveys the stories in short bursts, not filling up the entire page. Logan Sibrel's black-and-white illustrations add distinctive commentary that enhances the words themselves, as does Remy's own artwork on the cover.
Remy's song lyrics for U.S. Girls have considered American culture and capitalism for years, pushing the boundaries of various genres by creatively combining them. Take, for example, the video of "4 American Dollars" (cowritten with Richard Morel, on the 2020 album Heavy Light from 4AD), which can be viewed by clicking here. Utilizing her songwriting experience, Remy maintains a broad social critique while also personalizing it in this unique mini memoir with a long-held family skeleton embedded inside. A secret hidden is finally bidden. Its time has come.
Remy captures scenes from her past impressionistically, expending a minimum of words. Instead she gives feelings carte blanche to imbue the abuse with a hazy universality. Such a technique leaves space for other #MeTooers to relate by envisioning themselves. Instead of a detailed cathartic outpouring of only her trauma, Remy instead chooses a hefty canvas for a wide-ranging portrait—yet packs it into less than a hundred pages. Dang, does it ever pack a wallop though.
Here is a life tentatively explored through a PTSD lens. Remy gradually works up the courage to put on paper the mistreatment she endured growing up. It takes her sixty-two pages to do so. She finds it far easier to verbalize what took place to her friend Kassie Richardson in a phone call than to write it down. Finally she pens a transcript of that phone call, and reads the reality. Perhaps she's attempted to unpack it for a long time in a more distanced manner through her songs.
Anna Burns, in her novel Little Constructions (reviewed as a Woven Tale Press Indie last year), emphasized the little white lies victims tell—to others and to themselves—so they can carry on their lives, until ultimately those "constructions" implode in PTSD. Burns through fiction and Remy through essay illustrate how buried memories affect a victim's life until the truth is voiced, with recognition of the harshest experiences being crucial. Remy writes in "Telephone Play No. 1" at the end of her book: "Instead I'm just another woman with no self-esteem."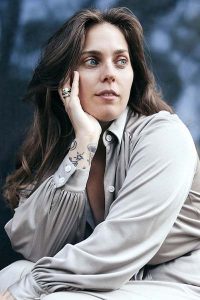 She selects two trenchant epigraphs by Antonin Artaud and Viktor Frankl to emphasize the importance of believing a victim. Being wronged at a young age could make someone more attuned to notice other injustices later. Remy's antennae seem highly receptive. Noticing the former World Trade Center site has a large billion-dollar memorial while New York's Municipal Slave Market has but a small plastic sign, she ponders randomness, reminding herself to "connect the dots" in her book. She offers a vividly eloquent description of a lucid dream.
The media play a role in her essays, both literally and metaphorically, from the time a television set falls on her as a child watching "Sesame Street" to all the spectacles she witnesses onscreen—such as Operation Desert Storm, the Oklahoma City bombing, 9/11, the Indy 500, Princess Diana's death, or the World Series. Remy views them from various vantage points: a hospital bed, Aruba, an Air Canada flight, the county STD clinic, or Europe. She employs the news events as well as her locations to help narrate her tale. Televised violence inspires her to draw up "An Abridged List of Violence You Witnessed Between 2004 and 2012."
Remy distinguishes between having sex and being raped. She works in abortions—three. She talks of various survival methods, such as shopping, drinking, and self-cutting. While a person is busy coping, however, secrets just sit there in the backroom of a mind until there's some attic cleaning. Gotta stare down that elephant in the room. Tillie Olsen, in her short story "Tell Me a Riddle," wrote: "All that happens, one must try to understand."
And how does one do that? Remy's book title sums it up: Begin by Telling. Sharing stories is the first step in healing, and Meg Remy found an exceptional way to start.
---
Meg Remy is a multidisciplinary artist, songwriter, and performer. She is the creative force behind the band U.S. Girls, named #1 Best Live Act of 2018 by Paste Magazine. Three titles released by indie record label 4AD made the Polaris Music Prize shortlist for Canadian albums of distinction: Half Free (2015), In a Poem Unlimited (2018), and Heavy Light (2020)—all of which were also nominated for Best Alternative Album in Canada's Juno Music Awards. 
Remy has directed music videos, as well as the 2014 short film Women's Advocate, in which she also performed. Born in Chicago, she majored in graphic arts and paperwork at a Portland, Oregon, art school and exhibited collages. She lives in Toronto with her collaborator husband Max Turnbull (a.k.a. Slim Twig), a musician, songwriter, and actor.
Illustrator Logan T. Sibrel's art exhibitions have appeared in New York, Chicago, London, Antwerp, Berlin, Hamburg, Calgary, and London. His next show is in September at Positions Art Fair in Berlin's Tempelhof Airport. Based in Brooklyn, Sibrel earned an MFA from Parsons School of Design and a BFA from Indiana University.
Publisher: Book*hug Press

Book*hug Press in Toronto started out as BookThug in 2003, founded by co-owners and spouses Jay MillAr and Hazel Millar. The independent publisher began issuing poetry chapbooks the following year, gradually moving into translations and experimental works over the next fifteen years. In 2018, the press replaced the "T" in the company name with an asterisk to avoid controversy.
Publisher Jay MillAr's poetry collections (some self-published) include I Could Have Pretended to Be Better Than You: New & Selected Poems (2019), Timely Irreverence (2013), Other Poems (2010), esp: Accumulation Sonnets (2009), Lack Lyrics (2008), The Small Blue: Poems (2007), False Maps for Other Creatures (2005), Mycological Studies (2002, shortlisted for the 2003 ReLit Poetry Prize), and The Ghosts of Jay MillAr (1998). He coauthored a microfiction novel with Stephen Cain (2006) titled Double Helix, and edited Haikube: History Machines (2006) by Gregory Betts (with Matt Donovan and Hallie Siegel). MillAr curates Apollinaire's Bookshoppe, a virtual online bookstore. In addition, he has taught classes in poetry/poetics through his Toronto New School of Writing, which he founded in 2009.
Book*hug Managing Editor and Publicist Hazel Millar is past board chair of the Literary Press Group of Canada, as well as publicist for the League of Canadian Poets. She has a BFA in Dance from York University. MillAr and Millar, former students at York University in Toronto, have hosted a monthly reading salon series called HIJ.
The press seeks contemporary literary fiction and nonfiction, poetry, literature in translation, and drama (no children's literature, genre fiction, cookbooks, or self-help books). "When acquiring manuscripts we carefully consider questions such as: whose voices are missing and who are the storytellers that we need most right now?"
This indie publisher is looking for bold, innovative books that take risks: "work that feels necessary and urgent…that challenges and pushes at the boundaries of cultural expectations." Book*hug is "deeply committed to building a more inclusive CanLit by publishing culturally diverse voices whose work has been historically underrepresented in the publishing landscape. We strongly support feminist writing…and welcome work by indigenous writers, writers of colour, LGBTQ2S+ writers, deaf and disabled writers, and women."
Submission guidelines are available on the website.
Click here to read more Eye on the Indies features.
Copyright 2021 Woven Tale Press LLC. All Rights Reserved