Enjoy our WTP Spotlights, notable selections featuring artists
and writers from our Woven Tale Press magazine. To read the
issue in full subscribe and you can also register on our site
to enjoy our archive.
Kim Triedman is a practicing visual artist and the author of three poetry collections: Hadestown (WordTech, 2013);Plum(b) (Main Street Rag Press, 2013), a finalist for the 2012 Backwaters Press Book Award; and Bathe in It or Sleep, winner of the 2008 Main Street Rag Chapbook Competition. Her first novel, The Other Room (Owl Canyon Press, 2013), was a finalist for the James Jones First Novel Award. Her artwork has been shown widely in the northeastern United States and can be found in numerous private collections here and abroad. She began working in collage as a way to further indulge her fascination with story.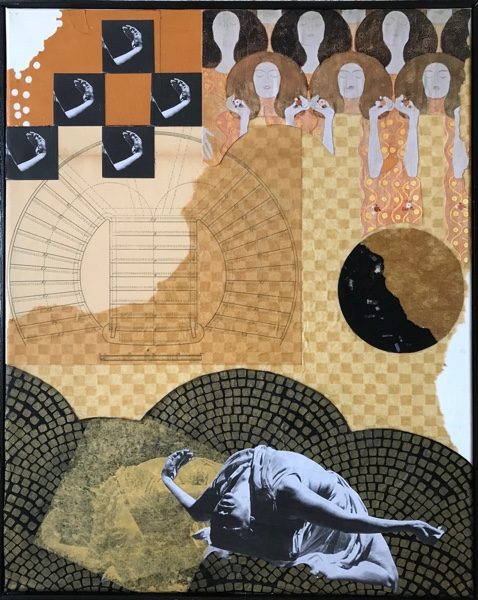 The Lord, She Will Carry Us
collage on canvas
20 1/2" x 16 1/2"
See her work in WTP Vol. IX #4
"I have always loved old things: the milkiness of old paint, the stains and the ravels, the stories left behind. Most of my artwork involves found and recycled objects: old ledgers, receipts, and certificates; graphs and architectural plans; newsprint and chickenwire and laundry line. Many also make use of antique wooden windows, which serve as frame and template but also conceptual springboard. For me they offer a particularly rich and exploitable template: like sudden and unexpected purviews, they open us to juxtapositions in search of a narrative thread.
"My imagination tilts to the provocative—the visually arresting pairing or detail. Compositions are drawn from places I have known, sometimes through memory but also from my own photography. My palette is often muted, though—like life—shot through with small urgencies of color."
Click here to see more featured work by WTP artists.