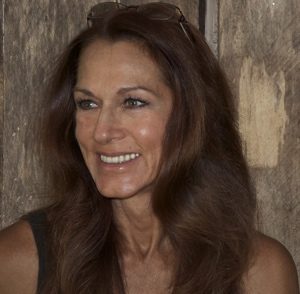 Cher Pruys is a self-taught, hyperrealist Canadian artist living in Devlin, Ontario. By age three, she was seldom found without a drawing tool in hand. Over the years, she worked in pencil, charcoal and ink, until, at the age of thirty-five, she picked up a paintbrush and began painting with oil paints. Later, she found her chosen mediums in acrylic, watercolor and gouache.
Pruys work has been juried into 147 international exhibits, as well as exhibited in numerous non-juried shows. She has won 139 awards for her work at the International Juried Exhibits; exhibited in thirteen solo exhibitions in Canada; and participated in 112 group exhibitions throughout Canada and the Unites States. Her work has graced the covers of three books and twenty-one magazines. Her paintings have a permanent home in numerous private and public collections worldwide. See her paintings in WTP Vol. IX #5. 
Interview with Cher Pruys
By Jennifer Nelson, WTP Feature Writer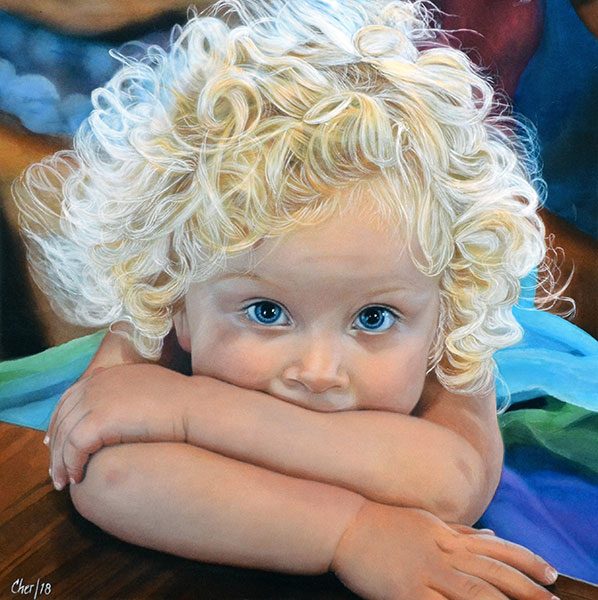 Nelson: Your hyperreal works are extraordinarily luminous. Equally extraordinary is that this luminosity is achieved through acrylics rather than oil. Can you talk about not just how you came to focus on the hyperreal—or do you prefer to call it realism— but on your use of acrylics?
Pruys: My path through hyperrealism started with a fascination with photorealism since I can remember. When I was four, I spent hours with a pencil and sketch pad, sketching anything in my world that caught my eye. Even at that young age, I was fascinated with producing with the pencil, exactly what my eye was seeing. Through the years, I progressed through photorealism into the world of hyperrealism, where I have found my true artistic passion. That said, I believe that if you can draw and paint well, then you should be able to paint anything you choose to paint with good results. I am also a musician, playing both the piano and guitar, and I have been teaching for thirty-five years. With music, one can evoke emotion in an audience by way of sound, so translating that to painting seemed like a logical step allowing me to evoke emotion in my viewers, by sight, with a line, a swirl, a color.
I started out in oils, but the smell, long drying time, and a habit of licking the brush to achieve a point led me to try out the water-based paints. After much experimenting I came to find success in mixing watercolor with a touch of acrylic, and using gouache, watercolor, and a touch of acrylic to achieve successful skin tones. Liquid acrylics, particularly Dr. Martins, combined with my regular acrylics have helped me find a way to achieve a degree of luminosity I so crave.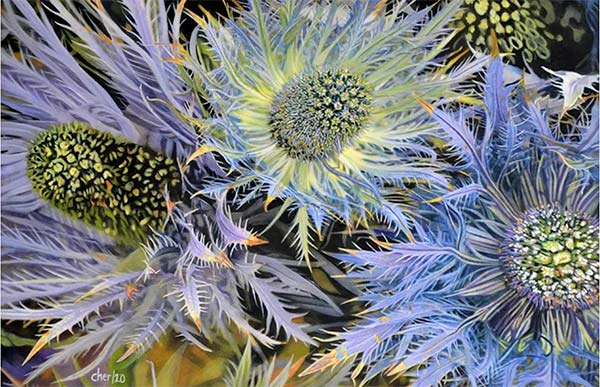 Nelson: Can you talk about how you got to where you are today as a self-taught artist—what exactly did that teaching entail?
Pruys: Being self-taught has seen me doing a lot of experimenting and trial and error. I feel that this has helped me immensely on my artistic journey. I also have spent endless hours reading and studying the works of numerous wonderful artists, which has been truly motivating.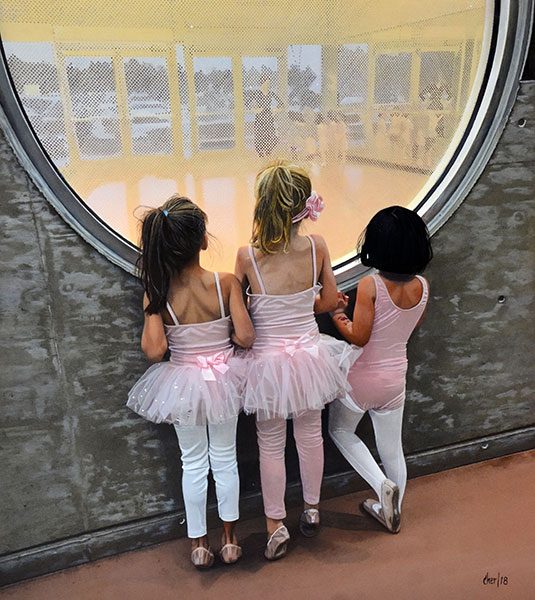 Nelson: How has the abstract, as well, worked its way into some of your work?
Pruys: I love hyperrealism, but I find it exciting to add touches of abstract into some of my works. This I find provides a healthy balance in my pieces, and also it is a stamp on my work, which keeps it fresh and shouts out that it is my work, making it distinguishable from others.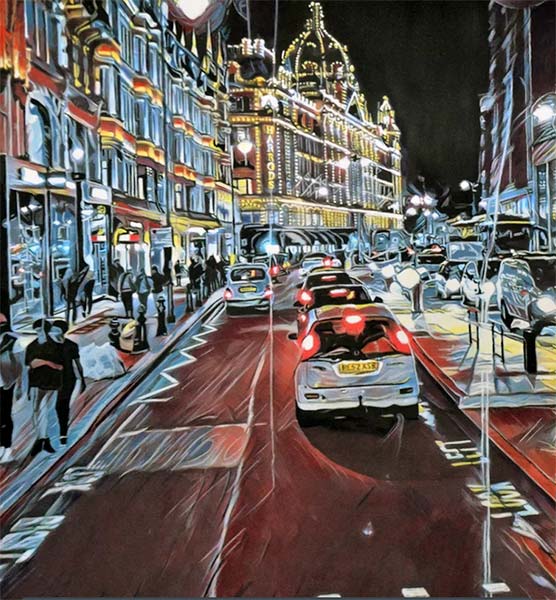 Nelson: In such artwork as "Cat's Eyes" and "Bottled Light" you use glass objects as subjects. What led you to become interested glass, and in general, still life?
Pruys: I am very drawn to shiny surfaces as well as transparent objects, especially when the lighting brings them to life. I look for beauty in everyday objects that most people take for granted or just don't truly see them as they are. The seemingly boring and mundane subjects can truly be like magnets if portrayed in the right way. Glass is one of those materials that can host endless visions. The light as it shines through, the reflections captured on the surface, the smooth finish…an artist's dream!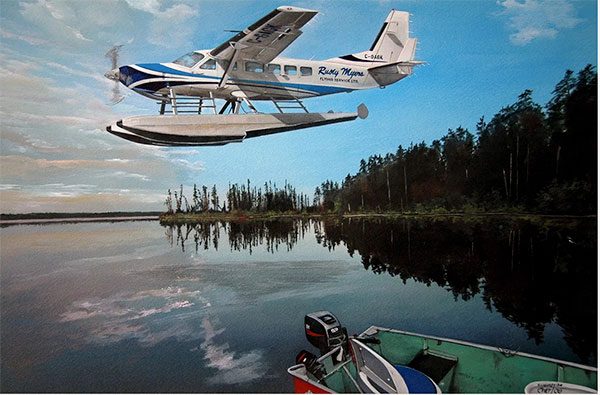 Nelson: You have several series on military, general, and commercial aviation. How did you become interested in using planes as your subject?
Pruys: My fascination with aviation began at a young age when I spent hours in the field behind my childhood home, bordering the airport where my fantasies unfolded observing the aircraft dotting the big, wide, open prairie sky. Upon relocating to Northwestern Ontario many years later, I was introduced to floatplanes, which represented such grace, beauty, power, and freedom that my desire to portray them was immense. My dad was a navigator with the pathfinders on a Lancaster in WWII, which provided my growing imagination with facts, tales, and a desire to learn everything I could about these wonderful flying machines. Then, of course, the desire so many of us have to fly like a bird, added to my journey into aviation as a subject for my artistic works. I have an especially strong draw to shiny and reflective surfaces also.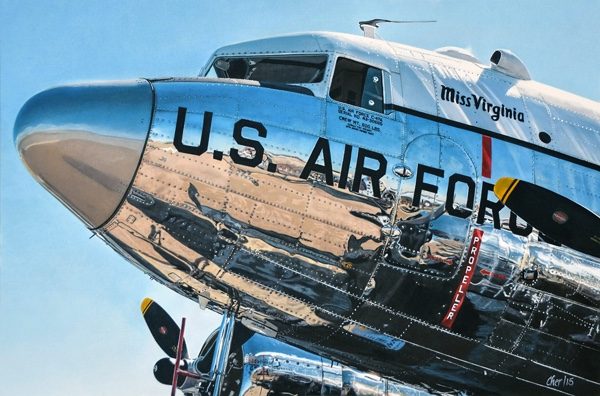 Nelson: Recently, you reduced your teaching schedule to one day a week from four and retired as a Royal Conservatory of Music Representative. How do you anticipate this will impact your artwork, and how do you see your art evolving in the future?
Pruys: Retiring my music teaching to one day a week versus four, as well as relinquishing my position as a Royal Conservatory of Music Representative, has given me many more hours to dedicate to my artwork. I find that the freedom from the pressure, both timewise and mentally, has resulted in an endless flow of ideas and the energy to run with them, thus resulting in the production of many more pieces that meet my standards. I am excited to see what the future holds and have a number of new methods, ideas, and subject matter calling my name.
Click here to read more interviews with WTP artists
Copyright 2021 Woven Tale Press LLC. All Rights Reserved